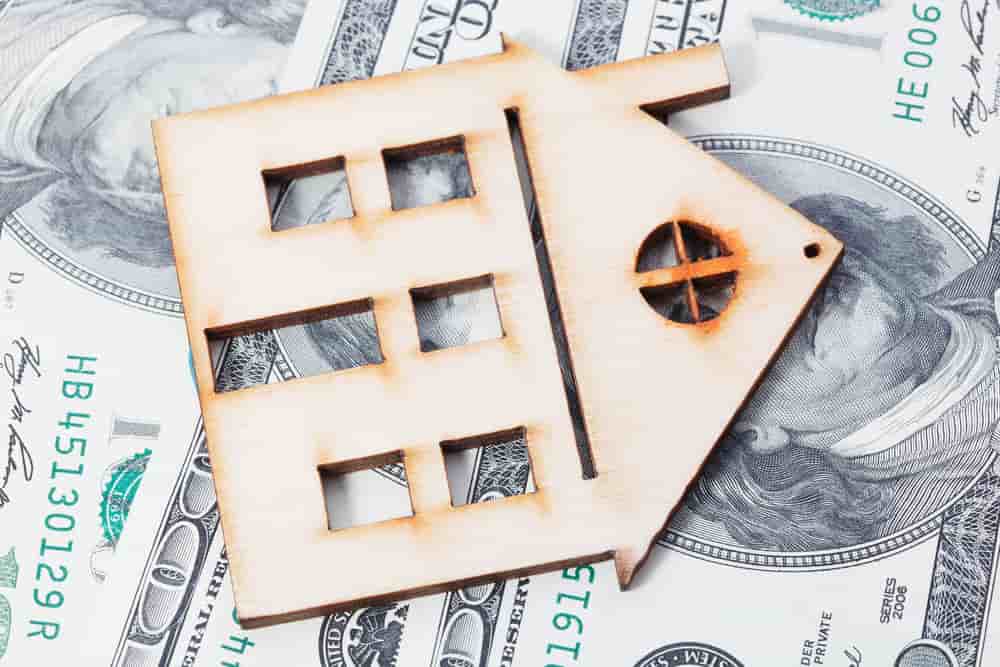 All Peril Deductibles
Peril is another word for danger, and that is essentially what all peril home insurance intends to address. All peril insurance applies during times of disasters. While most perils are covered by standard home insurance, you may need addons that will have different all peril deductibles applied to them, e.g., specific natural disasters, jewelry, etc.

All peril deductible clauses vary and include terminology you may not understand. It is critical to understand this before buying home insurance, or you may want to change your policy based on this information.

What is All Peril Home Insurance?

All Peril Homeowners Insurance terminology is the standard language used in your contract to refer to damages the policy covers. When you have all peril home insurance coverage in your policy, it means that anything that happens as a result of a dangerous situation or disaster will be broadly covered. An example would be a fire that causes pipes to burst. If a fire causes every water pipe to break inside your house, the insurance company will pay for your pipes under the all peril clause.

Not all homeowner insurance policies cover every peril in a standard insurance policy. In this case, you will need to buy an All Other Perils (AOP) addon or rider. Examples are Flood, Jewelry, or Hurricane riders.

What is an All Peril Deductible?

An all peril deductible is the deductible applied to each claim that you pay on a claim payout vs. the amount the insurer pays. There are certain situations (see below) identified in some policies that are assigned different all peril deductible amounts. The All Other Perils (AOP) addon deductible amounts vary by type of peril and if you live in a natural disaster zone.

An all peril deductible applies to each claim payout, so if you have two claims, your deductible is taken from your claim payout twice. There is one exception. In Florida, all peril deductibles are applied per hurricane season, not per storm or claim.

Also, all peril insurances pertain to property damage, not liability claims. E.g., all peril damages can be claimed for your neighbor's property that your dog damaged. But your all peril insurance would not cover liability if your dog bit your neighbor who made a medical claim against you or if they sued you.
State governments each create insurance regulations pertaining only to their state. These regulations determine your all peril insurance and deductible policy language, and how all peril insurance and deductibles get implemented.

How Do All Peril Deductibles Work?

All peril deductibles work the same way as traditional home insurance policy deductibles, with these exceptions:
Different deductibles are assigned to specific perils. All Peril vs. Named Peril Home Insurance.

There are different payout structures, flat dollar amount deductible, and percentage deductibles.

Natural disasters and All Other Perils (AOP) often have unique all peril deductible amounts and they may require an addon or rider.

All Peril Named vs. All Peril Home Insurance

The main difference between all peril and named peril home insurance is that all peril insurance will cover you for virtually everything, no questions asked. Named peril insurance will not pay for anything except specific perils identified within your policy. All peril deductibles can vary based on the type of peril listed in your insurance policy.

Some insurance policies only cover named perils. Named perils are perils specifically designated, or written, in your insurance policy indicating they are covered. Anything not mentioned is not covered.

Flat Dollar Amounts vs. Percentage Deductibles

You may have an all peril deductible as a flat dollar amount. You will see this in a standard home insurance policy and in an addon or rider, e.g. jewelry.
Flat dollar amount deductibles are flat fees such as $500 or $1000 that get deducted per claim from a claim payment. If you have a $1,000 deductible, and your insurance claims inspector decided your loss is $20,000, you will get a check for $19,000.
You may have an all peril deductible as a percentage of your home value or a named peril. A percent of home value is typical in natural disaster zone areas.
Percentage deductibles use a percentage of your home's value. For example, if your insurance policy values your house at $1,000,000 and you have a 1% all peril deductible, $10,000 is your all peril deductible amount. If your loss is $10,000, your payout is $0. If your claim is $35,000, your insurance will give you $24,000.
What does an All Peril Deductible Cover?

Most all peril deductibles include most events that would trigger a claim. Your all peril deductible is usually $500 or $1,000 per claim, but that can vary. Standard insurance all peril deductibles apply to; explosions, riots, civil disobedience, aircraft, vandalism, malicious mischief, smoke, fire, lightning, wind, hail, theft, falling objects, non-owned vehicles, the weight of ice, snow, and sleet, freezing pipes, volcanic eruptions, electrical current issues, and water damage from appliances.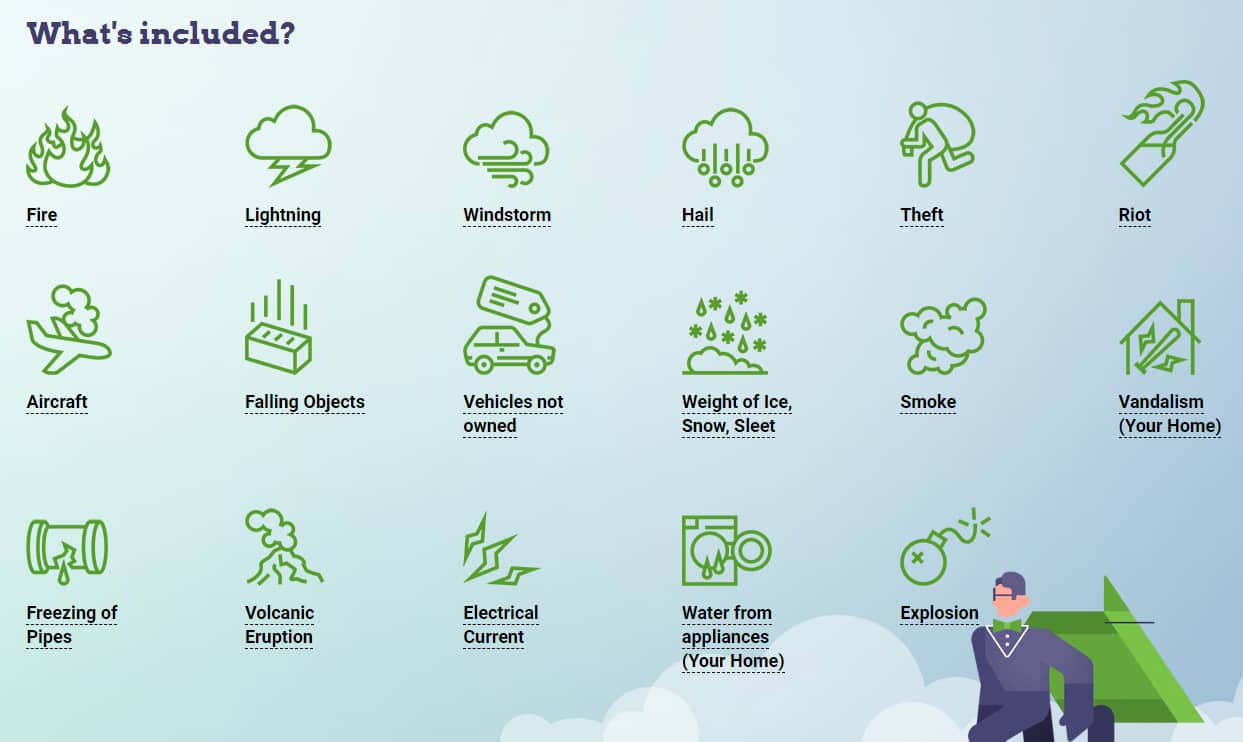 How do All Peril Deductibles Work in Addons and Riders?
We recommend add-ons for risky, high-cost events to gain additional coverage.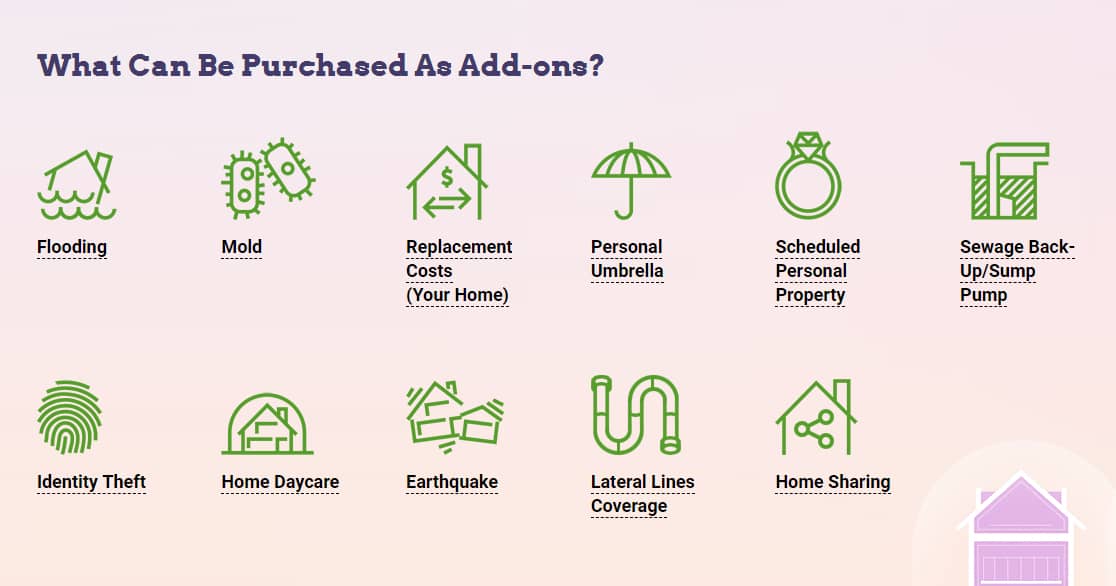 Hurricane
Hurricane all peril deductibles are generally higher than other homeowner's insurance policy deductibles and are often a percentage of a policy's limit. In some states, you can choose to pay a higher premium and a lower all peril deductible; however, in high-risk coastal areas, a percentage deductible might be mandatory.

An all peril hurricane event typically applies when our National Weather Service (NWS) names a tropical storm, announces a hurricane watch, or establishes a hurricane's intensity determined by wind speed.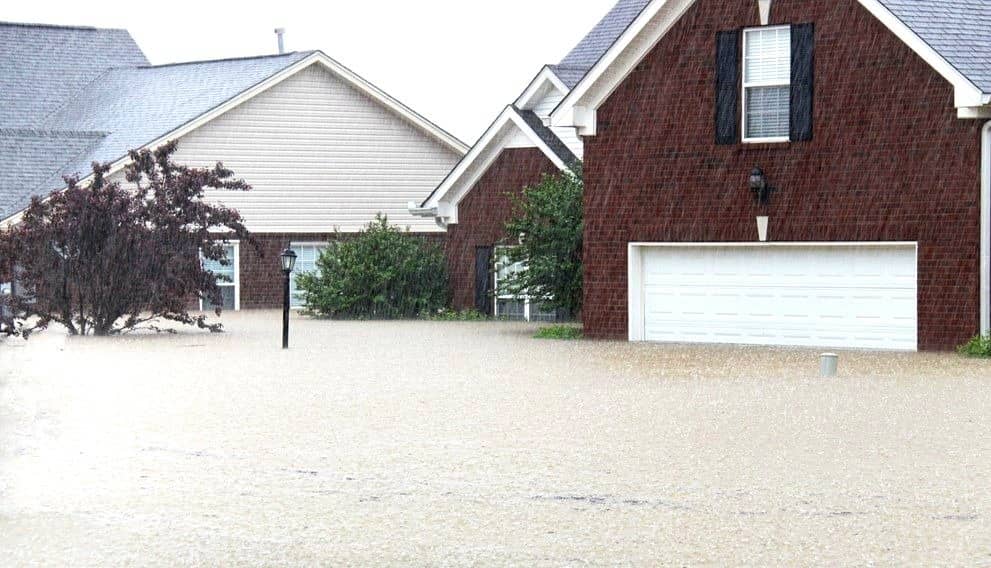 Flooding
Standard insurance all peril deductibles do not cover flooding. You can, however, get flood insurance from the National Flood Insurance Program (NFIP) or a private insurer. We recommend a flood policy for hurricane-prone areas or if you live in a high-risk flood zone.

FEMA requires a 30-day wait period before your flood policy goes into effect unless you are purchasing a flood policy in combination with a new home purchase. Private insurance carriers often cut this waiting period from 30-days to 15-days.

You can buy flood insurance for your home's structure and its contents. Flood deductibles come as flat dollar amounts or percentages of the policy amount.
Windstorm/Hail
Standard insurance all peril deductibles do cover wind and hail. Deductibles can either be flat dollar amounts or percentage-based deductibles. In windstorm and hail-prone zip codes, all peril deductible carve-outs or riders are comparable to hurricane deductibles. You pay 2-10% of your coverage amount.

Wind-prone and hail-prone zones include the Midwest regions and Tornado Alley (Texas, Oklahoma, Kansas, and Nebraska). Those zones have percentage-based wind and hail carve-outs that hover around 5% and range 2-10%.

Earthquake
Because earthquakes are natural disasters, FEMA has designated earthquake zones. Earthquake insurance has all peril deductible carve-outs and premiums.

Typically, earthquake deductibles are percentage-based and range from 2-20% of replacement value. Percentages depend on where you live. In high-risk earthquake-zoned states, like Washington, Utah, and Nevada, minimum deductibles start at 10%.

The California Earthquake Authority (CEA) policy uses a 15% replacement cost of your house. You can buy additional coverage for things like garages, outbuildings, and pools starting at 10%.

Sewer Backup
Standard insurance all peril deductibles do NOT cover sewer backups. You can purchase a sewer backup policy with $500 - $1,000 deductibles. Premiums run $50 - $150 per year for $5,000 in coverage, and $25-$35 per year for each additional $5,000 of coverage. Sewer backup insurance covers blockages from tree roots, sanitary mains, and water in basements.

In summary, understanding these terms and variations in policies will help you make better decisions for yourself. You should also speak with your insurance agent for further clarification.

At your service,
Young Alfred