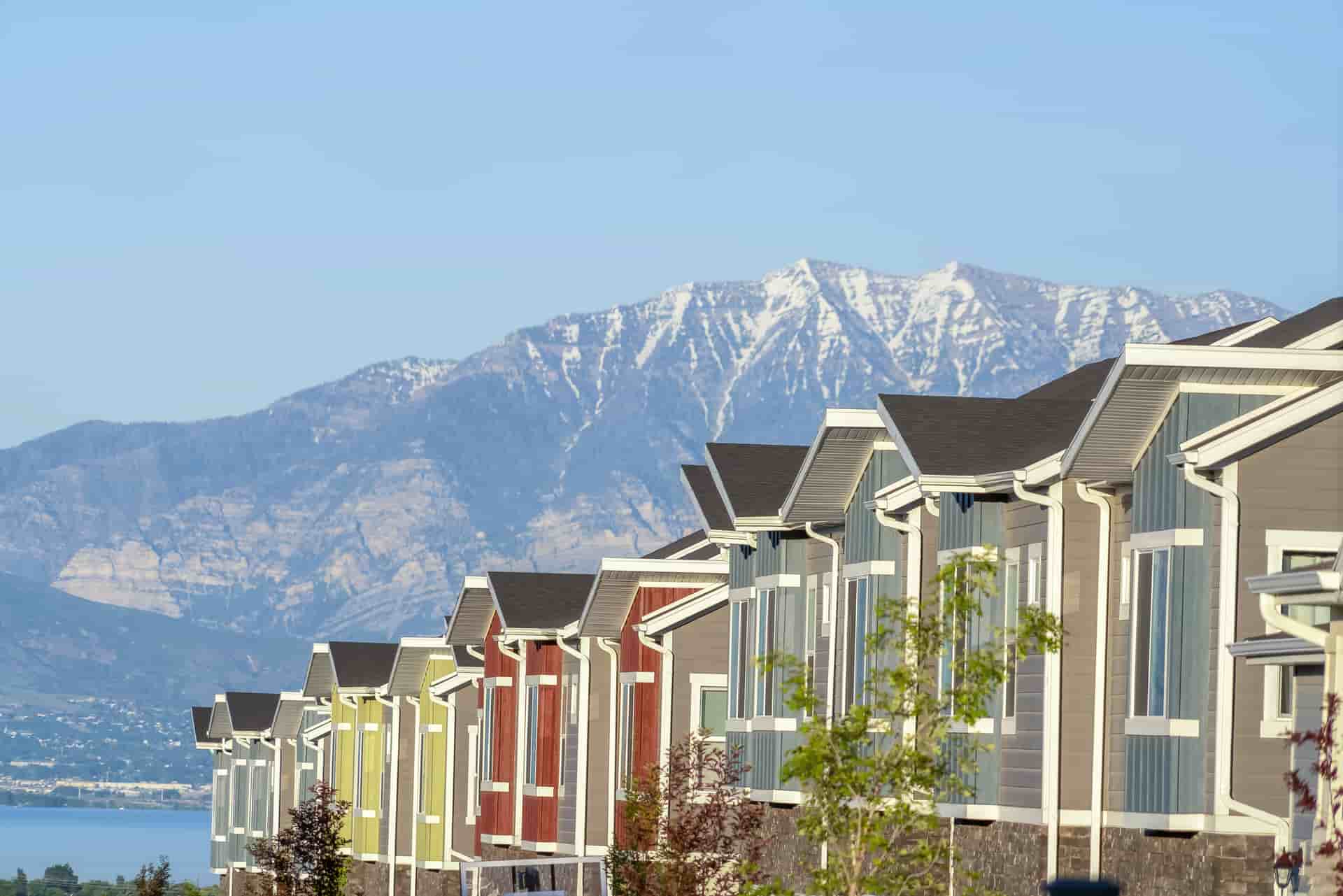 Are Townhomes a Good Investment?

When considering buying or renting, you can also consider a house or an apartment first. But let us not forget the sometimes unsung third choice; the townhouse.

For many, a townhouse can be an excellent investment. The space is usually more than a condo but less than a house. A townhouse owner owns the unit and the land it sits on. Most important, new townhouses are being built in desirable neighborhoods. Any real estate investor will tell you; location trumps all.

These single-family living spaces are a popular choice for new families or home buyers on a budget. Some folks buy them for their economic and ecologic efficiency. Others are scooping up future rental properties. And, depending on the location, many hold their resale value well.

Let's look at the ins and outs of townhomes.

Are Stacked Townhouses a Good Investment?
To say stacked townhomes are a good investment overlooks many factors. But the simple answer is, they are great investments. These dwellings are showing up in more cities as eye-catching new construction. Townhomes make up approximately 13%-15% of single-family housing.

Stacked townhouses, sometimes called two-over-two, are two townhouses. The stacked refers to one townhouse stacked on top of the other. Both townhouses have their own entry door from the street. They usually have a personal garage and terrace/patio, as well. Some will also feature a balcony.
Currently, they are gaining popularity in many metropolitan areas.

New construction stacked townhouses cost less than single-family homes. National averages compare townhomes at $167,000 versus new homes at around $420,000 — quite a difference.

Benefits of a Townhouse
Whether you are considering buying or renting, a townhouse is an excellent option. For some, a house is too much space, but an apartment is not quite enough.
Townhouses fit the in-between niche by offering:
Multi-Story Living Space. A townhouse is at least two stories, offering living space for a family.

Attached Private Patio or Outdoor Green Spaces. Enjoy your own small, personal yard space.

Often Includes a Garage. A garage protects a car, offers extra storage space, or a combination of both.

Communal Common Areas. Some townhome communities have tennis courts, a swimming pool, and other amenities.

No HOA Fees. Many townhouse units will not be part of a home owner's association — no monthly dues.
Do Townhomes Appreciate?
Yes. On average, most standard houses appreciate over time. Neighborhoods increase their value, and property prices rise. Townhouses appreciate for similar reasons. Investing in townhouses can be a smart move.

For starters, townhouse purchases usually include the land they are on. For this reason alone, values can appreciate. The average appreciation rate in the US is 3%-5%. Townhomes mirror these appreciation rates. Appreciation derives as much from the area as the structure, though.

Research the area in which a townhouse resides to determine appreciation potential. Property is always a winning investment. Owning the property your townhouse sits on allows greater ownership of the townhouse. A condo only offers the sale of that space, not the property.

Townhouses will list at lower costs than a house, making them appealing to investors. Whether buying to live in or rent, the lower entry cost helps potential buyers.

Townhomes can also offer communal amenities a house may not. These factors can all contribute to a townhouse's return on investment.

Are Townhomes Hard to Sell?
Townhomes are not hard to sell. Many of the factors determining resale value will depend on their location and the market. Townhomes sell at rates comparable to condos or houses. They hold their value, depending on their neighborhood. Owning the property, they sit on is also a bonus for buyers.

Townhomes are a great fit for some cities or communities — metropolitan areas looking to appeal to families, for instance. Or a college town, in which renting is profitable, could be great for townhomes.

The focus of appeal should be that townhomes are the perfect niche between a house and a condo. They can offer more space than a condo but a lower price point than a house and allow for property ownership with community amenities.

If you purchase investment properties, consider the potential for a townhome. If you are looking to sell, make sure your buyers see the future growth potential of the area.

End Unit Townhouse vs. Middle Townhouse
When deciding on a townhouse, you will find yourself asking; middle or end? Every townhouse has at least one shared wall. If you are in the middle, you will share both walls with neighbors. For some, this might be a difficult decision. Others may know straight away. In truth, it is a personal decision, but here are some points to consider.
End Units Cost More. An end unit usually lists for at least 5% more than middle units. If cost beats location, go for the middle unit.

End Units Can Offer More Space. End units often have a bit more square footage.

End Units Can Offer More Windows. Only sharing one wall means another wall for windows and sunlight. Depending on the outside view, though, this may not be a benefit.

Middle Units May Have More Noise. Living between two units means noise from both sides.

Middle Units May Save on Utilities. The insulation provided from shared walls will offer savings for heating and cooling.
Are Townhomes Considered Single Family?
Yes. There seems to be some discussion and debate over how to classify a townhouse. A single-family home, as it sounds, is where one family unit resides. It is also considered free-standing and a detached home, meaning not attached to another home. It is also private ownership and is on its own property.

A townhome is usually attached to at least one other unit. Does this disqualify it? Not exactly.

An individual can own a townhome, sit on its own property, and one family can live there. So, it is a little of both. In most cases, townhomes will list as single-family homes but will stipulate "attached."

Can You Rent Out Townhomes?
Yes. Townhomes have been popular rental properties for decades. Real estate investors buy townhouses as rental spaces. They can be a profitable move for many. Some tenants want more space than a condo provides but are not ready for a house. A townhouse offers more of a house feel than a condominium.

Townhouses often have two or more floors, bathrooms, and bedrooms. - perfect for small families. They also allow for minimal exterior upkeep, such as mowing a yard. Additionally, some townhouses offer HOA amenities and common areas. HOA amenities and rules will be specific for each association. Check to see what to expect before you rent or buy.

Landlords renting a townhome can usually ask more for rent than a condominium. Units on the ends can also ask for more rent than middle units. The small outdoor spaces also open opportunities for renting to tenants with a pet.

Townhome Insurance
As an owner or renter of a townhouse, you need insurance. The type of insurance can vary, though, depending on a few factors.

Is your townhouse part of a homeowners association (HOA)? Are you renting or buying the townhouse?
Renters Insurance

.

You need this when renting a townhouse.

Freehold Townhouse Home Insurance (HO3). You need townhouse home insurance when you own a freehold townhouse. A freehold townhouse is not part of an HOA but still shares a wall with an adjoining townhouse.

Because you must rebuild the home's structure after a disaster, a standard home insurance policy (HO3) provides full dwelling insurance to rebuild the structure of your townhouse.

Townhouse Insurance (HO6)

.

HO6 applies to townhouses, condos, and coops that have HOAs. If you own a townhome that is part of an HOA association, the HOA may have responsibility for the exterior structure. You must inquire with the HOA to understand who is responsible for what, then buy the proper coverage.

Landlord Insurance for Townhomes
If you own a townhome and are planning on renting it out, you will need landlord insurance. Landlord insurance typically is a DP3 policy. It covers damage from 16 Named Perils. See the below image.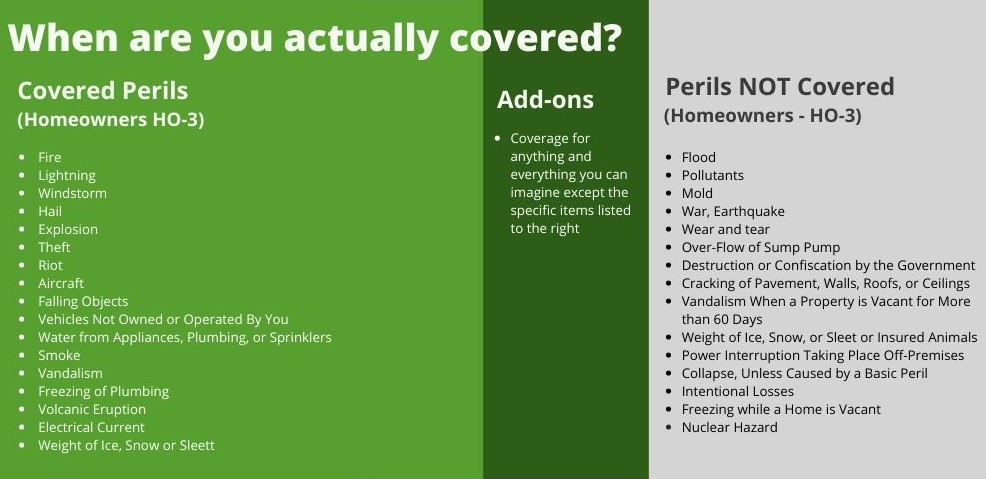 It also covers:
The Building's Structure. It can also cover other structures on the property, like a fence or detached garage.

Damage to Personal Property

.

This protection includes items used for property maintenance and upkeep or things you leave in the townhome like a toaster.

Loss of Rent. If a rental property is under construction after destruction by a covered peril, this pays for lost rent while your property gets repaired.


Landlord Liability.

Lawsuits and medical expenses are covered when the landlord caused issues.
Additionally, landlords can add coverage for:
Building Code Enforcement. If a property needs repair, you may be liable for bringing the property up to code, per the city. This policy can cover reimbursement for the necessary upgrades after a covered disaster.
When talking to new or long-term tenants, make sure they have renters insurance for their personal items.
Get a Townhome Insurance Quote
Choosing the right insurance for your townhouse can be challenging. But it does not have to be. Call and speak with our experts today to see which coverage is right for you.
Hope that helps!
Free Online Townhome Insurance Quotes
At your service,
Young Alfred