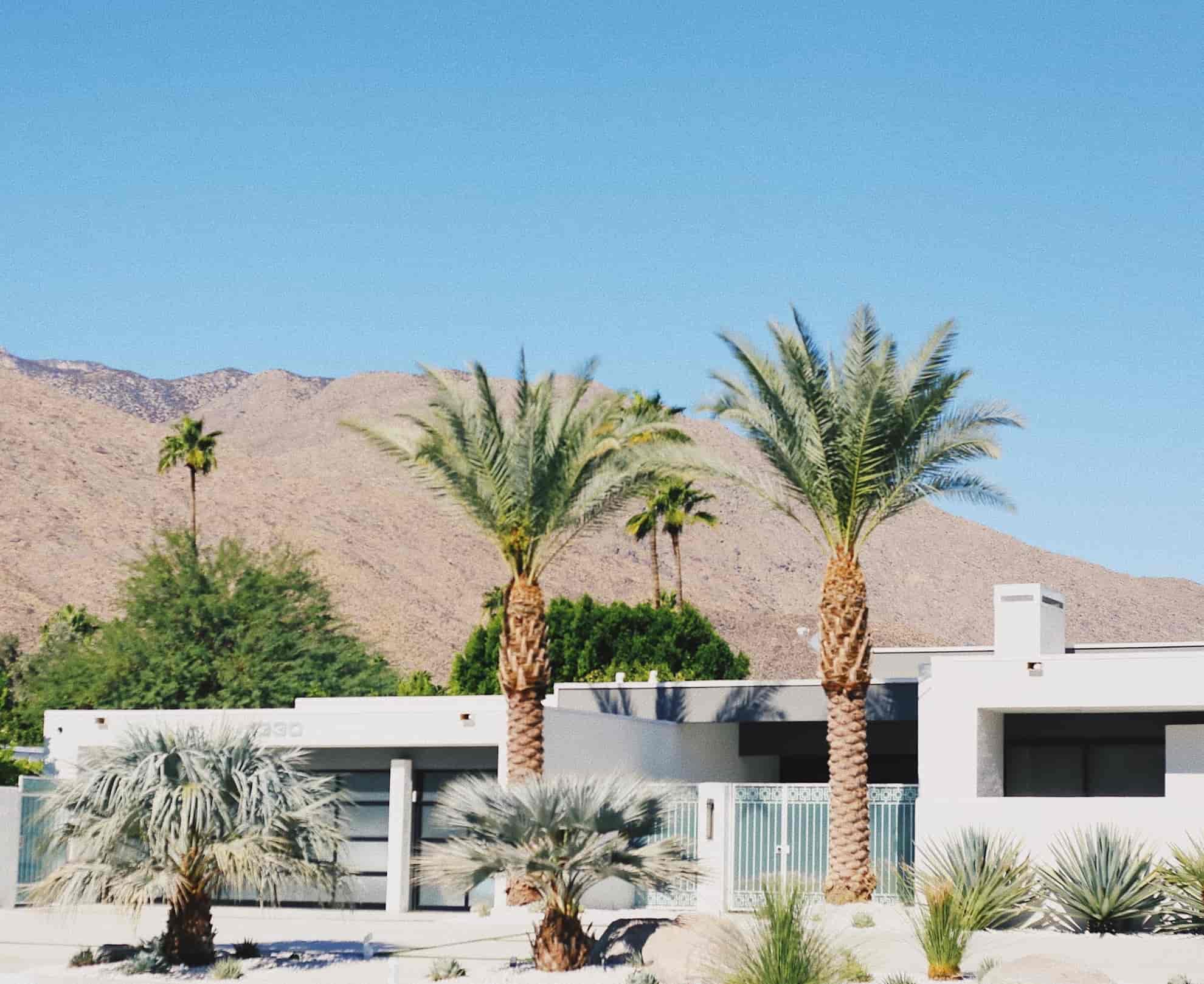 Arizona Home Insurance Rates

Arizona is one of the fastest-growing states in the U.S., with Phoenix ranked as the number one destination for new residents between 2017 and 2018. With so many new arrivals, homeowners must protect their property.

Fortunately, it is easy to get homeowners insurance in Arizona with Young Alfred. You might not know about us, so we thought we should introduce ourselves and say hello.
Currently, the state has relatively cheap rates, standing at a yearly average of $843 for Arizona homeowners insurance. Compared to the national average cost of $1,249, Arizona residents are looking rather good.

That said, depending on where you live in Arizona, your rates can go higher or lower. Let us look at the coverage in the copper state.

Insurance Coverage for a Home in Arizona
When buying a standard homeowners insurance policy, you will receive the following coverages:

Dwelling Coverage
There are two types of structures covered by your policy - attached and detached. Attached structures can include a garage or enclosed patio, while detached structures may include a pool house or carport. If it is connected to your house, it is attached. If not, it is detached. Insurers use RCV to value this property when you file claims.
Living in Arizona, you might have a backyard pool, so this coverage can come in handy. Dwelling coverage also applies to things like manufactured or mobile homes if they sit on a fixed foundation.

Usually, detached structures will get covered for up to 10 percent of the home's insured value. So, if you have a $500,000 policy, $50,000 will go toward other buildings on your property. You can increase this coverage if necessary. For example, if you have a guest house or combination pool/guest house, it is probably worth more than $50,000 to rebuild.

Personal Belongings
Your home is not anything without all the stuff inside. Appliances, furniture, clothing, and sentimental family heirlooms all have value, so you must protect them. There are some personal property coverage limitations to understand:
Personal Belongings Sub-Limits. Standard home insurance policies cover personal property but are come with coverage sub-limits. For example, many plans cap payouts for jewelry at $2,500, and even then, the maximum usually only counts with stolen items. These caps are called sub-limits and apply to personal property.

If you have high-end valuables, you will need to add an endorsement or property floater to increase your coverage. Otherwise, you could wind up with a check for a two-diamond necklace instead of the 15-diamond necklace you originally had.

Personal Belongings Claims' Property Valuation. Another factor to consider is the difference between replacement cost value (RCV) and actual cost value (ACV).

Replacement cost means that the insurance company pays you enough to buy a new, identical item. Actual cost value means that you get a check for the item's current value, even if it is worth less than what you paid. They take the item's current selling price and deduct depreciation for the number of years you owned it.

Most personal property insurance uses ACV, but you can often upgrade to RCV. Doing so can save you many costly headaches later.
Personal Liability
No one enjoys getting sued, particularly for something out of their control. Personal liability protection can help cover any potential lawsuits that arise from injuries that occur on your property. If someone slips and falls next to your pool or accidentally trips and face-plants into your walkway, they might sue for damages.

Typically, personal liability insurance starts at $100,000, but you might want to get more, depending on your home. For example, pools are much more hazardous than a standard lawn, so you might want extra coverage, just in case.

This coverage also includes property liability for other people's personal belongings. If your guest that face-planted also breaks their $600 sunglasses in the fall, your personal liability will pay to replace them.

Medical Bills Liability Coverage
While personal liability insurance pays for lawsuits and your guest's property damage, medical bill coverage pays the injured person's healthcare fees. Usually, these policies max out at around $5,000, but it is better than nothing. You can increase these amounts if you want.

Additional Living Expenses
Some of the named perils included within your homeowners policy are fire, explosions, and vehicle damage (both cars and planes). Let's say that a small aircraft crashes into your house (a common occurrence), and you must move out until the contractors finish repairs. During this time, you will have to stay at a hotel, which can cost quite a bit over time. Additional Living Expenses coverage pays for these expenses when living at home is not an option.

Arizona-Specific Covered Perils
Standard homeowners policies come with a list of 16 named perils. This term means that should one of these conditions happen, your insurance will pay for the damages caused by that peril. The definitive list of hazards include:
Riots and Civil Unrest

Vehicle Damage

Weight of Ice and Snow

(N/A in Arizona)

Sudden and Accidental

Water Damage

Sudden and Accidental

Power Surges

Sudden and Accidental

HVAC

or

Automatic Fire Sprinkler Damage

Explosions

Volcanoes

Freezing
As you can imagine, not all these perils exist in Arizona, so you should not worry about most of them. However, the desert does come with some inherent dangers, some of which do not come with your policy. According to Maricopa County, the most common environmental hazards in Arizona are:
Wildfires. Dry areas mean dead wood and trees, which can ignite quickly and ferociously. Home insurance usually excludes wildfires, but you may be able to buy a wildfire endorsement.

Wind and Dust Storms. When a storm does travel through the desert, it can get intense with high winds and dust devils or small tornadoes. Home insurance typically does cover wind and dust storms in Arizona, including tornadoes.

Termite Damage. Arizona has one of the highest termite rates. Since you often cannot see them and only notice damage after it is done, damages are costly. Your home insurance policy does not cover termite damage or damage from any pest, bird, or other vermin.

Flooding. Even though Arizona is a land-locked state, flooding can occur when heavy rains hit. Some zip codes are more susceptible than others, which can affect your homeowners insurance rates. Home insurance excludes flood coverage, but you can buy an additional flood insurance policy to cover flooding.

Since flood insurance does not come with a standard policy, you must buy it separately. You used to have to get flood coverage through the government's National Flood Insurance Program (NFIP), but now many insurance companies provide it as an endorsement. Depending on your flood risk, you might want to consider it.

When it comes to the destruction from flooding and water damage, keep in mind that insurance only pays for natural disasters or "sudden and accidental" incidents. If a pipe bursts because it is old and rusted, you will have to pay out of pocket. If a flash flood trashes your basement, you are out of luck - basement coverage is excluded.
Welcome to Arizona's Home Insurance Agency, Young Alfred
We, Young Alfred, are a licensed insurance agency operating in all 50 states. However, Arizona residents can contact us directly through our local branch office in Tempe, AZ.
Here are some details about us, so you know more about us when getting a homeowners insurance quote.
Address. 222 S Mill Ave STE 800, Tempe, AZ 85281
Phone Number. 1 (800) 640-5001
Young Alfred.

About our company
In Arizona, Young Alfred has a high customer satisfaction rating, thanks to our excellent team of reps and agents. When a client files a claim, we offer immediate support. We also have a low customer complaint index due to our impeccable service standards.

Home Insurance Companies in Arizona
As a licensed home, pet, and car insurance agent, Young Alfred works with over 40 insurance companies in the region. We offer comparisons on home insurance quotes without spamming your inbox or voicemail. You can contact us 100-percent online or over the phone. Our customer service reps and insurance agents are available 24/7 to meet your needs.
Here are some of the top homeowners insurance companies we work with within Arizona.
3 Arizona Homeowners Insurance Rates Comparison
Next, we will provide you three (3) quote comparisons of Arizona home insurance rates from three different cities, Tempe, Phoenix, and Scottsdale. The quotes came from our automated quote app.
We hope this will help you get an idea of what it is like to use Young Alfred and look at some possible Arizona home insurance rates. Let's walk through a quote comparison for three Arizona properties.
Insurance premiums and rates are based on various elements, such as zip codes, age of the home, interior fire hazards (i.e., a fireplace), roof type, etc. Here is what to expect when buying home insurance in Arizona.
Home #1 - Scottsdale, Arizona
Our first home is in a gated community, making it an ideal choice for residents since it comes with added security and livability. Homes in gated communities get a discount on home insurance for the added security provided. This house also comes with a pool, which can increase home insurance rates, depending on how well it is enclosed or fenced.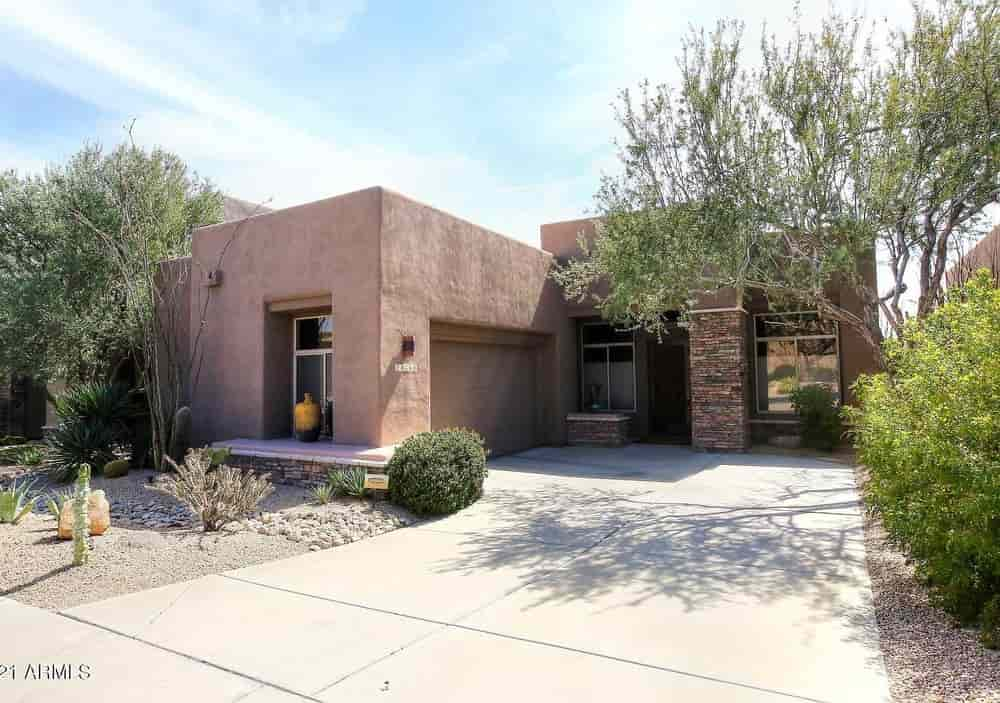 Home Stats
Three bed, two baths
2,223 square feet
Built-in 1996
Listed for $695,000
Risk Assessment
Young Alfred provides a risk assessment for all properties, and in this case, the home is most at-risk for mold, wildfires, and flooding. The Scottsdale area can get some flash floods from time to time, making floods a high-risk category.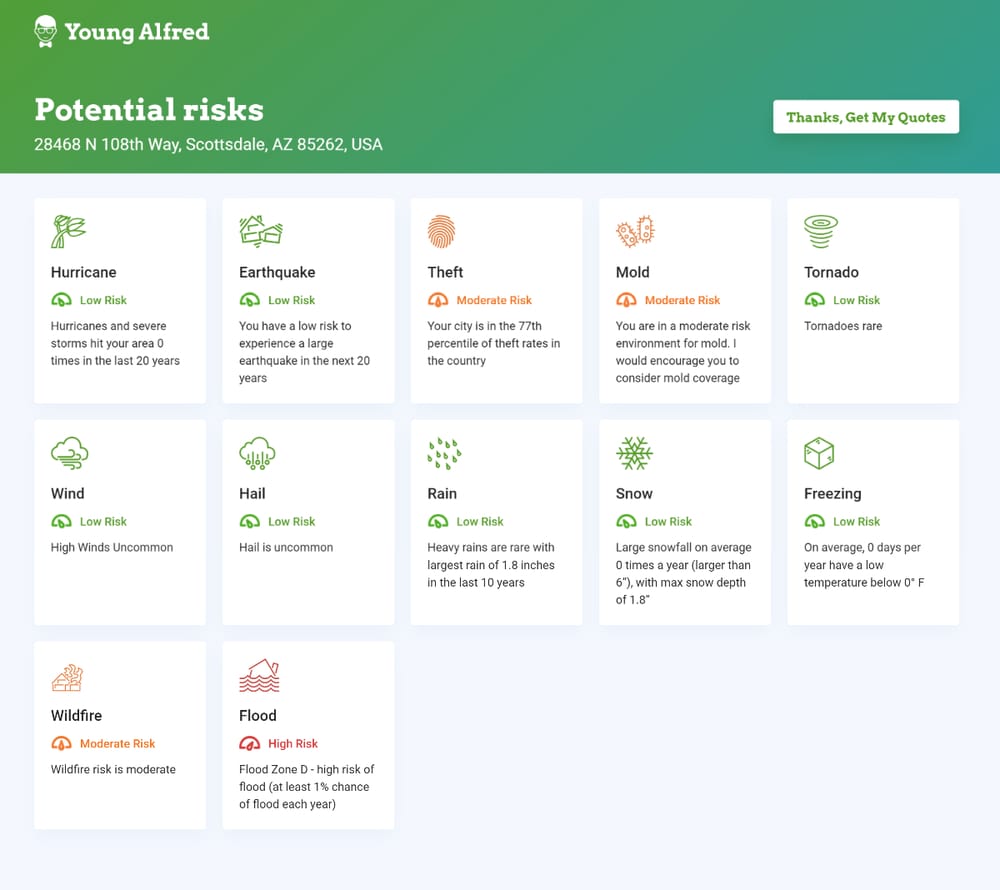 Quote Comparison
Here is a rundown of the three homeowners insurance company quotes provided for this house based on a $1,000-$2,500 deductible. While Hippo seems to be the best-priced option to this homeowner. They are offering that lower price at a higher deductible. It becomes more of a tradeoff of the individual and age of the home on which deductible to choose.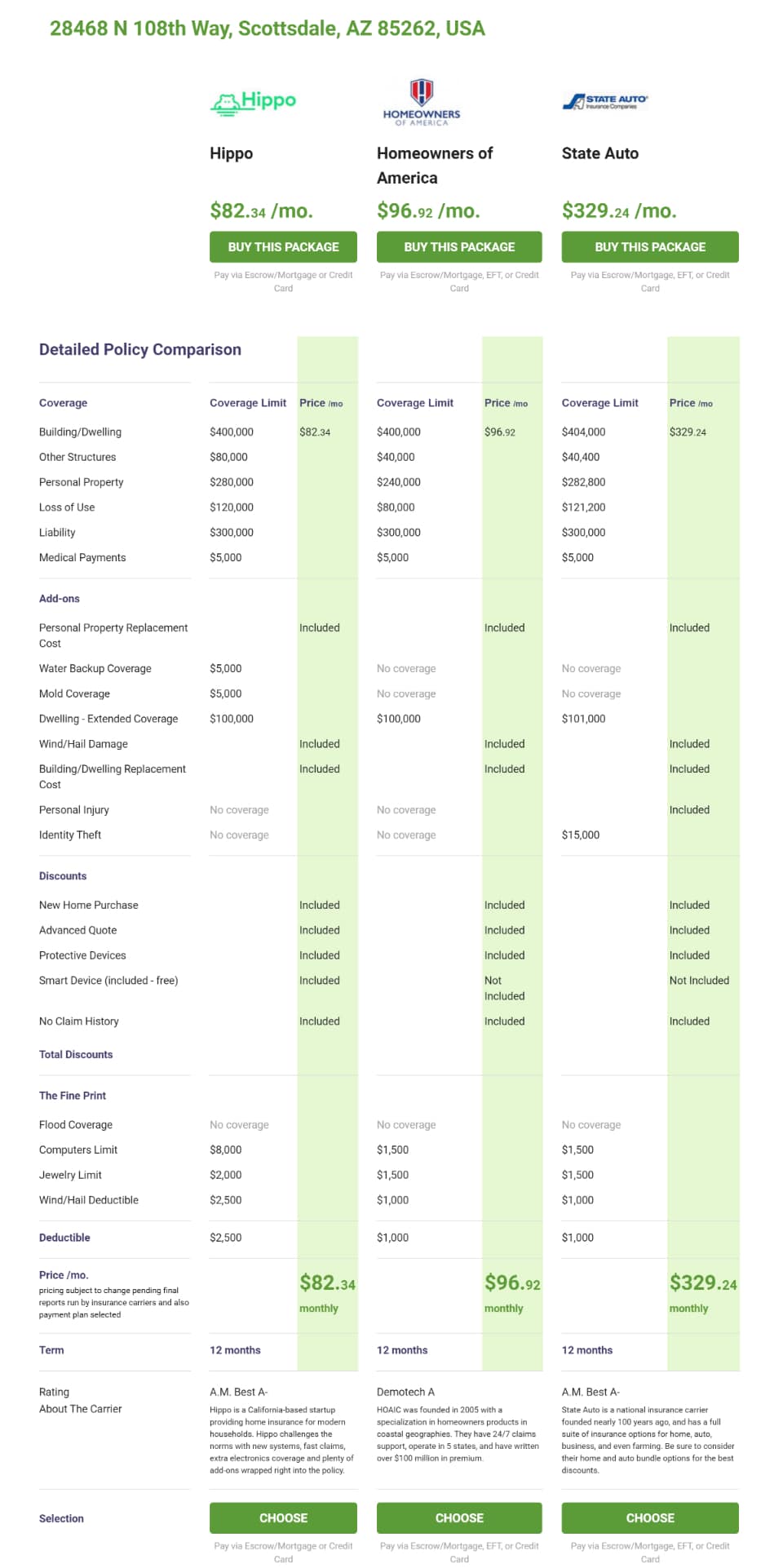 Home #2 - Tempe, Arizona
Our second property is a townhouse, which technically qualifies for an HO6 policy covering condos, townhouses, and co-ops. You don't own the walls, foundation, or roof of a townhome, but you do own your stuff and sometimes the kitchen cabinets and other visible construction within the townhome. Your insurance covers what you own.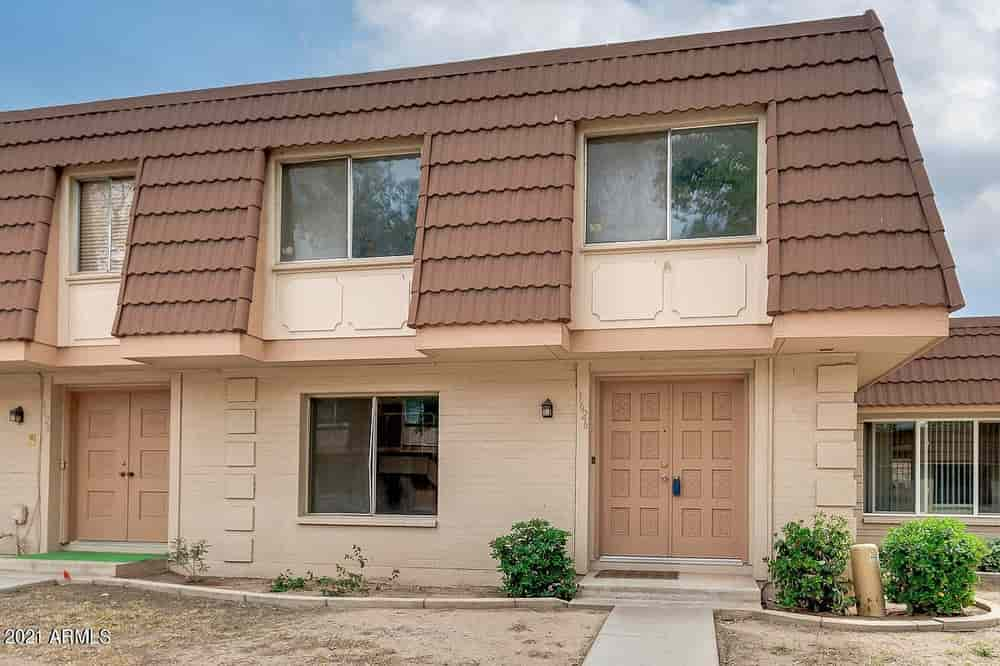 Home Stats
Three bed, three baths
1,704 square feet
Brand-new kitchen and flooring
Built-in 1970
Listed for $309,000
Risk Assessment
Since this townhome is not in a gated community, it has a much higher risk of theft. Tempe is in the 94th percentile for burglaries and break-ins, so home security measures could influence insurance premiums. Otherwise, the house is also at risk for high winds, mold, and wildfires. Flooding is also a relatively common occurrence but not as common here as it is in Scottsdale.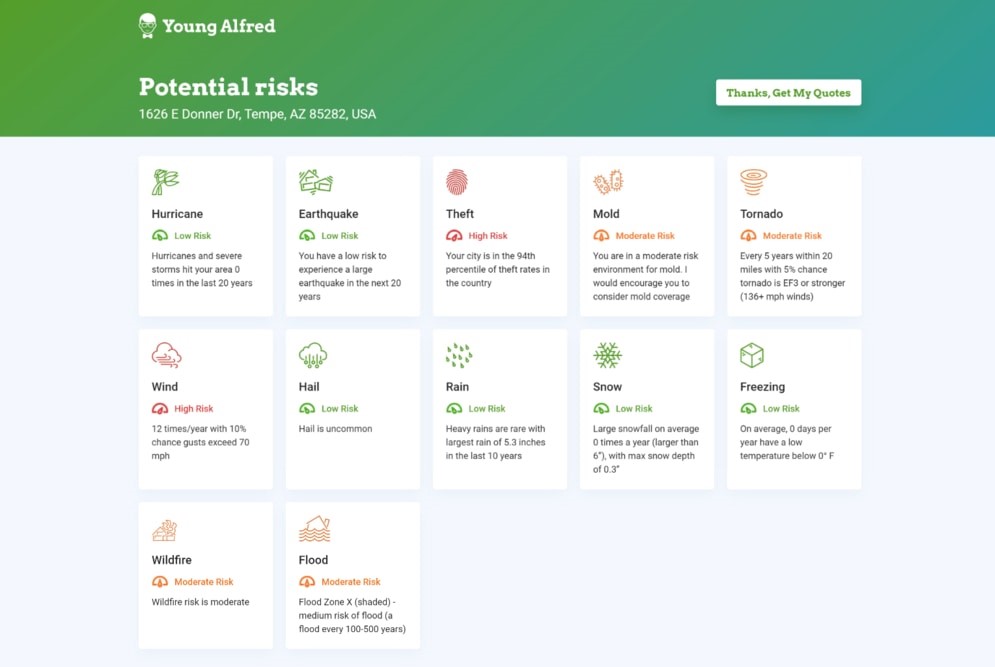 Quote Comparison
These insurance costs include a $2,000 deductible and excess coverage for belongings worth over $5,000. In this case, we would want to understand the actual cost of rebuilding the inside of the townhouse.

They have done a gut renovation and upgraded the kitchen, so depending on what it would cost to replace their remodel, we would recommend either Hippo or Nationwide's policy. Hippo offers the best rate for more coverage, but Nationwide provides more coverage for the interior for a bit more money. We would also re-quote Hippo to see what they would charge for the exact numbers that Nationwide offered.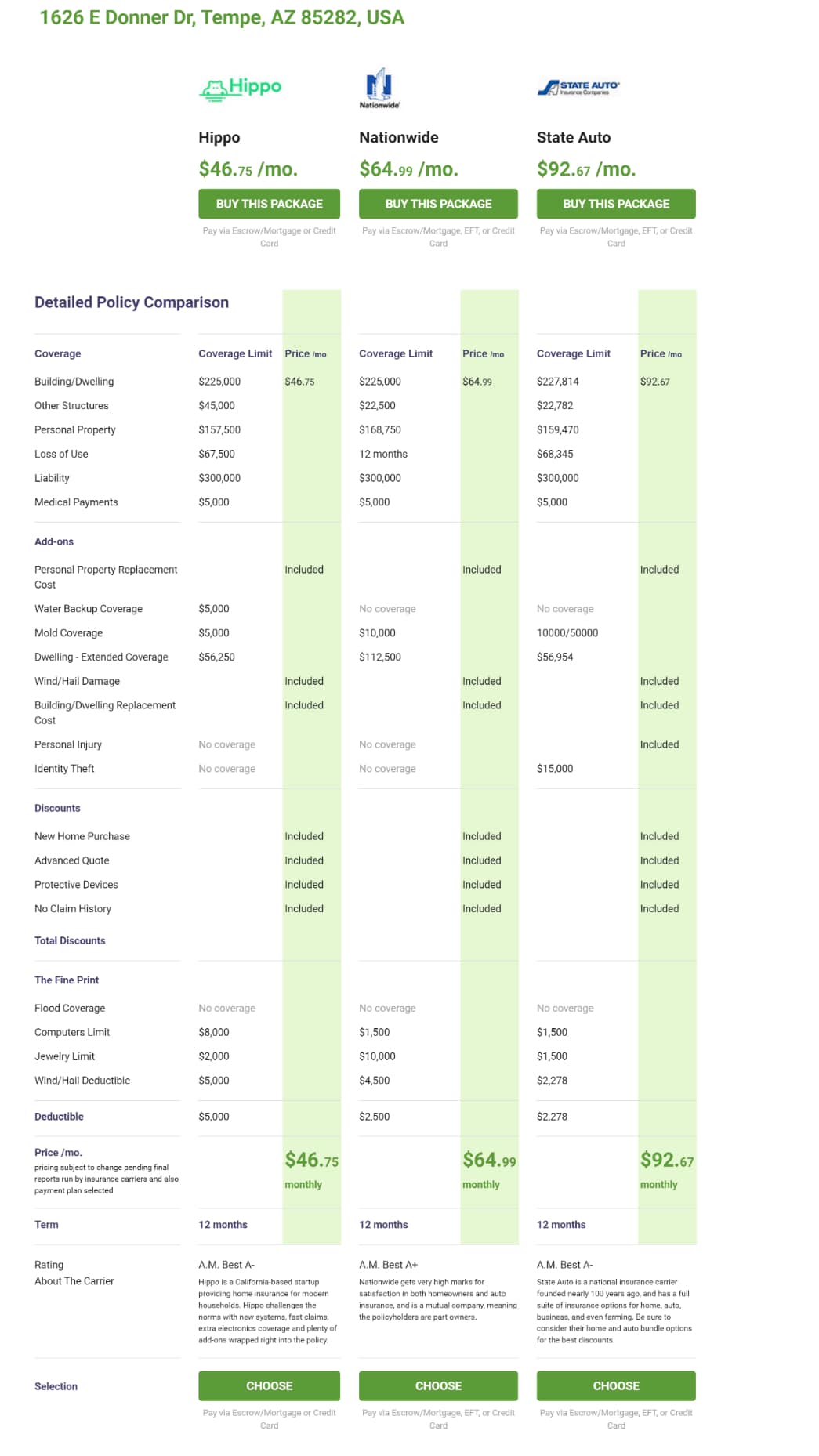 Home #3 - Phoenix, Arizona
The urban center of Arizona, Phoenix, has been up-and-coming for several years, leading to rising home prices and a more competitive market. This home also has a pool and comes with a mid-level price range.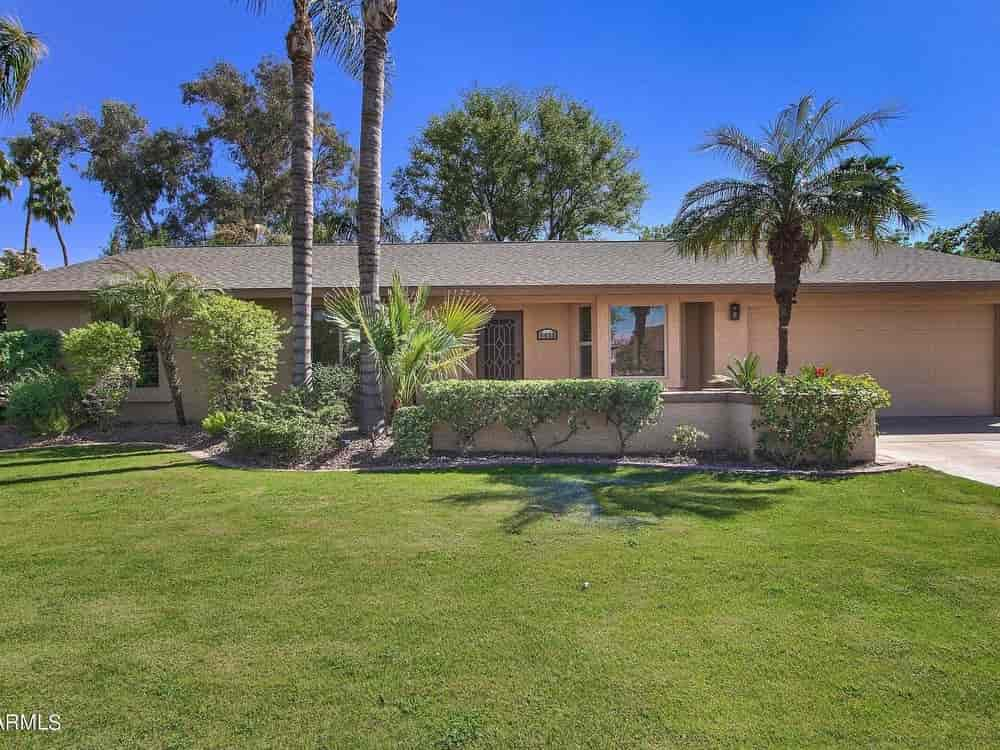 Home Stats
Three beds, two baths
1,762 square feet
Newly remodeled in 2009
Built-in 1980
Listed for $550,000
Risk Assessment
Phoenix's meteoric population increase has also led to a spike in crime. The city is in the 89th percentile for theft, making it a high risk. Other potential hazards include mold, tornadoes (or dust devils), wildfires, and flooding.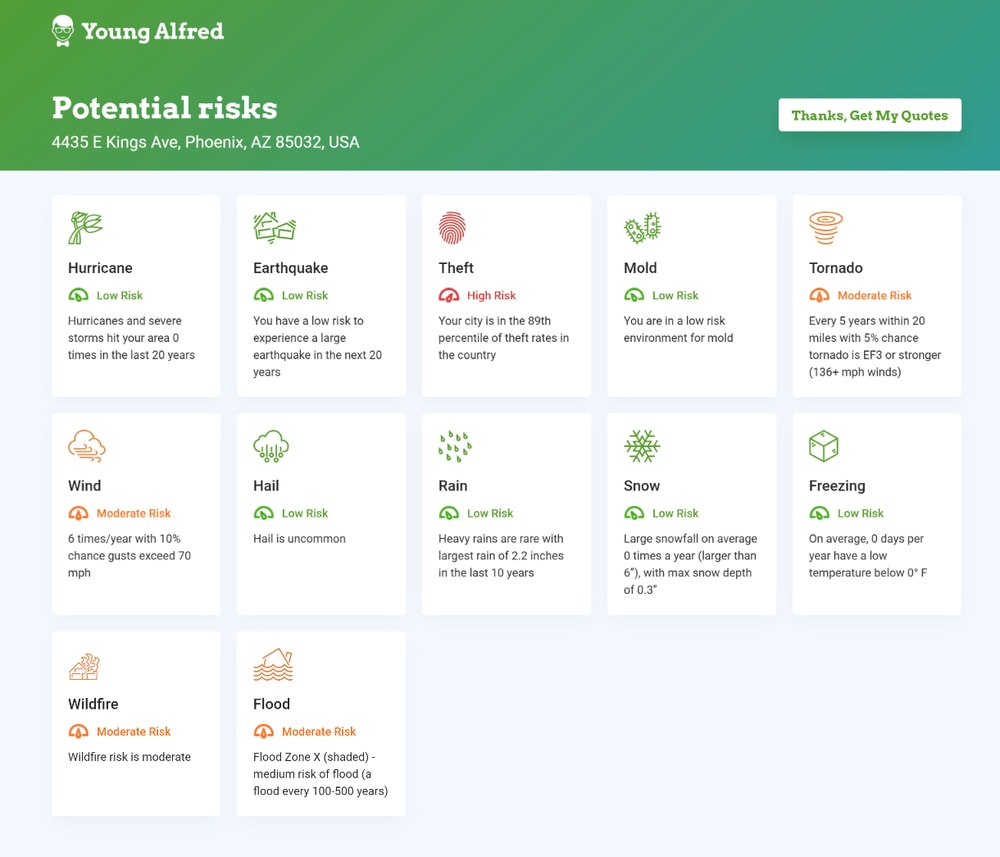 Quote Comparison
Here is a breakdown of what each home insurance company can offer for this property. Each quote includes a $1,500 deductible and upgraded replacement cost coverage for belongings.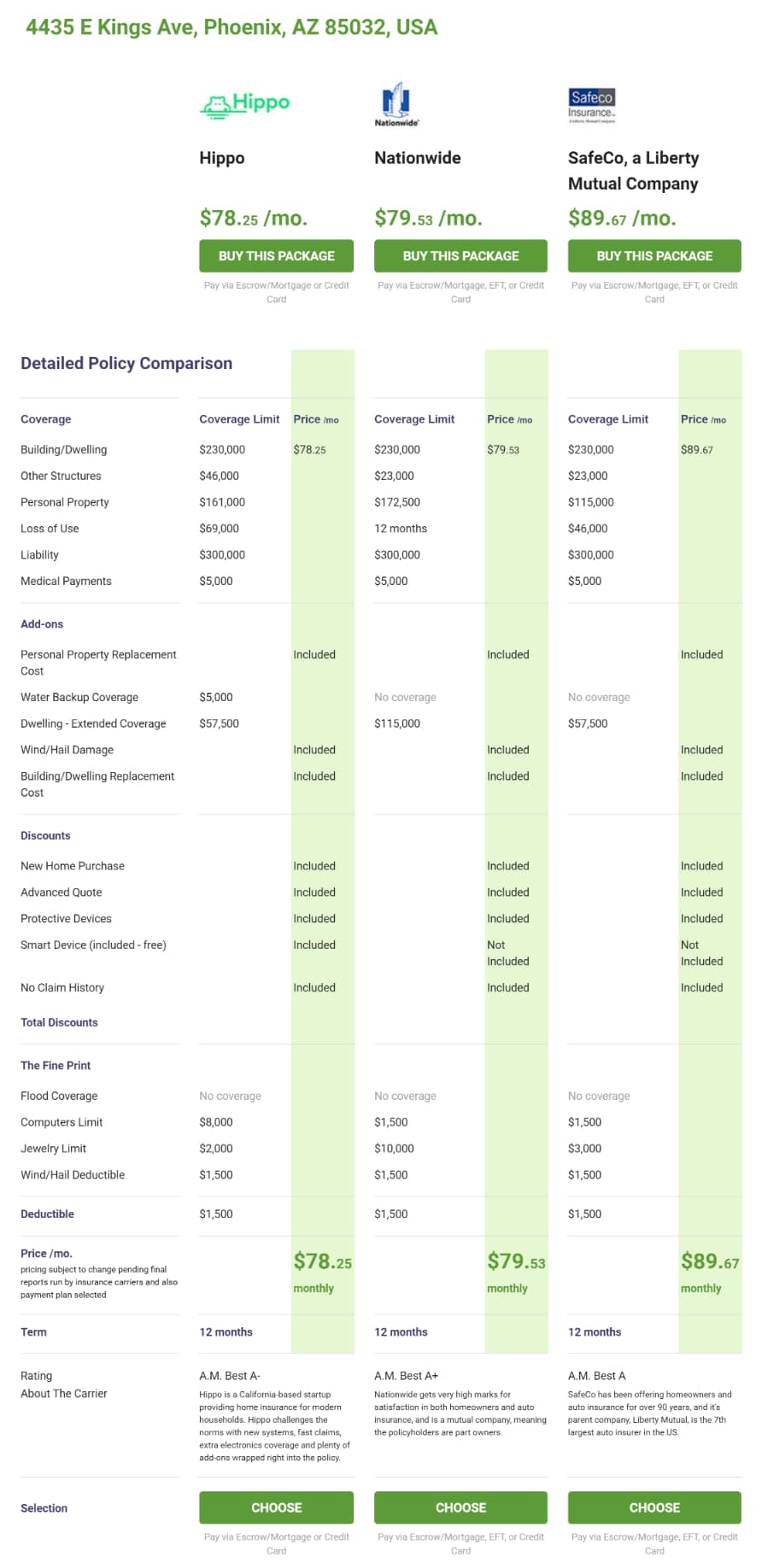 Hippo probably wins this one also, although Nationwide is extremely competitive and offers more extended dwelling coverage. As your agent, we might inquire more about the actual cost to rebuild your home and base our decision on the best price for that rebuild amount.
Get Your Quotes Today
As you can see, getting quotes for your home is fast and easy. Protect your property with comprehensive coverage today! Click the button below to get started.

Hope that helps!
Free Online Home Insurance Quotes
At your service,
Young Alfred