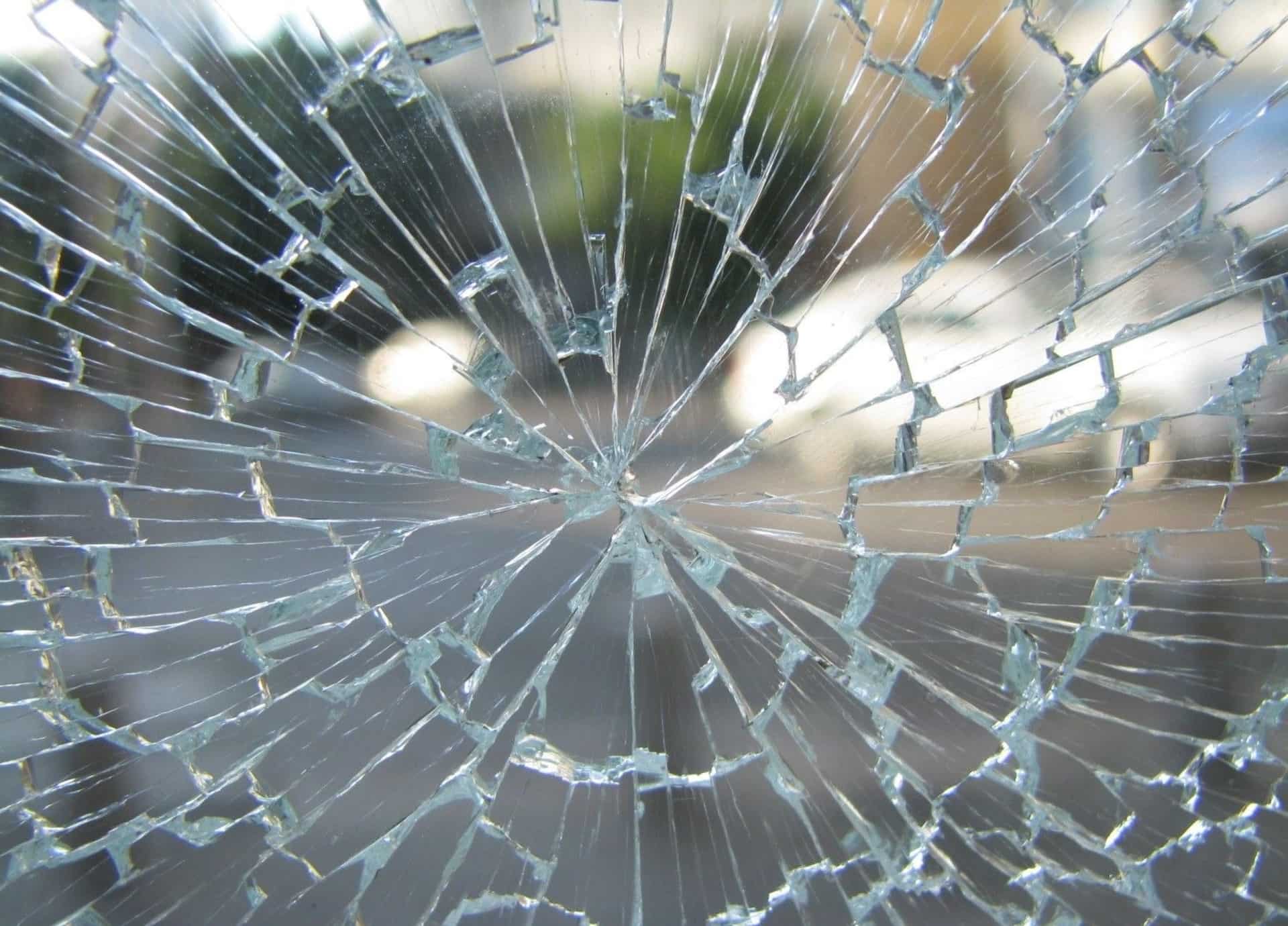 Is Window Replacement Covered by Insurance?

Yes. Standard home insurance (HO3) pays for repairs or replacing windows when a covered peril causes the damage. HO3 standard home insurance is an open perils policy, meaning it covers anything not listed as an excluded peril in the policy. Look on your declarations page for your list of exclusions; the image below provides typical exclusions.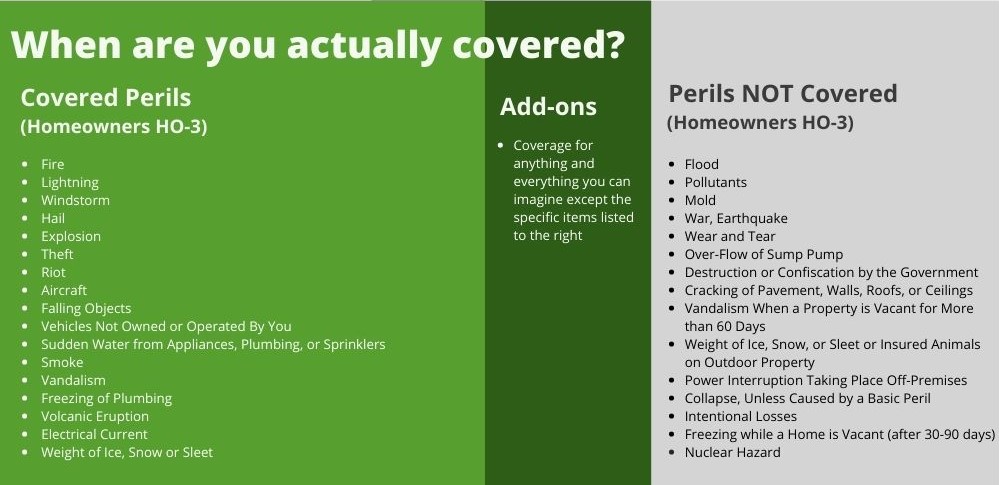 It is essential to understand what insurance covers, what insurance will not pay for in a claim, and how much each claim will pay. Also, a few different types of policies might come into play when you have a damaged window.

So, let's review a few scenarios to learn if, when, and how insurance companies repair or replace damaged windows.

Window Replacement Coverage
Home insurance covers window replacements when a covered peril damages it. When you file a window replacement claim, an insurance adjuster will visit your home to examine the window. S/he has the authority to approve or deny your claim, meaning s/he may rule the window's damage happened from the covered peril you claimed or not.
So, be honest! Being on the naughty list for insurance fraud prevents you from keeping and getting home insurance. And, yes, insurers do share information through a platform called the CLUE database. Click this link to get a free CLUE report about your home.
Because windows are attached to your home, your dwelling coverage covers them. That is important to know because dwelling coverage comes with replacement cost property valuations (RCV), meaning insurers do not deduct depreciation. Therefore, you will get a new window plus money to pay for shipping and installation.
Note, though; you must pay your deductible before getting the remaining amount from your insurance company. Your deductible amount should sway your decision to make a claim or not. E.g., if your deductible is $5,000 and the window and installation is $3,500, it does not make sense to file the claim.
Even if the window's total cost is $6,000 with a $5,000 claim, you may not want to file the claim because your premiums may increase when you renew your policy. So, weigh all the factors.

Does Insurance Cover Broken Windows?
Yes. Standard home insurance (HO3) pays to repair or replace broken windows when a covered peril causes the breakage.

As you can extrapolate from the perils image above, your policy covers these typical reasons windows break:
An accidental stray baseball or something similar

A stone that flew out of your lawnmower

Windstorms that send projectiles into the window

Trees or branches falling (any fallen object)

Fire, lightning, hail, and volcanos

Explosions

Aircraft or a vehicle crashing into the window

A riot, vandalism, or civil unrest

The weight of snow or ice on a skylight
However, many other things could cause a broken window that your home insurer will not cover, such as:
A flood could break a first floor or basement window

An earthquake

Insurers consider things like mold, rot, old age, wear and tear maintenance issues

Cracks and breakage from a failed foundation

War or nuclear hazards

An intentional act like a domestic dispute or a child's tantrum that leads to a broken window

Vandalism if your home is vacant for more than 60 days (check your policy for timeframes)
You can buy separate earthquake and flood insurance, however, which will cover window damages.

What To Do When a Neighbor Breaks Your Window?
First, speak to your neighbor to see if they volunteer to fix it to your satisfaction. This approach keeps you from having to pay anything out of pocket.

If your neighbor does not pay for damages, call your home insurance company. Typically, you will file a claim with your insurer. They will pay you for the damages, and then they will file a subrogation claim against your neighbor's insurance carrier to be reimbursed. In this case, you still must pay your deductible, but after your neighbor's insurer pays your carrier, your carrier will return the deductible to you.

Another alternative is to sue your neighbor in court for damages, which we recommend if your deductible is more than the replacement cost of the window or if they do not have home insurance.

Does Homeowners Insurance Cover Broken Window Seals?
Usually not. Home insurance only pays for covered perils, no maintenance issues, so insurance will not pay for broken window seals that fail from old age, poor maintenance, or wear and tear. However, they will pay for a broken window seal damaged by a covered peril, e.g., a sudden event like a fire.

Damaged seals first become visible when double-paned windows begin to fog. Seal failure happens, and window companies usually cover them under a twenty-year warranty. After that, broken window seals typically are a maintenance issue and fall under wear and tear.

Does Homeowners Insurance Cover Rotted Windows?
Homeowners insurance will not cover rotted windows in most scenarios. Typically, rotting windows are a result of overdue window maintenance. But, if a window rots after a storm and you report it immediately, your insurer may cover it. Remember that insurance will cover storm damage but may deny a claim if they find the window had preexisting damage.

When your window breaks or gets damaged, report the damage as soon as possible. This way, your insurer knows the rot developed from the disaster and not a preexisting rot.

Your insurer also expects you to mitigate further damage after a storm to prevent rot. So, for example, if a ground level or basement window floods, remove the water if possible. Or cover it with plastic or a tarp to prevent further water damage.

Does Home Warranty Cover Windows?
No. Your home warranty covers costs for wear and tear on vital parts within your home. That can include plumbing, wiring, and appliances. However, external structural elements, like doors and windows, are rarely included in that protection. Therefore, your home warranty will probably not pay to replace your window.

5 Broken Window Insurance Tips
Know your policy. What is your deductible, and when does it apply? Understanding your policy and the coverage you have can help with the claim process. Then you will know what information you need before you file a homeowners insurance claim.


Call your insurance company first and cooperate with their requests

. Their claims representative will have questions that help them decide what coverage qualifies. Answer them with honesty and as wholly as you are able.

Document the damage. Take photographs and video of the damage as close to the time of the event as possible.

Cover the damage. Cover broken windows, damaged walls, and leaking roofs. Temporary repairs are suitable until your insurance provider has inspected the damage. Cover the broken window with secured plastic or tarp.

Save receipts. You need proof of purchases you made to cover your windows or for any repair costs that you incurred to prevent further damage.
Bonus Tip: If the damage forces you from your home for safety reasons, let your insurance company know when you file a claim. You may have coverage to help pay for your temporary shelter while you wait for repairs through your additional living expenses coverage.

If the damage relates to severe storm damage, FEMA may have disaster relief grant funds to cover the cost of relocation during repairs.

The best time to protect your home is now. Get a free insurance quote and review your coverages today so you can worry less tomorrow.

Hope that helps!
Free Online Home Insurance Quotes
At your service,
Young Alfred