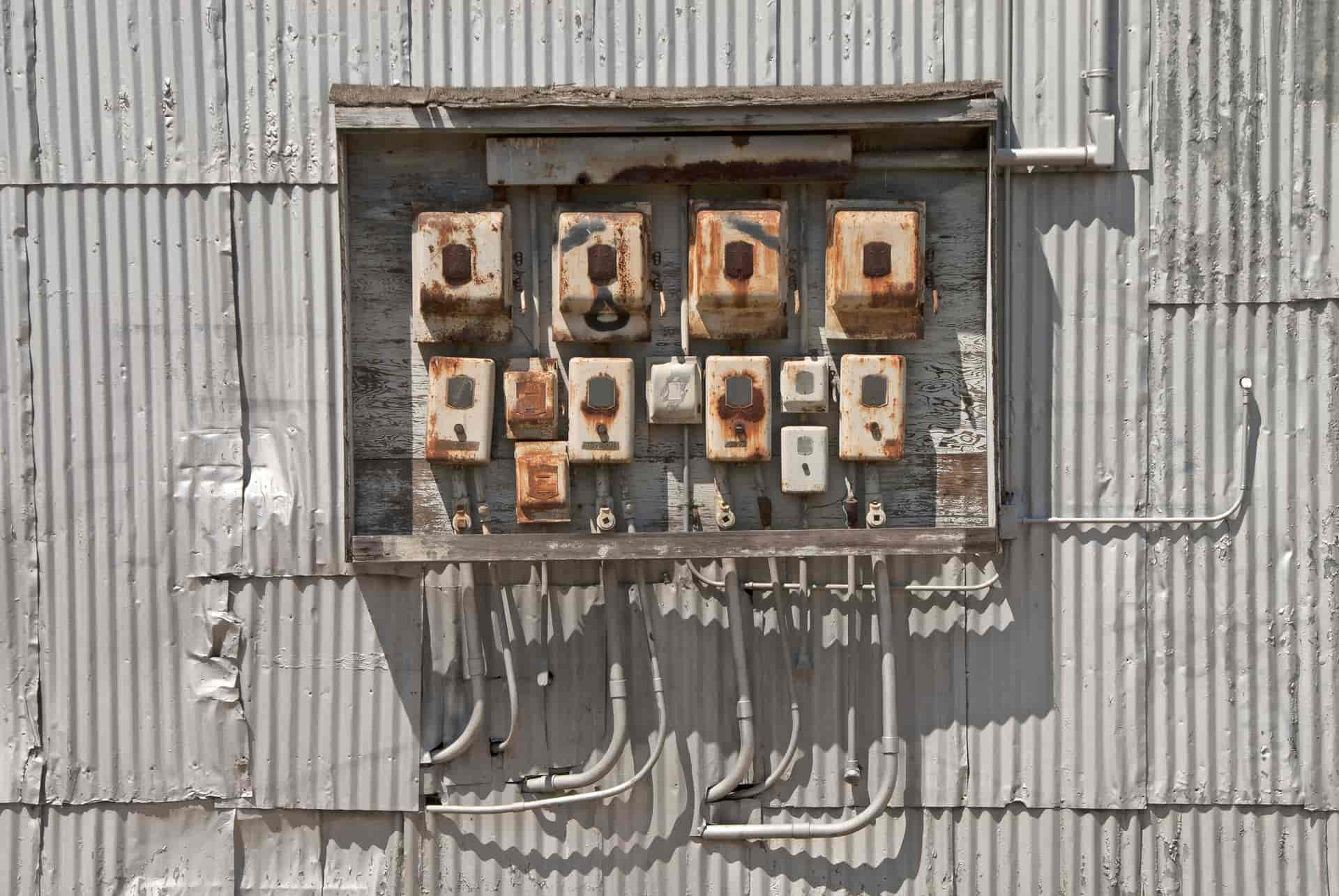 Does Homeowners Insurance Cover Electrical Panel Replacement?
Yes and No. A standard home insurance policy would cover replacing your electrical panel if a covered peril damaged it, e.g., a flood. However, insurers will not cover some old electrical panels. In the case of an old excluded electrical panel, if the old panel malfunctioned and caused a fire that damaged it, its replacement is not covered. Nor is anything else damaged in that fire.
According to Electrical Safety Foundation International, the U.S. is home to around 51,000 electrical fires each year. That results in about 500 deaths and 1,400 injuries. While there are several causes for these fires, electrical distribution systems (i.e., your home's electrical panel) are the third most common reason.
As we mentioned, homeowners insurance only covers the cost of replacing or upgrading your electrical panel if a named peril damages it. So, if you have an old system that shorts out by itself, you could wind up with a significant repair bill.
Even worse, most home insurance companies will not cover specific electrical panel brands. If you have one of these uninsurable brands in your house, you often cannot get any insurance whatsoever until you replace it. However, since these brands are so dangerous, it is a good idea to upgrade regardless.
Let us discuss the various electrical panel brands that can get you knocked off your home insurance company.
Bad Electrical Panels Insurers Reject
Technically speaking, three of these electrical panels are from the same company: GTE Sylvania. However, you can find these panels with different brand names. So, it is crucial to know what to look for when inspecting your house.

Please note, you should get a licensed professional inspector to verify your home's electrical system. While you can spot the brand label yourself, you may need to upgrade other parts of your house's wiring and outlets to bring them up to the current electric code. Although this process can get expensive, it is far better to pay now than later when a fire could potentially erupt.

Here is a breakdown of the various panels that insurers reject and why they are so dangerous.

Challenger Panel and Insurance
Thousands of homes built in the late 1980s came with Challenger electrical panels. According to the U.S. Consumer Product Safety Commission (CPSC), panels with an HGAF -15 or 20-amp circuit breaker may become detached. That prevents the unit from working correctly. As the panel overheats from too much electricity, the breaker and the bus bar would eventually melt. That led to future shocks and fire hazards.

If you are unfamiliar with electrical panels, let us explain. The bus bar is where all the electricity comes into the panel and gets distributed to various parts of your house. The bus bar connects directly to the breaker, designed to trip and shut the system off, preventing damage or shocks. So, a melted bus bar will not distribute electricity well, meaning that it could create sparks as power runs through it. Sparks cause fires.

Fortunately, the Challenger Electrical Equipment Corp is providing free replacements to homes with these faulty panels installed. Although there have not been electrical fires reported from these panels, it is better to be safe than sorry.


Home Insurance and Federal Pacific Panels
Federal Pacific Electrical Panels, aka FPE Stab Lok panels, are highly dangerous and should get replaced immediately. Unfortunately, these panels were prevalent between 1950 and 1980, and millions of homes still use them today. Since most homeowners do not pay for an inspection by a licensed electrician, these panels go unnoticed until there is a problem.

According to tests, a Federal Pacific panel can fail up to 25 percent of the time. That is because breakers will not activate when an overload occurs, meaning that electricity can surge through the system and create sparks either at the panel or elsewhere in the home. For example, if you use several major appliances simultaneously, doing so could cause the panel to short circuit.
The CSPC did start investigating the Stab Lok breaker in 1981 and closed their investigation in 1983, concluding that they did not have enough data to support a recall due to fire risk. Unfortunately, Federal Pacific no longer exists. The company that purchased it, Reliance, maintains that the old FPE panels are safe enough in their current form. That said, there was a class-action lawsuit in New Jersey in 2005, in which the company settled with homeowners.
So, if you have a Federal Pacific breaker box, you will need to pay for a replacement yourself. Since homeowners insurance companies will deny coverage, you will have to do this before getting a policy. Please also note that if you have this panel and it causes a fire, nothing damaged by that fire will be covered.
Sylvania Electrical Panel and Insurance
Electricians primarily installed GTE Sylvania panels in the 1970s. They were popular enough to wind up in thousands of homes across the country. As with the Challenger panels, the primary issue with Sylvania products is the bus bar.

However, while Challenger breakers would fall off, Sylvania bus bars will often melt when overloaded. The aluminum wiring that connected the bus bar also short circuits and melts, resulting in faulty connections.

As we mentioned, breakers melting is a considerable fire hazard. That is why home insurance agents deny coverage for properties with this panel. Again, please note that if you have this panel and it causes a fire, nothing damaged by that fire will be covered.

Zinsco Electrical Panel and Insurance
Zinsco is the original manufacturer of the Sylvania electrical panel. Zinsco started in the 1950s but got bought out by Sylvania in the 70s. Unfortunately, the new company still used the faulty bus bar, meaning that all these panels have the same problem.

If you have an older home, your Zinsco breaker may use knob and tube wiring, which is also highly dangerous and not covered by most insurers. Current codes prohibit this wiring because it is much less reliable than modern systems.

Another downside is that neither of these companies is in business, meaning that there are not any recalls or free replacements. You will have to upgrade your Zinsco panel for at least $1,100 out of pocket, depending on where you live and the current state of your home's electrical system. Again, please note that if you have this panel and it causes a fire, nothing damaged by that fire will be covered.
Get Your Home Insurance Quote
Even if your house does have a faulty electrical panel, you will still want to protect your property after replacing your electrical panel. You might find a carrier who will insure your home and exclude electrical fire damage. We, Young Alfred, can help you find the right policy to fit your needs and budget. So, click the quote button below and get started!
Hope that helps!
At your service,
Young Alfred