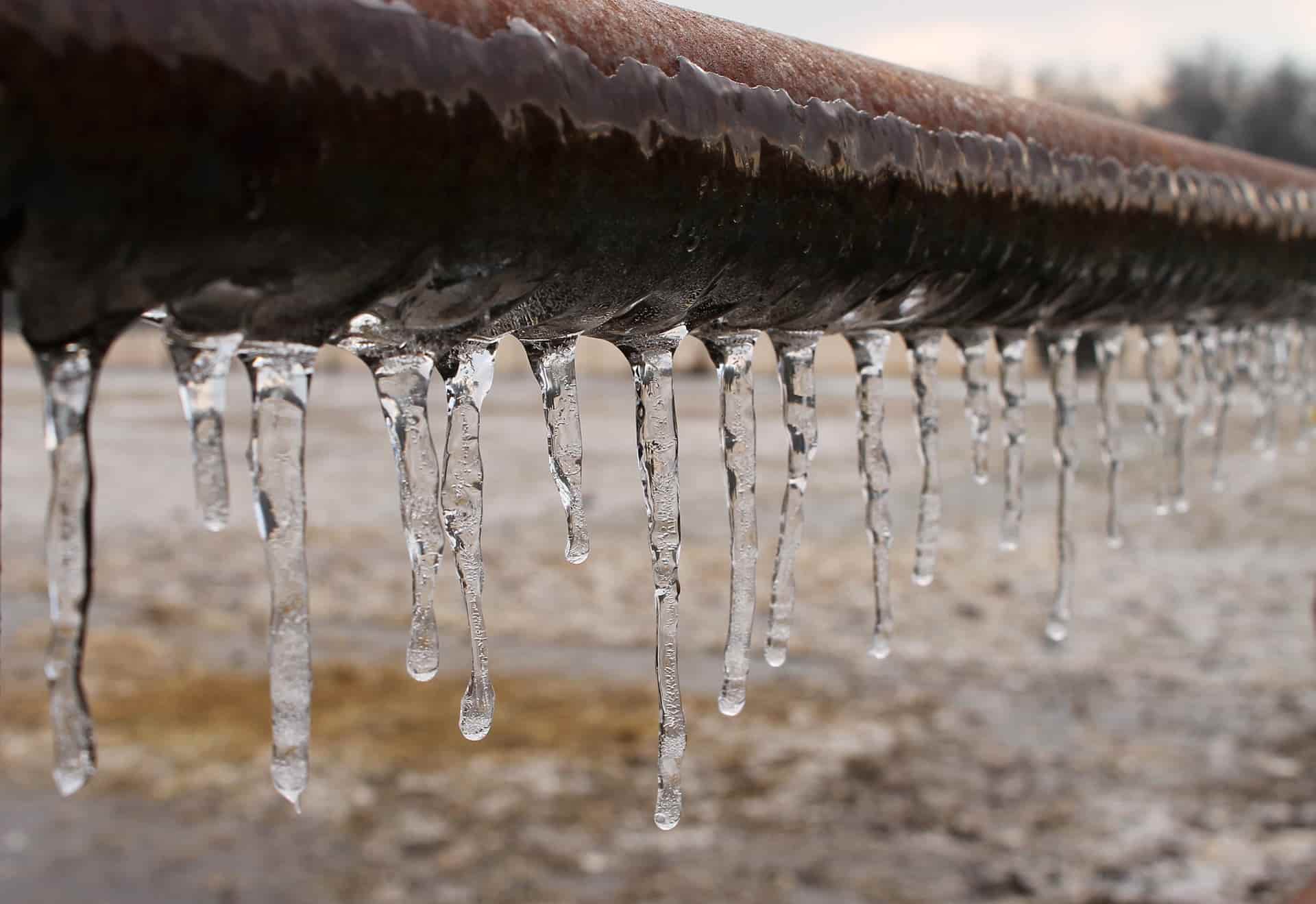 Frozen Pipes and Home Insurance
A quarter-million American families experience frozen pipe damage every year. Most of these disasters occur when the temperature drops at least 10 degrees below the freezing point. In the last ten (10) years, insurance companies have paid out over $4 billion in related claims.

Does Insurance Cover Frozen Pipes?
Technically, if you have frozen pipes, they either have burst or not. If they have not burst, there is no damage, so there is no claim to file. If they do burst and cause damage, that is covered.

You should, however, do everything to thaw your pipes carefully before they experience damage.

Does Homeowners Insurance Cover Frozen Pipe Damage?
Your insurer will probably not pay for the pipes and plumbing damage, but they typically pay for the water damage or other related damages caused when the pipes burst. You are covered for 16 perils, and one is damage from sudden and accidental pipe bursts.
One caveat is if your pipes freeze because you left the heat off while away. Negligence is not covered. Your insurance company will deny frozen pipe damage insurance claims where the homeowner is at fault. Another example is if your pipes were rusted and leaking before the freeze. That is also negligence.

Does Homeowners Insurance Cover Water Line Breaks?
Typically, no. Insurance companies do not usually cover water line breaks unless the damage was sudden and unexpected for pipes you own. A covered peril might be a vehicle that accidentally drove over a pipe.

The city is responsible for repairing a water main break, but you are responsible for paying for pipes leading to your home.

Most home insurance companies offer waterline insurance endorsements or service line endorsements for all utility lines for as little as $25 per year. Those endorsements provide more coverage than your standard home insurance policy.

The cost to the homeowner for the pipe repair may range from $500 to $6,000.

Does Homeowners Insurance Cover Broken Pipes Outside?
The rules are the same if the pipes are outside your house. You must be able to prove the damage was sudden and that your negligence did not cause the damage. You must also be able to prove water from the burst pipes caused the damage.

If you only need a straightforward repair job, your cost may be between $400-$700. Replacing an outside water line may cost about $3,000-$6,000.

Does Homeowners Insurance Cover Frozen Burst Pipes?
As we mentioned, the answer here is yes and no. The pipes and plumbing usually are not covered. Whether the resulting damage gets covered depends on if you did everything you could to avoid the disaster. Was the incident foreseeable?

Document preventative steps you take to protect your home when the temperature drops outside. Be ready to show the insurance company that your pipes were in good repair before they burst. Otherwise, you may have to pay hundreds to thousands of dollars on your own.

Does Homeowners Insurance Cover Pipe Replacement?
Your homeowners policy typically pays to replace your pipes if your pipes get destroyed suddenly from an unexpected catastrophe, like a fire. However, your carrier will deny your claim for repair or replacement costs if the damage occurred due to normal wear and tear. As the homeowner, you must keep your house in good condition.

Does Homeowners Insurance Cover Water Damage from Frozen Pipes?
Home insurance covers some kinds of water damage but not others. For the most part, any covered incident must be sudden and accidental. So, if a pipe burst while frozen and caused water damage, yes. Other circumstances where you have coverage include:
When rain or a snowstorm causes the damage
When there is water damage from putting out a fire
A clothes or dishwasher overflow
When vandals cause the damage
From other already covered causes
Although prices can go higher depending on the circumstances, the average cost of water damage due to frozen pipes averages about $200 to $1,000. If the water destroys your electronics, for instance, your damages will be more serious.

Are Frozen Hot Tubs Covered by Homeowners Insurance?
No. Your home insurance company will probably deny your claim for hot tub damage. Unless you add specific coverage for hot tub protection, you may be liable to pay the damages yourself.

You may have a claim against the hot tub manufacturer if the pipes burst because of a machinery failure.

Your repair cost will depend on what kind of problem you have. The average price for repairing frozen hot tub pipes averages $160 to $400 but may cost more.

Does a Home Warranty Cover Frozen Pipes?
A home warranty can reduce headaches. When you rent, you can depend on your landlord to make needed repairs. When you own your house, you are responsible for upkeep. A home warranty usually can include coverage for your plumbing system.

Your warranty will only cover damages where you are not negligent. When it comes to plumbing, your warranty will cover damage like worn-out hardware and pipe ruptures. You may also be able to add warranty coverage for frozen pipes.

Again, coverage for frozen pipes is only valid if you are not at fault. If coverage for frozen pipes is not part of your warranty, you may be able to add coverage.

The cost of repairing burst pipes can be steep. If you need a plumber to help, the plumber may charge hundreds of dollars per hour to assist you. If possible, avoid frozen pipes. Make sure you keep your home in good repair and make adjustments when the weather is cold.

How to Prevent Frozen Pipe Damage?
Here are some essential frozen pipes prevention tips:
Insulate your pipes, especially in unheated areas like the crawlspace.

Add insulation to unused rooms, like the attic.

During cold weather, keep cabinet doors open, especially overnight.

Keep inside doors open to allow air to circulate.

Keep a steady drip of cold water.

Drain garden hoses and bring them inside for the winter.

If you plan to be gone for several days, shut off the water supply and open all your faucets to drain your pipes and keep water flowing through them vs. pooling and freezing.
If you have a frozen pipe, call your utility customer service. Find the shut-off valve in case of leaks and heat your pipes with warm rags. Call a plumber for help sooner rather than later. Depending on the amount of damage, you might end up with $450 to $12,000 in repairs.

If you have questions about how to better protect your property, or if you want to make sure you have enough insurance coverage, click below to get a comparative home insurance quote.

Insurance is about managing risks. After receiving your quote, your insurance agent will work with you to make sure you have the coverage you need, but you will also get helpful advice on avoiding risks.

Hope that helps!
Free Online Home Insurance Quotes
At your service,
Young Alfred