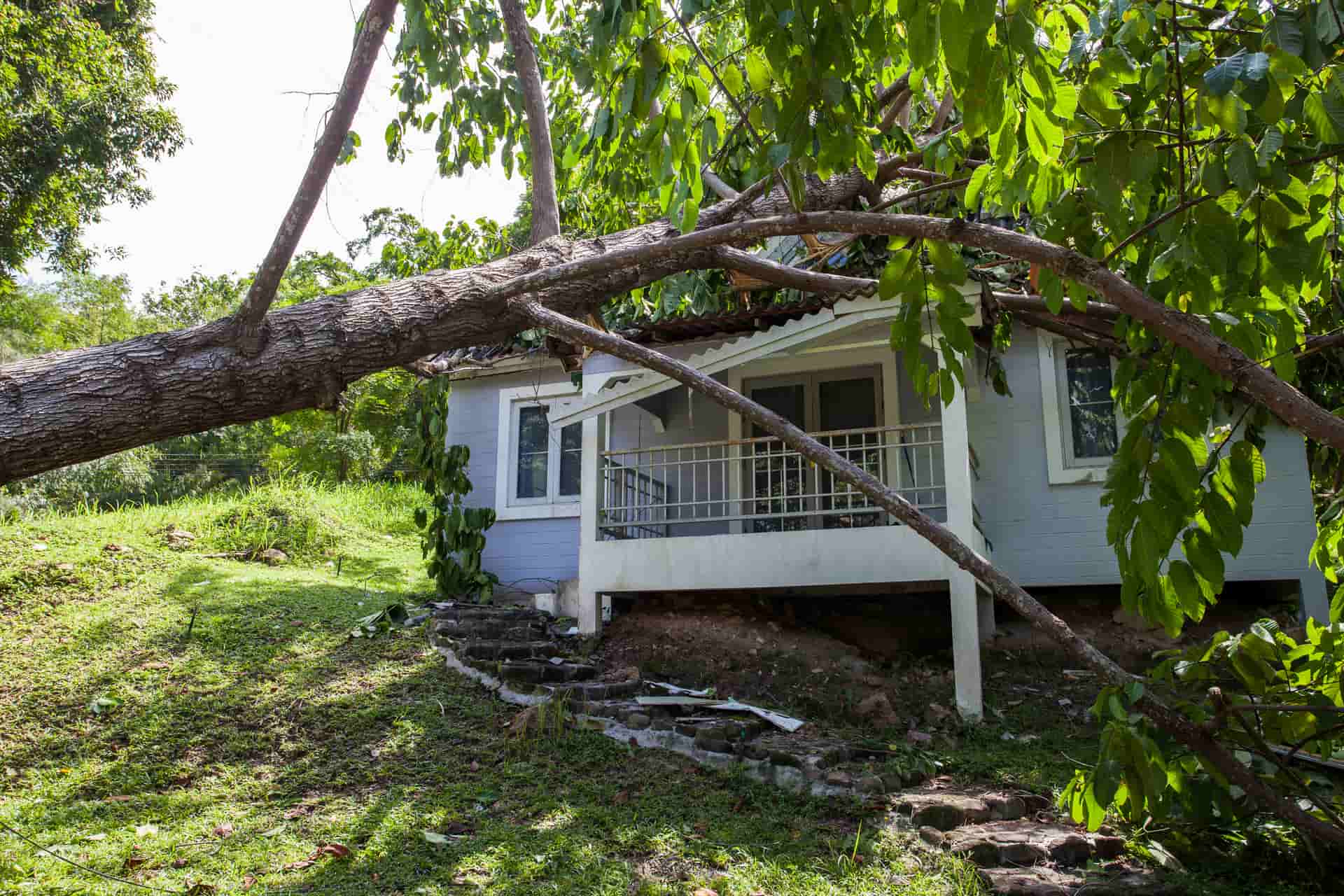 Does Homeowners Insurance Cover Tree Damage?
Trees make a stunning addition to a yard. But what happens if you wake up during a stormy night to find a tree has fallen onto your house? Luckily, your homeowners insurance does cover "healthy" fallen trees or branches. However, if it were an unhealthy tree before the storm hit, insurance companies would not cover the damage caused.
If the tree showed any signs of disease or rot, causing it to fall, you would not receive a payout. As the owner, you must take care of your trees and remove dead or diseased ones.
Here is a closer look at insurance and tree damage.
All the above should cover the costs of damage caused by a tree within your coverage limits. If the costs rise above your coverage limits, you will have to pay the extra.

Who Is Responsible for Tree Damage?
There are various reasons a tree could cause damage, and it is not always due to it falling. For example, tree sap can ruin car paint, roots can cause damage to pipework, and nuts can fall from the tree and cause injury.

But who is responsible for cleaning up the damage and covering the costs?
Neighbor's Tree. If your next-door neighbor's tree falls onto your property and damages your house, you can file a claim on your insurance. Your insurer will then attempt reimbursement from your neighbor's insurance company.

If a tree falls and causes no damage, you are responsible for cleaning up, but your insurer can also sue your neighbor's insurer for removing the tree.

Of course, you could also just ask your neighbor for help.

Your Tree. Of course, the opposite can happen, and your tree can cause damage to your neighbor's home. In this case, they will have to claim on their homeowners insurance, who will seek payment from your insurer.

City's Tree. If the city's trees cause damage to your property following an 'act of god' (e.g., hurricanes), the city is not responsible. You would have to claim for damages on your homeowners insurance. If the trees were dead or diseased when the damage occurred, you could attempt to sue the city as they were negligent.
What happens in the case of a tree damaging a car if that car is on your property? Damage caused to a vehicle would have to go through the car owner's auto insurance.
Does Home Insurance Cover Tree Root Damage?
No. Standard homeowners insurance exists to help with sudden and accidental damages. Root damage is something that happens over an extended period. Your insurer may argue that you had time to deal with the problem.
Tree Roots in Sewer Line - Covered by Insurance?
No. Tree roots can grow into sewer lines, cracking or breaking them. Unfortunately, your standard insurance does not cover tree roots in the sewer line.
Have you ever considered the pipes that extend beyond your home? You may be able to reclaim costs of water damage if the pipes burst and the tree roots did not cause the burst, but it depends on your insurer. To cover service lines, you can add sewer line insurance to your home insurance coverage.
Will Homeowners Insurance Cover Cutting Down a Tree?
No. If you have a tree that you want to cut down, your homeowner insurance will not cover the cost. Even if the tree is dead and likely to cause damage, it is your responsibility to remove not only the tree but also cover the cost of removing it.
Does Homeowners Insurance Cover Tree Replacement?
Yes. If you want to replace a tree after it has fallen from a covered peril, you will claim it under your landscaping coverage. Your standard policy covers damages to trees, shrubs, and other plants. Most insurers cover landscaping up to the value of 5% of your home's insured value. Usually, the most you can claim for a single tree is $500.
Does Home Insurance Cover Tree Trimming?
No, your home insurance does not cover tree trimming. It is your responsibility to care for and maintain trees that are on your property.
It is a good idea to take care of your trees as it could save you many problems in the future.
Hope that helps!
Free Online Home Insurance Quotes
At your service,
Young Alfred