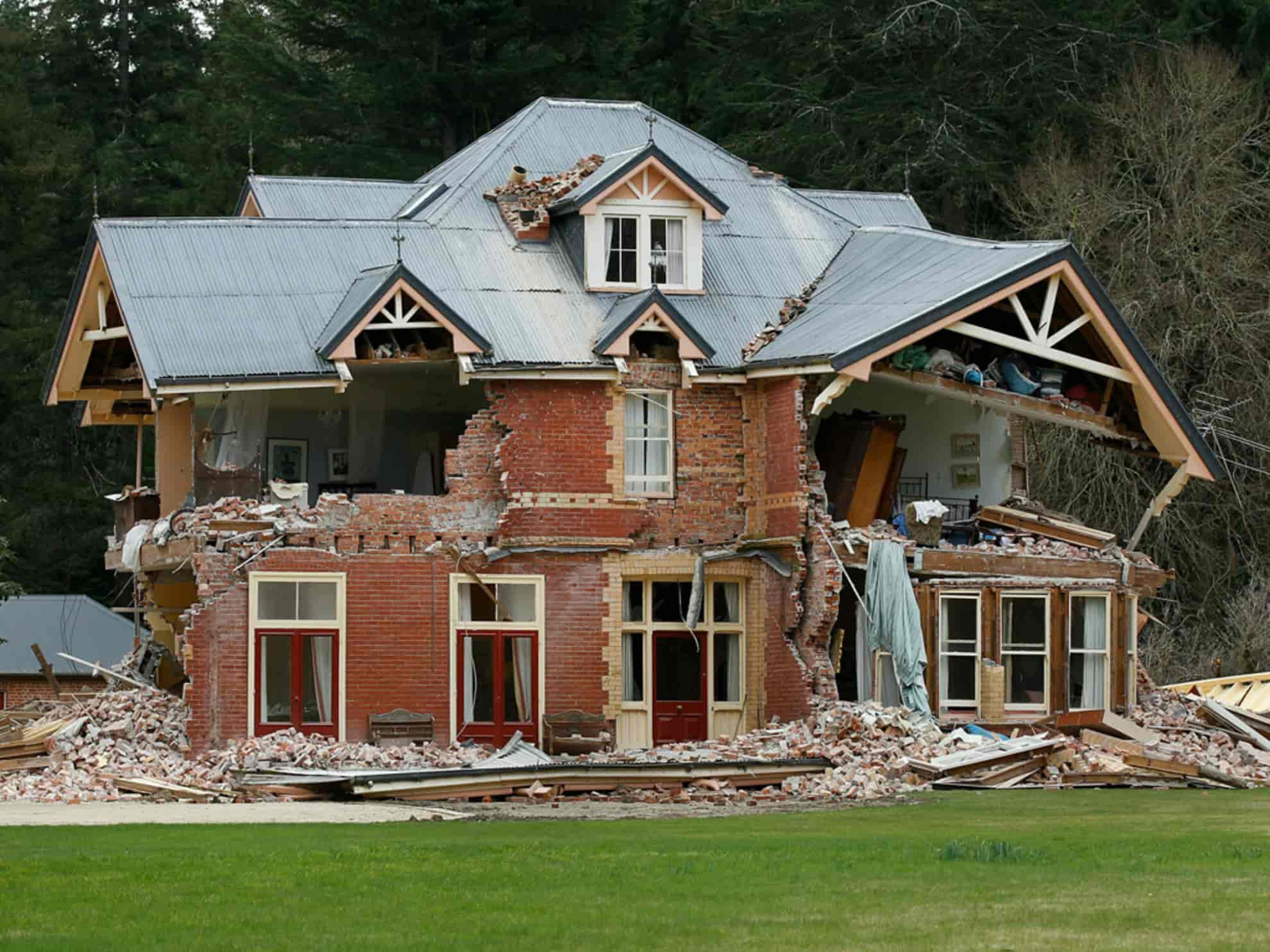 Earthquake Insurance
Earthquakes are unpredictable. They come on fast and furious, seemingly out of nowhere. One moment you are going about your daily life, and the next, you feel the earth shaking beneath your feet.
It happens more than you might think; there were 73,296 earthquakes worldwide from July 1, 2019 - July 1, 2020. You can keep track of real-time earthquake activity at Earthquake Track.
With the lack of predictability of when an earthquake might strike, there is only one thing you can do to prepare for this seismic natural disaster: get earthquake insurance.
Does Homeowners or Renters Insurance Cover Earthquakes?
No. Standard home, renters, and condo insurance policies do NOT cover seismic hazards, earthquakes. But you CAN buy earthquake insurance as a separate policy from your homeowners and renters policy.
What is Earthquake Insurance and What Does It Cover?
Earthquake insurance is coverage for damages caused by an earthquake. Covered losses typically include dwelling coverage, personal property coverage, and additional living expenses coverage.
Dwelling Coverage
This section covers any foundational and internal damage to your home up to your coverage limit. Dwelling coverage includes earthquake damages to unattached structures, such as carports, storage buildings, and detached garages.
*Important Note: Do not assume that the dwelling portion of your earthquake insurance covers the cost to meet updated building codes. You can purchase building code upgrade insurance as an add-on to fully protect your home. Also known as Ordinance and Law Coverage.
Personal Property Coverage
This insurance covers your personal belongings, such as furniture and electronics, up to your coverage limits.
*Important Note: Items such as crystal and china typically require separate coverage specifically for breakables. Check your earthquake policy for specifics.
Additional Living Expenses or Earthquake Loss of Use Coverage
Should your home be unlivable during repairs or replacement, earthquake insurance covers temporary living expenses. These might include a stay in a hotel or a temporary rental. Expenses such as restaurant meals, moving costs, and similar things are often covered as well.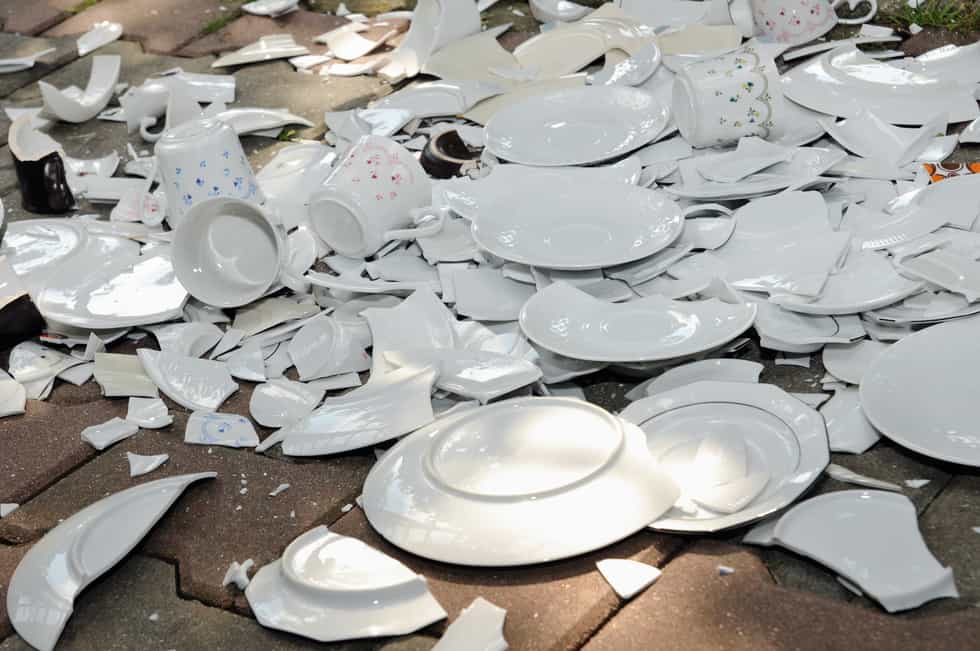 What Does Earthquake Insurance NOT Cover?
There are several damages that earthquake insurance policies do NOT cover. Generally, if another type of insurance covers it, earthquake insurance does not. The following are some examples:
Damage to vehicles. Comprehensive auto policies cover your car, so earthquake insurance does not. Other vehicles, such as aircraft, watercraft, and hauling trailers, are also not covered.
Flooding damage outside of the home. Though earthquakes often cause floods and tsunamis, flood insurance covers flood damage.
Fire damage. Earthquakes often cause fires, but California law mandates that homeowners and renters insurance include coverage of fire and smoke damage. Whether you have earthquake insurance or not, your homeowners policy provides fire damage.
Landscaping. This exclusion includes gardens, flowerbeds, shrubs, and similar features.
Property used or rented by others. Business properties and borders' quarters unless they are related to you.
Water damage and water systems. This category includes wells, irrigation systems, and sprinkler systems.
Bulkheads, piers, and retaining walls. These structures are only covered if necessary, for the stability of your home.
Neglect, wear and tear, and intentional acts. An earthquake policy does not include anything deemed as deliberate damage, normal wear, and tear, or damage due to a lack of maintenance.
Water products. Damage to pools, hot tubs, spas, and fountains are not covered.
High-end breakables. Personal items like crystal and china typically require an additional add-on.
For a full list of what is not covered, you can check the declarations page in your residential earthquake insurance policy.
Recommended Earthquake Insurance Floaters
Building Code Upgrade
While an earthquake policy helps cover the costs of repairing or rebuilding your home, it usually does not cover the costs to bring it up to code. Look into building upgrade coverage, which is available in limits up to $30,000. If you have a CEA homeowners policy, your first $1,500 of expenses for emergency repairs does not require a deductible.
Land
Damage done to your land, including sinkholes, is not automatically covered by an earthquake policy. However, you can often buy limited additional coverage to help cover these damages.
Is Earthquake Insurance Required?
There is no law requiring earthquake insurance, not even in the high-risk state of California. California law does mandate that each insurance company offers earthquake insurance with each standard homeowner policy, but the homeowner does not have to accept.
Most mortgage lenders do not require it either, though you certainly need to check with yours if you have a mortgage.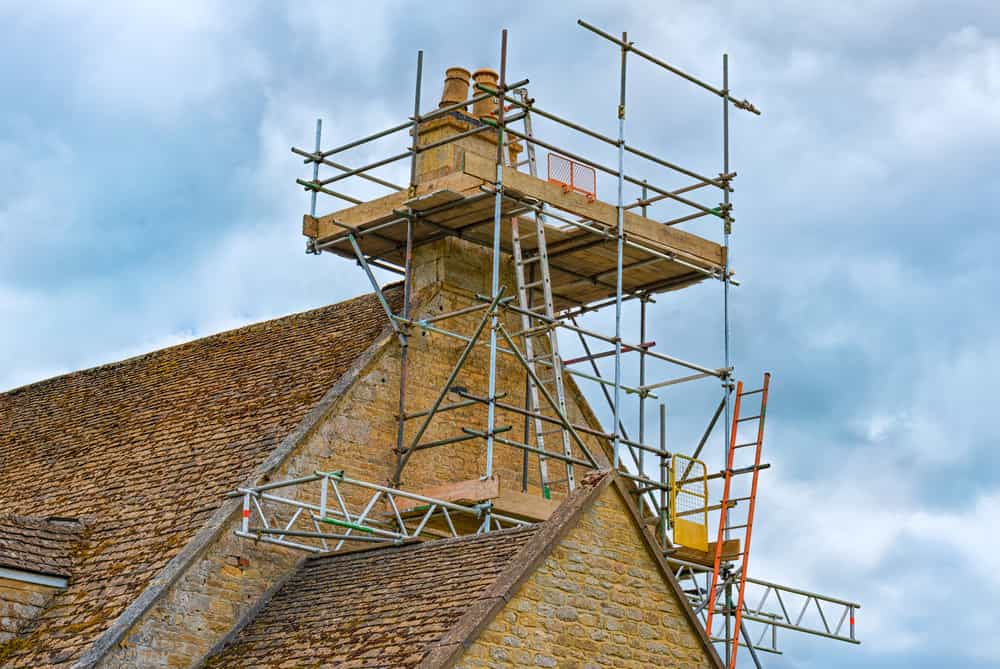 How Does It Work?
When you buy your earthquake coverage, you can choose your
Coverage limits
Deductibles
Coverage calculation methods
Each option impacts your monthly premium price and how much you get when you file a claim.
Coverage Limits
Dwelling Coverage. Your dwelling coverage limit is equal to that of your homeowners insurance.
Personal Property Coverage. You can choose limits from $5,000 to $200,000. If you have crystal and china, you will need to add a breakables rider policy as well.
Additional Living Expenses (ALE) or Loss of Use. ALE coverage has limit options from $1,500 to $100,000. While there is no specific time limit, this coverage is limited to a "reasonable" amount of time to move or repair your home.

Deductibles
Deductibles are the amounts you pay out-of-pocket for each claim. Lower deductibles mean higher monthly premiums. Lower monthly premiums mean higher deductibles.
Dwelling Coverage. Deductibles range from 2% - 25%. With the CEA, you do not have to pay your deductible upfront. Instead, it gets taken from the money you will receive.
Personal Property Coverage. Deductibles are typically separate from your dwelling deductible, and they are 5 percent to 25 percent.
Additional Living Expenses (ALE). There is no deductible for this coverage under the CEA.

Coverage Calculation Methods
Earthquake insurance coverage depends on what it would cost you to rebuild your home or replace an item.
Dwellings. Typically, homeowners earthquake insurance policies use replacement cost value (RCV) to determine how much money they pay you for each dwelling claim.
Personal belongings. Most policies default to actual cost value (ACV) for personal belongings.
These calculation methods vary, and you may choose your preferred method; check your policy to see what it uses. Learn about RCV vs. ACV in our article.
To choose what is best for you, ask yourself if it is easier to pay a little more every month or come up with a lump sum if an earthquake strikes. For many, a higher earthquake insurance premium makes more sense.
You can use this earthquake insurance premium calculator from the California Earthquake Authority CEA to estimate your premiums.
Is Earthquake Insurance Worth It?
Yes. Without earthquake insurance, you are responsible for the costs associated with earthquake damage. Therefore, the question should not be whether it is worth it, but whether you can cope without it.
If a significant earthquake came through and destroyed your house right now, would you have the money to rebuild it? Or to replace your lost possessions?
With your home destroyed, you will have to live elsewhere. Can you afford to pay out-of-pocket for temporary living expenses?
Could you quickly put the pieces of your life back together?
If not, earthquake insurance is certainly worth consideration. Take the facts below into account to make the wisest decision for you and your family.
How Much is Earthquake Insurance?
Average earthquake insurance across the U.S. is about $800 annually. In a low-risk area, it can be much cheaper. In high-risk areas such as California, it is considerably higher. Your cost for earthquake insurance depends on your location's risk of earthquakes and several other factors, including:
Your location
Age of home
The cost to rebuild your home
Distance to fault lines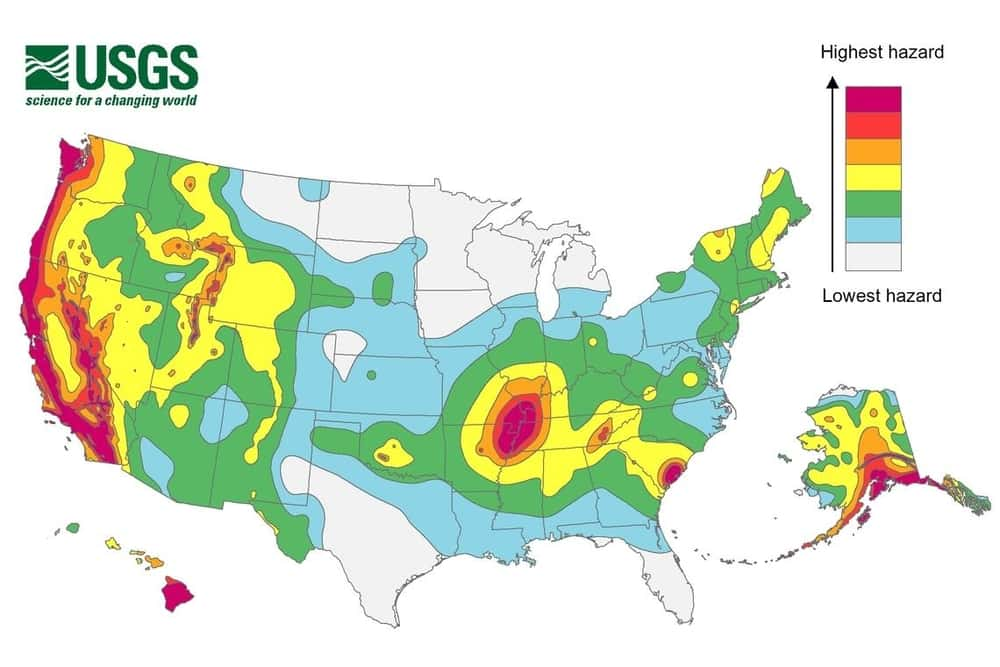 Your Location. Two significant factors in an earthquake insurance rate are your home location and your area's level of risk. The closer you are to a fault line, the higher the earthquake risk.
The USGS, or the United States Geological Survey, is a sector of the U.S. Department of Interior that studies natural hazards, including earthquakes. You can find your hazard zone and fault lines in the U.S. on their map.
The Type of Home You Have. Your home's design plays a vital role in insurance rates. The more your home can stand up to the damage of an earthquake, the less it costs to insure.
As the earth's plates shift, they occasionally get stuck on one another. At some point, those plates suddenly break free, causing the ground above them to shake.
This movement has little to no effect on homes built for earthquakes, while others suffer extreme damage. Some examples of these differences include:
Bolted-down foundations help prevent or minimize earthquake damage.
The more floors in a home, the less stable it is in the face of an earthquake.
Homes built on rock or clay hold up better against those on sandy earth.
Houses constructed of brick tend to suffer more damage caused by earthquakes than wood homes.
Older homes do not comply with current earthquake standards, so it costs more to insure them. Retrofitting these dwellings to comply with current standards usually results in a discount.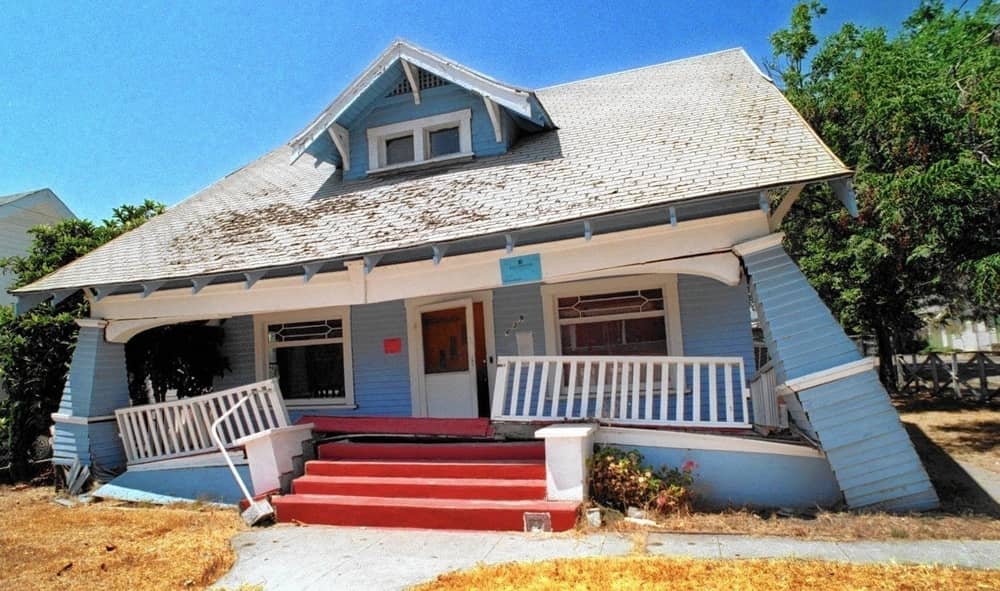 Retrofitting Older Homes
Most older homes cannot withstand the violence of an earthquake. For increased safety and lower insurance rates, retrofitting is necessary. Some steps to take include:
Brace Cripple Walls. These are the walls on the foundation that support exterior walls and your floor. By bracing these walls, you are strengthening your home's structure.
Add Shut-Off Valves. Adding automatic gas shut-off valves helps minimize the risk of a gas explosion.
Foundation Bolting. Some homes are not secured to their foundations, leaving them to move around during an earthquake. Bolting your home to your foundation prevents or minimizes this movement.
Brace or Reinforce What You Can. Items like your chimney and water heater can quickly become detached and move around during an earthquake. And the bricks from the chimney could even fall on someone you love. Brace these items as best you can to prevent damage and injury. Any other things that could become detached during strong vibrations need reinforcement as well.
For more information and retrofitting tips, visit the Los Angeles-based California Department of Insurance.
Facts to Know About Earthquakes
Hundreds of thousands of earthquakes occur worldwide every single year. Many of them go unnoticed when the magnitudes are so low. Others that register as a seven and above can cause billions of dollars in damages.
Earthquakes can trigger other disasters, including fires, tsunamis, floods, and avalanches: the danger nor the damage stop with the shaking.
Many people do not purchase earthquake insurance because they do not feel threatened where they live. However, most people are in more danger than they think. Forty-two states are at risk of facing an earthquake large enough to cause damage. The other eight are Minnesota, Wisconsin, Florida, Kansas, Iowa, Louisiana, Washington, and North Dakota.
Another reason people do not purchase earthquake insurance in addition to home insurance is the cost. While residents in high-risk areas have high insurance rates, the price is usually much lower than the cost of not having it.
Earthquake insurance can go a long way in protecting your family and providing peace of mind. If you choose not to purchase it, make sure you have emergency funds to lessen the impact of a disaster.
Best Earthquake Insurance Companies
When you are ready to pick an insurance company for your earthquake policy, you usually have a public option such as the CEA in California and a mix of private insurers such as Palomar Insurance. Given the high cost of coverage, it is best to compare options before buying.
Tips for Filing a Successful Earthquake Claim
Before any disasters, make a detailed home inventory list. Take photos and videos of the damage to your home and personal belongings. Using pictures and a written list or documenting with video will help cover more details. Also, keep track of all your receipts for earthquake expenses, such as hotel stays, emergency repairs, and food. Make that easier; take pics of your receipts and upload them to your insurer's claim app.
Notify your insurer as soon as you notice any damage.
File your claim electronically through either an app or the insurer's website. Electronic filing is usually more straightforward and lets you keep a log of everything.
Avoid unnecessary cleaning or repairs until the scene gets inspected by a professional adjuster.
Do not agree to anything with your insurer until you are ready.
Do not rely on the inspection of your insurance company's public adjuster alone. Insurers typically send their adjuster. Get a second inspection from a licensed structural engineer to ensure you are receiving the best settlement. They will strengthen your case, guide you, and act as your advocate.
Make an appointment with the insurance adjuster for the inspection as soon as you can.
If you have trouble with your insurance company when trying to file a claim for covered damages from earthquakes, contact your state insurance commissioner's office.
If all else fails, hire an insurance claims lawyer.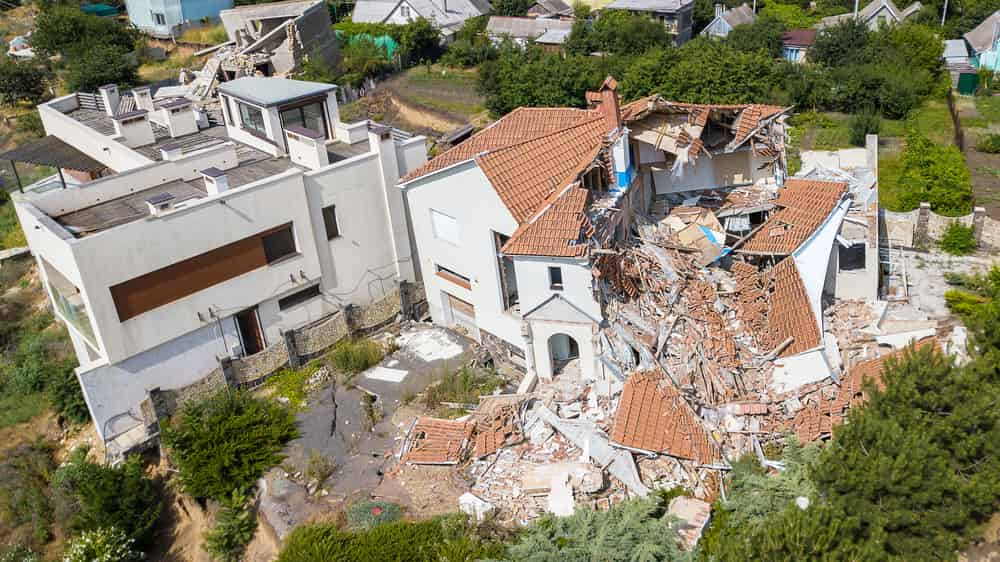 Get an Online Quote for Earthquake Insurance
Do not wait until it is too late. Check this home risk assessment report to see if you are at risk for earthquakes. If so, we can help you find the perfect policy.
At your service,
Young Alfred