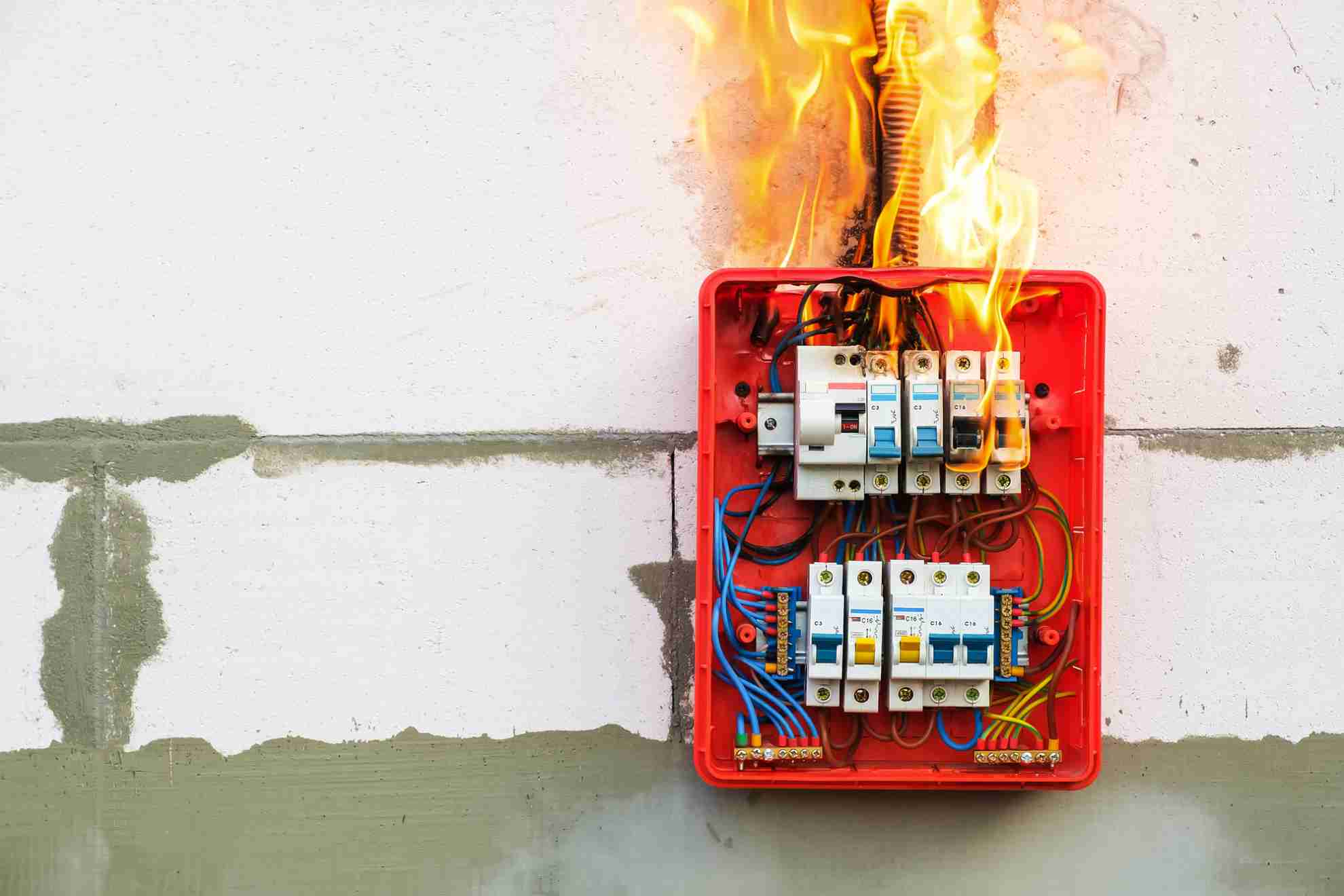 Federal Pacific Stab Lok Panels

Electricians installed the Federal Pacific Electric (FPE) Stab Lok Panel in homes for more than three decades. However, the breaker boxes have a reputation for not operating correctly, leading to electrical fires, property damage, and even deaths. Research strongly suggests that this defective product may cause as many as 2,800 fires every year.

These fires contribute to more than a dozen fatalities and approximately $40 million in property damage annually. More than 28 million Stab Lok panels likely remain in homes and businesses across the United States. If you are a homeowner or a prospective homeowner, here is what you need to know about them and how they impact home insurance.

What is an Electrical Panel?
A circuit breaker panel supplies power to various areas of your home. When circuits overload (such as when household members plug too many appliances in at once), breakers trip, meaning they shut off power to part of your home. Tripping protects your home from power surges and overloaded circuits, which could otherwise damage your electrical system.

What Is a Stab Lok Electrical Panel?
A Federal Pacific Stab Lok Electrical Panel is an electrical circuit breaker panel brand. The Federal Pacific Electric Company manufactured the panels from the 1950s through the 1980s. Back then, this brand was among the most popular.

As a result, many homes and businesses still have FPE circuit breaker panels. However, studies show that the product is defective and potentially hazardous.

What Is a Stab Lok Circuit Breaker?
A circuit breaker box or panel, often located in the garage or basement or on a wall inside the home, consists of the main panel, bus bars, and circuit breakers. Circuit breakers trip (cut off power to the circuits) when a circuit overload occurs. If the breakers fail to trip, the electrical wiring may become so hot that it ignites.

A circuit breaker protects your home in the event of short circuits, overloading circuits, or external power surges. Stab Lok is a circuit breaker brand that builders frequently installed in homes from the 1950s through the 1980s. Electrical experts cite severe problems with Stab Lok circuit breakers.

Stab Lok Circuit Breakers Problem
Unfortunately, FPE circuit breakers have a reputation for sometimes failing to trip when circuits overload. The safety hazards these breakers pose takes a tremendous toll on life and property every year.

Stab Lok Breaker Fire Hazard
Research shows that FPE circuit breaker panels cause thousands of electrical fires and tens of millions of dollars in property damage, along with several fire-related fatalities, every year.
In-depth research points to the strong possibility that a Stab Lok breaker fails to trip when it should in at least 25% of cases. Even more problematic, if you turn circuit breakers off, Stab Lok continues to conduct power to electrical systems, posing a considerable electrocution hazard. If the panel continues to send electricity to the wires, they may become overheated to the point they catch on fire.

Are Stab Lok Breakers Safe?
No. Inspectors and electricians consider Stab Lok breakers unsafe, as they contribute to thousands of electrical fires, tens of millions of costs in property damage, and several fatalities every year. These professionals recommend that you replace them, as there is no way to repair the problem. If you have FPE circuit breakers in your home when inspected, the inspector will include that in the inspection report.

In the early 1980s, the US Consumer Product Safety Commission began investigating the safety of the panels. Electrical experts inspected Stab Lok systems installed in homes between 1960 and 1985. They found that a bit more than half of the breakers (51%) failed to trip. The breakers also did not comply with Underwriters Laboratories' requirements, Inc, a non-profit organization dedicated to using science to promote safety.
Due to a lack of funds, the CPSC brought its study to an abrupt end in 1983. The Commission claimed that the limited information they gathered did not indicate that the breakers posed a significant threat to consumers.

Not everyone agrees. One member of the testing team, an electrical engineer with a doctorate in materials science, continues to raise awareness of the fire hazards associated with FPE Stab Lok panels.

Reliance Electric Company, FPE's parent company, also reported to the CPSC that many circuit breakers did not comply with UL standards. The breakers failed numerous calibration tests. These tests assess whether a breaker can hold the current it is rated for and whether it trips within a specified time limit if the circuit overloads. Reliance claimed that despite the findings, the breakers were not likely to pose any dangers unless misused.

Stab Lok Electrical Panel Recall
Fire safety experts, inspectors, and electricians regularly point to the harm Stab Lok electrical panels cause. Yet, the company never declared an official recall of the product.

Federal Pacific Stab Lok Breaker Recall
Federal Pacific breakers are the same as Stab Lock breakers and panels. Federal Pacific was the company that made the Stab Lock product. Despite warnings from building inspectors and electricians alike, the Reliance Electric Company, FPE's parent company, also never issued a recall.

Federal Pioneer Panels Discontinued
Federal Pacific is no longer in business, so Federal Pioneer Panels are discontinued. If you have these in your home, experts urge you to replace them.

Here is a little history. The Federal Pacific Electric Company marketed its Stab Lok systems under Canadian and American brands. Canadian Federal Pioneer (also known as Schneider Electric) produced American FP or American Pioneer Stab Lok. American Circuit Breaker Company sold them in the US under exclusive contract.

Will a Federal Pacific Panel Pass a Home Inspection?
No. In nearly all cases, an FPE Stab Lok Panel will not pass a home inspection. Certified home inspectors know that the breakers do not meet safety standards. So do insurance companies.

In the past, insurance inspectors would ask homeowners to have their FPE system looked at by an inspector to see if they passed muster. But now, because of the known risks, insurers require homeowners to replace their Stab Lok systems before they provide coverage.

Are Stab Loks Covered by Home Insurance?
No. Most homeowners insurance companies will not cover an FPE Stab Lok. Here is why.

Stab Loks are likely to stay on even when they should be off, increasing the likelihood of electrocutions. They may also become jammed, potentially causing wires to overheat and ignite.

Various companies tested FPE circuit breakers throughout the 1970s and 1980s. They discovered that the Federal Pacific Electric Company used deceptive practices in concealing the defects of its products. FPE used mechanical switches to put breakers in the "off" position. The goal: to obtain an endorsement from Underwriters Laboratories.

Because the company essentially lied, consumers in New Jersey filed a class-action lawsuit against it. UL eventually withdrew its endorsement, too. As a result, most home insurance companies will not insure a Stab Lok.

Home insurance companies are only willing to take on a certain level of risk. If they think insuring your home will result in expensive claims, they may deny coverage altogether or require you to make some modifications to your home before you can get insured.
Home insurance companies will not cover Stab Lok systems because they believe the risk of insuring your home is too high due to the possibility of fire damage associated with breaker tripping issues.

Cost to Replace Stab Lok Panel
The cost to replace a Stab Lok Panel with code-compliant circuit breakers varies, depending on where you live and the size and number of panels you must replace. Average replacement costs run around $1500-$2000.

Keep in mind, though, that the up-front replacement costs are well worth it. If your Stab Lok panels cause an electrical fire, the price tag for repairs could be much higher.

If you have a professional handle the replacement, you will ensure that the new panels comply with the current electrical code. Your home may require additional repairs to make your electrical system code-compliant. Of course, costs associated with a Stab Lok failure could be much higher than the replacement bill.

Federal Pacific Stab Lok Replacement Cost
The Federal Pacific Panel is the same thing as the Stab Lok Panel. Stab Lok is the product name, and Federal Pacific was the company that made them.

Should I Replace my Stab-Lok System?
Yes. Considering the risk of short circuits and overloaded circuits associated with the Stab Lok system, you should replace them. Be sure to hire a licensed electrician for the job. A professional will install new panels that comply with the National Electric Code (NEC).

Not sure what brand of circuit breaker panels you have? On the front cover of the circuit breaker box, look for FPE or Federal Pacific. Inside the box, you will see a label with Stab-Lok written on it. On the breakers, you will see a red stripe across each switch.
If you do upgrade our electric panel, consider these two home insurance endorsement add-ons:
Service Line Coverage. Home insurance does not cover your overhead electric lines or those buried underground that connect your home's lines to the town's utility service lines. Service line coverage covers these and all other utility lines, including water lines and sewer lines. It's very cheap too.

Equipment Breakdown Coverage. This endorsement would cover your new electrical panel against mechanical breakdowns and other issues that home insurance excludes.
Knowing about potential hazards is helpful when you are preparing to buy a home, so you know what you are getting into. Likewise, if you are selling your home, you will want to do all you can to be prepared for home inspections and be up-front with potential buyers about the condition of your home.
At your service,
Young Alfred