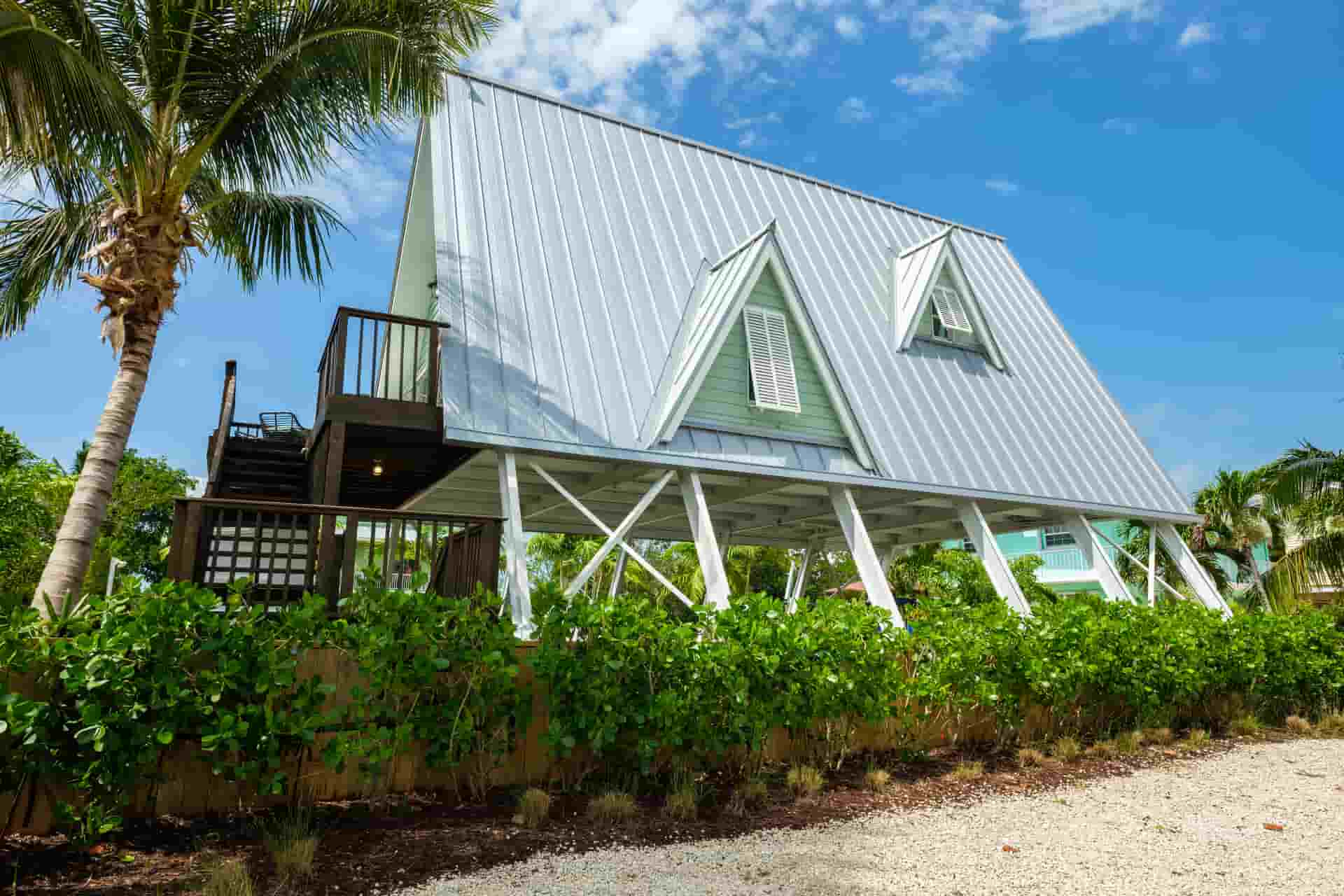 Flood Proof House
Flooding represents one of the most common and expensive events for homeowners. Even a few inches of water can cost thousands in out-of-pocket damages, regardless of whether you have flood insurance.
If you are in a high-risk flood-prone area, protecting your house against the severe nature of floodwaters is critical.
Fortunately, wet and dry floodproofing your house with water-resistant materials can prevent extensive damage. It also helps you remain in good standing with your insurance company.
This article intends to give you a high-level understanding of how to build a flood-proof house.
How to Flood Proof a House?
As a homeowner, you can flood-proof your house in these ways:
Dry Floodproofing
Wet Floodproofing
Flood Barriers & Flood Proof Construction
Flood Proof House Elevation
Relocating Your Home
Demolition
Dry Floodproofing
According to FEMA, dry floodproofing involves completely sealing the exterior of a building to keep floodwaters out. You can dry floodproof by reinforcing the existing foundation with another layer of siding and waterproof sealant.
This form of proofing works best when the walls are strong enough to withstand the hydraulic pressure of floodwaters without caving. Flood levels also should not exceed three feet.
However, dry floodproofing is inappropriate for basements and crawl spaces.
Dry Floodproofing Materials
This method involves installing waterproof membranes that seal walls, joints, and openings and using a type of foundation impervious to water.
Common materials involve:
Heavy plastic sheeting along the exterior walls
Cement and asphalt
Clear coating
How Much Does It Cost to Dry Flood proof a House?
The cost of dry floodproofing your house varies based on the size, condition, height of the base flood elevation, or BFE. Labor costs also vary. Generally, costs range from $9,000 to $18,200.
Note: BFE is the highest flood level that occurs once in a 100-year period. It is assumed that your home has a 1% chance of experiencing a flood each year where floodwaters would reach the BFE set for your address. FEMA sets a BFE for every house.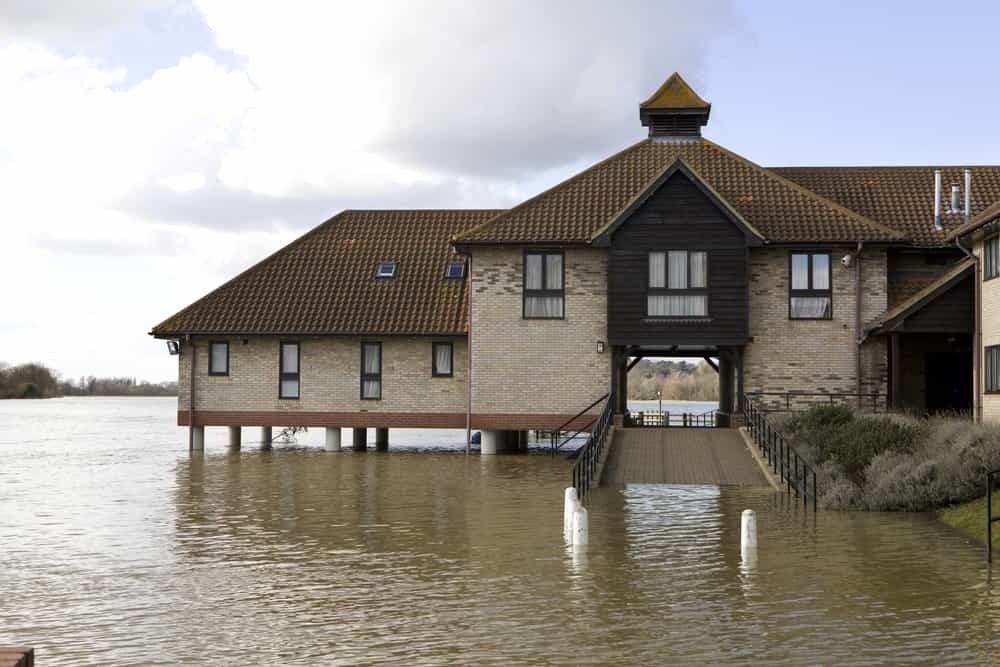 Wet Floodproofing
Wet floodproofing involves modifying your house so that water flows in and out freely. This method helps counteract the hydraulic pressure of floodwaters and reduces structural damage.
You should replace all building materials below flood protection level with water-resistant, mold-resistant materials. A structural engineer may be necessary when elevating electric structures above your BFE.
Move heavier furniture onto platforms or upstairs. Also, furnish newly floodproofed spaces with lightweight items or automobiles that relocate easily and quickly.
FEMA and the government-run National Flood Insurance Program (NFIP) require wet floodproofing for residential buildings below the BFE. However, wet floodproofing should never exist in areas used as a living space.
Wet Floodproofing Materials
Because water will flood in and out of your house, all materials should have the ability to dry out quickly. It is best to avoid absorbent materials such as paper-faced drywall, wood, carpeting, plaster finishes, wallpaper, and resilient flooring.
The best materials for wet floodproofing include:
Poured concrete
Ceramic tiles
Brick
Fiberglass-faced drywall
How Much Does It Cost to Wet Flood Proof a Home?
Wet-proofing a full basement can range anywhere from $34 - $184 per square meter. Depending on the extent of your project, it may cost you $2,151 to $19,300.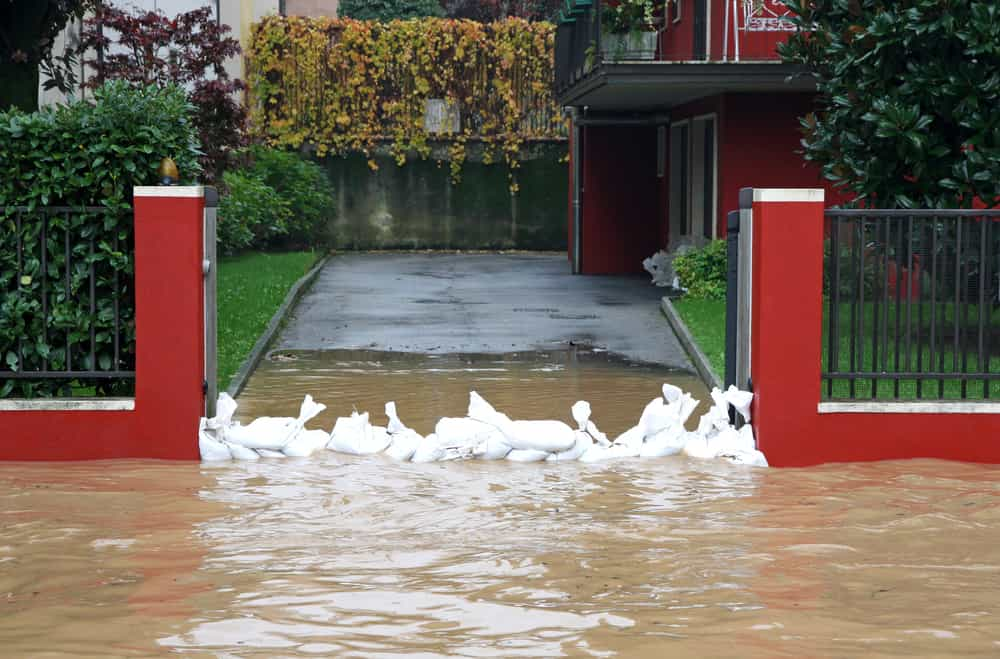 Flood Barriers & Flood Proof Construction
Dry and wet floodproofing involves substantial modifications to your home. However, flood barriers may reduce the work and investment needed to protect your property. These options typically surround the perimeter of your house to prevent water from reaching inside.
Sandbags. You fill these manually before a storm. However, they become easily contaminated, making disposal difficult.

Water-filled Sandless Sandbags. These bags begin flat and fill with floodwaters on contact. They provide the same protection as traditional sandbags.

Permanent Flood Barrier Walls. Like a sturdier, impermeable gate, permanent flood walls keep water from rushing up to your house.

Water-filled Dams. These barriers mimic waterless sandbags but extend around the entire perimeter of the house.

Flood Barrier Panels. Metal or air-tight plastic panels in front of doors, windows, garages, driveways, and around the house.
Floodproof doors and windows also provide an excellent permanent and easy method to floodproof your house. These structures contain sealed frames that keep water out and withstand both high water pressure and movement. You can buy them in various colors and styles to match your home's aesthetic.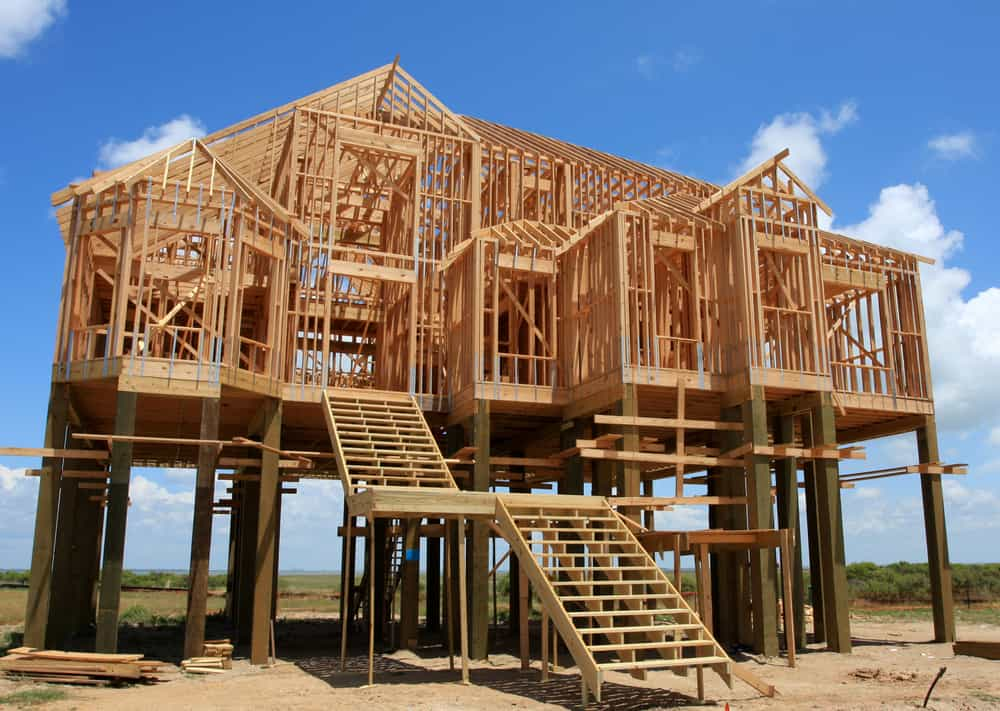 Flood Proof House Elevation
The best way to floodproof a house is to raise it above the BFE. This flood-proof strategy prevents floodwaters from damaging your house in two ways. You avoid damage from both the intense hydraulic pressure of the stormwaters and water and mold damage. You can raise your house using two methods:
Raise your House. Elevating your house represents one of the most dependable floodproofing options. Contractors will raise the ground floor at least two feet above flood level.

Put your House on Stilts. This option becomes extremely difficult for an established house. However, you can raise it during the rebuilding process after significant damage occurs.
Why Should You Flood Proof a House?
At its core, floodproofing a house prevents or minimizes flood damage. However, several benefits accompany these updates:
Increase resale value
Save money on flood insurance premiums and repairs
Lessen the recovery time after a natural disaster
Plus, some tweaks are inexpensive to do yourself!
How Much Does It Cost to Raise a House Above a Flood Zone?
Elevation prices range greatly depending on how much you need to raise your house. Generally, you can expect to pay $33,239 - $192,000, which costs much less than rebuilding after significant losses.
Relocating Your Home Out of a Flood Zone
Another strategy is to move your house out of its severe floodplain area to a higher ground unexposed to flooding. You could move it to another area on your existing property or to another address altogether. It involves lifting the house off the foundation and onto a wheeled vehicle that transports it to a new location.
The new location will have a new foundation built upon which the house will sit. FEMA recommends this option if your home has numerous cases of flooding and water damage. If you often experience the following, relocation is the best option for you:
Deep Floodwaters
High Frequency of Water Rising and Falling
Short Warning Times
Serious Waves
High Waterflow Velocity
High Debris Potential
Storms Lasting Long Durations
How Much Does It Cost to Relocate a House?
Relocation is an expensive option, but the most effective. A wood-frame house with a basement costs $32 per square foot to move, $27 if it only has a crawlspace, or $51 if you have a slab-on-grade home. A masonry home with a basement costs $49, $32 if it has a crawlspace, or $61 if you have a slab-on-grade masonry house.
Demolition
Homes with severe and constant flooding and flood damage should demolish their home and rebuild properly on the same property or elsewhere. Due to global warming, we've already seen circumstances where shorelines have overtaken beach homes. In some cases, they were built on stilts, but towns have voted to have the homes demolished for public safety.
Flood Proof House Insurance Benefits
Standard homeowners insurance does not include flood protection. Separate flood insurance offers additional coverage, especially if you live in a flood-prone area. Rather than paying out of pocket for flood damages, meet your deductible, and your insurance company will cover a significant amount.
Even if you live in a low-to-moderate-risk area, rising flood rates may make this investment necessary eventually.
Remember that floods are defined as excess water on normally dry land. It affects two or more acres of land or two or more properties. As such, a busted water heater or broken sewer lines may not receive coverage unless caused directly by flooding.
Flood Insurance Flood Proof House Requirements
Your house must meet certain requirements to qualify for floodproof flood insurance discounts:
Elevation, relocation, or a complete rebuild for substantially damaged houses.
Approved water-resistant materials.
Protection above design flood elevation (the BFE + additional elevation).
Treated areas cannot act as the main living space.
Dry floodproofing must have backflow preventers, such as a drainage to daylight or a sump pump with backup battery storage.
Does Insurance Pay for Floodproofing a House?
After significant damage, your insurance company may pay to floodproof your house during the rebuild. However, they will not front the costs of floodproofing before approving your insurance. Although, the best program is provided via grants from FEMA.
Floodproofing Grants
FEMA and NFIP aim to reduce the number of flood insurance claims and lower the risk of repeat damage. One method to achieve their goals is with flood mitigation assistance grants, such as:
Pre-disaster mitigation
Hazard mitigation assistance
Flood mitigation assistance (FMA)
FMA funding prepares high-risk communities for extreme weather by elevating and floodproofing houses. FEMA posts notice of funding opportunities each year before the application period opens.
Get a Flood Insurance Quote
Get a quote for flood insurance rates in your area! Our insurance agents will not spam-call you but will help you purchase flood insurance online or via phone as requested.
You can also check your home's degree of flood risk with this free home risk assessment tool.
Hope that helps!
Free Online Flood Insurance Quotes
At your service,
Young Alfred