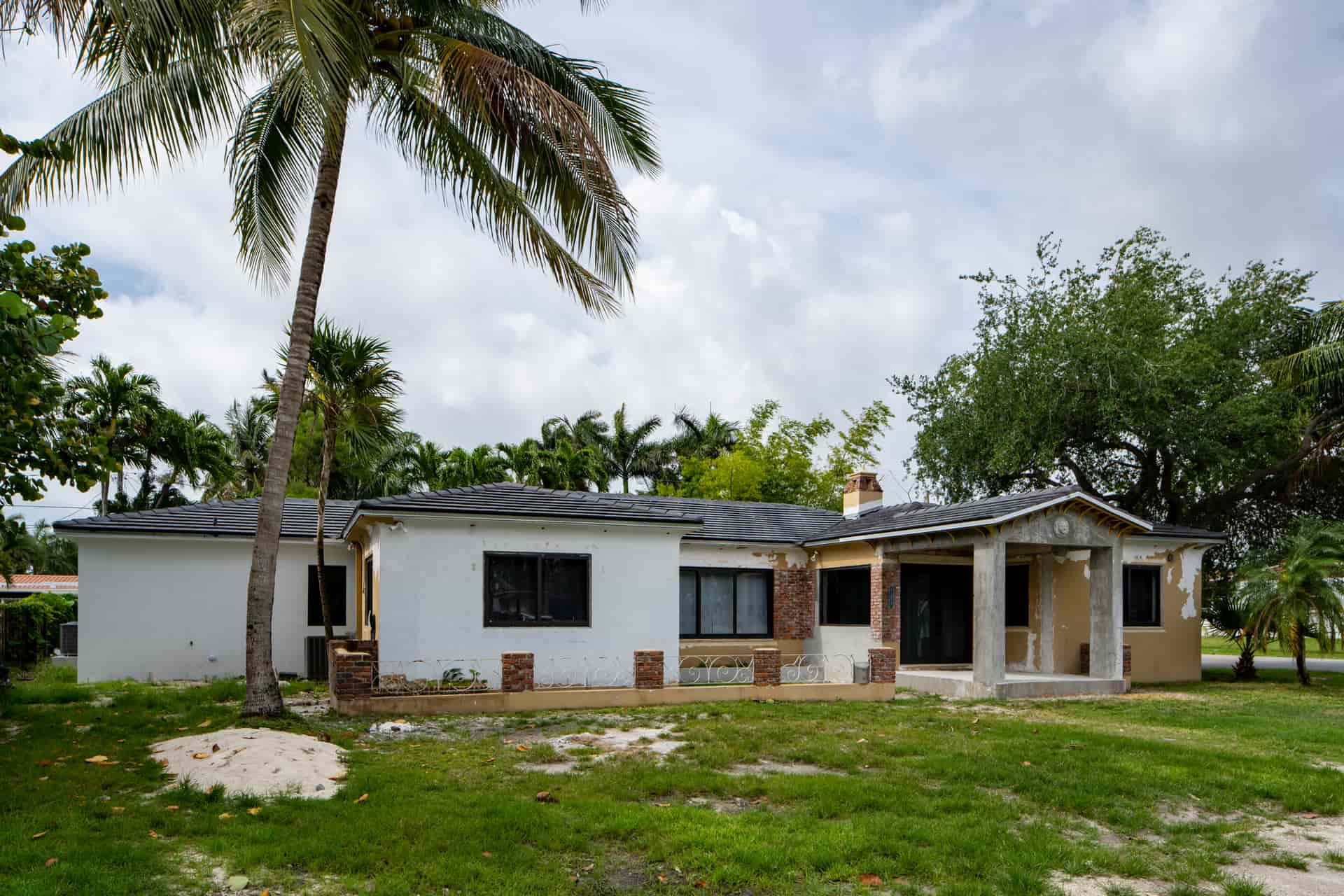 Florida Squatter Law

The National Alliance to End Homelessness states that 31,030 people in Florida are homeless on any given night. That is 15 in every 10,000 Floridians. So, it is no wonder that Florida landlords have such a problem with squatters. It is a complex issue because you know they have nowhere to go, but you, as a Florida property owner, must pay your bills and survive as well.

Being a landlord is tough enough when dealing with your regular tenants, so dealing with squatters can be overwhelming. That is why it is so important to know the facts about Florida squatter law so that you can protect your property investment.

What Is a Squatter in Florida?
"Squatters" are people who move into vacant structures on someone else's land without permission and without paying rent when they would otherwise be homeless.

Squatters make squatting homes out of abandoned properties, foreclosures, unoccupied rentals, any unoccupied dwelling.

Florida Squatter Law
Florida squatter law states that if a landowner does not take action to evict occupants immediately upon discovery, the occupant (squatter) can eventually take ownership by doing certain things.

Is Squatting Illegal in Florida?
No. Squatting is not legal in Florida. Still, according to Florida laws, squatters in Florida can gradually develop legal rights that may enable them to take over ownership of a property if the property owner does not take legal action to evict them from the land.

However, when they first enter the property, they are a trespasser. According to Florida laws, trespassing counts as a criminal offense, but squatting is a civil matter. Therefore, if you have trespassing signs up, you can have someone arrested and removed with a fair amount of ease if they come onto your property as an unwelcome guest.

But, if you do not catch them trespassing, they become a squatter, and you will have a more difficult time getting them off your property. Before authorities can charge a person with squatting and evict them, the property owner must establish lawfully that their squatter is not at all welcome on their property.

Squatter's Rights in Florida
Squatter's rights in Florida let the homeless take over an unoccupied property and gain ownership after meeting a particular set of criteria. If they meet these criteria, the squatter can file their adverse possession claim to take ownership of the property (more on that later).

Do Squatters Have Rights in Florida?
Yes. Squatters can develop or earn ownership rights to vacant property by simply entering and taking it over. At the same time, this is technically trespassing, what the squatter and the property owner do next dictates whether they will end up squatting legally in the once-vacant home.
How Do Florida Squatter's Rights Work?
As we mentioned, if the owner does not have a trespasser arrested, the trespasser becomes a squatter with legal rights. Those rights include:
The owner can only remove squatters legally by going through a legal eviction process through the courts.

The owner cannot turn off utilities.

The squatter can alter the property for the better.

The squatter can pay the home's property taxes.

The owner cannot remove a squatter's possessions without following the legal Florida abandoned property law's process of doing so.

The squatter can live in the property in plain sight to the owner and neighbors and must do so to take over ownership of the property eventually.
Florida's squatter's rights work eventually by helping squatters, when they meet a particular set of criteria, to become owners of the land they illegally took over when it was vacant.
Can You Turn Off Utilities on a Squatter in Florida?
No. You cannot turn off the utilities to a property that houses squatters even if they are in your name. It is illegal in Florida.
Whether the utilities are on or off, a squatter that occupies a property is not going to leave willingly anyway. The only way to remove a squatter from your property is by evicting them legally.

Florida Abandoned Property Law
In Florida, there are concrete steps you must take if your tenant or squatter moves out and leaves behind some of their personal property:
Take careful inventory

Store personal property safely

Try contacting the tenants. The notice must include:


Description of personal property

Statement of storage costs to be paid before pick-up

Where they can pick up their belongings

Deadline to do so

A statement describing the fate of their personal property if not picked up

Unclaimed personal property


Worth more than $500. This property is sold at public auction and the monies are given to the county treasury minus costs of storage and advertising.

Less than $500. This property can be kept for personal use or disposed of in any legal manner.
Florida Property Encroachment Laws
Essentially, Florida property encroachment laws have to do with neighbors and their landscaping or other things stepping over onto your side of the property line. This law does not relate to squatters.

For instance, say your neighbor put up a tall fence on the property line that borders your land, but to put up a straight fence line, they fenced in part of your property.

If you two cannot work it out, serve them with a written notice, and if they do not comply, let a judge decide the solution.

What Is Adverse Possession in Florida?
Squatters rights is another name for adverse possession. Adverse possession is the legal term for the action of taking ownership of a property through squatting. Besides living on your property for seven consecutive years, the squatter must also meet other criteria. Also, they can do extra things to help their cause, like paying property taxes.

Criteria for Adverse Possession in Florida
Often, squatting is used as a way of acquiring the legal title to real property that has been long abandoned by, over time, meeting specific criteria, one of which is that they live on the property continuously for not less than seven years.
According to U.S. squatter laws, your tenant (squatter) must legally meet five distinct requirements before making their adverse possession claim, but in Florida, there is a 6th requirement. The occupant must be:
Hostile. The legal definition of "Hostile" in this instance has three distinctions:


Awareness of trespassing. The squatter should be aware they are illegally occupying the property.

Good faith mistake. The assumption is made that the trespasser is occupying the property with honest intentions. They may think they have an invalid deed or will.

Simple occupation. Here, the squatter does not necessarily have to know that occupying the property is illegal.

Actual. Just living on the property is not enough. The property needs to be well-maintained and kept attractive. Improvements to the property will also help the squatter who is claiming adverse possession.

Open and Notorious. It must be completely obvious to the landlord and everyone that the squatter is openly living on your property. If the squatter tries to hide their presence, it invalidates their claim.

Exclusive. Exclusive possession means that the squatter is in full possession of the property in opposition to the property owner or others.

Continuous. The seven years of occupancy must occur in a consistent manner, not an intermittent one.

Made with a Color of Title or Payment of Taxes. Having "color of title" is having irregular property ownership. It can mean that there is no legal registration or that the owner is missing pertinent legal documents.

The squatter can legally claim color of title after they successfully complete their adverse possession claim. Also, it is a good idea for the squatter to pay the property taxes.
Can a Tenant Claim Adverse Possession?
Unless you have taken steps to evict your tenant legally, they can file a claim of adverse possession if they meet all the criteria and end up with legal ownership of your Florida property.

How Do Squatters File Adverse Possession Claims in Florida?
There are two types of Florida adverse possession claims a squatter can file. The circuit court clerk's office in the county of the property's location must record the papers.
"Color of Title." The squatter could file to take legal title of the property using "Color of Title" if they lived there for seven years, the public knew, and they made improvements to the property.


The squatter must show a written document indicating they have title to the property (even if faulty).

The squatter must file a return with the county appraiser within one year of entering the property and pay all liens taxes during the possession of the property

The squatter must have done one of the following for the seven years of occupation:


Made improvements to the property

Protected the property, usually with a fence. The squatter can only claim the sections within the fenced area.

If they did not add a fence, used the land for food, fuel, or ordinary use by the squatter

Partly improved a portion of the lot, making it occupied.

"Without Color of Title." Squatters use this claim if they do not have a written document showing their own property title. In this case, they must prove they paid the property taxes and liens. They also must have lived there for seven years publicly. Other criteria that can further support their claim include:


Pay all outstanding taxes and liens against the property within one year after entering into possession.

The squatter also must have


Protected the property with an enclosure, usually a fence, or improved or maintain the property

Occupied and maintained the property

Provide the property appraiser a receipt on a form from the Department of Revenue that includes:


The name and address of the squatter

The date the squatter claimed adverse possession

A complete legal description of the property

A description of how the squatter uses the property

A receipt from the property appraiser

Payment dates of all taxes and liens

A notarized statement saying, under penalty of lying under oath, the facts they stated are correct and valid.
Only one person or family can claim adverse possession of the property. So, if multiple people or families live on the property, they cannot file for adverse possession.

How Can the Original Property Owner Reclaim Property Taken by Adverse Possession?
If the original owner is the owner of the record at the county clerk's office, they can pay all outstanding taxes due within one year, by April 1st, after the squatter took adverse possession.
This loophole allows the original owner to take back their property in Florida, even if a squatter paid all taxes and liens on the property.
It says that when a squatter or any person files for adverse possession, the property appraiser must, by Florida law, mail a copy of the adverse possession claim to the property owner on record. The notification must state that all taxes paid by them, the original owner, before April 1st in the following tax year has priority over taxes paid by the squatter.
Claiming Squatter's Rights on Florida Land
A squatter must possess a parcel of land for 12 continuous years to make a legal claim of adverse possession on Florida land. This period is extended to 30 straight years for any property owned by a state authority.

Why Can't You Kick Out Squatters?
You can legally have trespassers removed from your property, but if the occupants have been on your property for a while, they have graduated to squatters, meaning they could have earned some rights.

You cannot evict holdover tenants or other squatters from your property without going through the legal eviction process, which takes some time.

How to Remove a Squatter in Florida
Serve a holdover tenant with an eviction notice immediately when you realize they are taking up home on your property. Legal eviction is the only method to remove the squatter and protect yourself legally. In Florida, there are three types of eviction notices.
3-Day Quit or Pay Notice. It gives the occupant three days to pay rent before you can file for their removal.

7-Day Cure Notice. It provides the occupant with seven days to correct their violation or move out.

7-Day Unconditional Quit Notice. In cases of gross lease violation, it gives the occupant seven days to move out.
Additionally, pay your property taxes. Florida state law allows a property owner to pay delinquent property taxes, even after a squatter had paid the taxes prior, and the state will return the squatter's tax payment. Some see this as a loophole in the law that gives back rights to the original property owner, hence adverting the ability for a squatter to become the property owner.

Can Florida Police Remove Squatters?
No, unless you have a court order from the judge, which you obtain after going through the legal eviction process.

Do not call the local police when removing squatters. Call the local sheriff. Only sheriffs and constables can remove squatters.

How to Keep Someone Off Your Florida Property Legally
Trespassing signs like "Private Property: Do Not Enter" are an excellent place to start when trying to prevent squatters. Remember — a squatter begins as a criminal trespasser. Fences are also a good idea but check with neighbors and ensure you are not breaking any local fence ordinances. Set up cameras, and call the sheriff when someone trespasses.

How to Deal with Trespassers in Florida
Do not set up traps of any kind, as you will only be setting yourself up for liability issues. Just call the sheriff.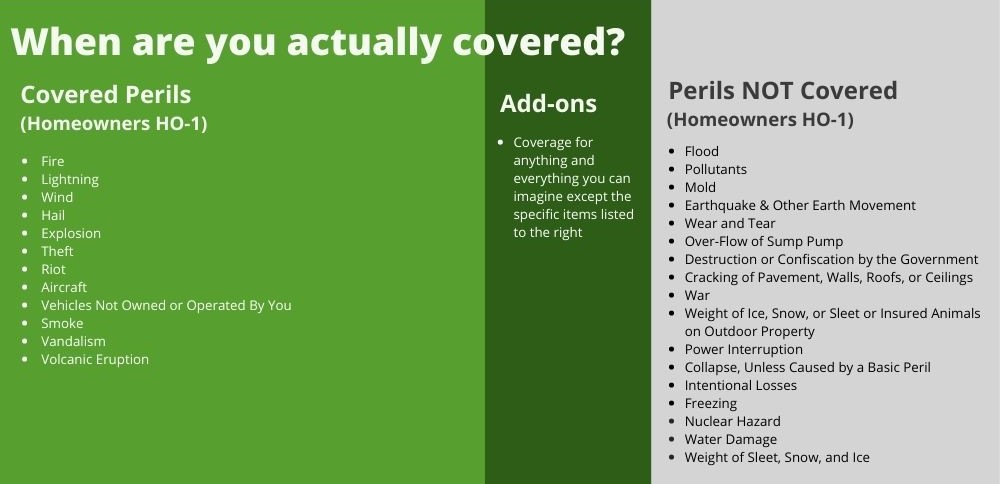 How to Insure a Florida Vacant House as a Homeowner
Regular homeowners insurance only covers a home vacancy for 30, 60, or 90 days depending on your policy terms. When a home is vacant for longer than the allowed timeframe, a conventional homeowners policy no longer covers the unoccupied house.

Instead, you will need either vacant home insurance or an endorsement that allows you to keep your coverage active while it is empty.

Vacant home insurance is usually HO1 insurance. It covers fewer perils (see image above) than standard home insurance and pays actual cash value (ACV) for claims, subtracting depreciation.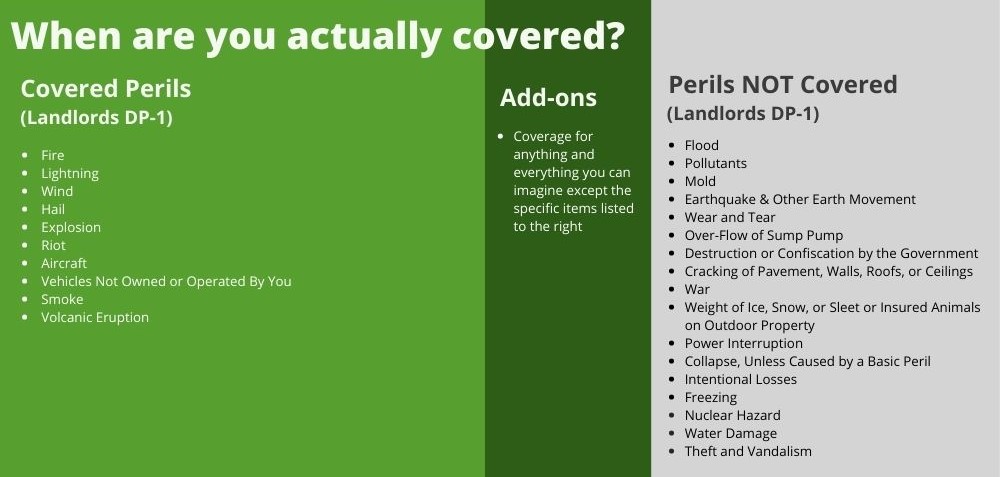 How to Insure a Florida Vacant Rental Home as a Landlord
The type of insurance a landlord should purchase for a vacant rental house in Florida is DP1 landlord insurance, also called a Dwelling Fire Policy. It also allows vacant property coverage and covers the 10 perils (see image above). It also covers glass and the damage that broken glass causes.
Claims pay actual cash value for the covered property, the rental dwelling, and other structures on the property.

Start a quote below, and we will provide a free review of your coverage. Let us ensure that you have the best possible coverage available for your vacant property.
Hope that helps!
Free Online Landlord Insurance Quotes
At your service,
Young Alfred