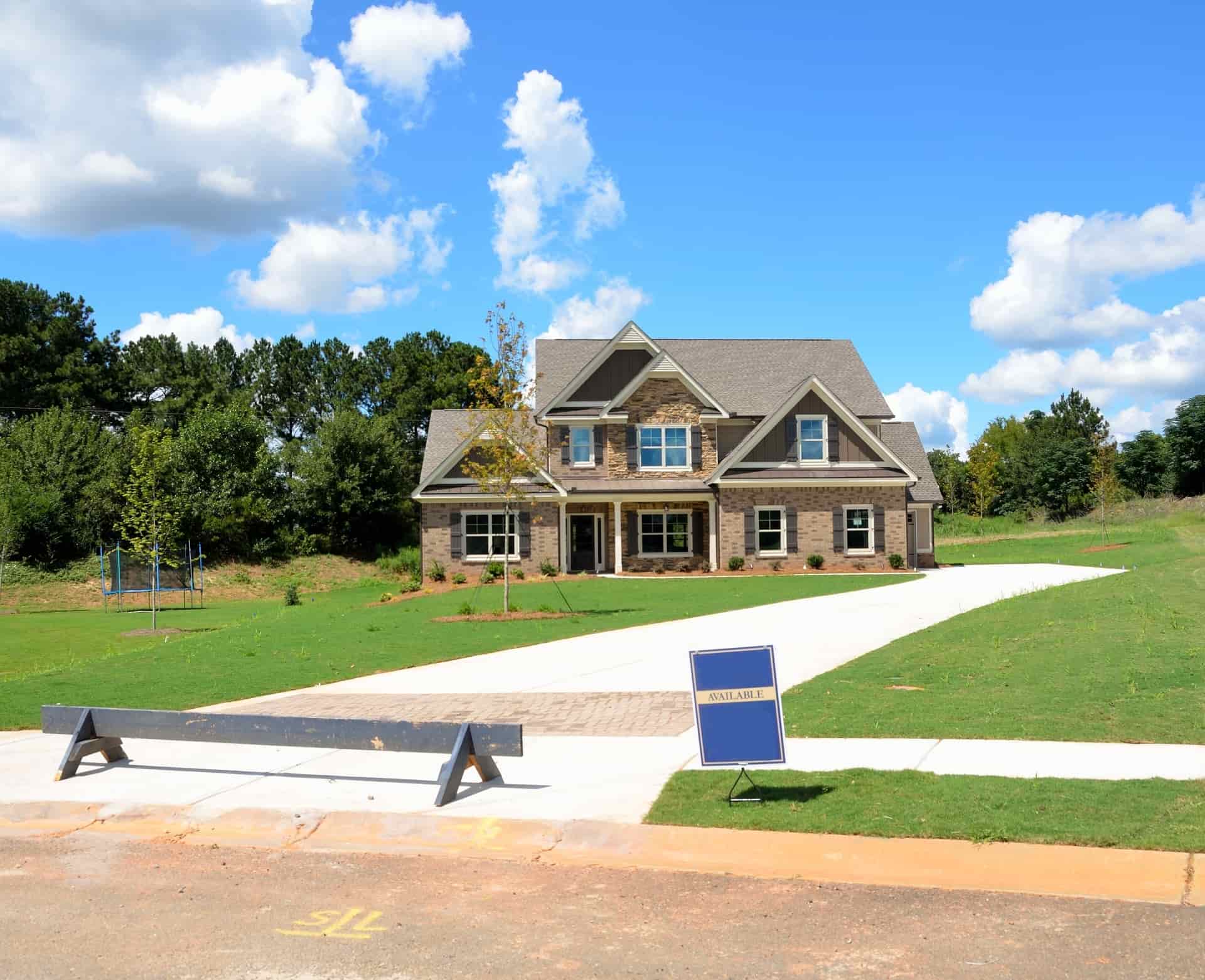 Foremost Landlord Insurance

Foremost Insurance is a specialty insurance company based in Michigan. They primarily offer home, auto, boat, motorcycle, and RV insurance. They are known for the following insurance coverages:
Landlord Insurance
Vacant Homes
Mobile Homes
RV Insurance
Manufactured Homes
Modular Homes
Specialty Car Insurance
Who Is Foremost Insurance?
Foremost Insurance started back in 1952 as a mobile home insurer. In 1970, they began to offer insurance for all types of recreational vehicles. Farmers Insurance group acquired Foremost in 2000. When Farmers bought Bristol West in 2007, Foremost was then able to offer auto insurance.

Does Foremost Sell Landlord Insurance?
Yes, Foremost Insurance specializes in landlord insurance for the following property types:
Vacant Property
Seasonal Rental Properties
Owner-Occupied Condominiums
Landlord Condominium
Older Homes
Lower-value Homes
Fixer-uppers
Vacation Rental Homes
Seasonal Homes
Multi-Family Homes
Multiple Properties
Where Can You Buy Foremost Landlord Insurance?
Foremost Insurance is licensed as an insurer in all 50 states.

Foremost Landlord Insurance Coverage
Foremost Insurance helps landlords choose the right landlord insurance for their rental property. Property owners and landlords also can create a customized policy or buy their standard landlord insurance.
Foremost's standard landlord insurance includes the following coverages.

What Perils Does Foremost Landlord Insurance Cover?
Foremost comprehensive landlord insurance (DP3) is an open-peril policy for your rental dwelling and other structures on the property. It covers all perils unless they are explicitly excluded.
Non-covered perils include hurricane floods, mold, wildfire, and more. Read the declarations page of your policy for a list of all perils not covered.

However, landlord insurance only covers 16 perils for personal property. See the image below of those 16 named perils and excluded perils for both your rental dwelling and personal belongings.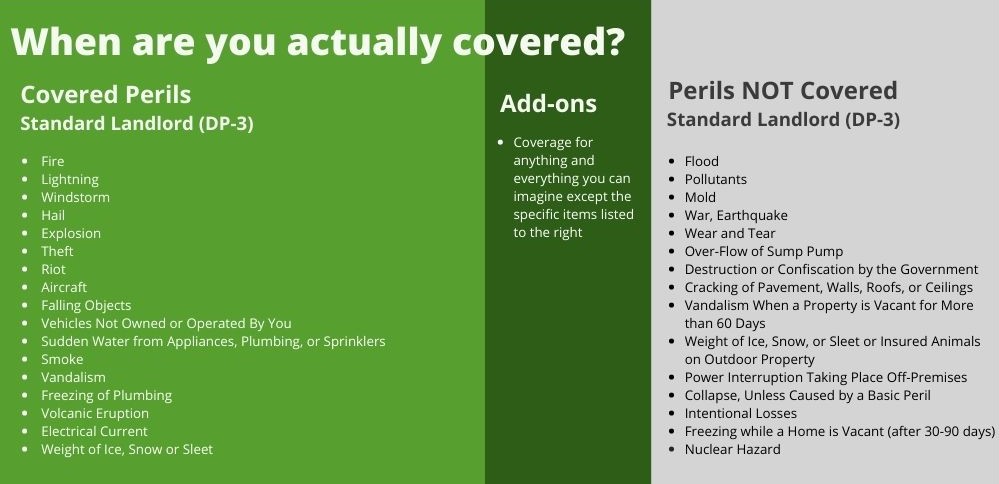 Landlord Dwelling Insurance Coverage
Dwelling insurance covers the property from damage done by a covered peril. Foremost's standard landlord insurance comes with open perils coverage for rental dwellings. That means it covers all perils except those listed as excluded in the policy.

Dwelling payouts use Replacement Cost Value to assess the cost of the claim. RCV provides the total value of the property with no deduction for depreciation. However, a deductible still applies, as does your coverage limit. You set your coverage limit when buying the policy, and it should equal the cost to rebuild the rental dwelling.

Landlord Other Structures Coverage
Other structures' coverage limit is 10% of the coverage limit of the dwelling. Other structures include sheds, garages, driveways, and more. Again, RCV is used to value the claim, and the policy deductible applies. It, too, uses open perils coverage.

Landlord Personal Property Coverage
Personal property is anything a landlord leaves behind for a tenant to use. For example, it can cover appliances and garden furniture. You set the coverage amount based on the property's value.

If you make a claim, the policy deductible is payable, and all payouts are ACV (Actual Cash Value). ACV means the depreciation is taken into account when valuing the claim.

Personal property, unlike the dwelling, comes with named perils coverage for 16 perils. That means it only covers damage and losses from those 16 perils. See the image below.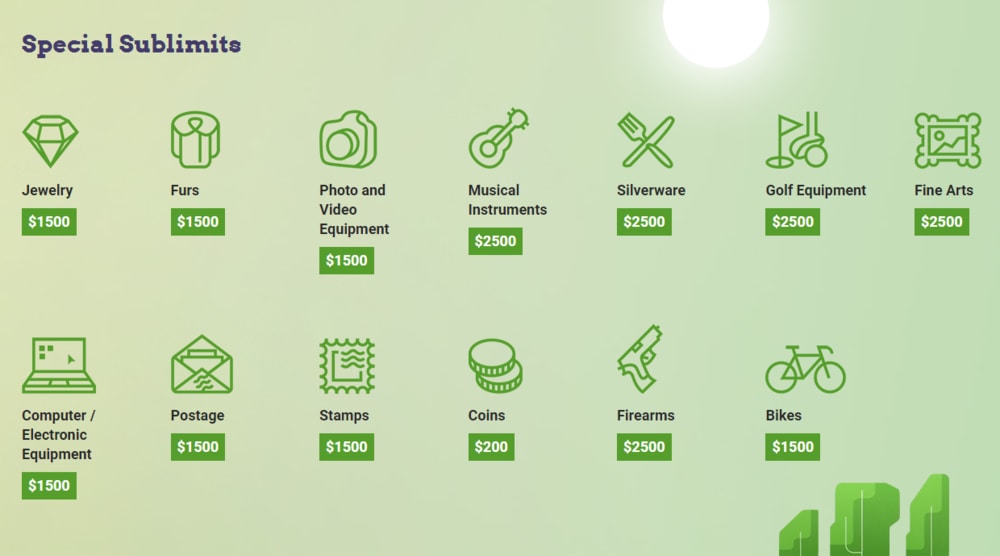 Personal Property Insurance Sub-limits
High-value items are subject to a sub-limit. That is the maximum amount an insurer will pay out for categories of specific items.

A good example is bikes, which have a sub-limit of $1,500. Even if your bikes are worth more, that is the maximum your insurer will payout. Plus, your insurer applies your deductible and ACV depreciation.

So, consider scheduled personal property endorsements. They do not have deductibles and payout at RCV with a coverage limit equal to the item's value.

Landlord Liability Insurance
Liability insurance covers the landlord for personal injury or property damage on the rental property. It covers medical bills, attorney fees, and more if the injured party sues the landlord. There is no deductible with liability coverage, and payments are RCV.

Landlord Loss of Use Coverage
What happens if a covered peril causes so much damage that the tenant must vacate the property? Loss of use coverage covers your rent while you undergo repairs and until the tenant can return.

Foremost Insurance Landlord Pet
The liability aspect of landlord insurance covers dog bites. But, if your tenant has a dog that bites someone, the liability will fall under their renters insurance. If you bring your dog onto the property and it hurts someone, your policy pays.

Foremost Insurance Umbrella Policy
Umbrella policies add extra liability coverage if a liability claim exceeds your standard landlord liability coverage limit.
For example, if someone sues you and your liability limit is $100,000, the legal costs and medical bills may go above that. If this were to happen, you could claim the extra amount through your landlord's umbrella policy.

Foremost Condo Landlord Insurance
Foremost Insurance offers a Unit-Owners Building Property (UOBP) policy for condo landlords. It covers fixtures, appliances, and alterations not covered by the Condo Association's policy.

The limit might be $400,000.

It is the same coverage as a standard landlord insurance policy. You also have an option to add personal property, loss of rent, liability, and medical expenses coverage. The only difference is the dwelling coverage. It only covers whatever parts of the dwelling you own, typically wall, floor, and ceiling covers like paint or wallpaper.
You might also own your kitchen cabinets and appliances. Your condo association typically owns load-bearing, shared, and external walls. Sometimes they own the plumbing, kitchen cabinets, and appliances. Check your condo association building rules and other documents.

Foremost's condo landlord policy also is an open perils policy for the structural parts of the dwelling you own. It is a named peril for personal property. It too has RCV coverage for the structural elements and ACV for personal property with deductibles.



Foremost Landlord Insurance Endorsements
Foremost offers a wide selection of optional floater and endorsement add-ons. Take advantage of these additional coverages to make your landlord insurance as unique as your property.

Air Conditioning and Heating Loss Reimbursement
If the air conditioning or heating breaks down, your tenant can claim a partial rent refund. This endorsement covers rent reductions or refunds that you or your property management company agree with the tenant.

Agreed Loss Settlement
Standard landlord insurance pays on RCV if you lose your home to a covered loss. RCV means the insurer pays the retail price for materials and labor to rebuild. This endorsement pays whatever amount you and your insurer agree upon instead.
You add that agreed loss settlement amount to the policy's declarations page when purchasing the policy. The final payout then matches that amount, regardless of the actual value of your property. A deductible still applies.

Extended Replacement Cost
Extended replacement cost pays out an extra 25% above your dwelling coverage limit. Ask your insurance agent about availability in your state.

Flood Insurance
Foremost Insurance offers flood insurance, which the National Flood Insurance Program underwrites.

Optional Replacement Cost
The optional replacement cost endorsement upgrades an ACV policy to RCV.

Occasional Rental Permission
Occasional rental permission is also called short-term rental permission endorsement. If you own a home covered under homeowners insurance, perhaps a summer home, you may want to rent it out during the winter. An occasional rental permission endorsement covers your property during those times without getting a landlord insurance policy.
It also covers your rental property if you rent it short-term. That may be for a weekend or a few days or months on an occasional basis. This endorsement works for Airbnb, for example.

Service Line Endorsements
Landlord service line endorsements cover utility pipes that run to and from your property. Service lines include natural gas, water, electricity, and telecommunications.

Short-Term Vacancy Permission
This endorsement is also called a non-occupied dwelling endorsement. Short-term vacancy permission provides coverage for your property if you must leave it vacant, for example, during repairs.

Scheduled Personal Property
A scheduled personal property endorsement provides coverage for any high-value items. You also may want to avoid sub-limits, ACV coverage, named perils coverage, and deductibles. Choose your coverage amount for things such as computers or sports equipment.

A scheduled personal property endorsement covers items you list on your endorsement. It includes RCV or agreed value, open perils, and has no deductible. It is the best way to protect your high-value belongings left at the rental property.

Ordinance or Law / Building Code Upgrades
If your property is undergoing repairs because a covered peril damaged your rental house, you must comply with new building codes.

This endorsement pays for additional costs for work on your property to comply with the new regulations.

Loss of Rental Income Endorsement
The most comprehensive landlord insurance policies do not pay when your renters default on their rent payments. But you can purchase a loss of rental income endorsement. It will pay your rent if your tenant defaults.

Equipment Mechanical Breakdown Insurance
If an appliance suddenly breaks down because of a mechanical failure, this endorsement will cover repairs or replacement. However, it excludes wear and tear.

Tenant Move Back Costs
During renovation or repairs, your tenant will move into temporary accommodation. There could be costs associated with moving them back into your rental unit. This endorsement helps with those costs.

How Much Does Foremost Landlord Insurance Cost?
The cost of landlord insurance with Foremost Insurance varies by state. Which package you choose and any endorsements you buy also affect the price. Typically, landlord insurance is 25% - 30% more than home insurance.

Also, Foremost has a selection of discounts available that can lower your premium.

What Type of Rental Properties Does Foremost Landlord Insurance Cover?
Foremost Insurance is a landlord and rental insurance expert. They offer many types of coverages over a wide range of properties.
Mobile Homes
Tiny Houses
Student Housing
Condominiums
Rental Duplexes
Rental Triplexes
Rental Quads
Converted Victorians
Row homes
Rentals with up to four (4) living units
Modular Homes
Rentals Under Renovation
Row Houses
Should Landlords Require Tenants to Carry Renters Insurance?
Yes, tenants should always have renters insurance. They need it to cover their personal belongings and liability. To avoid any confusion, add the requirement to the rental agreement.

Also, ask your tenant to name you as an interested party on the policy. This addition means their insurer will notify you if the policy lapses.

Additional Insured Landlord Recommendation
One recommendation is that your tenant also adds you as an additional insured.

The benefit is it extends the renter's liability protection to the landlord. The landlord can then claim on the tenant's policy rather than their own.

Is Foremost Insurance Good?
Consumer Advocate gives Foremost Insurance an overall rating of 3.8/5 (Very good). Foremost stands out from other insurers as it offers coverage for nonstandard properties. It will also consider customers who have a poor credit history or past claim issues.

AM Best Rating for Foremost Insurance Company
Foremost Insurance has an AM Best rating of A.

Foremost Landlord Insurance Claims
Foremost Insurance allows you to file a claim 24 hours a day, either online or over the phone.

Foremost Landlord Insurance Claims Phone Number
The Foremost Insurance claims number is 1-800-527-3907.

Foremost Landlord Insurance Claims Email Address
There is no email address for filing a Foremost Insurance claim. Instead, use the online portal.

Foremost Landlord Insurance Quote
We are a certified Foremost landlord insurance agent. As independent agents, we will help you find the best quote for your landlord insurance.

Hope that helps!
Free Online Landlord Insurance Quotes
At your service,
Young Alfred