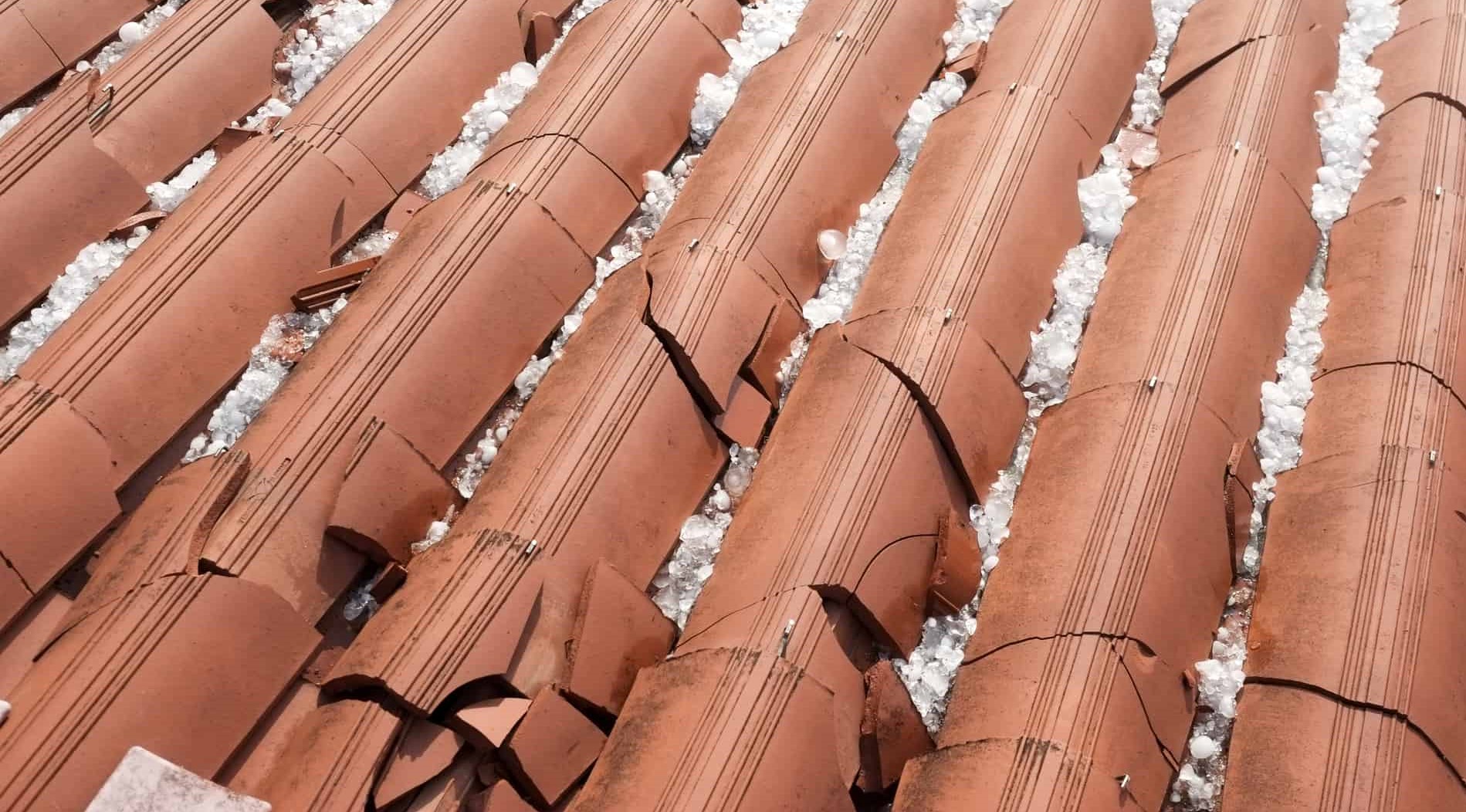 Hail Damage Roof Insurance Claim Tips
When making an insurance claim on your roof, it's best to prepare. We put together 10 tips for filing a roof insurance claim for hail damage that will help you make a strong case for the roof claim on your property.

Does My Home Insurance Cover Roof Hail Damage?
Most home insurance policies will cover roof damage if the damage happens to be caused by a sudden accident or from a weather event like wind or hail. You can claim hail damage under a standard homeowners insurance policy.
Hail storms can cause damage to your property from many factors – high winds, the size of the hail, density, and shape of hailstones, and of course, the type of roof material.
If you find hail damage is not covered by your homeowners insurance, ask your insurer about an add-on that will cover hail.

Hail Damage Insurance Claim Exclusions
Normal wear and tear or a roof that is over 20 years old might have no coverage or limited coverage, respectively.
Although the damage to the aesthetics might be unsightly, it can become a more significant functional problem later down the line. Cosmetic change can also significantly lower the resale value of the property. You should ask your insurer if they cover cosmetic damage in your standard homeowners insurance policy or add-on.
10 Hail Damage Roof Insurance Claim Tips
Review your hail damage insurance terms thoroughly
Go through your insurance policy to understand what storm damage they will repair or replace and know how your storm damage deductibles work. Hail may be a named peril or part of the wind damage language. Alternatively, you may have an all peril deductible that covers everything. Hail may not be covered if it is an excluded named peril in your policy.

Contact your insurance company and report the hail storm immediately
The average time frame for a claim is usually within a few weeks of it occurring. It is always best practice to be proactive and act quickly in the case of an accident to make the process easier and faster down the line.

Assess and document everything that was damaged by the hailstorm
You should take notes and gather information immediately after the hail storm.

Write down the

exact time and date

that the storm hit your roof and other property you are claiming.

If you had work done on your roof before the damage, include that in your hail damage claim paperwork. Clear documentation will significantly smooth the whole process. Keep all your documentation for your insurance adjuster.

Most roof damage hail claims are not only for roof leaks as a hail storm can wreak damages everywhere. Look for dents, gutter damage, wall leaks, siding, doors, skylights, solar panels, and damage to windows. Check your outdoor air conditioning unit, as hail dent and block cooling fins, which blocks the airflow.


Take pictures/videos of the hail damage


Nothing helps your claim more than having photo evidence showing the extent of damage caused to your roof. Hail melts even though the scar remains. To make your claim more substantial, take pictures of the size of the hailstones.


Use a tape measure and a golf ball to prove the hailstone sizes, show each damaged area, and support the reimbursement you are seeking.

Keep a written inventory of these damaged areas along with your photos. Take plenty of quality pictures of the damage to your roof, missing or torn shingles, yard structures, leaks, gutters, and any other damaged property covered by your policy.


Cosmetic hail roof damage might lead to functional roof damage


You may think hail will only cause cosmetic damage, but it can also cause seen or unseen functional impairment. Even if you do not see a water leak, a dent or crack might create water leaks shortly after a hail storm. Don't call the fashion police, but do have your roof insurance adjustor check cosmetic roof damages to be sure they won't lead to issues.




Mitigate your hailstorm damage


If your roof is leaking, cover it with a tarp and lock the tarp down to prevent further damage.


Get a free roof inspection from a roofing contractor or public adjuster


Get a documented inspection from a private insurance adjuster or professional roofing contractor that includes the damages with the repairs and insurance reimbursement you need. Your best option is a qualified roofer who is certified by your roof product manufacturer. Roofers typically provide free inspections. Search the National Roofing Contractor Association (NRCA) or other roof product manufacturer certifications and directories like

GAF Master Elite

and the CertainTeed Master Shingle Applicator Program.

Call for an inspection to know the scope of the hail damage you can claim
Before making an actual claim,

hire an independent contractor

to get an estimate on how much repairs will cost. A repair estimate from a credible professional strengthens your odds of getting the amount you request and educates you on what it will cost to fix the damage.


Set a time and date to discuss the claim with your insurance adjuster


Set an appointment to review the hail damage claim. Knowing your claim review date helps you prepare in advance and gives you time to be armed to defend your claim assertions and requests. Nothing is more frustrating than your insurance company knocking at your door when you are not prepared. An appointment ensures your claim continues to get attention and moves you closer to getting a check to pay for your roof damages.
Discounts on insurance for roof hail damage
Some insurance companies offer premium discounts for high-quality, less risky roof materials. You could get up to a 35% discount if your home uses certain roof materials. Check your roof materials before buying your home insurance so you can ask for these credits.

About Hail Damage Roof Insurance Claims FAQs

Q. Will filing a roof damage insurance claim increase my premiums?
At renewal, maybe. Damages caused due to bad weather do not generally make rates go up on you individually, as your negligence did not cause damages. However, if carriers in your area took significant and unexpected losses, they could raise rates next year to account for this increased risk in their new underwriting model.

Q. Should I file an insurance claim if the hail only caused cosmetic roof damage?
Probably not. Look into your policy or ask your insurer if your insurance company covers cosmetic damage. Filing a claim will still go on your claims history, even if it isn't paid out.

Q. What property damages should I look for after a hail storm?
The extent of the damage is vital. Check for dents, leaks, damage to the gutters, and any functional and cosmetic damages.

Q. What qualities are important in a roof damage public adjuster?
First, make sure that the adjuster is legitimate and licensed. Be sure they are knowledgeable in the field. Lastly, it always helps to investigate references of the adjuster to be extra sure.

Q. Can I repair my roof hail damage, or do I have to hire a roofing company?
You can, but if possible, it is always better to hire a professional roofing company. The professional company can also offer some sort of guarantee on the quality of work. If you repair the roof yourself, be warned that if future damage reveals your repair work is faulty, you could be on the hook financially or get future claims denied.

Conclusion

These ten tips for filing a roof insurance claim for hail damage should help you to make a better and stronger insurance claim. Whether you are asking for a roof repair or replacement, the process can be a bit tedious, but with a little time and effort, you can make sure you get a fair payout. Also, understand that your relationship with the insurance company depends on how easy you are and if the information you provide them helps them do their job faster and with more ease. And, if you are prepared and cooperative, the process will be quicker and smoother.
Don't get caught without hail insurance:

Get Hail Insurance Quotes

At your service,
Young Alfred