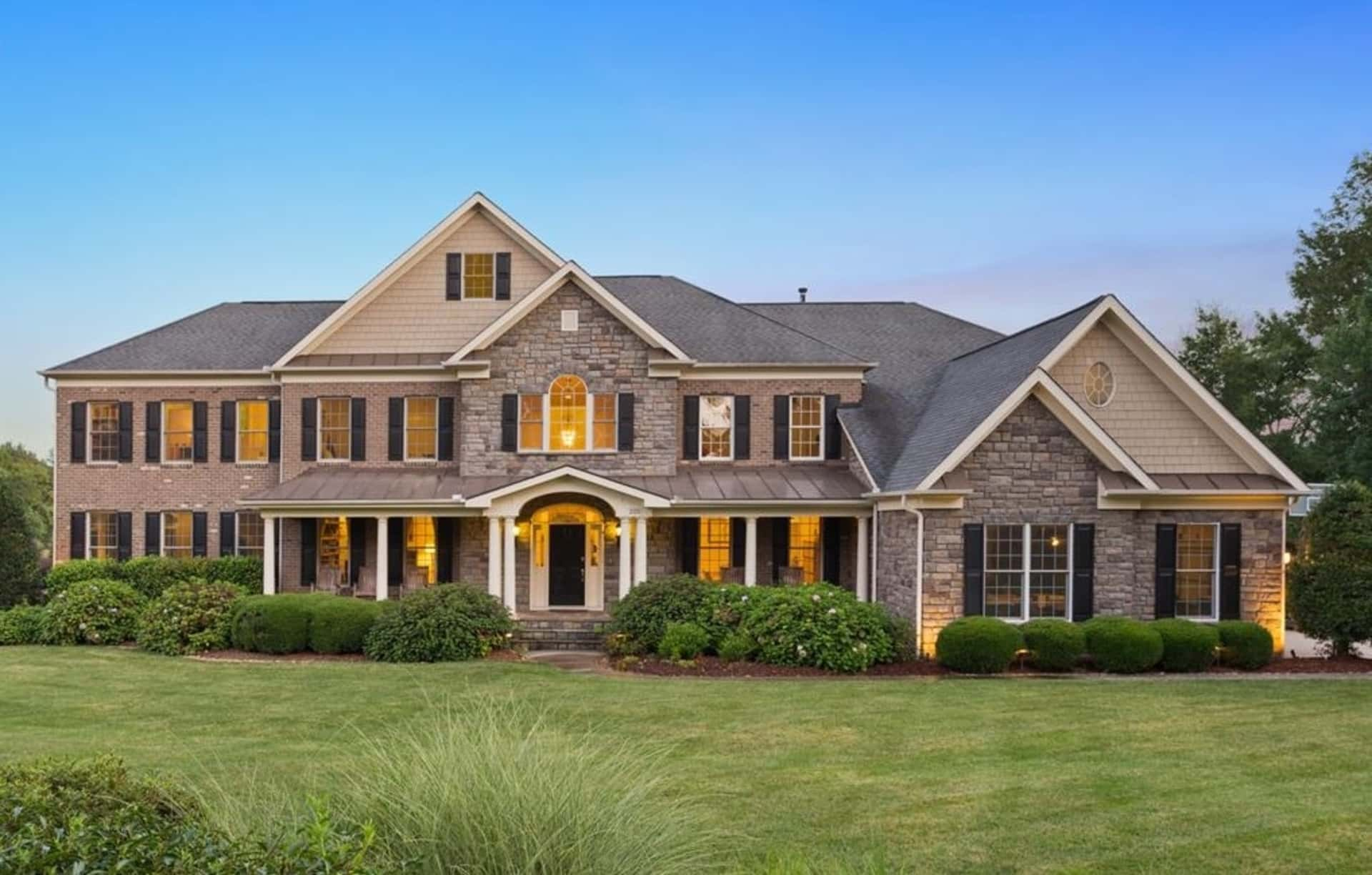 Home Insurance in Charlotte, NC
The beautiful southern city of Charlotte, NC, often referred to as the Queen City, features over 199 neighborhoods branching out from what locals call uptown rather than downtown. An eclectic, creative, and diverse city, Charlotte dazzles its residents regularly. We created this guide to help homeowners in Charlotte find the most affordable home insurance that also provides excellent coverage.

1. Average Home Insurance Cost in NC
Comparing home insurance costs is the smartest way to get the best price. You can also find North Carolina homeowners insurance discounts like those in this article that lists 30 possible discounts: 30 Ways To Save Money On Homeowners Insurance. One of the most common money savers is to bundle your home and auto insurance.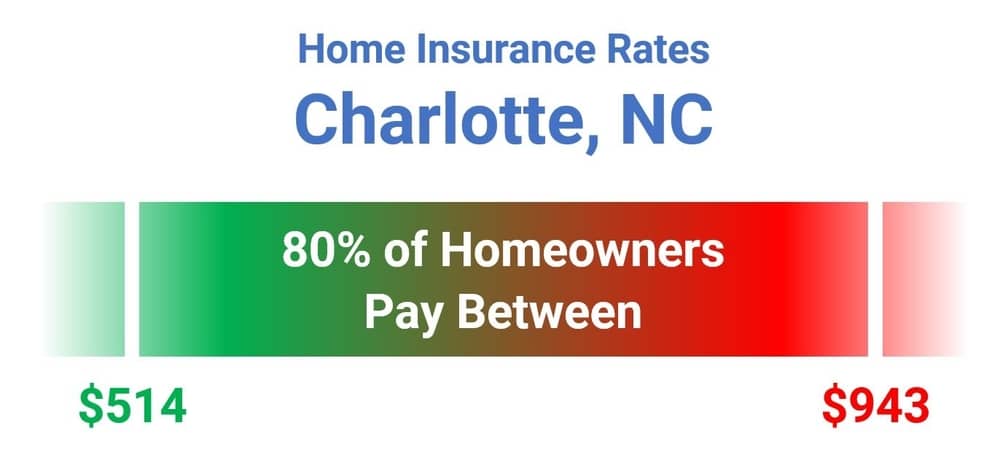 The average annual home insurance premium for homeowners in Charlotte is between $514 and $943 per year, and the average homeowners insurance premium is $742.55. The cost of insurance increases an extra $169/year for each $100,000 of additional insurance coverage.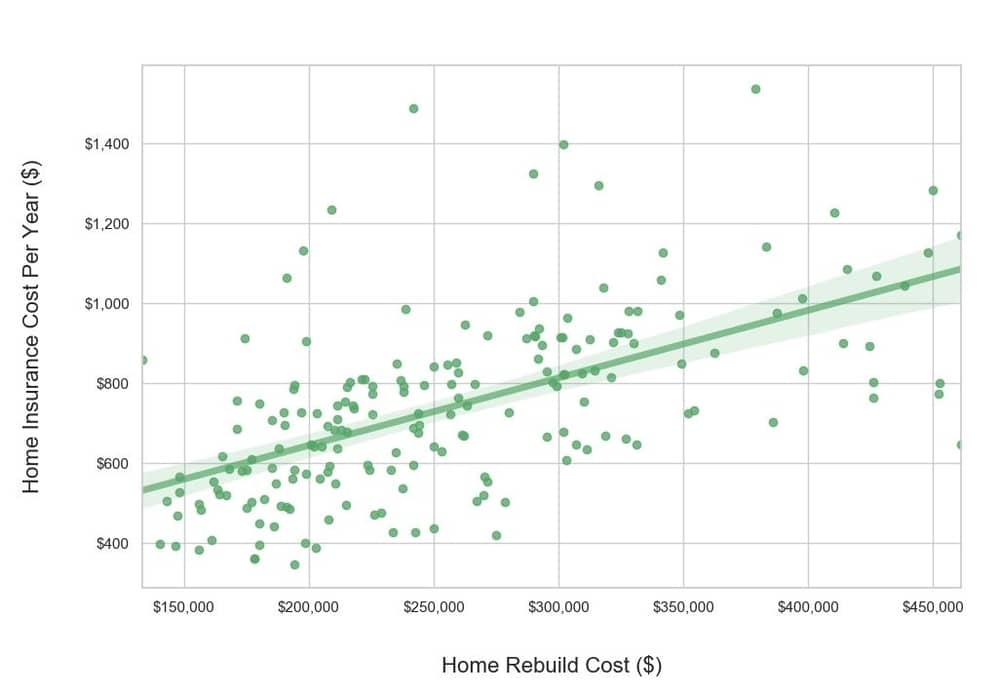 Calculating Your Claim Payment to Rebuild Your House
Two-thirds of all homes in North Carolina are underinsured. The consequence of being underinsured gets worse when you consider how your claim payments get calculated.
Homeowners in Charlotte need to understand that dwelling coverage only includes the cost to rebuild a home. Say you lost your house to a fire. Your claim payment does not include the land the house sits on, the market value of your home before the fire, or your mortgage. They only factor the costs of materials and labor to rebuild your house to the like and kind of quality as before.
That means if you prefer the cash vs. rebuilding, and your mortgage or home value is higher than the cost to rebuild], you will get less money than if you had sold before the fire, and you will have to continue paying down your mortgage loan. You may also want to consider insuring your home for more than its value: Why do I need to insure my home for more than it is worth?
ACV vs. RCV
You should also understand how claim payments get calculated. There are two types of insurance calculation coverages available for home rebuild determinations:
Replacement Cost - This is the typical formula used in standard homeowners insurance (HO-3). It will pay whatever the cost is to replace your home.
Actual Cash Value or ACV - If you have this type of coverage, you will only receive payment based on the ACV of your home less any depreciation. Home insurance companies use a formula based on the reasonable life expectancy of the home minus any depreciation to come up with the claim payment amount. A disastrous ending for a homeowner. This type of coverage is less common and typically used for cheap and extremely basic bare-bones policies, DP-1 and HO-2.
Example:
Bill and Teresa own a home in an up and coming community. They have ACV for their dwelling on their homeowners insurance policy, and they have a $5,000 deductible. The home is 85 years old and they bought it for $150,000.
The builder is saying it will cost $350,000 to rebuild the home. The formula to figure the claim payment is $150,000 - $5,000 = $145,000. If Bill and Teresa had replacement coverage, the insurance company would rebuild the entire home for $350,000-$5,000 = $345,000.
Charlotte, North Carolina home insurance rates generated by zip code including:
28296 28204 28219 28272 28202 28218 28247 28214 28237 28281 28275 28284
28209 28297 28242 28290 28278 28211 28287 28216 28224 28262 28215 28222
28273 28282 28223 28230 28241 28271 28265 28253 28221 28227 28213 28236
28205 28217 28256 28231 28260 28212 28228 28226 28289 28201 28220 28235
28244 28210 28254 28277 28274 28280 28263 28206 28258 28233 28288 28207
28208 28203 28285 28229 28255 28234 28250 28270 28232 28269 28299 28266
28246 28243
2. Typical Home Insurance Claims Within Charlotte, NC
Charlotte is traditionally a low-risk area for homeowners. Usual claims for homeowners insurance in Charlotte are tornados or theft, and theft is the most common. The crime rate in Charlotte is 71% higher than the national average.
However, in recent years, storm activity has increased in the Charlotte area. Twenty percent of all flood claims stem from low to mid-risk flood zones, so anyone living in those zones should consider supplemental flood insurance. Keep in mind that once you purchase flood insurance, there is usually a 30-day waiting period. Most insurance companies exclude flood coverage, but you can buy a National Flood Insurance Program or NFIP.
When filing a claim, this article about claim tips may help: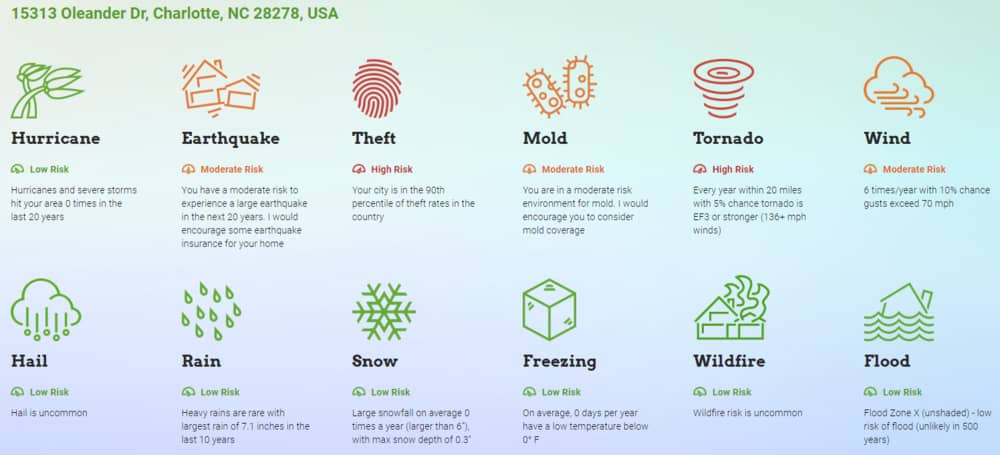 Charlotte, NC Home Risk Report

3. Specific Insurance Coverage You Should Have in Charlotte
Understanding the six significant homeowners coverage types aids your search. Each type will vary by state.
Three specific coverages apply uniquely to homeowners in Charlotte, NC.
One-third of all homeowner claims are for water damage. Insurance companies place restrictions on certain types of water damage. Homeowners should understand what is covered and what is not.
Flooding is generally not covered on a standard homeowner policy. However, you can purchase additional coverage under a separate plan from Private Flood Companies or NFIP.
Water Damage from a Burst Pipe is a peril included on your homeowners policy. Keep in mind, however, if a slow leak causes the damage, insurance products exclude coverage. Water line damage from slow leaks are considered wear and tear and maintenance.
Water Backup Coverage. Home insurance policies generally exclude water backup, but consumers can purchase it for an additional annual premium.
Storm-Related Water Damage. If water enters the house from above ground level, your homeowners insurance policy covers storm-related water damage.
Water Seepage and Groundwater. Generally, seepage is not a covered loss, but you may purchase it as a separate add-on.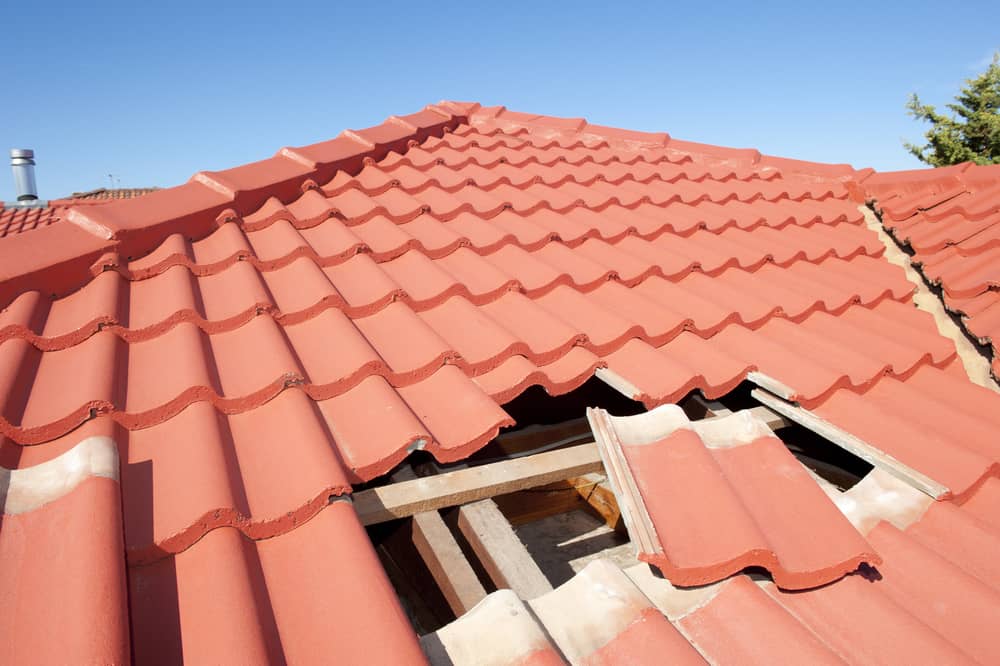 Deductibles for Wind and Hail Insurance in NC
Charlotte is known for ice storms in the winter and thunderstorms in the summer. Wind damage from thunderstorms is a common claim in North Carolina. There are usually two deductible methods for wind deductible on home, condo, and townhouse insurance policies:
1. Percent-Based Deductible (2%, 3%, 5%, 10%). The percentage-based deductibles go by a percentage calculated from the coverage A amount on your policy.
Example:
Evie has $250,000 in dwelling coverage (Coverage A) and a 3% wind damage deductible. When her home has damage from wind, Evie's insurance company will determine her deductible in this manner: $250,000 x 3% = $7,500 deductible. She will have to pay the $7,500 deductible, and the insurance company will pay the rest, up to the coverage limits.
2. Dollar-Based Deductible (typically $500, $1,000, $2,500, $5,000, $10,000)
Dollar-based deductibles are a set exact dollar amount for any claim. The most common home insurance deductible is $1,000.
For Example:
Shannon has $500,000 in dwelling coverage for her home. Her deductible is dollar-based at $2,500. When Shannon has a wind claim, her coverage formula is: $500,000 - $2,500 = $497,500. She will only have to pay the $2,500 deductible, and the insurance company will reimburse the rest, up to the coverage limit.
Roof Coverage using RCV vs. ACV
Roof coverage features two different coverage options: replacement cost or actual cash value (ACV). With replacement cost, you will receive full coverage for the new roof's price minus your deductible. ACV coverage is calculated based on the useful life of the roof as it depreciates over the years.
Example:
Sunny owns an older home. The roof is 15 years old. During a recent storm, many of the shingles came loose, and the roof needs replacing. If Sunny has replacement cost coverage, his insurance company will pay for the new roof less his deductible.

However, Sunny has ACV coverage with a $5,000 deductible. The roofing company says the new roof will cost $15,000. Sunny's insurance company will assume that the roof would have lasted 25 years.

The formula they use to calculate the roof coverage is (25 - 15)/25 x 15,000 - $5,000 = $0. The type of roof insurance coverage you choose influences the amount of your reimbursement on each claim.
4. The Most Experienced Insurance Companies in Charlotte, NC
Choosing homeowners insurance in Charlotte is confusing and overwhelming; there are many choices out there. Consumers should research insurance companies based on their financial stability, experience in Charlotte, and quality of their customer service before requesting insurance offers:
Financial Stability. AM Best and Demotech give you the financial stability rating of various homeowners insurance companies.
Local experience in Charlotte. The more homes they have provided coverage for, the better it is.
Online Reviews. Look for comments on customer satisfaction regarding claim handling and approval.
The best, most experienced insurance companies in Charlotte, NC:
5. Home Insurance Quotes in Charlotte, NC
While there are many insurance options available, North Carolina homeowners should get several insurance quotes before deciding. A handy tool is a home insurance rate online quote app. Although home insurance rates get calculated on a variety of factors, there are three main categories:
Property characteristics (heating, age, location, etc.)
Your family and you (pets, credit history, past claims, etc.)
Riders and coverage limits (RCV vs. ACV, deductibles, jewelry, etc.)
Get an accurate insurance quote by filling out an online application. Do not worry; we will not bombard you with calls like other sites that only help you find an agent. We will not call you at all unless you request it. We will work with you to compare 40+ insurance products in Charlotte, and we will do it via email or phone, you decide.
We also keep your information private.
Our advanced quote engine generates only the best home insurance quotes in Charlotte, personalized to meet your needs.
At your service,
Young Alfred