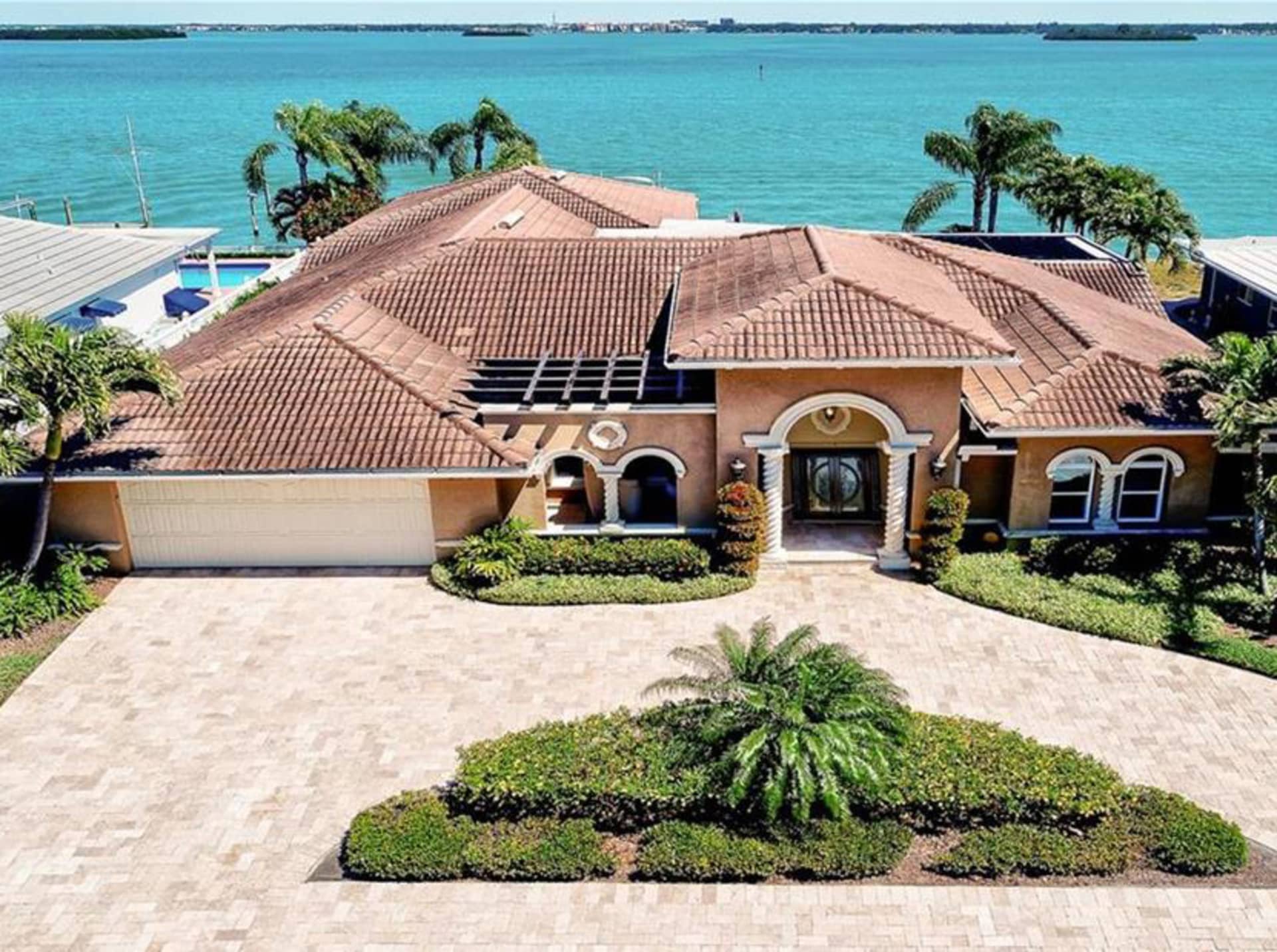 Home Insurance in Clearwater, FL
With average temps only ranging from 55-90 degrees, Clearwater is the perfect place to call home! Combined with high-rated schools and an average home cost of $235,189, families, singles, and retirees are sure to find real estate in Clearwater. The subtropical city is considered one of the most inexpensive coastal places to live. From the quiet streets of Charter Oaks to the more affluent Clearwater Beach, homeowners will enjoy low crime rates and delicious local cuisine.
Along with your home in paradise comes home insurance, which we will cover in full.
Clearwater FL Storms
If you live in Clearwater, you may have some concerns about hurricanes or tropical storms. The city has had its share of hurricane scares as well as damage related to nearby storms, but rarely takes the brunt of the cost.
In 2003, Tropical Storm Henri made landfall near Clearwater with winds at only 35 mph. The storm did produce some minor flooding and about 9 inches of rain.
In 1921, the Tampa Bay Hurricane (otherwise known as the Tarpon Springs Hurricane) made landfall in the Tampa Bay. The Category Four (4) hurricane had maximum sustained winds of 140 mph. The devastation that occurred in Tampa Bay expanded to the Pinellas County area, including Clearwater and Palm Harbor, damaging homes and businesses. Many residents were without power and phone service due to downed lines in the area.
Although Clearwater has not experienced much in the way of immediate threat storms, it is wise to remember the city is prime territory for wind and storm damage.

1. Clearwater FL and Cost of Homeowners Insurance
Homeowners insurance in Clearwater FL ranges from $1,081 - $2,260 per year, with the average cost at $1,720.34. An excellent rate for homeowners insurance is under $1,081/year in Clearwater.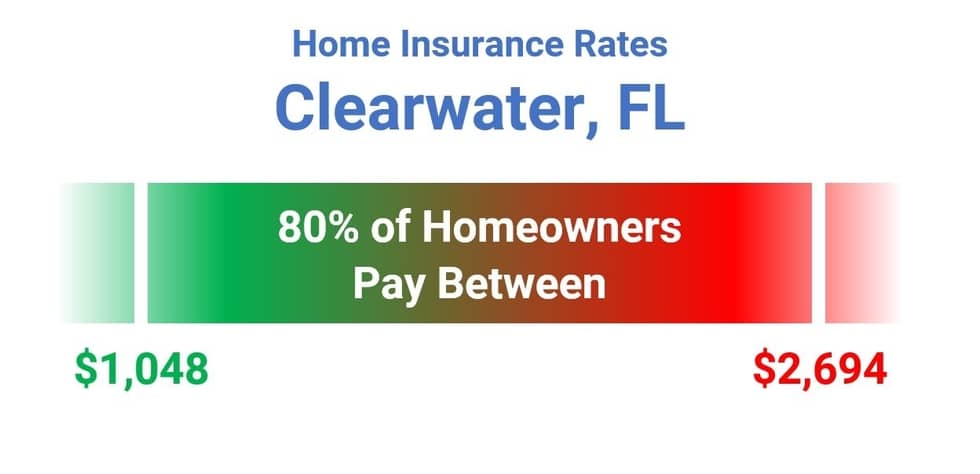 Clearwater home insurance pricing will increase by an additional annual $399 for every $100,000 of an increase in home value.
If you are shopping for cheap home insurance in Clearwater, check out our list of homeowners insurance discounts. You should also provide your wind mitigation report, which can save you over 50%, and your 4-point inspection result to your carrier.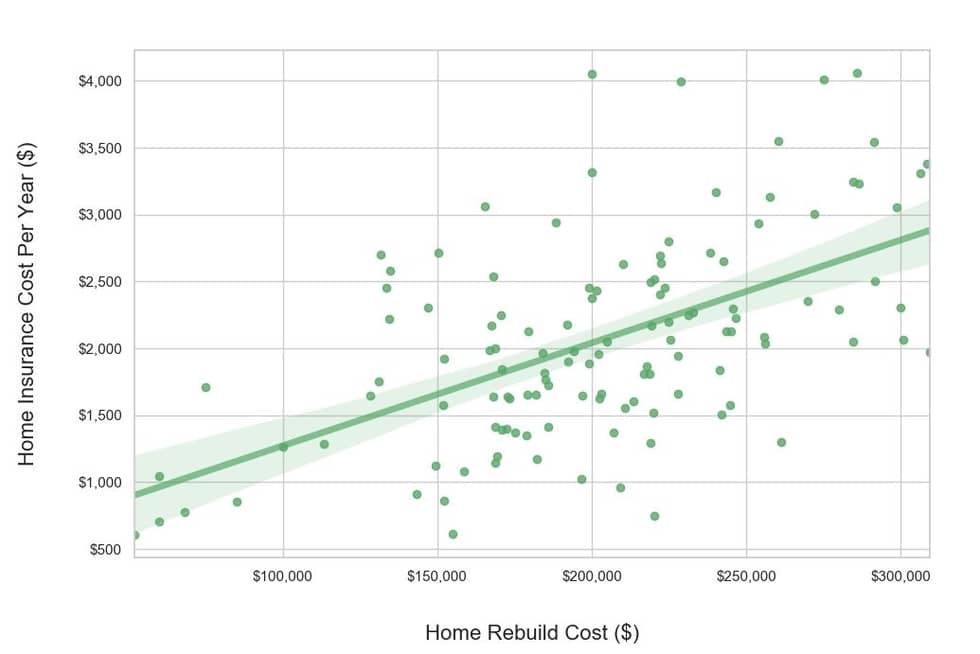 Zip codes used to generate these charts were: 33759 33756 33755 33763 33769 33761 33765 33757 33766 33760 33762 33758

2. Insurance Carriers in Clearwater, FL
Looking for an insurance carrier, and an insurance product is like any other important decision. A smart shopper will do some research on the companies being considered for their homeowners insurance in Clearwater.
Always check the financial stability rating (try Demotech in FL), how long the company has been insuring Clearwater Florida homes, and read online reviews about how well they handle customer service and claims. If you live in a specialty type of home, make sure the company covers homes such as mobile homes, tiny homes, condos, or townhomes.


3. Common Claims in Clearwater FL
On May 31, 2019, a home was invaded by, not a thief, but an alligator! The 11-ft reptile smashed into the house by way of a window, destroying walls and busting several bottles of wine. The removed gator left a mess in the wake of its visit. Their Florida homeowners insurance will not pay. Luckily, home gator assaults are not that common.
The more ordinary claims are similar to other Florida areas - flooding, water damage, and sinkholes. Florida storms can destroy roofs, windows, trees, swimming pools, decks, and screen enclosures. Also, erosion and water saturation often create sinkholes that result in structural damage.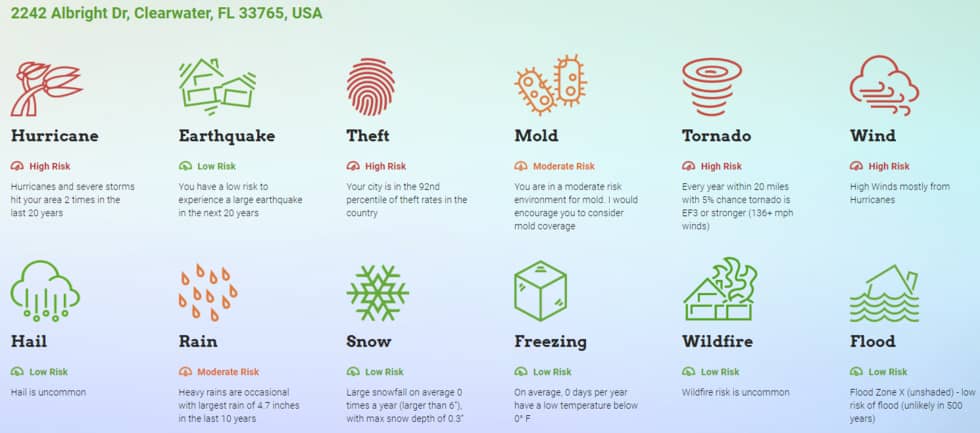 Source: Home Risk Report
4. Homeowners Coverage to Get in Clearwater FL
Having a clear picture of what your Clearwater FL home insurance coverage consists of is critical. The following coverages are customary:
Coverage A: Dwelling Coverage - Protection for loss to the inside and outside of your home's structure.
Coverage B: Other Structures - Any unattached structure on your property, such as a tool shed, detached garage, or fence.
Coverage C: Personal Property - If damage or destruction happens to an item that you own, personal property coverage will reimburse you for the covered loss.



Coverage D: Loss of Use - If a home is destroyed or devastated due to a covered peril, you and your family will have reimbursement coverage for a place to stay.
Coverage E: Personal Liability Coverage - If you are sued due to a covered loss, personal liability coverage will protect your wallet.
Coverage F: Medical Liability - If a visitor to your home gets hurt but is not going to sue, medical liability will provide help with those expenses.

Five Important Coverages to Have in Clearwater FL

1. Water Damage
A standard home insurance policy does not provide flood damage coverage. Homeowners can purchase this type of coverage from the National Flood Insurance Program.
Damage due to poor maintenance, which results in burst pipes, is not covered by an ordinary homeowners insurance policy.
If you have damage to furniture or flooring due to a backed-up sump pump or drain, your insurance will only provide coverage if you purchase this as an add-on to your policy.
Storm-related water that comes from above ground level is a covered loss on your plan.
Homeowners who experience damage due to water seepage or groundwater can only obtain coverage for this loss through the purchase of an additional rider.
Please note, in Florida, insurance companies have a common practice to place limits on water damage coverage. The ceiling is usually at $10,000, or they may exclude water damage altogether. Water remediation is costly, and mold damage can ensue quickly. Due to this problem, we recommend buying full water damage coverage.
2. Screened Enclosures

Screened Enclosures are an excellent addition to any home, particularly in Florida. While they protect from mosquitoes, they are not protected by your insurance policy by default. You can purchase an endorsement for screened enclosures for an extra premium.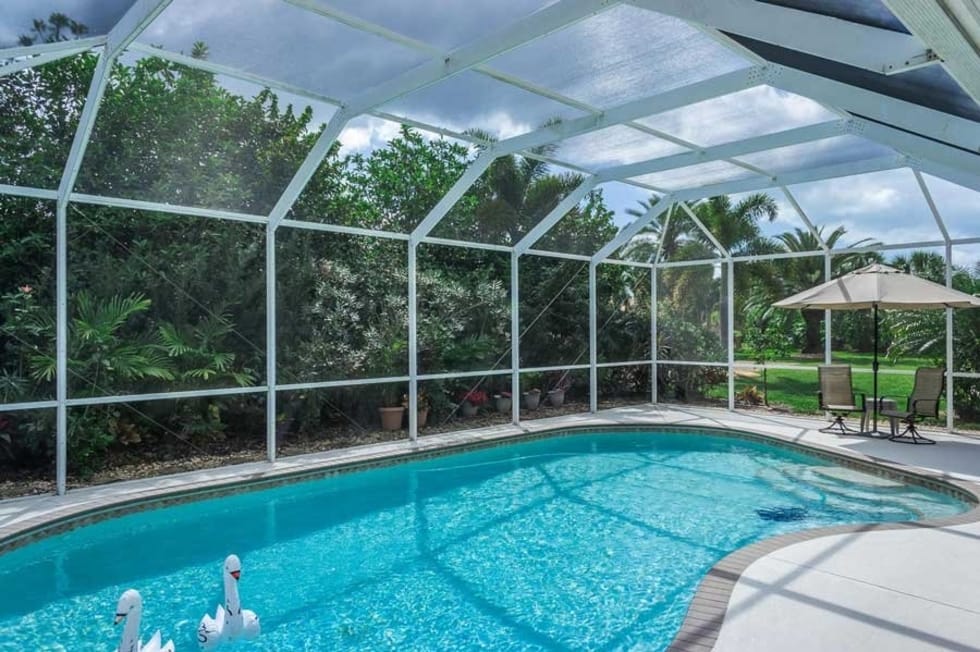 3. Hurricane Deductibles

Hurricanes are rated by NOAA, according to the Saffir-Simpson Hurricane Scale. A tropical storm is declared a hurricane when it becomes a category one (1) storm or higher.
The two different types of deductibles homeowners will be offered are:
Percentage-based deductibles commonly offered are 2%, 3%, 5%, 10%. It is the percentage basis of the amount of coverage.
Example:
$150,000 of coverage
2% deductible
Your deductible is $3000 per claim ($150,000 * 2%)
Dollar amount deductibles are typically $500, $1,000, $2,500, $5,000, or $10,000. The homeowner pays the deductible dollar amount, and then the insurance portion kicks in.
Example:
$300,000 of coverage
$10,000 deductible
In this case, the homeowner must pay the $10,000 deductible on the cost of the repairs.
4. Roof

Roof damage claims are common in Florida due to hurricanes and storms. There are two types of roof damage coverages:
Actual Cash Value (ACV) - Roofs have a useful life determined by the insurance company. Many insurance companies deem the useful life of roofs as 20 years. Due to the nature of ACV reimbursement, the homeowner would only receive payment for roof loss at the cash value of the roof.
Example:
Rhonda's little cottage sustains significant roof damage due to a strong tropical storm. Her roof is ten years old and is not repairable.
The roofing company gives her an estimate of $10,000 for her roof. Rhonda's Clearwater home insurance is ACV. Her insurance company tells her the useful life of the roof is 20 years, and her deductible is $1,000.
Here is how the amount of the check will be determined: (20-10)/20*$10,000 - $1,000 = $4,000. The insurance company will only pay Rhonda $4,000 towards her new roof.
Replacement Cost Coverage - Homeowners with replacement cost coverage will receive the actual cost of the roof at the current price, less the hurricane peril deductible.
Example:
If Rhonda has replacement cost coverage on her Clearwater home insurance policy, she will receive the entire cost of the new roof; $10,000 - $1,000 deductible = $9,000. Rhonda got a $9,000 check for her roof with replacement cost covereage, so this is a much better scenario for her!
5. Animals

Animal bites or scratches are always a concern. If your pet harms someone in any way, whether it be a bite, scratch, or knocking someone down, you can be liable for medical bills. It is vital to have coverage for these types of circumstances because a typical dog bite can result in $44,750 or more.
5. Get a Clearwater FL Homeowners Insurance Quote
Owning a home is a fun experience for most people. You get to make it your space. Finding insurance products that fit your needs is the best way to protect your investment.
When looking for homeowners insurance in Clearwater, getting an online quote for several insurance companies and coverage options is a smart decision. Find affordable homeowner insurance rates with one of our certified independent insurance agents today! Click below for free online homeowners insurance quotes.

Get Home Insurance Quotes in Clearwater FL
Hope that helps!
At your service,
Young Alfred