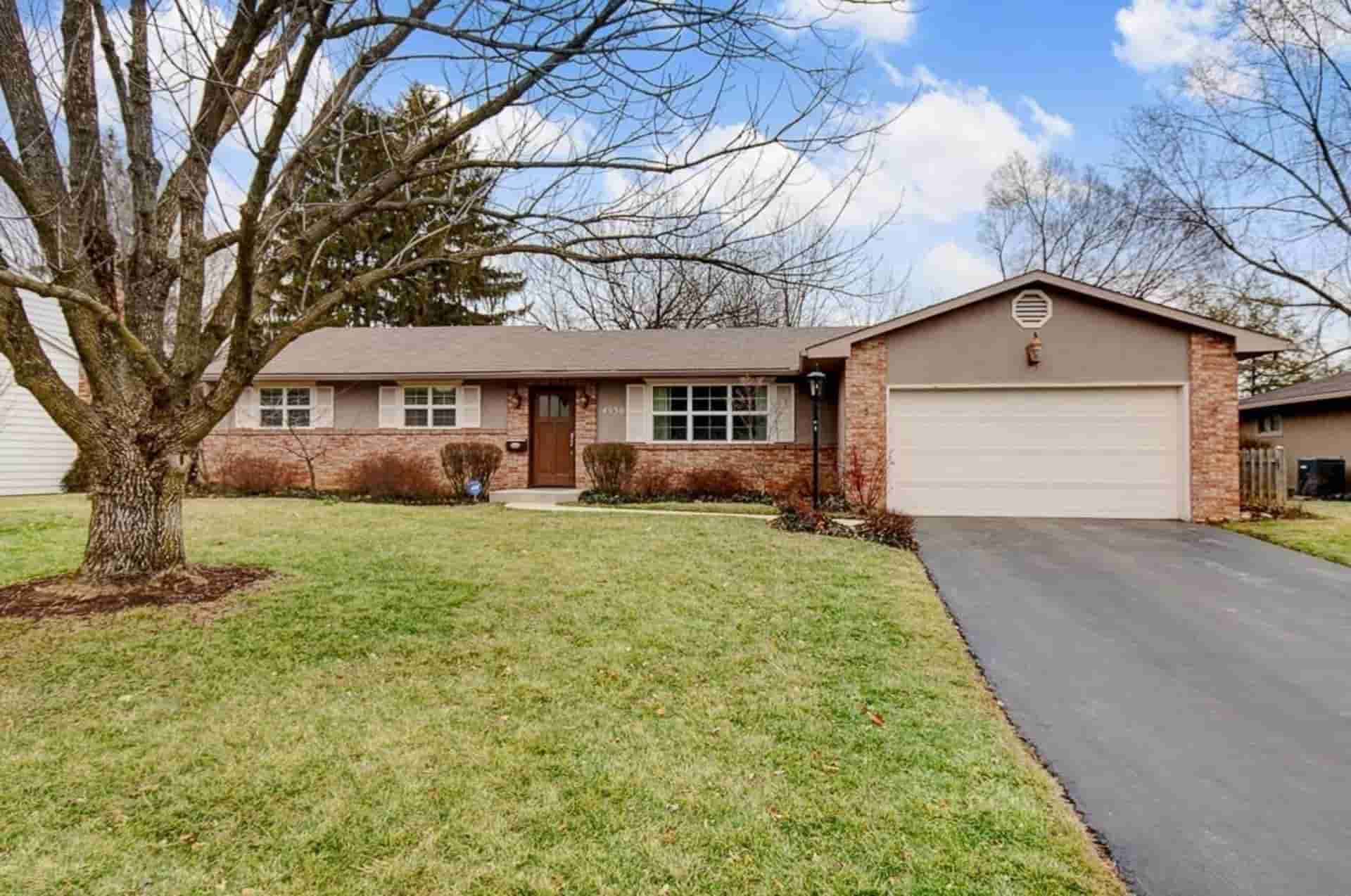 Columbus Homeowners Insurance

1. The Cost of Homeowners Insurance in Columbus OH
Home insurance costs in Columbus, Ohio range between $679 and $1,274 per year.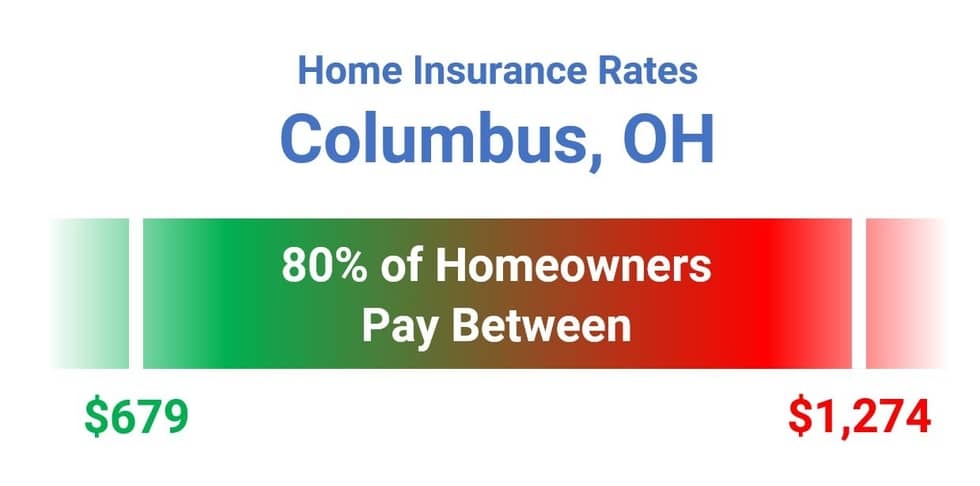 The average annual payment is $1,024.06. The average rate in Columbus goes up by $173 per year for every $100,000 increase in property value.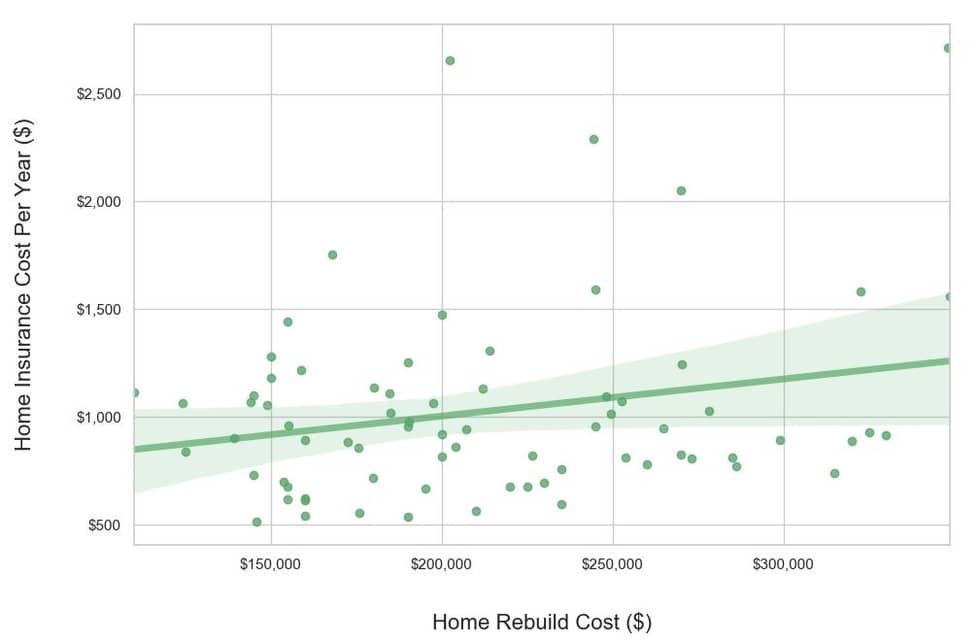 Columbus Home insurance costs from these zip codes: 43085 43201 43205 43206 43207 43202 43203 43204 43209 43210 43211 43212 43214 43215 43216 43217 43221 43228 43229 43230 43236 43240 43251 43260 43213 43218 43219 43220 43222 43223 43224 43226 43227 43231 43232 43234 43235 43266 43268 43279 43287 43270 43271 43272 4329
The home insurance rate you'll pay depends on many factors in addition to property value. These factors include, and are not limited to:
your zip code
crime rates
coverage options you add
whether your home is brick or frame
safety features you installed in your home
whether you bundle other insurance, such as car insurance, from the same company.
Also, check out our 30 Ways To Save Money On Homeowners Insurance article.
Homeowners insurance protects you from financial loss from several things. These include fire, theft, vandalism, wind damage, and storm damage to your home and personal property.
Insurance companies almost always sell flood insurance as a separate policy. Most, but not all, homeowners insurance policies include money for living expenses. Coverage D: Loss of Use helps cover expenses while workers repair your home when the insurance company deems it to be uninhabitable after a covered event.
How is Your Claim Payment Calculated?
Most standard home insurance policies use the replacement cost (RCV) method to determine your dwelling payment (the structure of your home). They use actual cost value (ACV) to calculate coverage and cash payments for your belongings.
You can upgrade to replacement cost for your personal property (belongings) and pay a higher insurance premium. However, actual cost insurance is usually less expensive and is a way of saving money while still protecting your home. But note, with ACV you do not receive enough money to repair or replace the full value of your personal belongings.
Most homeowners insurance policies have a coverage limit on high-end personal items, such as jewelry, antiques, silver, artwork, and guns. For example, your standard insurance policy may have a coverage amount of $1,500 per jewelry item. But, that is less than the value of many engagement rings.
For additional coverage for items in these categories, you will need to purchase an endorsement to your primary policy.

2. Common Columbus Homeowners Insurance Claims
The most common claims for homeowners insurance policyholders in Columbus, Ohio, are damage from tornadoes, wind, hail, and theft.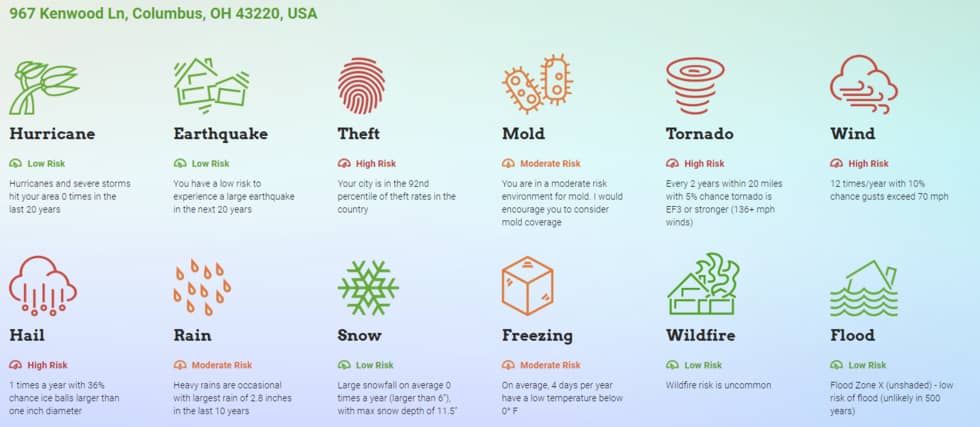 Source: Home Risk Report
To file a claim, contact your insurance agent or your insurance company's customer service department. Your insurer will send an adjuster to examine your property and decide how much they will pay on your claim and if it is covered.
3. Homeowners Insurance Coverage for Columbus Ohio
Coverage A: Dwelling – This type of insurance covers the structure of your home.
Coverage B: Other Structures - This relates to any other structures on your property, such as a detached garage, shed, or workshop.
Coverage C: Personal Property - Personal property refers to all of the items inside your home, garage, and other buildings.
Coverage D: Loss of Use - Pays for the cost of an apartment or hotel while your home is under repair.
Coverage E: Personal Liability - All homeowners insurance policies include some personal liability coverage. It provides funds for a civil lawsuit should you be found liable for injury to another person's body or own property while they are on your property.
Coverage F: Medical Liability - This insurance provides payment to cover medical expenses if someone in your household injures someone.
Covered Perils
Your standard homeowners insurance policy doesn't cover everything that might happen to damage your home. Below is an outline of what is covered and things not covered by most insurance policies:
1. Water Damage - Water damage accounts for 30 percent of all homeowners insurance claims, and only some of these claims are covered. For example, homeowners insurance rarely covers damage from flooding.
Homeowners in flood plain areas should purchase separate flood insurance. Flood policies are available from the National Flood Insurance Program (NFIP) or private flood insurance.
Most policies cover damage from burst pipes. However, water leaks damaged over time are considered maintenance and upkeep and are not included.
Your home insurance policy does not cover water backed up from the sewer. You can buy an add-on for this.
Standard homeowners policies generally cover water damage from storms if the water enters your dwelling from the ground level.
Standard insurance does not cover seepage and groundwater damage. But, you can buy an add-on for this type of damage also.
2. Wind and Hail Damage - due to high winds and hail, is another common peril for Central Ohio homeowners. Such events can blow shingles off of a roof or siding from a structure. Your level of coverage in such an event will depend on what type of deductible you choose.
Dwelling coverage, with percentage deductibles, is usually from two to ten percent. Percent deductibles take a percent of the cost to repair or replace damages.
Home insurance with a dollar deductible (usually $500, $1,000, $2,500, $5000 or $10,000) uses dollar amounts for your deductibles. You may be familiar with this concept from your auto insurance.
3. Roof Damage - Home insurance divides coverage for roofs into two categories, ACV (actual cost value) and replacement cost value (RCV). Which type you choose depends on the age of your roof and the type of material used on your roof. For example, asphalt shingle roofs have a relatively short lifespan, whereas metal roofs can last a lifetime.

4. Insurance Companies for Columbus Ohio Home Insurance
When deciding which company to choose for your Ohio homeowners insurance, make sure to consider the following:
AM Best, JD Power, or Demotech rating - AM Best is a company that rates US-based insurance companies' financial health. JD Power and Associates evaluate US companies on their customers' degree of satisfaction and their product quality. Demotech is another company that measures insurance companies' financial health in various sectors, including property and casualty (which includes homeowners insurance).
Experience in the Columbus area - Not all Buckeye state insurance companies are alike. We recommend asking how long the company you're considering has been doing business in Central Ohio. Some insurance companies, such as Nationwide, are based in Ohio. Others are headquartered out of state but licensed to do business in Ohio.
Online Reviews - Of course, online reviews are always useful in determining what experiences others have had with a particular insurance company.
Advertiser disclosure - You should read advertiser disclosure notices on insurance websites. They may have conflicts of interest.
| | | | |
| --- | --- | --- | --- |
| Insurance Company | Financial Stability | Experience | Online Reviews |
| Travelers | AM Best A+ | Experienced | 5 stars |
| Progressive | AM Best A+ | Experienced | 4 stars |
| Hippo | AM Best A- | New | 5 stars |
| Encompass (Allstate) | AM Best A+ | Experienced | 5 stars |
| Stillwater | AM Best A- | Experienced | 5 stars |
| State Auto | AM Best A- | Experienced | 4 stars |
| Safeco (Liberty Mutual) | AM Best A | Experienced | 4 stars |
| Tower Hill Specialty | AM Best A- | New | 4 stars |
| Foremost (Farmers) | AM Best A | Experienced | 3 stars |
5. How to Get a Quote for Home Insurance in Ohio
To get home insurance rates in your area, get your free online home insurance quote here. For an accurate insurance quote, you'll need to have
information about your property, such as the year it was built
the address
the size and the material used to create your home
your personal information, including the number of insurance claims you've filed in the past
whether you wish any add-on coverages, such as personal property riders, food insurance, or water seepage coverage
Don't let an unexpected event like a house fire compromise your family's security. Get a free homeowners insurance quote.

Home Insurance Quotes in Columbus OH

Hope that helps!
At your service,
Young Alfred