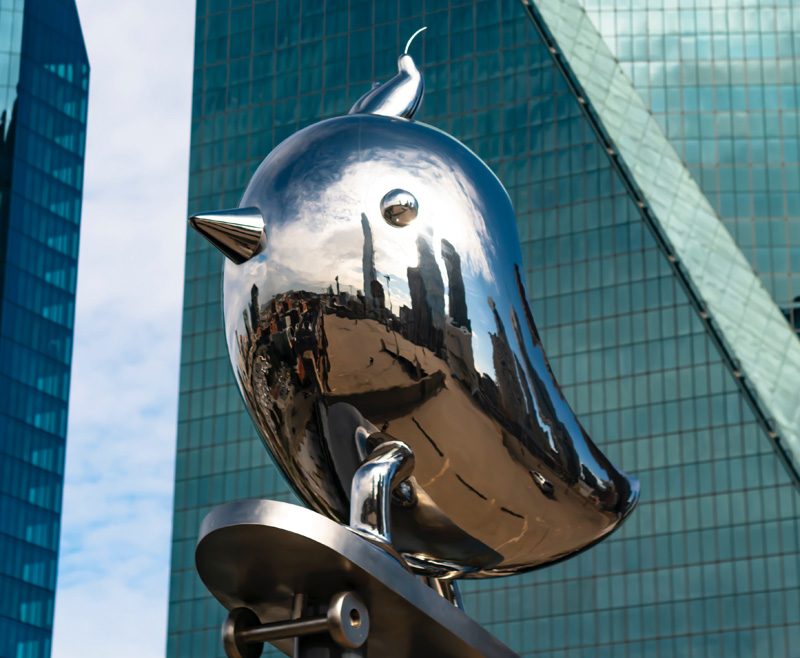 Home Insurance in Dallas TX
The busy metropolis of Dallas, Texas, boasts of both history and culture. Dallas residents enjoy one of the country's most unique areas. The Bishop Arts District has quaint boutiques, restaurants, and galleries. After a morning of shopping, you can enjoy the wide-open green spaces of Klyde Warren Park.
It can be daunting to look for Texas home insurance. Young Alfred has organized this easy guide to understanding coverages and seeking out rate quotes to help with the process. Texans experience a unique range of home risks, and naturally, you need the best Texas homeowners insurance plan.
1. Best insurance companies in Dallas
There are many insurance companies and coverage options available in the lone star state. We recommend comparing multiple homeowners insurance companies based on these specific criteria:
Financial Stability Rating - AM Best and Demotech are websites that can inform you of the financial stability of any company you are considering. When you have a loss, you need an insurer that has the financial backing to cover the costs you incur.

Experience in the Dallas area is another factor to consider. The company you choose should have several years of insuring homes in Dallas.

Online Reviews are an excellent tool for consumers to use when selecting a home insurance company. Research how the company handles it when you file a claim and how long it takes.
Top Home Insurance Carriers in Dallas, TX:
| | | | |
| --- | --- | --- | --- |
| Insurance Company | Financial Stability | Experience | Online Reviews |
| State Auto | AM Best A- | Experienced | 4 stars |
| Safeco (Liberty Mutual) | AM Best A | Experienced | 4 stars |
| Progressive | AM Best A+ | Experienced | 4 stars |
| Hippo | AM Best A- | New | 5 stars |
| Encompass (Allstate) | AM Best A+ | Experienced | 5 stars |
| Mercury | AM Best A | Experienced | 4 stars |
| Towerhill | AM Best A- | Experienced | 5 stars |
| Travelers | AM Best A+ | Experienced | 5 stars |
| Stillwater | AM Best A- | Experienced | 5 stars |
| Velocity | AM Best A | New | 4 stars |
| Lighthouse | AM Best A- | New | 3 stars |
| USAA | AM Best A++ | Experienced | 5 stars |
| State Farm | AM Best A++ | Experienced | 4 stars |
| Foremost (Farmers) | AM Best A | Experienced | 3 stars |

2. Average Costs of Home Insurance in Dallas, TX
The average home insurance rate in Dallas is $2,018.11.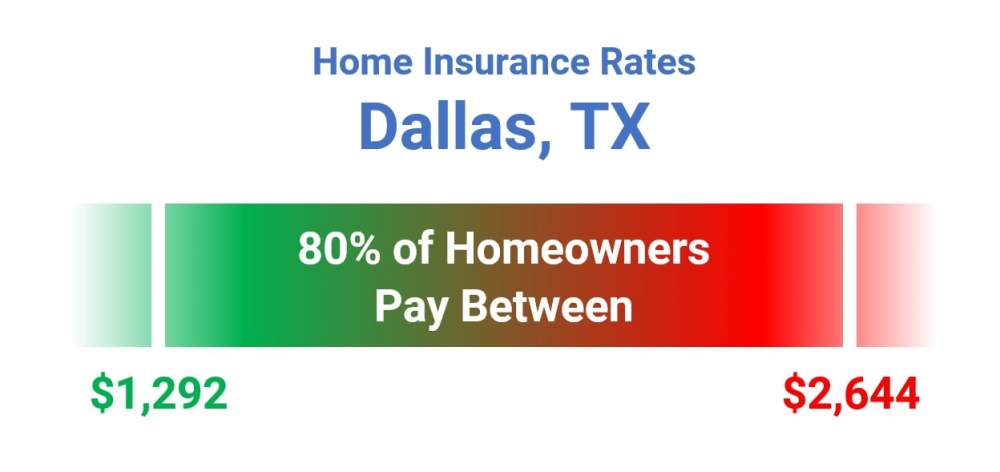 As your home value increases, you should expect the price to change by an extra $159/year for every $100,000 gain.
At Young Alfred, our clients typically pay between $1,292 and $2,644 per year in Dallas. Discounts are an excellent avenue for getting the best price possible, so we spent time researching 30 ways to save money on your home insurance in this article: 30 Ways To Save Money On Homeowners Insurance.
Home Insurance Rates in Dallas, TX vs. Home Rebuild Cost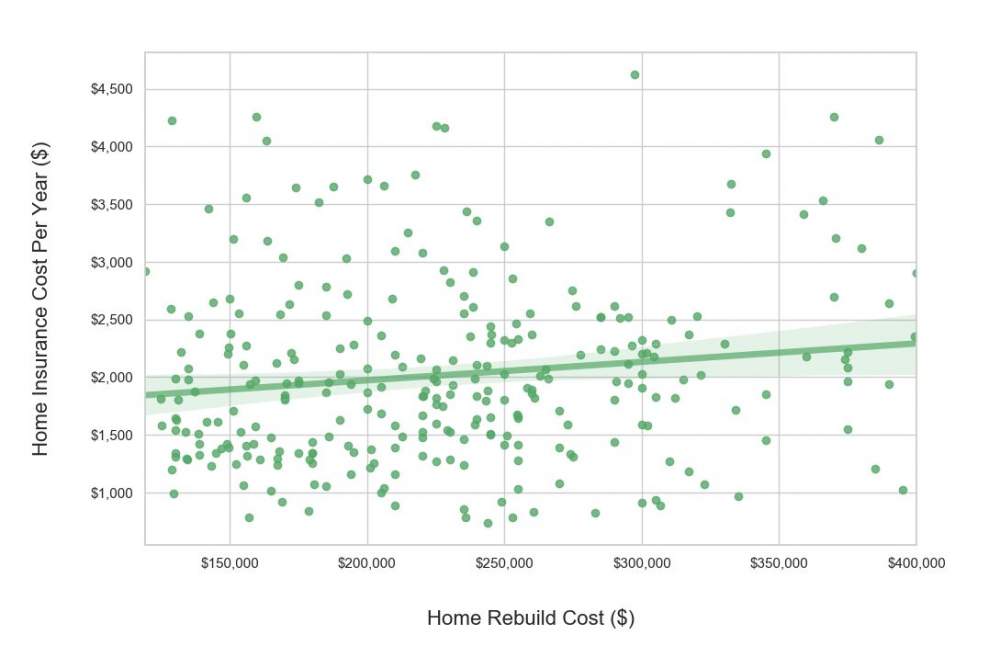 Rebuilding or restoring a home after a loss can be an emotional and costly undertaking. Homeowners should understand how insurance claims work and how they impact home insurance costs.
Your mortgage company requires you to carry at least the amount necessary to repay your debt to them. However, as time goes by, housing prices and building materials rise. Due to increased building costs, it will cost more to rebuild the house that you currently own. Regularly increasing your coverage ensures you will have enough coverage if you need to rebuild your home.
Also, Texas law prohibits banks from requiring you to have more insurance coverage than your mortgage balance. However, it can be wise to extend that amount.
Home insurance rates are data generated by zip code:
75249 75287 75244 75264 75356 75393 75367 75236 75220 75372
75238 75214 75228 75204 75251 75227 75374 75368 75211 75303
75261 75246 75285 75229 75208 75389 75225 75202 75241 75313
75315 75207 75247 75206 75215 75260 75201 75216 75224 75326
75376 75342 75267 75262 75263 75381 75235 75277 75217 75232
75219 75240 75354 75270 75382 75397 75312 75243 75373 75233
75398 75265 75359 75320 75205 75237 75253 75339 75209 75370
75226 75212 75283 75284 75231 75301 75379 75250 75357 75266
75275 75380 75230 75391 75234 75248 75371 75203 75392 75358
75242 75210 75252 75355 75223 75390 75360 75221 75218 75378
75222 75394 75395 75336 75254
3. Home Insurance Claims in Dallas, TX
Dallas is known for its hail and tornado claims. Also, there is frequent flooding, tropical storms, and even hurricanes that cause water damage. You may remember, on March 18, 2020, Dallas and surrounding areas experienced heavy showers that resulted in flooding.
The Oak Cliff and Red Bird neighborhoods received up to 2.5 inches of rain in a matter of hours. Many streets were flooded, including Mañana Drive, Harry Hines Boulevard, Walnut Hill Lane, Audelia Road, LBJ Freeway, and more.
Below is an example risk report for a Dallas home.
Dallas, TX Home Risk Report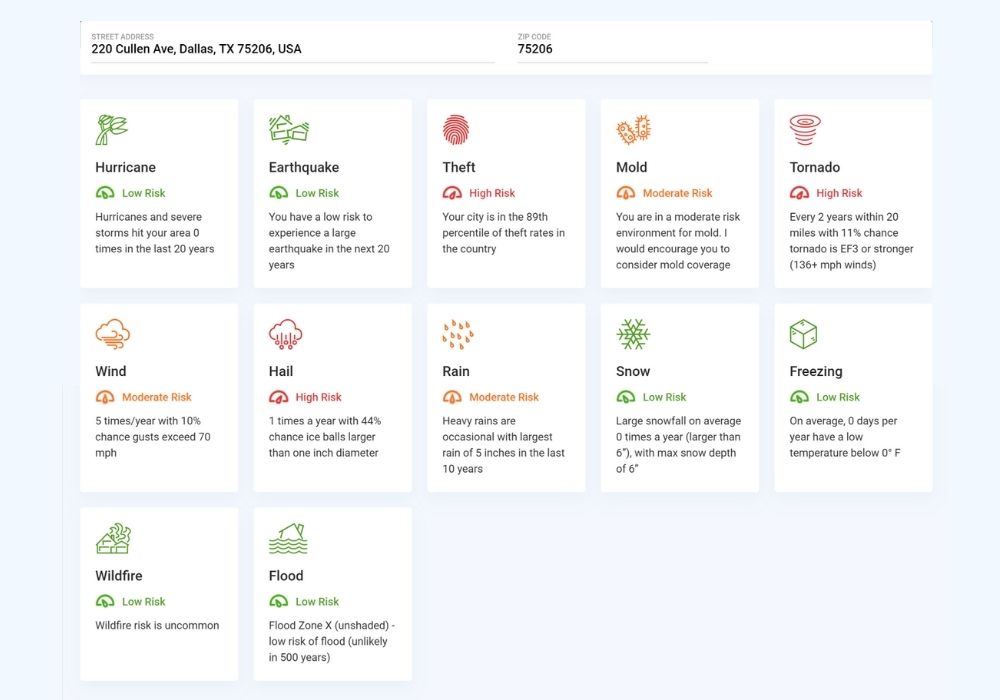 Source: Home Risk Report
Homeowners in Dallas should be aware that insurance companies often reduce home insurance coverage on high-risk types of damages.
Texas is known for its wind and hail damage. Therefore, you may see remarkably high wind and hail deductibles with some insurance companies. Be leery of accepting a high deductible to get a lower insurance premium. Consider the amount of deductible you can afford should you experience a loss.
Also, learn how to file a claim for hail and wind damage. You do not want your insurer to deny your claim, so being prudent will make a difference.
Consider the cost/benefit of filing a claim. A new claim compensation may impact your future premiums. If the cost to repair hail damage is close to your deductible or if you have a lot of past claims, you may want to minimize future claims.

4. Coverage you have on a home insurance policy
A homeowner needs to understand the six major coverage categories on a standard insurance policy:
Coverage A: Dwelling coverage helps when rebuilds or repairs to your home are necessary. It includes any other attached structures, such as a garage. You should review your coverage limit periodically to ensure you are adequately insured.

Coverage B: Other Structures provides coverage in a loss situation to any structures that are not attached to your house.

Coverage C: Personal Property is coverage for property damage to personal belongings such as furniture, clothing, household goods, etc. Homeowners should also be familiar with special sub-limits that apply to individual personal belongings.

Coverage D: Loss of Use offers reimbursement for you and your family to live somewhere else if your home is not livable.

Coverage E: Personal Liability protection against lawsuits that occur when someone gets hurt on your property. Even a simple slipping and falling personal injury claim can be catastrophic.

Coverage F: Medical Liability insurance is a medical payments coverage you will use when a guest sustains an injury at your home but does not sue you.

Homeowners in Dallas, TX, should understand these five specific coverage details on your home insurance policy:
1. Water Damage
Nearly a third of all homeowners insurance claims involve water damage. Insurance companies cover water damage differently based on the type of claim. Bear in mind that your insurance policy covers only some.
Flooding - is a non-covered item; however, you can purchase it separately from the National Flood Insurance Program.

Water Damage from a Burst Pipe - generally is a covered loss on standard homeowners insurance. Leaking pipes that happen over time and create water damage are not covered.

Water Backup Coverage – is excluded from most policies, but you can purchase coverage at an additional premium.

Storm-Related Water Damage – As long as the water enters from above the ground, it is a covered claim.

Water Seepage/Groundwater – typically not covered, but additional coverage can be purchased.

2. Foundation Coverage
Texas homeowners insurance policies generally exclude foundation damage loss. However, consumers have available, at an additional cost, a water & foundation endorsement. This add-on covers 15% of your Coverage A or up to a $25,000 limit. Your insurance agent should recommend foundation coverage to avoid costly slab leaks.
3. Wind/Hail Deductible
The two types of deductibles quoted on home insurance policies are:
Percent-Based Deductible (2%, 3%, 5%, 10%)
A percentage-based deductible is typically cheaper because your deductible is a percentage of the dwelling coverage.
Example:
$1,000,000 of dwelling coverage
5% deductible
Results in a deductible of $50,000 ($1,000,000 * 5%). In Texas, these % deductibles are used for special losses, like your Hurricane Deductible or Wind/Hail Deductible.
A Dollar-Based Deductible ($500, $1,000, $2,500, $5,000, $10,000)
Your dollar-based deductible is the same amount, regardless of your coverage. Most people choose a $1,000 deductible.
Example:
$800,000 of dwelling coverage
$500 deductible
The homeowner pays $500 towards damages to the home, and the homeowners insurance covers the rest, up to the $800,000 policy limit.
4. Understanding Roof Coverage: Replacement Cost vs. Actual Cash Value
A standard roof gets replaced every 20 years. Roof replacement is always costly, and it is vital to have the correct coverage. Replacement costs roof coverage equates to a much better claim situation as there is no depreciation on the reimbursement. Actual Cash Value roof insurance uses a calculation that removes all the depreciation before payment occurs.
Example: Hayley owns a cute little farmhouse Texas home. The roof on her home is eight years old. During a recent tropical storm, Hayley's roof was damaged significantly and needed replacing.
She has replacement cost insurance, a $1,000 deductible, and the roofing company says a new roof will cost $20,000. Hayley files a claim for $20,000.
Hayley's insurance adjuster sends her a check for $19,000 for her new roof, $20,000 - $1,000 deductible. If Hayley had ACV coverage, her reimbursement would be much less: (20-8)/20 * $20,000 = $12,000 - $1,000 deductible = $11,000. The difference between Replacement Cost and ACV is $8,000 for Hayley.
5. Animal Liability
You may not realize the average expense for a dog bite claim is $45,000. If you own a dog, it is wise to check your policy to ensure that you have animal liability coverage.
Although your pet may be the sweetest, any situation can create an aggressive response. Taking precautions to avoid dog bites are advised because medical bills do add up.

5. Home insurance quotes in Dallas, TX
Rating factors are how insurance companies determine rates. The following categories will impact your insurance costs:
Property features are related to the home's age, the home's building material, how large the property is, and its size.

You and your family have a history that determines your home insurance rate. It includes your credit score and any previous home insurance claims.

Coverage limits and endorsements, such as deductibles, optional coverage, and types of coverage, all influence your rate.
Young Alfred wants to be your go-to place for all your property insurance and auto insurance needs. A natural disaster can empty your bank account when the costs of a rebuild or repair to your home become necessary.
We can provide you insurance quotes and comparisons of over 40 insurance companies. Simply fill out an online home insurance application without fear of Young Alfred calling or selling your information. Our advanced quoting engine generates several homeowners insurance rates in your area, customized just for you.
Get A Home Insurance Quote in Dallas TX
I hope that helps!
At your service,
Young Alfred