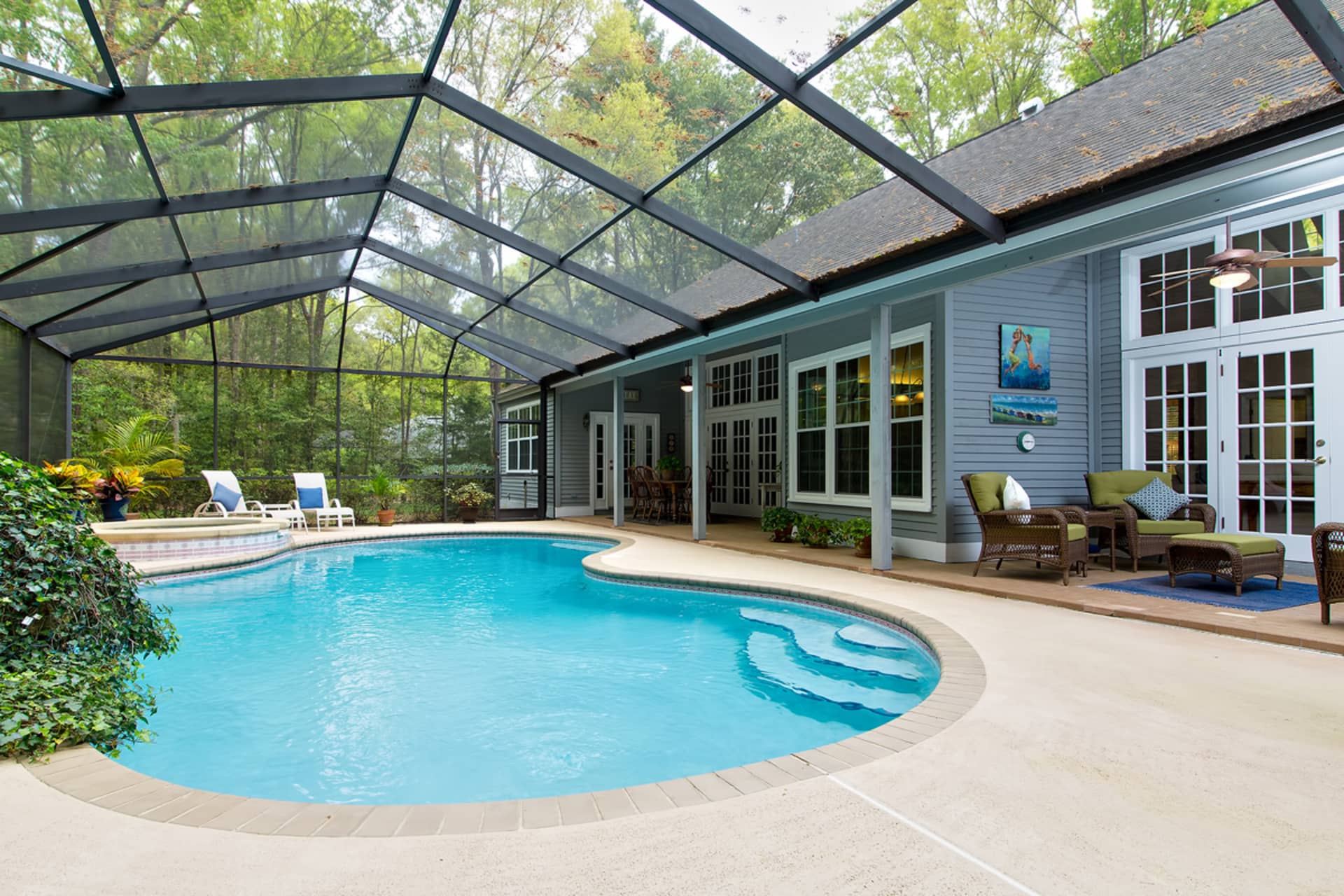 Home Insurance in Gainesville FL
Living in Central Florida, away from the coastline, has its advantages. Not only will homeowners insurance in Gainesville be less expensive, but homeowners are also less likely to get hit with tropical Hurricane like storms that lead to costly home insurance claims.
Gainesville is the home of the famous Florida gator football team and the University of Florida. Locals enjoy the small-town feel, a low cost of living, and plenty of fun.
Young, energetic crowds participate in sporting events, entertainment, and the arts. Living in downtown Gainesville is the best area to partake of nightlife and culture. Midtown is densely populated with students and features eccentric shops and restaurants.
For residents of the town who relish hunting, biking, fishing, bird-watching, and hiking, there are over a dozen parks, nature areas, and wetlands scattered throughout the city. High Springs is located just outside of Gainesville and is a more rural scene. This lovely town consists of a little older crowd and prides itself on excellent schools.
While over half of the residents in Gainesville are renters, the housing market is also somewhat active. The housing market values are lower in the tiny town with a median cost of $169,900.
Weather History in Gainesville, FL
Although Gainesville boasts of the same warm, sunny temperatures as the rest of the sunshine state, it has also had its share of stormy weather. The region has the same hurricane season of June-November. In 2017, Hurricane Irma brought floodwaters to the streets and homes in the Santa Fe area. In the days following, residents used canoes to navigate the waters to leave and return to their homes.

1. Gainesville Cost of Homeowners Insurance
Gainesville, FL homeowners insurance rates span from $565 - $1,295 per year. The average cost is $990.24, and a very reasonable insurance rate is under $1,000/year.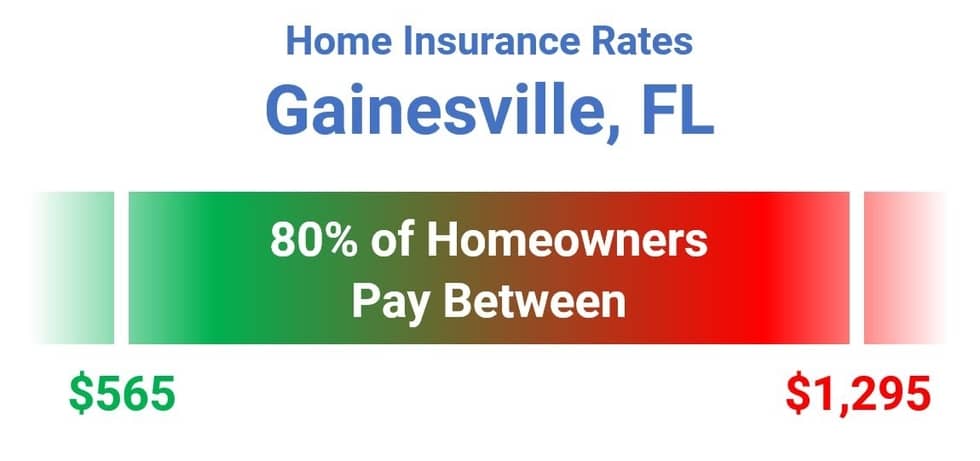 For Florida homeowners who are fortunate enough to experience a home value increase, homeowners insurance will go up by $279 a year for each $100,000 increase in home rebuild value.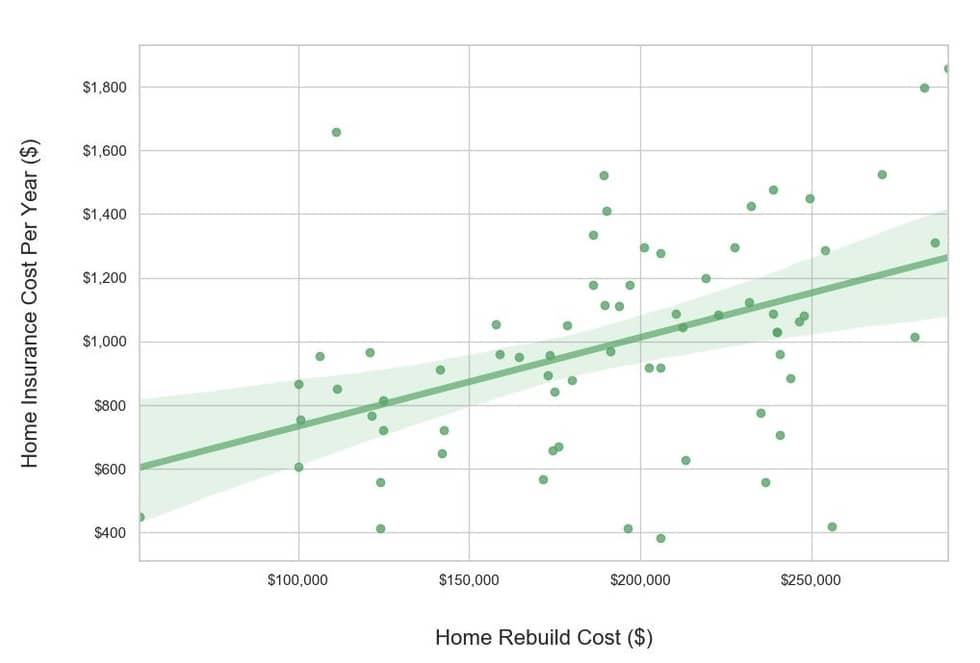 Home insurance rates data generated from the following zip codes: 32601 32602 32603 32604 32605 32606 32607 32608 32609 32610 32611 32612 32627 32641 32614 32635 32653
When buying home insurance in Gainesville, applicants should include a wind mitigation report. Homeowners may save as much as 50%. A 4-point inspection report, if your home's age is over 40 years old, will also help lower your rates.
2. Common Claims in Gainesville
Gainesville, Florida, is a college town and so has a higher petty theft and vandalism crime rate than other surrounding cities. Homeowners may encounter property damage or stolen items. Also, some areas are more prone to flooding due to poor drainage. The chances of a hurricane hitting Gainesville are less likely because it sits in the center of the state. However, storm damage from Hurricane Irma included flooding, downed powerlines, and trees.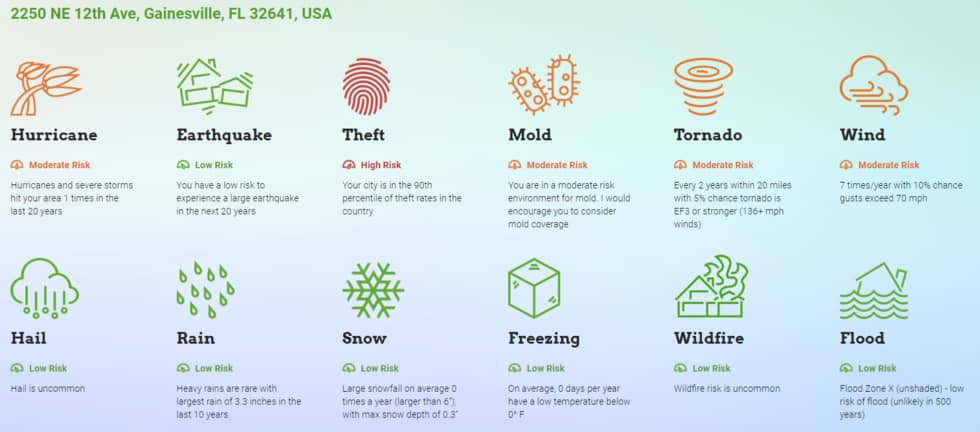 Source: Home Risk Report
Sinkholes are another concern. These strange phenomena can wreak havoc on the structural foundation of homes and businesses. The purchase of Gainesville homeowners insurance is an integral part of homeownership.

3. Coverage to get in Gainesville
The homeowners insurance industry has some specific standards of coverage that are part of every policy that includes property and casualty coverages. Included are:
Coverage A: Dwelling Coverage is the portion of the plan that covers your home should you have a loss.
Coverage B: Other Structures are those buildings that are not attached to the house.
Coverage C: Personal Property Damage is the section that covers the items you own that may get damaged or stolen.


Coverage D: Loss of Use is coverage for when you need a place to stay when your home is not livable.
Coverage E: Personal Liability insurance coverage is to protect you in case someone is injured at your home and sues you.
Coverage F: Medical Liability provides relief from medical bills for an injury that occurs at your home, and the individual who is hurt is not suing you.
Five Important Coverages to Have in Gainesville
1. Water Damage
The National Flood Insurance Program has water damage protection policies due to flooding.
Burst Pipes are a covered peril unless the pipes have leaks that occurred due to negligence of maintenance.
Water Backup can be purchased as an add-on as it is not a standard coverage.
Storm-related water that comes from above ground is part of a regular FL homeowners insurance policy.
Homeowners can purchase a water seepage policy from groundwater at an additional premium.
It is often routine for companies who sell homeowners insurance in Florida to place limits on water damage reimbursements at $10,000 or to leave off the coverage altogether. Water damage is expensive to remedy, and mold damage can occur rapidly. Expenses can quickly exceed $10,000 on a water damage claim. It may be prudent to purchase full water damage coverage if it is available.
2. Screened Enclosure
If you have a screened enclosure and need coverage, you can purchase it at an additional premium. The coverage amounts available to buy are $10,000 - $50,000.
3. Hidden Deductibles
Two separate methods determine hurricane deductibles. Once a storm is declared a category one (1) hurricane by NOAA (using the Saffir-Simpson Hurricane Scale), the hurricane deductible is activated.
Deductible based on percentage of 2%, 3%, 5%, 10%
Companies who sell home insurance in Florida can link deductibles to a percentage of Coverage A.
Example:
$200,000 of coverage
2% deductible
The deductible is $4,000 ($200,000 * 2%)
Dollar amount deductible of $500, $1,000, $2,500, $5,000, $10,000
In this case, the deductible is a specified dollar amount with the most common deductible at $1,000.
Example:
$300,000 of coverage
$5,000 deductible
Policyholder pays first $5,000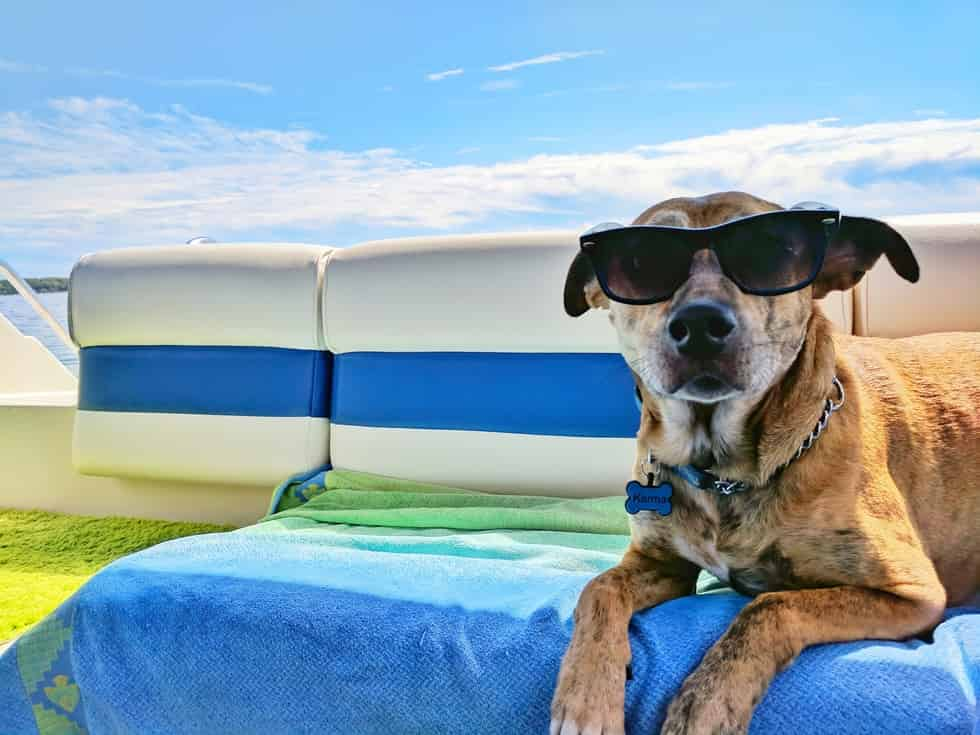 4. Animals
Animals can be dangerous; even the calmest and good-natured dogs or cats can attack if provoked. Pets can also become excited or overwhelmed with visitors and end up knocking someone down, injuring them. Homeowners should be aware that the typical dog bite claim is $44,750. It is vital to make sure you have this homeowners coverage.
5. Roof Coverage
Roof replacement from wind damage is a covered loss on your homeowners insurance in Florida. However, there are two ways to figure out the coverage.
Actual Cash Value (ACV)
The insurance company will dictate the useful life of your roof. Many companies say the life of a roof is 20 years. The ACV method is a formula based on the amount of coverage for your roof replacement.
Replacement Cost
In this scenario, the homeowner will receive the entire cost of the roof minus the deductible.
Example: Bernie has owned his home for over 30 years. At the halfway point, 15 years, he has a new roof installed. During hurricane season this year, his roof was damaged by wind. The insurance company deems the useful life of Bernie's roof at 25 years.
The estimate for the new roof is $20,000, and Bernie's deductible is $5,000. With ACV coverage Bernie's coverage will be figured by the following formula: (25-15)/25*20,000 - $5,000 = $3,000. So, Bernie will only receive $3,000 towards his new roof with Actual Cash Value.
If Bernie has replacement cost insurance, he will receive $20,000 - $5,000 = $15,000. By choosing replacement coverage, Bernie receives an additional $12,000 towards a new roof with Replacement Cost!

4. Insurance carriers in Gainesville
While there are many home insurance Gainesville FL options out there to protect your home, smart consumers will want to find some critical information on each insurance company. Questions to ask include:
You can get the financial stability rating using a rating system called Demotech.
Find out the length of time each company has been selling homeowners insurance Gainesville, FL.
Look at as many online reviews as possible, particularly concerning customer service experiences. Also, inquire about how each company handles claims, whether they repair or replace, and other insurance options.
Some companies offer discounts for multiple policy clients. Find out if they provide home and auto. You may be able to get better car insurance rates if you purchase the homeowners policy as well.
Get several insurance quotes.
5. Get a Gainesville Home Insurance Quote
If you are looking for Gainesville FL home insurance, flood insurance, auto insurance, or bundled home and auto insurance quotes, get your free online insurance quotes below.
Get Home Insurance Quotes in Gainesville FL

I hope that helps!
At your service,
Young Alfred