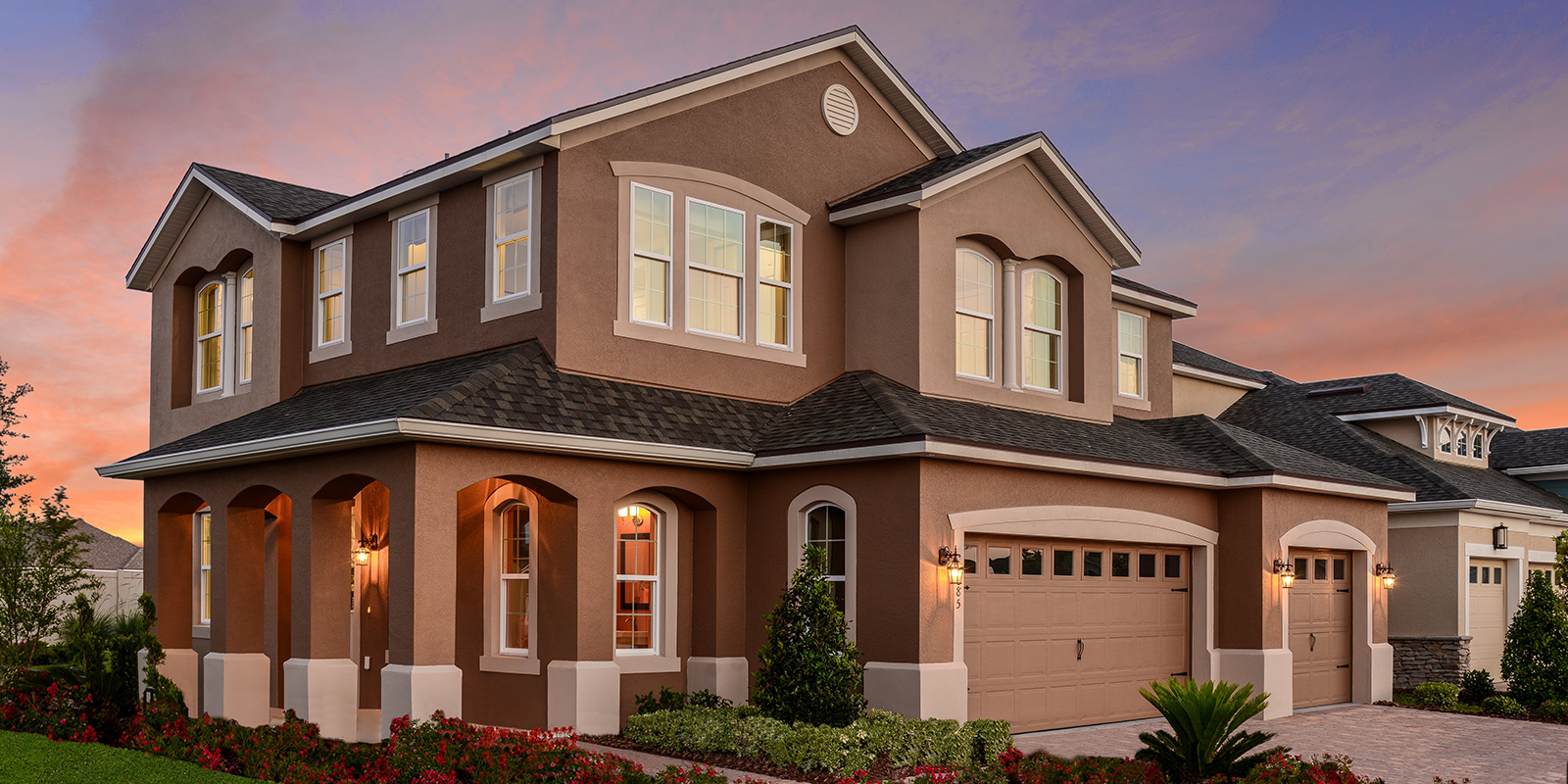 Home Insurance Kissimmee, FL
If you have lived in Kissimmee for long, you know it is centered on 'The Mouse', but it hasn't always been that way. Downtown Kissimmee, while not a tourist area, is rich in history dating back to 1883. Residents enjoy a myriad of restaurants and bars.
For many years, the city was known for its agriculture. Rodeo Day was popular when schools closed, and almost everyone was a part of the rodeo. Today's Kissimmee still has many rural areas and few signs of the old city.
As a homeowner in Kissimmee, you need home insurance, and to help you with your research, we have done this analysis for you.

1. Average Home Insurance Cost in Kissimmee, Florida
Young Alfred wants to help Kissimmee homeowners get the most bang for your buck when buying homeowners insurance. Finding a reasonable rate in Kissimmee can be challenging, so we put together this list of 30 home insurance discounts to provide you with savings options, 30 Ways To Save Money On Homeowners Insurance.
You can save 50% or more on your annual insurance rate by submitting your wind mitigation report with your insurance application. Homes built over 40 years ago may also require a 4-point inspection report.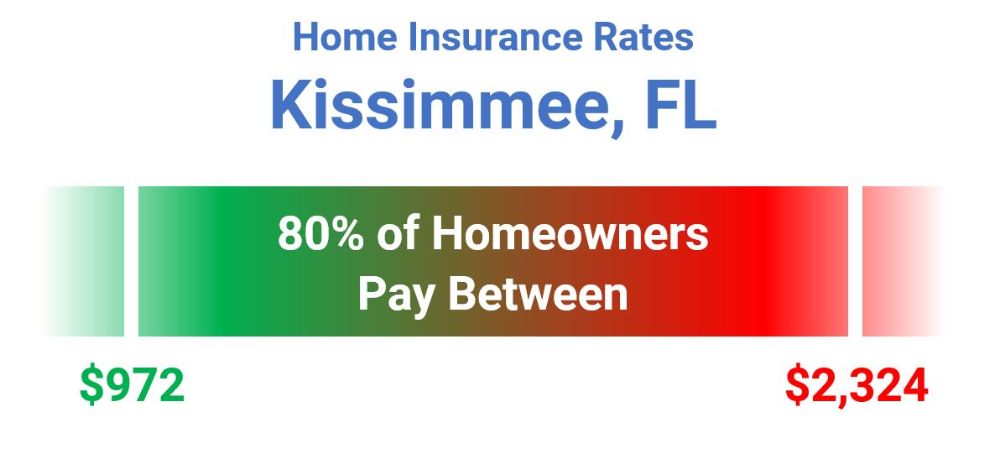 Most Kissimmee homeowners pay between $972 and $2,324 per year, with an average rate of $1,636.69. An excellent price is $972/year, but keep in mind, when your home value increases, you'll pay $457/year more for each $100,000 additional coverage to match your gains.

Home Insurance Prices in Kissimmee, FL vs. Cost to Rebuild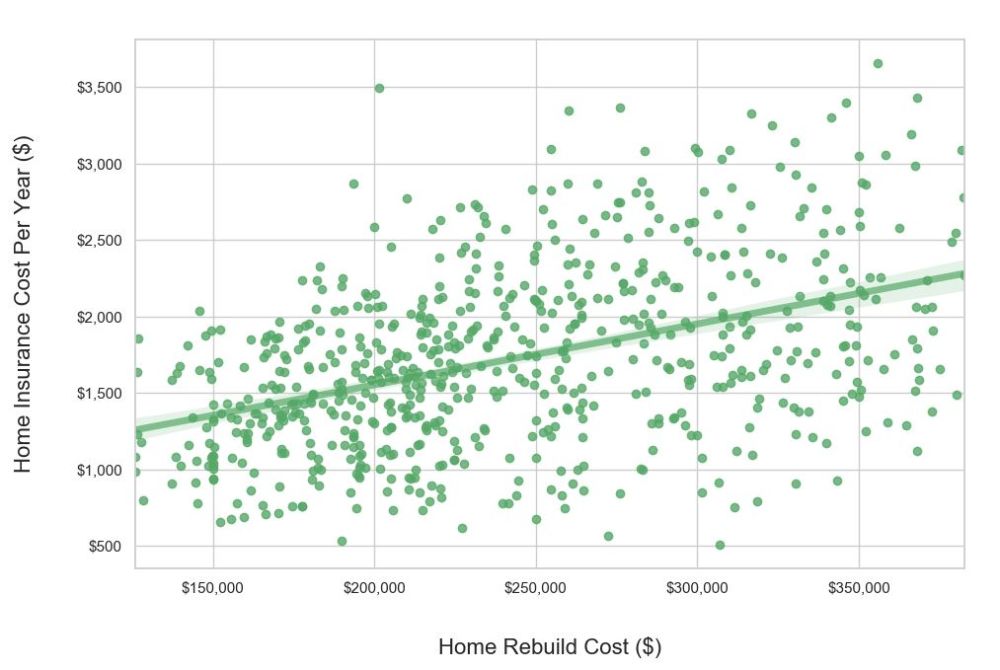 Home insurance pricing data generated from these zip codes in Kissimmee, FL: 34742 34743 34744 34745 34746 34747 34758 34759
2. Common homeowners insurance claims in Kissimmee, FL
In 1998, known as the 'Night of Tornadoes' and one of the deadliest tornado events in the state of Florida, this tornado devastated Kissimmee and its neighbor, St. Cloud, by killing 25 people. This high-end F-3 tornado leveled areas of The Shops at Kissimmee, a shopping center near Lake Tohopekaliga. Its devastation continued to destroy over 200 mobile homes and RVs located in Ponderosa Pines RV park and caused further damage in Morningside Acres mobile home park.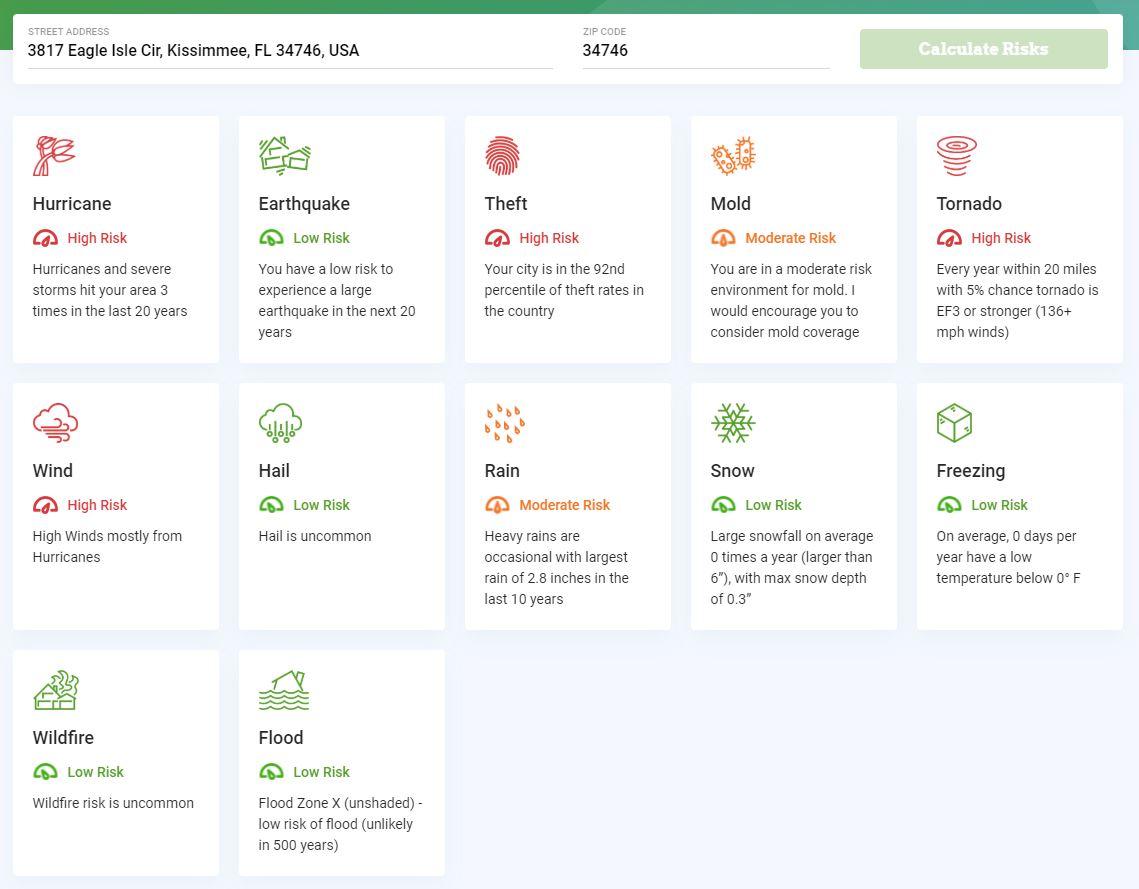 Source: Home Risk Report
As is the case with all of Florida, Kissimmee is a risk area for hurricanes and tornadoes. Also, the district has seen its fair share of hailstorms. In May of 2020, five individuals stated they saw half-dollar-sized hail in the Buena Ventura Lakes area, the most significant number of hail sightings in many years.
While the weather in Kissimmee ranges from sunny and beautiful to stormy, crime rates are higher than in other areas of the United States. Crimes rates are 13.61% higher than the national average. The highest number of crimes are property damage related.

3. Recommended home insurance coverage for Kissimmee, FL
There are six major types of coverage offered on standard home insurance coverage in Florida's sunshine state:
Coverage A -- Dwelling insurance covers the actual home and any attached structures.

Coverage B -- Other Structures refers to buildings that are not in any way attached to the home.

Coverage C -- Personal Property insurance covers your personal property (your belongings) inside the house and on your property. Please note there are special sub-limits for particular items.

Coverage D -- Loss of Use provides financial assistance for living expenses incurred when you need to live somewhere else during repairs.

Coverage E -- Personal Liability insurance covers you for a situation where someone is injured on your home's property and sues you.

Coverage F -- Medical Liability refers to situations where a guest is hurt at your place but does not sue you.

Five Important Coverages to Have in Kissimmee FL
1. Water Damage
Thirty-three percent of all homeowners claims are water damage related, so it is vital to understand which coverages you have and how to compensate them for those you do not.
Flooding – A traditional homeowners policy excludes coverage for flooding. Consumers will need to purchase this type of coverage from the National Flood Insurance Program, also known as NFIP, or private insurance.

Burst Pipes - Burst pipes often occur from leaks that happen over time, and in that case, your burst pipes don't have coverage. Other instances of burst pipes are a covered loss.

Water Backup - Water backup is an exclusion on your standard policy but is available for purchase at an additional premium.

Water Damage during Storms - Water coming from above ground level from a storm is a covered loss. If it enters from below ground, it is not covered.

Water Seepage -- Groundwater - Water seepage and groundwater that causes water damage isn't covered, but policyholders can add coverage.
Florida insurance companies often limit or exclude water damage coverage as it can be expensive to clean-up. Also, mold damage forms very quickly and is costly. Your local agent may recommend purchasing full water damage coverage.
2. Screened Enclosure Coverage
Lanais, screened enclosures, are generally excluded in standard homeowners insurance coverages, but you can buy it as an add-on. You can cover your lanais up to almost any value from $10,000 to $50,000.
3. Hurricane Deductible
If you have lived in Kissimmee long, you know all about hurricanes. Our news channels even have hurricane preparedness guides to help you get ready when the season starts. What do you do about hurricane preparation concerning your homeowners insurance?
Hurricane deductibles apply when a hurricane makes landfall as a category one storm or higher. The National Oceanic Atmospheric Administration or NOAA determines the category of a storm using the Saffir-Simpson Hurricane Scale.
To better understand how hurricane coverage works, be aware of the following two types of deductibles options quoted on home insurance policies:
Percentage Deductible -- 2%, 3%, 5%, 10% --
When choosing a percentage deductible, the coverage you receive is a specific percentage of your dwelling or primary home coverage.
Example:
$700,000 of dwelling (home) coverage
5% dwelling deductible
You first pay the $35,000 ($700,000 *5%) of damage repair for your home. Any costs after that, your insurance company pays up to your policy coverage limits. For coverage in Florida, the % deductibles are common for particular hazards, like Hurricane Deductibles or Wind and Hail Deductibles.
Dollar Amount Deductible -- $500, $1,000, $2,500, $5,000, $10,000 --
Dollar-based deductibles stay the same, regardless of the loss. The most common home insurance deductible is $1,000.
Example:
$500,000 of home (dwelling) coverage
$5,000 deductible

The homeowner pays for the initial $5,000 of property damages due to a hurricane. Any loss amounts above the $5,000 mark get paid by your insurance company.

4. Roofs
When it comes to roof coverage, most insurance companies deem the lifetime of a roof to be 20 years. Because a roof depreciates over time, this can equate to a significant expense if your policy has Actual Cash Value coverage.
Actual Cash Value ACV vs. Replacement Cost Coverage
Example: Mark and Cindy bought a new house in 2005. In 2019, a tornado pulled many shingles off of their roof. A new roof estimate shows they will pay $17,000. The couple has ACV roof coverage with a deductible of $1,000.

The insurance company states that their roof only has a useful life of 20 years, so Mark and Cindy won't get much help on the cost of their new roof. The amount of their check from the insurance company is calculated as: (20-14)/20*17,000 - $1,000 = $4,100. If the couple had purchased Replacement Cost coverage, they would receive a check for $17,000 - $1,000 = $16,000.
5. Animals
You love your furry family member. When you take him to Shingle Creek Park, he is excellent with kids and other pets. However, as dogs are not always predictable, it is wise to have coverage in case of a bite or other injury attributed to your dog. The average settlement from a dog bite costs about $35,000, so being without coverage can be expensive.
4. Best home insurance carriers in Kissimmee, FL
There are many reliable insurance agents in the area. Finding the right one can be frustrating. With research, you will find it easier to whittle down the list.
Here are some things to look for:
Financial Stability Ratings, done by either Demotech or AM Best, inform you of a company's financial status. Demotech is probably the best bet for your area.

Experience locally in Kissimmee is essential. You will want to ask how long a company has insured Kissimmee FL homes and property.

Online reviews about claim handling and consumer service history give peace of mind when you read many of your neighbor's opinions.
Top-rated home insurance companies in Kissimmee, FL:
| | | | |
| --- | --- | --- | --- |
| Insurance Company | Financial Stability | Experience | Online Reviews |
| Heritage | Demotech A | Experienced | 4 stars |
| People's Trust | Demotech A | New | 4 stars |
| Progressive (ASI) | AM Best A+ | Experienced | 4 stars |
| Universal P&C | Demotech A | Experienced | 3 stars |
| Swyfft | AM Best A- | New | 3 stars |
| Olympus | Demotech A | New | 3 stars |
| Monarch | Demotech A | Experienced | 3 stars |
| FedNat | Demotech A | Experienced | 3 stars |
| Lloyds | AM Best A | Experienced | 3 stars |
| Edison | Demotech A | Experienced | 2 stars |
| Florida Peninsula | Demotech A | Experienced | 2 stars |
5. Use our calculator for a Kissimmee, FL home insurance quote
Consumers can use our handy tool, Young Alfred's home insurance online calculator. Although insurance companies in Florida use many factors to calculate premiums, there are three main rating areas:
Property features include the neighborhood, the age of the home, and its safety rating.

Your credit history and history of claims also influence your rates.

Coverage limits, deductibles, floaters, and endorsements influence your rate. You may choose higher limits or add extra coverages for higher prices. To get lower rates, pick higher deductibles or lower limits.
You may consider bundling coverages for more significant discounts, such as home and auto insurance quotes.
Get Home Insurance Online Quotes for Kissimmee FL

At your service,
Young Alfred