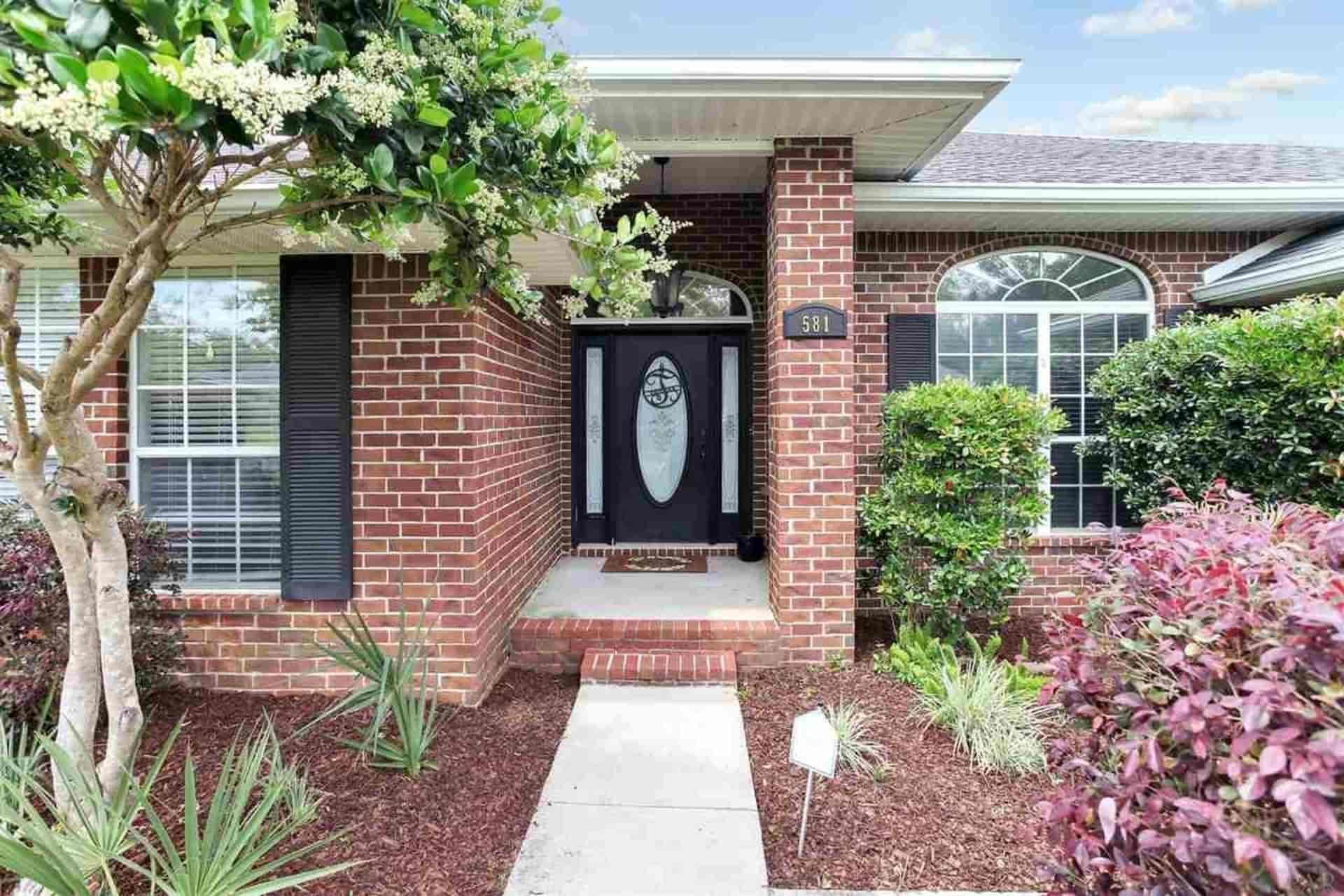 Home Insurance in Pensacola, FL
The sunshine state is best known for its beautiful sandy beaches, palm trees, oranges, and Disney World. Visitors come from the world over to enjoy the sunny skies, theme parks, fishing spots, and restaurants. According to Visit Florida, a record number of tourists came to the state in 2018 at 126.1 million. That is more than five times the number of people who live in Florida!
One thing that visitors do not come to Florida for is the often-devastating hurricanes. Living in Pensacola is not quite like living in paradise when you fear the highly active hurricane season from June 1st to November 30th.
During those months, we can expect, on average, 12 named storms, of which six (6) are hurricanes and three (3) major hurricanes (deemed 3,4 or 5 categories). This year, hurricane specialists at Colorado University are predicting 19 named storms, of which nine (9) will be hurricanes, and four (4) will be category 3, 4, or 5 storms.
In this article:
Pensacola Hurricanes
With all the hurricane activity Florida experiences, it is not a big surprise that property insurance is often higher in Pensacola than many other areas. Although most storms do not make landfall, the ones that do usually do some damage, some even destroy homes, businesses, cars (car insurance may cover this loss), boats, and trees.
Pensacola is in the western panhandle of Florida and offers a sweet gulf breeze. The land is low and flat, which makes the area susceptible to high waves and storm surge.
From 1975 to now, eight (8) hurricanes and a myriad of tropical storms have ravaged Pensacola's coast.
Since the year 2,000, the city has made efforts to preserve its marsh habitat. These efforts, called Project Greenshores, while targeted initially to protect the environment, have reaped benefits for the people as well. Breakwaters, at the cost of $6 million, were constructed. These structures now protect the city from rising sea levels and storm surges.
Hurricane Ivan hit Pensacola in 2004, an intense Category 3 hurricane with a storm surge of 15 feet. Bayfront Parkway was mostly washed out; it runs parallel to the bay's shoreline.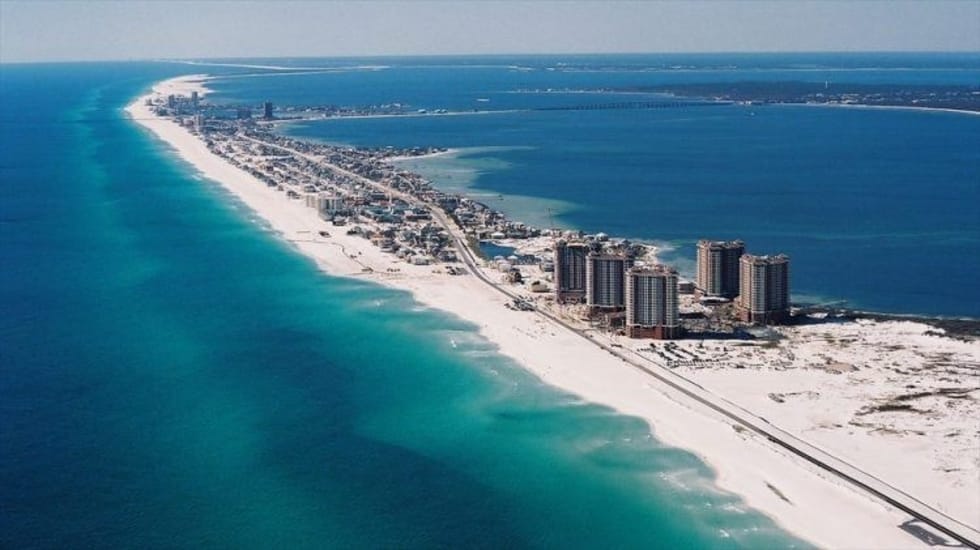 1. Pensacola Cost of Homeowners Insurance
Pensacola, FL, enjoys the white sand and clear cyan water. Despite being a hurricane hotspot, it was named as the 15th best city to live in by US News in 2019. The cost of living is 12.7% lower than the rest of the United States, so you may save money living there.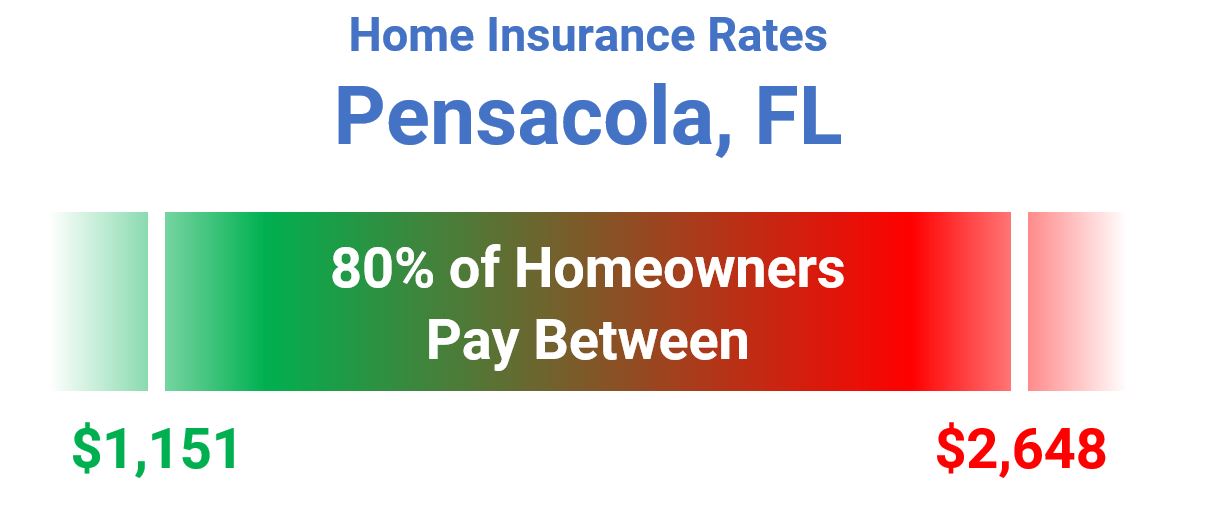 Home insurance in Pensacola runs between $1,151 and $2,648 per year. The average cost for Pensacola homeowners insurance is $1,942.74, while an excellent rate is $1,151/year. When your home value goes up, you will pay an extra $548/year for every $100,000 increase.

Home Insurance Rates in Pensacola, FL vs. Home Rebuild Cost


Home insurance rates data generated from the following zip codes: 32505 32506 32507 32508 32513 32514 32516 32520 32501 32502 32503 32504 32509 32511 32512 32521 32522 32523 32534 32524 32526 32591 32559
Homeowners should be aware that if you submit your insurance application's wind mitigation report, you can save over 50% on your annual insurance bill. However, if your home is more than 4 decades old, your insurance company may require a 4-point inspection report before approving your application. Home insurance Florida discounts will help to bring the cost down.

While theft, fire, and vandalism are common in Pensacola, Florida, the most common homeowners insurance claims are for natural disasters such as wind damage, flooding, and sinkholes.

Pensacola, FL Home Risk Report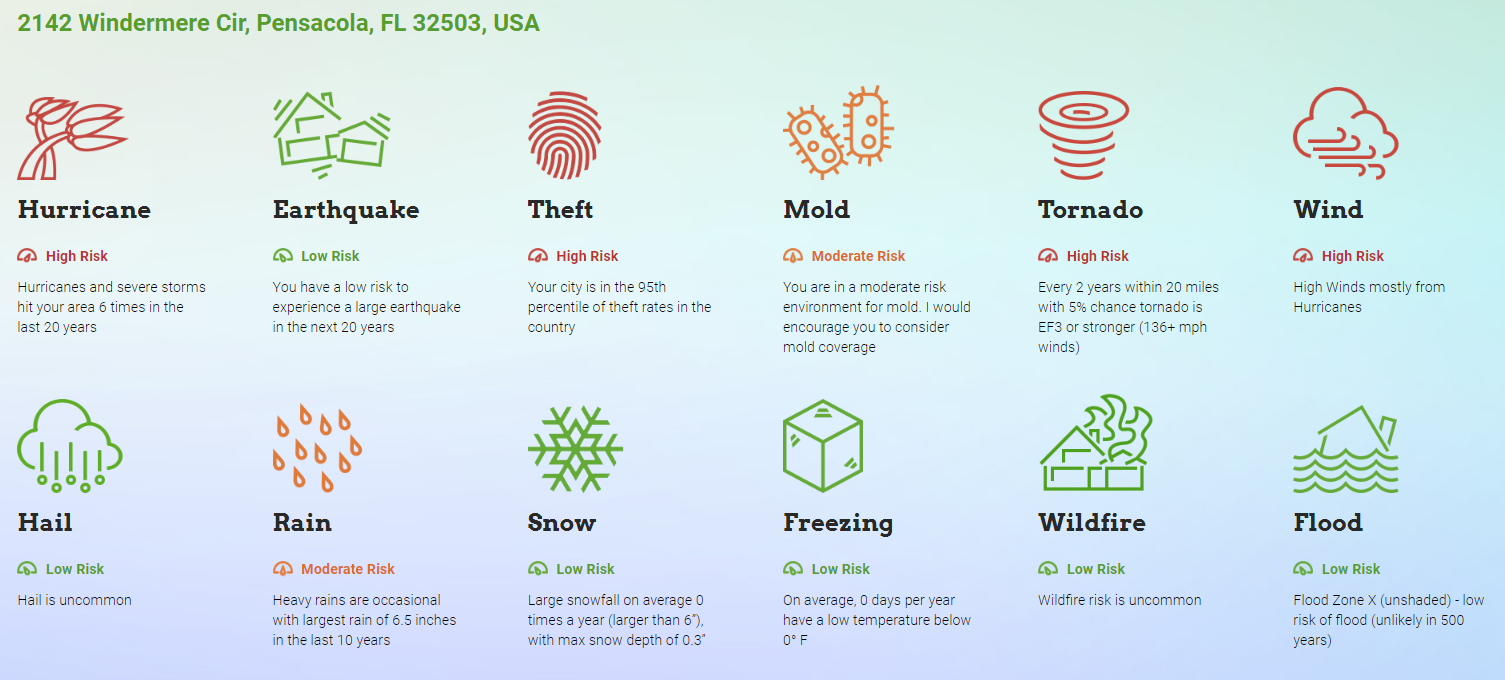 Source: Home Risk Report
Pensacola's proximity to the ocean as well as its low-lying areas, tropical force winds, and rains can wreak havoc on the harbor town. Sinkholes are somewhat prevalent in Pensacola due to the limestone ground, which erodes with water. Every Pensacola homeowner is not a stranger to a natural disaster.

3. Coverage to Get in Pensacola
A paid-off home will not require homeowners insurance. However, it is a smart way to protect your home and have peace of mind. Mortgage companies demand homeowners insurance to close on a loan.
There are six (6) types of coverage under a typical homeowners insurance policy:
Coverage A: Dwelling coverage is for any loss due to a covered peril that occurs to your home.
Coverage B: Other Structures are coverage for items such as sheds, carports, or garages.
Coverage C: Personal Property is the part of your policy that covers a loss to any of your personal property inside your home.
Coverage D: Loss of Use coverage is for a loss due to a covered peril that results in you and your family additional living expenses as your home is unlivable.
Coverage E: Personal Liability protects the homeowner if another person sues you for an accident that occurs on your property.
Coverage F: Medical Payments Coverage provides coverage if another person is hurt on your property but are not going to sue you.
Five Important Add-Ons Recommended for Pensacola, FL
Areas of Florida have a unique set of problems, and Pensacola is no exception. If you own a Florida home, you will want to consider the following home insurance options, add-on coverages:

1. Water Damage
Due to the likelihood of flooding, policyholders should invest in water damage insurance.
Flooding is not a covered peril in a standard policy. Consumers can purchase this type of insurance from the National Flood Insurance Program or NFIP.
Burst Pipe - Damage from a burst pipe would be a covered loss unless there is a leak due to poor home maintenance.
Water Backup

- If water backs up into your house due to a clogged drain or sump pump, the replacement of furniture, flooring, or other items that are damaged do not qualify for coverage on a standard policy. However, the homeowner can purchase an add-on to include this type of loss.

Storm-Related flooding

is covered as long as the water comes from ground level.

Water Seepage/Groundwater

is not a covered item on homeowners insurance. Consumers can buy an add-on policy.
A common practice among Florida insurance companies is to limit water damage coverage on a policy to $10,000 or to exclude it altogether. Water damage is expensive and can be a breeding ground for mold damage ($$$$) relatively quickly, $10,000 is not enough to cover many types of water damage claims. It is wise to purchase full water damage coverage if it is available.
2. Screened Enclosures
Coverage for a loss or damage to a screened enclosure is not a standard coverage. However, homeowners can usually buy $10,000 to $50,000 in coverage for a screened enclosure for an extra premium.
3. Hurricane Deductible
A hurricane deductible is applied when a Category 1 storm or higher makes landfall. The National Oceanic and Atmospheric Administration determine the rate of a hurricane by using the Saffir-Simpson Hurricane Scale.
Some policies calculate as a percentage using 2%, 3%, 5%, 10%.
Example:
$500,000 of coverage A
5% hurricane deductible
$25,000 out of pocket for homeowner for a hurricane claim ($500,000 * 5%)
Other deductibles may be calculated as a dollar-based deductible of $500, $1,000, $2,500, $5,000, $10,000.
Example:
$600,000 of coverage
$2,500 deductible
The homeowner owes $2,500
4. Roofs
There are two types of roof coverage: Actual Cash Value (ACV) and Replacement Cost. ACV coverage differs from replacement in that the insurance carrier will only pay for what your current roof is valued so you will not get full reimbursement for roof replacement. Bear in mind that many insurance carriers consider the lifetime of a roof to be 20 years.
For example, you have ACV coverage, and your roof is 15 years old. During a storm, strong winds remove a good portion of your shingles. Although the old roof is not repairable, the insurance company will only pay for the remaining useful life as you would have to replace the roof within the next few years anyway.
Your deductible is $1,000. So, if the roof has a useful life of 20 years and the cost to put on a new roof is $20,000, you will pay for the majority. The formula used is (20-15)/20*20,000 - $1,000 = $4,000. In this case, the homeowner would only receive a check for $4,000.
With replacement cost coverage, your only cost would be your deductible, as the insurance company would pay for the remainder. The new roof is $20,000, you pay your $1,000 deductible, and the insurance company sends you a check for $19,000 to pay for your new roof.
5. Animals
Over the years, dog bites have become more prevalent. If you own a dog, it is prudent to purchase insurance coverage for animal liability. The average dog bite claim is $45,000, so coverage is vital.
4. Insurance Carriers in Pensacola, FL
Choosing homeowners insurance in Florida is something that you should not do frivolously. You will want to research online reviews concerning claims and customer service reputation as well as finding out how long the carrier has been insuring homes in Pensacola.
Florida homeowners can also learn about the financial stability rating of the companies they are considering through AM BEST or Demotech. It is also essential to compare various insurance quotes
5. Get a Pensacola Home Insurance Quote
Buying home insurance in Florida can be confusing and overwhelming. Not only will you need home insurance in Pensacola, but many other types of coverage are essential such as renters insurance, auto insurance, commercial insurance, and liability insurance.
Insurance rates vary from county to county, and there are many determining factors. Home and auto, as well as life insurance costs, are rated on the risk involved with insuring you.
If you are looking for home insurance in Florida, there are many companies available. To protect your home, auto, or personal property, get free insurance quotes with Young Alfred:

Get Home Insurance Quotes in Pensacola FL

Hope that helps!
At your service,
Young Alfred