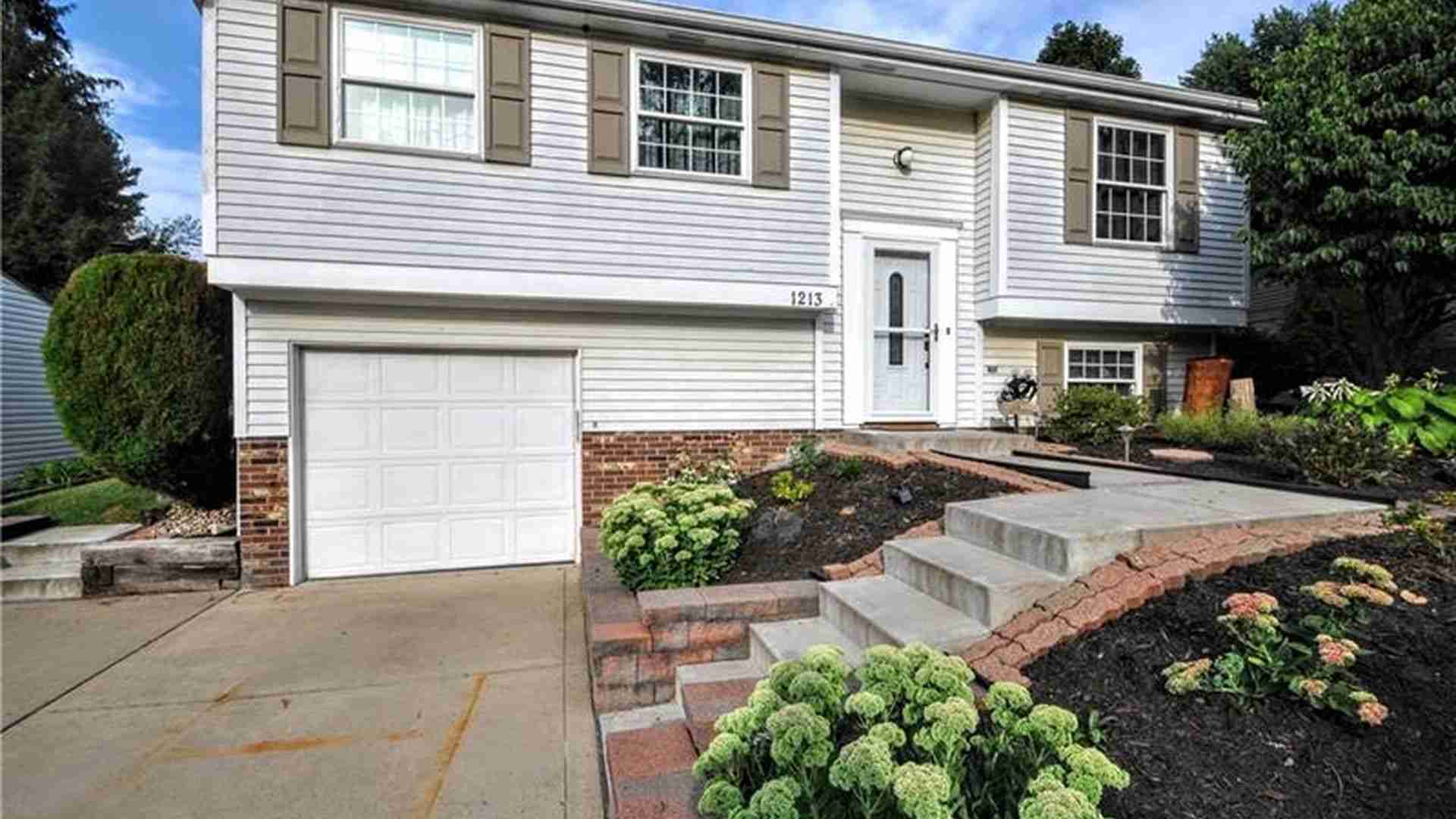 Home Insurance - Pittsburgh
Pittsburgh is not only stunning, cultural, and a city of sports fanatics, it is also a place to shop, dine, relax, and explore. Pittsburgh is a beautiful place to live, from Lincoln Place to Brookline to Brighton Heights to Highland Park and everything in between. Pittsburgh is home to many top universities, including Carnegie Mellon.
With a 71.7% homeownership rate, which is higher than the 65.1% national average, we at Young Alfred know consumers are looking for the best and most affordable home insurance in Pennsylvania.
Here is a helpful guide for those looking to review or buy home insurance:
1. Homeowners Insurance Rates in Pittsburgh
Young Alfred dedicates time and effort to find every discount available to our customers. As a free service, we will look for as many ways to save on your premiums as possible.
How much is home insurance in Pittsburgh? Typical rates for Young Alfred customers in Pittsburgh are between $485 and $1,138 per year for a standard homeowner insurance policy. The average home insurance rate in Pittsburgh is $780.96.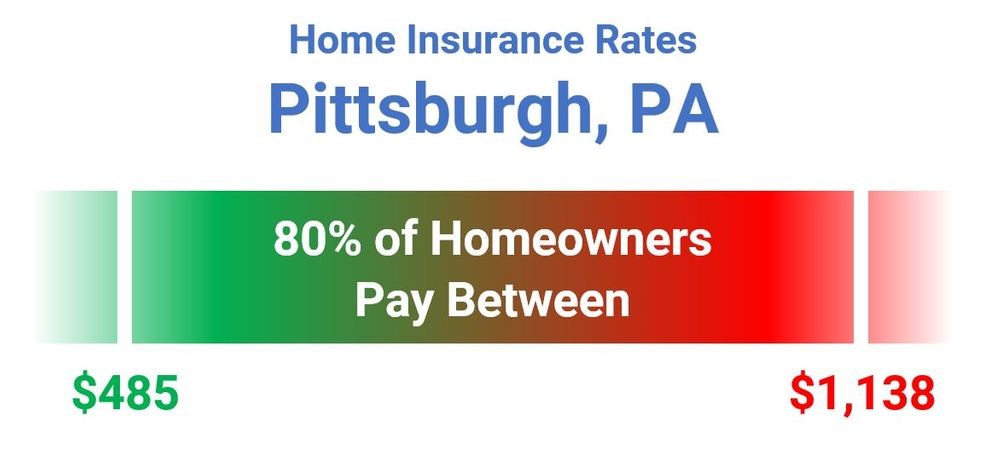 With all insurers, insurance premiums increase as the cost to rebuild your home goes up. Generally, your premium increases an additional $122 per annum for each $100,000 gain in home value.
Home Insurance Premiums in Pittsburgh, PA vs. the Cost to Rebuild a Home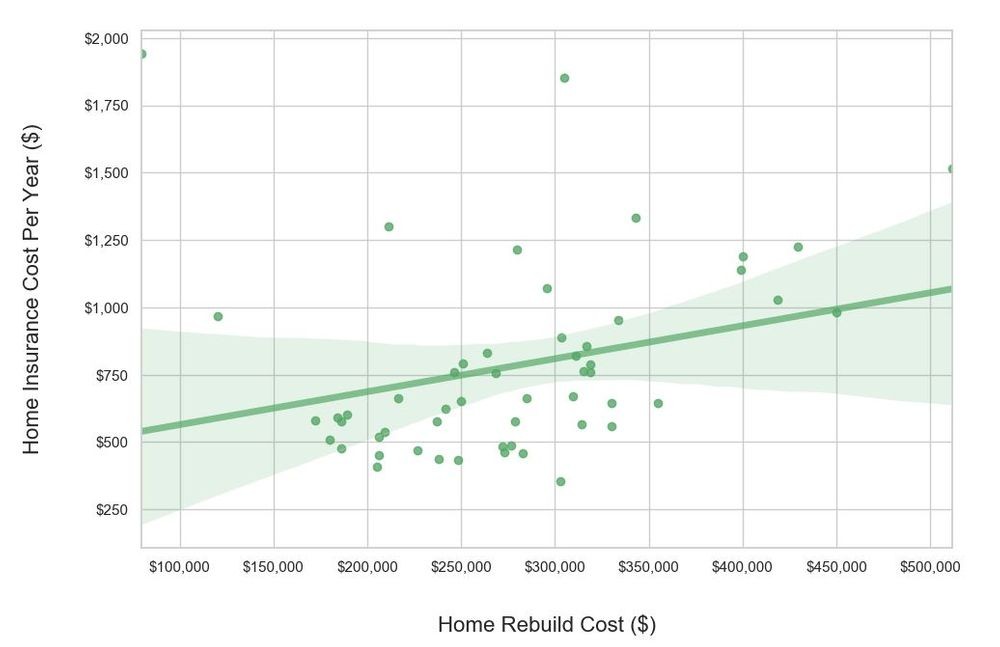 Typically, home building costs increase significantly over time, so if a covered peril destroys a home, you need enough insurance to rebuild your house at the current prices.

Homeowners insurance price data analyzed by Pittsburg zip codes.
15206 15260 15224 15259 15228 15277 15241 15295 15217 15238 15205 15214 15275 15216 15267
15276 15208 15264 15207 15227 15261 15229 15278 15233 15258 15202 15209 15239 15213 15221
15272 15251 15240 15274 15250 15290 15215 15282 15210 15235 15218 15255 15262 15226 15265
15257 15253 15219 15283 15281 15211 15220 15289 15244 15231 15279 15203 15252 15212 15201
15230 15270 15204 15286 15232 15268 15242 15234 15243 15237 15222 15225 15236 15254 15223
2. Common Pittsburgh Homeowners Insurance Claims
Pittsburgh is known for its high theft risk in inner-city areas. But it also sees its fair share of blizzards and even tornados. Pittsburgh has experienced over 40 tornado events to date.
The good news is that many Pittsburgh natives are more likely to fix an issue than file a claim! That helps keep home insurance rates in Pennsylvania low and would be beneficial to many other areas if residents were so inclined to DIY!

Pittsburgh, PA Homeowners Risk Report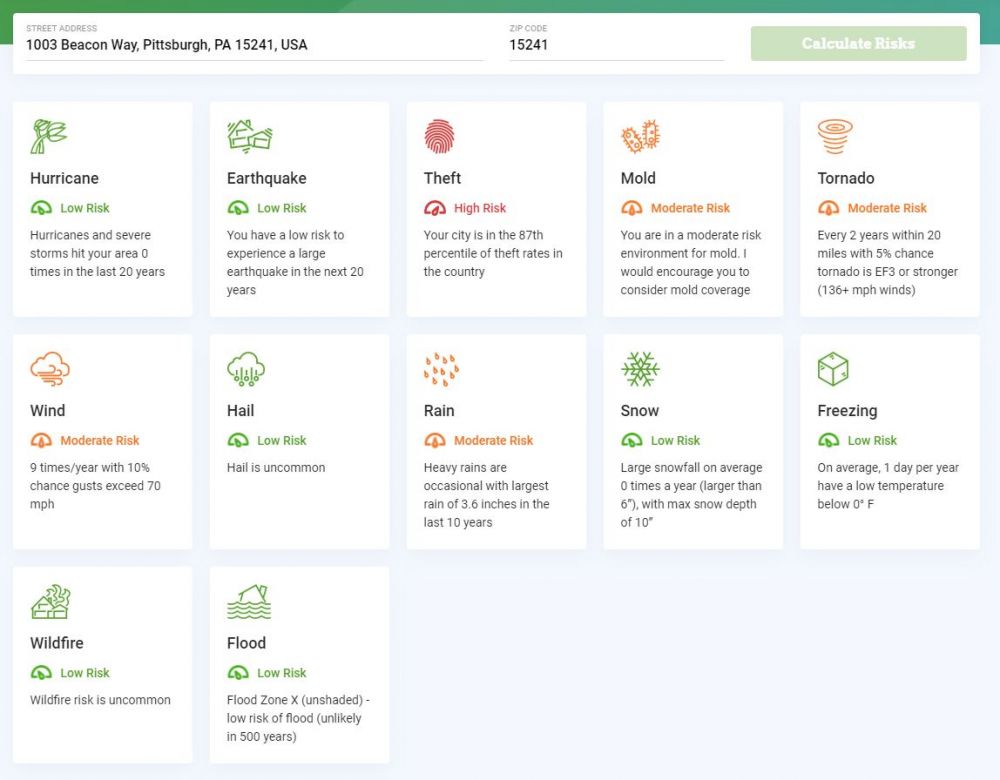 Source: Homeowners Risk Report
3. Coverage Details of Your Home Insurance Policy
Standard home insurance has six primary sections. Homeowners should take the time to understand each of these coverages:
Homeowners should also educate themselves about specific coverage options, such as:
1. Water Damage
Thirty-three percent of all homeowners claims are related to water damage. Due to this high percentage, insurance companies have specific categories and exclusions involving water damage.
Flooding - Coverage for flooding is excluded from a standard homeowners policy. Those in flood zones or those with concerns about flooding should speak to us about the government's National Flood Insurance Program (NFIP) or a private flood insurance plan to purchase a separate policy.

A Burst Pipe Causes Water Damage - If a pipe bursts in your home, you can usually count on your standard homeowner policy for coverage. Be aware that leaking pipes due to neglect are excluded from your plan.

Water Backup Protection - Most home insurance policies exclude water backup. Consumers have an option to purchase this as an endorsement.

Water Damage from Storms - Ground level water that enters your home is included on a standard homeowners policy. Basements, specifically below-grade basements, are not covered on standard policies.

Water Seepage and Groundwater - If water comes from below ground level, insurance does not pay.
2. Service Line Coverage
There are often utility lines running under your yard. If one of these lines bursts, you, as the homeowner, are responsible for the damage. Coverage is available for this type of loss on a service line coverage endorsement. The cost is generally about $45 annually for up to $10,000 in damages from a service line breaking outside your home.
3. Roof Coverage
If a roof is damaged in a covered peril and is under 20 years old, your home insurance policy provides coverage to replace it. All roof coverage gets paid at replacement cost. However, if your roof is beyond the 20-year mark, the roof is considered aged out, and coverage will depend on the policy outline.
Example: Your 19-year-old roof was damaged beyond repair by a windstorm. A new roof is needed. The insurer will not cut you a check for a brand-new roof if you have ACV coverage as you would have to replace the roof in the upcoming five years, even without the storm.

They will give you a check that represents the remaining useful time of your roof. You will spend $15,000 replacement costs on a 19-year-old roof expected to last 25-years. If your deductible is $1,000, your insurance check would be (25 minus 19) divided by 25 times 15,000 minus $1,000 is $2,600 at actual cash value. If you have Replacement Cost coverage, the check would be $15,000 minus $1,000 is $14,000. For this same example, the Replacement Cost Value of your roof merited an additional $11,400.

4. Insurance Companies in Pittsburgh
Although there is no doubt you can find a quality home insurance company in Pittsburgh, it may be confusing and overwhelming to decide on one. Using the internet as a useful resource, check multiple carriers in the following areas:
Financial Stability Rating – AM Best and Demotech provide information on the financial security of each insurance company.

Expertise in your local market

- You will want to find a company that has been insuring homes in Pittsburgh for several years and is familiar with each area's unique needs.



Online opinions on claims and customer service experience

- You can find comments, concerns, and experiences with any company through Google.
Top home insurance carriers in Pittsburgh, PA:
5. Get Home Insurance Quotes in Pittsburgh
While many factors affect how much your home insurance coverage costs, most carriers of homeowners insurance in PA factor in these items:
Where is the property located? What is the age of the property? What type of HVAC system is on the property?
Homeowner credit and claim history as well as what type of pets are in the home.
What coverage limits, endorsements, and add-ons do you want?
We provide free online homeowners insurance comparisons to give you an accurate home insurance rate. We will not call you or sell your information. Consider bundling home or renters and auto insurance for more savings. Click below to receive the top home insurance quotes in your area, customized just for you:

Get Home Insurance Quotes in Pittsburgh
I hope that helps!
At your service,
Young Alfred