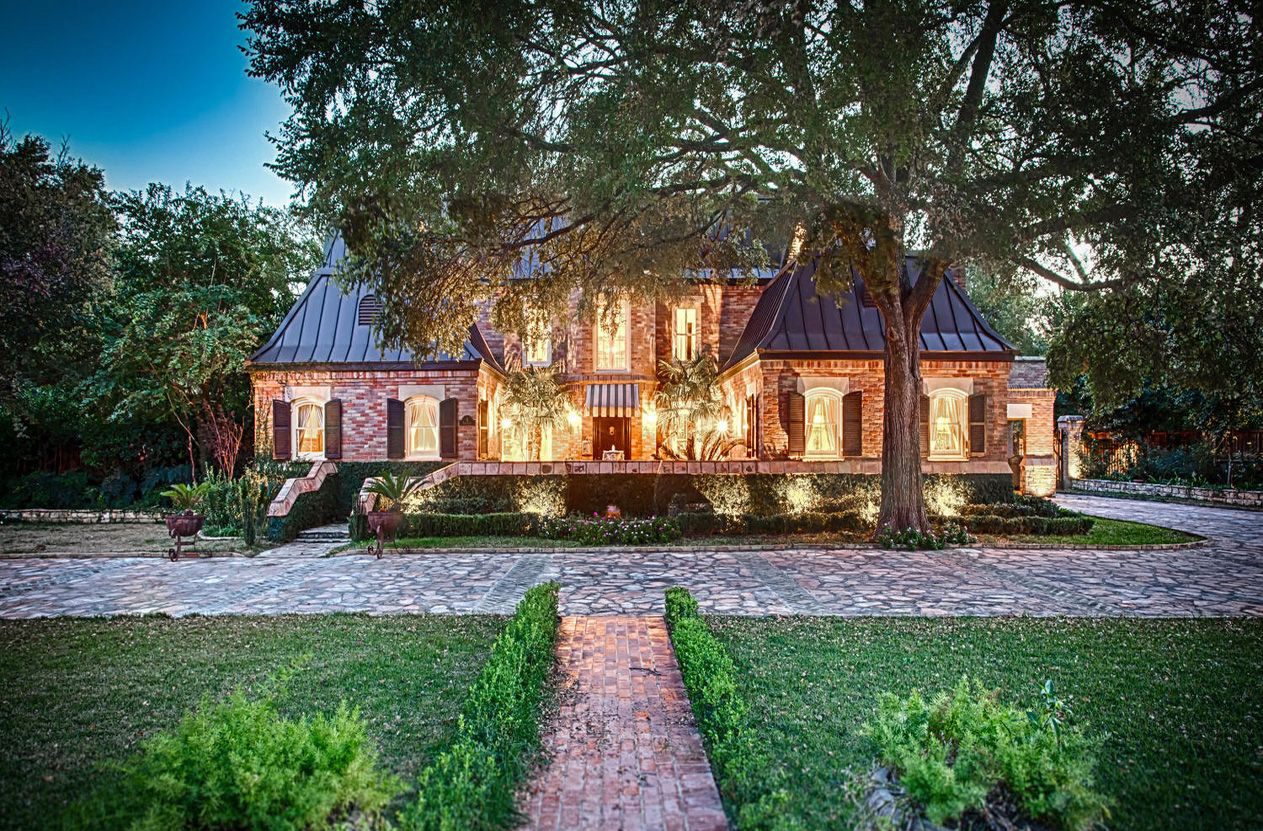 Home Insurance in San Antonio
San Antonio and Lone Star State provide a rich history, numerous parks, green spaces, dining, and shopping. The Monte Vista neighborhood, in particular, is the largest historic district in the United States and is one of the oldest. Locals enjoy indoor and outdoor fun, including San Pedro Spring Park.
In San Antonio, 53% of residents are homeowners - that is lower than the national average of 63.9%. As a homeowner in San Antonio, Young Alfred knows it isn't always easy to find the best home insurance. A home is an investment, so making sure your home insurance adequately covers your home is essential. To help out homeowners in San Antonio, Young Alfred put together this handy guide.
1. Average Home Insurance Cost in San Antonio TX
Discounts are the best way to get affordable home insurance in San Antonio, TX. Young Alfred does an extensive search free of charge to make sure you get the best possible home insurance premiums. Finding cheap homeowners insurance in Texas may be difficult. Most of Young Alfred's customers in San Antonio pay between $986 and $1,896 annually.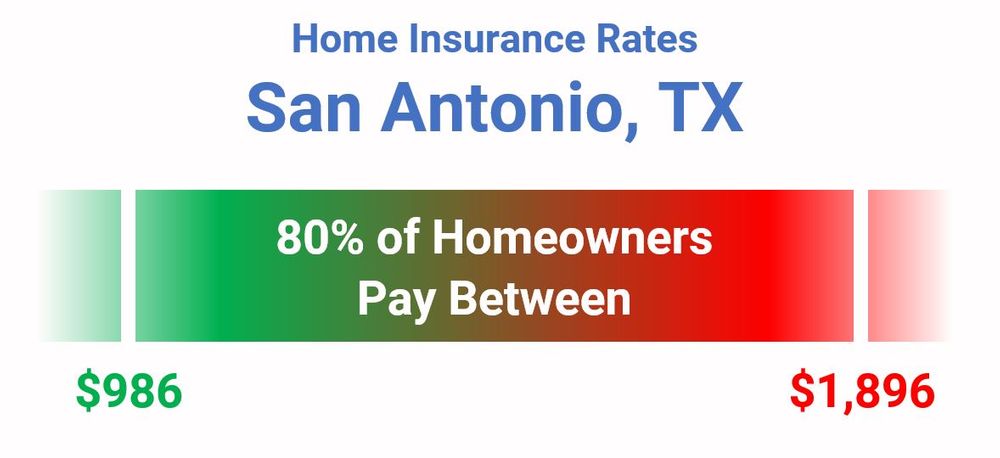 The average annual cost for home insurance in San Antonio, TX, is $1,449.46. Homeowners should be aware that as your home value goes up, you will need to increase your insurance costs more because you also need to expand your coverage. Expect an extra $151/year for every $100,000 increase.

Home Insurance Rates in San Antonio, TX vs. Home Rebuild Cost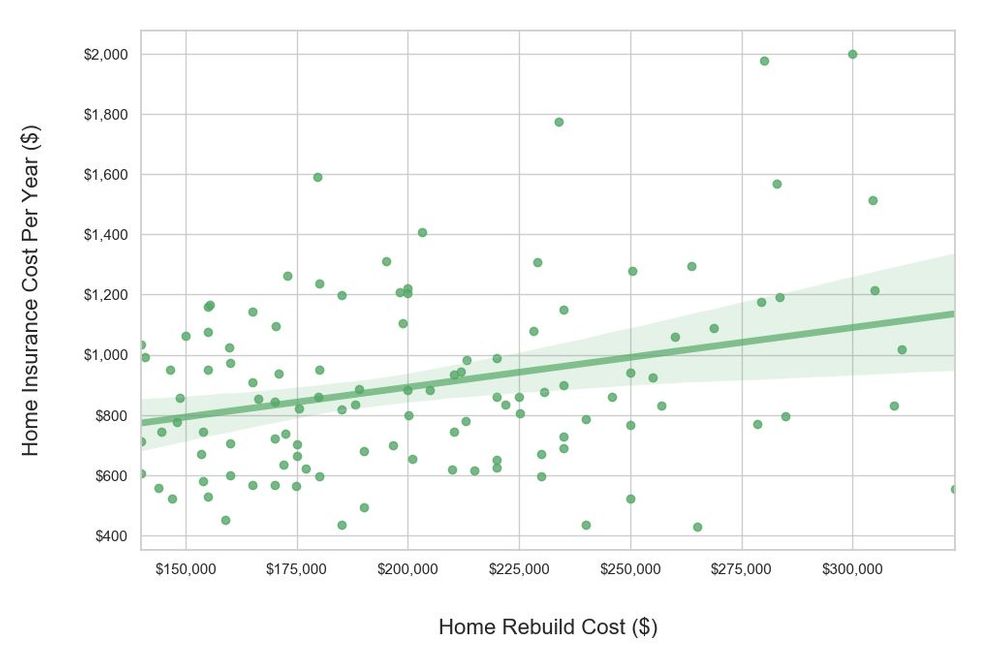 Home insurance rates are generated by zip code: 78201 78207 78208 78209 78213 78214 78215 78216 78217 78221 78222 78223 78224 78225 78229 78230 78231 78202 78203 78204 78205 78206 78210 78211 78212 78218 78219 78220 78226 78227 78228 78232 78235 78237 78233 78234 78238 78239 78240 78243 78244 78245 78246 78247 78251 78252 78253 78254 78259 78260 78261 78263 78268 78269 78270 78285 78287 78288 78241 78242 78248 78249 78250 78255 78256 78257 78258 78264 78265 78266 78278 78279 78280 78283 78284 78289 78291 78292 78293 78294 78295 78296 78297 78298 78299
The cost of building a home becomes more expensive as time goes by. Homeowners will want to ensure that your coverage is keeping up with current home rebuild costs. Rebuilding your home will cost more in the current market than it did when you bought it.
2. Typical Home Insurance Claims in San Antonio, TX
San Antonio is very humid and has a subtropical climate, often reaching triple-digit temps. Since the area is well inland, San Antonio is not a high-risk place for hurricanes. However, there are flooding and tornado events.
On Memorial Day weekend, 2020, San Antonio experienced an EF-1 tornado that downed trees, caused power outages, and damaged homes. Winds were determined to be 100 mph. Several homes in the Wildhorse subdivision were affected as windows broke, roofs lifted, and flying debris smashed into walls. Many cities in Texas have experienced similar circumstances.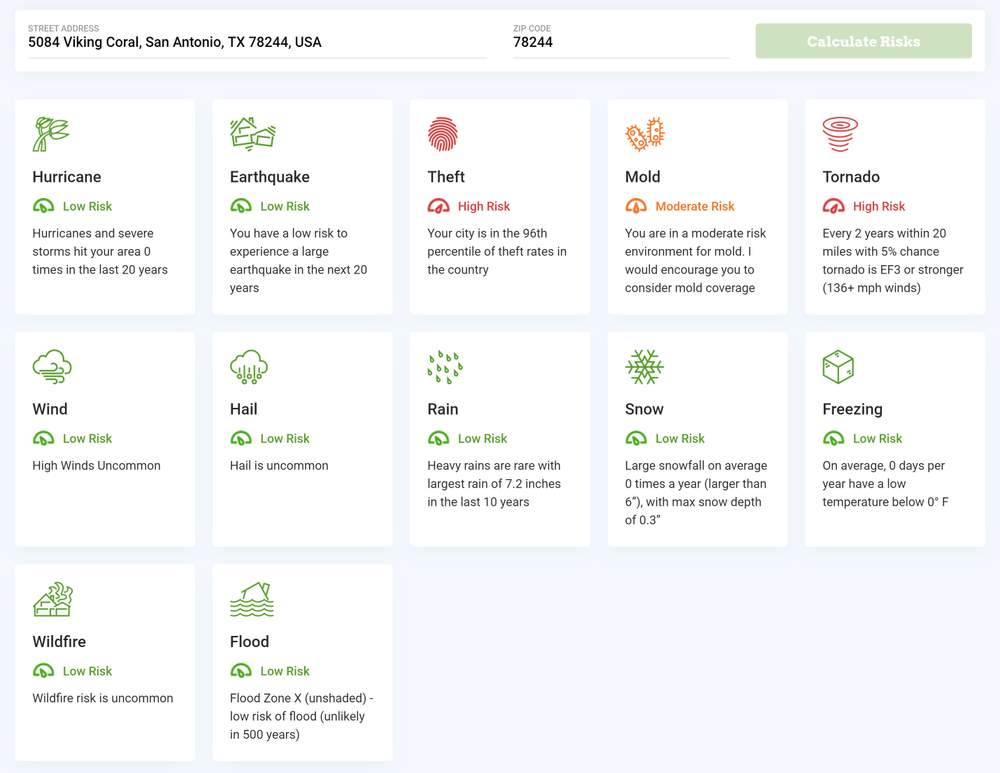 San Antonio, TX Home Risk Report
When an area is known for many claims for a particular type of peril, homeowners insurance companies will often separate that coverage into a stand-alone insurance product. The new stand-alone product will typically offer high deductibles. When looking at your home insurance policy, make sure you can afford the deductible you choose. Choosing cheaper rates may seem like a good idea, but you may regret it in a claim situation.


3. Homeowners Insurance Coverage in San Antonio
There are six major categories that homeowners insurance covers on every standard home insurance policy. They include:
Coverage A: Dwelling coverage is the section that protects your home.

Coverage B: Other Structures coverage covers any unattached structures on your property, including a shed or separate garage.

Coverage C: Personal Property coverage allows you to receive compensation for a covered loss of your personal belongings. Careful here as there are special sub-limits for different items.

Coverage D: Loss of Use coverage kicks in if you can't live in your home after a covered peril strikes. This section will provide coverage for living expenses while contractors rebuild your home.

Coverage E: Personal Liability coverage - if someone sues you for something that happened on your property, this will kick in to defend the lawsuit and payout damages charged in the case.

Coverage F: Medical Liability coverage - if a guest injures themselves on your property, this can cover the guest's medical expenses.
Your policy may be a bit misleading at times. You might think you have coverage for a particular peril, but in fact, your policy may only provide partial coverage for that peril. Unfortunately, many Texas homeowners do not find this out until they have to file a claim, and it is too late.
Understanding the following exclusions or that you need additional coverage will help you avert a terrible loss.
Water Damage
It is essential to know that a third of all homeowner's claims are for water damage. Each type of water damage breaks down into a sub-category. Some are exclusions on your policy:
Flooding. Standard homeowners policies don't provide coverage for flooding. Consumers can buy a separate policy from the National Flood Insurance Program or NFIP.

Burst Pipe water damage. Your standard homeowners policy covers water damage from a burst pipe if it happens by accident and is sudden and unavoidable. However, water damage from a slow leak is an excluded coverage.

Water Backup Coverage. Homeowners should consider purchasing water backup as an add-on since standard homeowners insurance excludes water backup.

Storm-Related Water Damage. Ground-level storm-related water damage is a covered peril on your policy. Below-grade, or below the first floor, is not covered.

Water Seepage/Groundwater. Water seepage that damages your home is typically an exclusion on your homeowners policy. Your insurer may sell water seepage as an endorsement.
Foundation Coverage
Texas soil is mostly clay. Homes built on clay are prone to shifting, and this can create foundation slab leaks. Generally, Texas home insurance policies exclude foundation coverage. Consumers can purchase a water & foundation endorsement of 15% of Coverage A (dwelling) or up to a $25,000 limit to protect against costly slab issues.
Wind/Hail Deductible
Home insurance policies normally contain a choice of two types of [deductibles] https://www.youngalfred.com/homeowners-insurance/how-home-insurance-deductibles-work:
Percent-Based Deductible (2%, 3%, 5%, 10%)
Percentage-based deductibles are a percentage of your dwelling coverage.
Example:
$600,000 of dwelling coverage
5% deductible

You pay for the first $30,000 ($600,000 * 5%) of damages in a covered peril. Texas homeowners insurance attaches % deductibles to special perils, such as a Hurricane Deductible or Wind/Hail Deductible.

Dollar-Based Deductible ($500, $1,000, $2,500, $5,000, $10,000)
The most common deductible is $1,000. With a dollar-based deductible, the homeowner pays the same amount, regardless of the claim.
Example:
$500,000 of dwelling coverage
$5,000 deductible

The homeowner pays for $5,000 of damages to the home, and then the insurance company covers the rest for perils listed as covered in the policy documents.
Roof Coverage: Replacement Cost
Asphalt shingle roofs generally last about 20 years. Home insurance companies will pay to replace a roof that is damaged significantly by storms. If the roof is over 20 years or older, the insurance company will most likely not pay much on a claim.
Example: Your roof is 19 years old, and you have a hail storm that damages the roof beyond the point of repair - you now need a new roof. The insurance company will not send you money for a new roof with ACV coverage because you would need to replace your roof in the next five years, even if this storm didn't happen. They will give you money that accounts for the rest of the useful life of your roof.

If your roof is 19 years old, has a 25-year useful life, costs $15,000 to replace, and you have a $1,000 deductible, you are only going to get a check for (25-19)/25*15,000 - $1,000 = $2,600. If your roof is covered at Replacement Cost, you are getting a check for $15,000 - $1,000 = $14,000. In this common example, the Replacement Cost Coverage on your roof was worth an extra $11,400.

Animal Liability
There is an unusually high number of tigers in Texas; if you have a tiger, you must have animal liability insurance. There are also a lot of cats and dogs in Texas. The average dog bite claim is $35,000. If you own a tiger or dog or any pet, it is wise to include animal liability coverage in your policy. Dog breeds are a rating factor, so keep that in mind. Animal liability coverage is a smart choice for those with pets.
4. Best Insurance Companies in San Antonio
There is lots of competition for your homeowners insurance business. Checking out multiple companies will assist in making the right decision based on a few critical facts. Consider the following aspects:
Financial Stability - Check AM Best or Demotech ratings to determine the financial stability of each company you are considering.

Experience in the local market

- An excellent question to ask is, how long has a company been insuring San Antonio homes?




Look up

online reviews

on customer service and claims experience. Find out what happens when you file a claim with each company.
Top home insurance carriers in San Antonio, TX:
| | | | |
| --- | --- | --- | --- |
| Insurance Company | Financial Stability | Experience | Online Reviews |
| Travelers | AM Best A+ | Experienced | 5 stars |
| USAA (military) | AM Best A++ | Experienced | 5 stars |
| Encompass (Allstate) | AM Best A+ | Experienced | 5 stars |
| Progressive | AM Best A+ | Experienced | 4 stars |
| Safeco (Liberty Mutual) | AM Best A | Experienced | 4 stars |
| State Auto | AM Best A- | Experienced | 4 stars |
| Stillwater | AM Best A- | Experienced | 5 stars |
| State Farm | AM Best A++ | Experienced | 4 stars |
| Towerhill | AM Best A- | Experienced | 5 stars |
| Mercury | AM Best A | Experienced | 4 stars |
| Velocity | AM Best A | New | 4 stars |
| Lighthouse | AM Best A- | New | 3 stars |
| Foremost (Farmers) | AM Best A | Experienced | 3 stars |
5. Homeowners Insurance Quotes for San Antonio Texas
Homeowners Insurance rates are higher based on certain factors. Although insurance companies look at hundreds of factors, there are three main rating categories:
Property features - location, type of heating system, age
Applicants - credit and claims history, breed of pets
Coverage options and limits, endorsements, deductibles
Some insurance companies provide bundled insurance discounts, such as home and auto insurance. If you need mobile home insurance in San Antonio, TX, we can assist with that coverage type.
At Young Alfred, we won't sell your information or have agents call you. We take insurance quoting seriously. Just fill out our custom online home insurance application to find the top home insurance quotes for your area. We are using advanced technology to match the information you provide to a personalized list of coverage options just for you. Search with the confidence that your information will remain private and secure.
Get Home Insurance Quotes in San Antonio TX
I hope that helps!
At your service,
Young Alfred