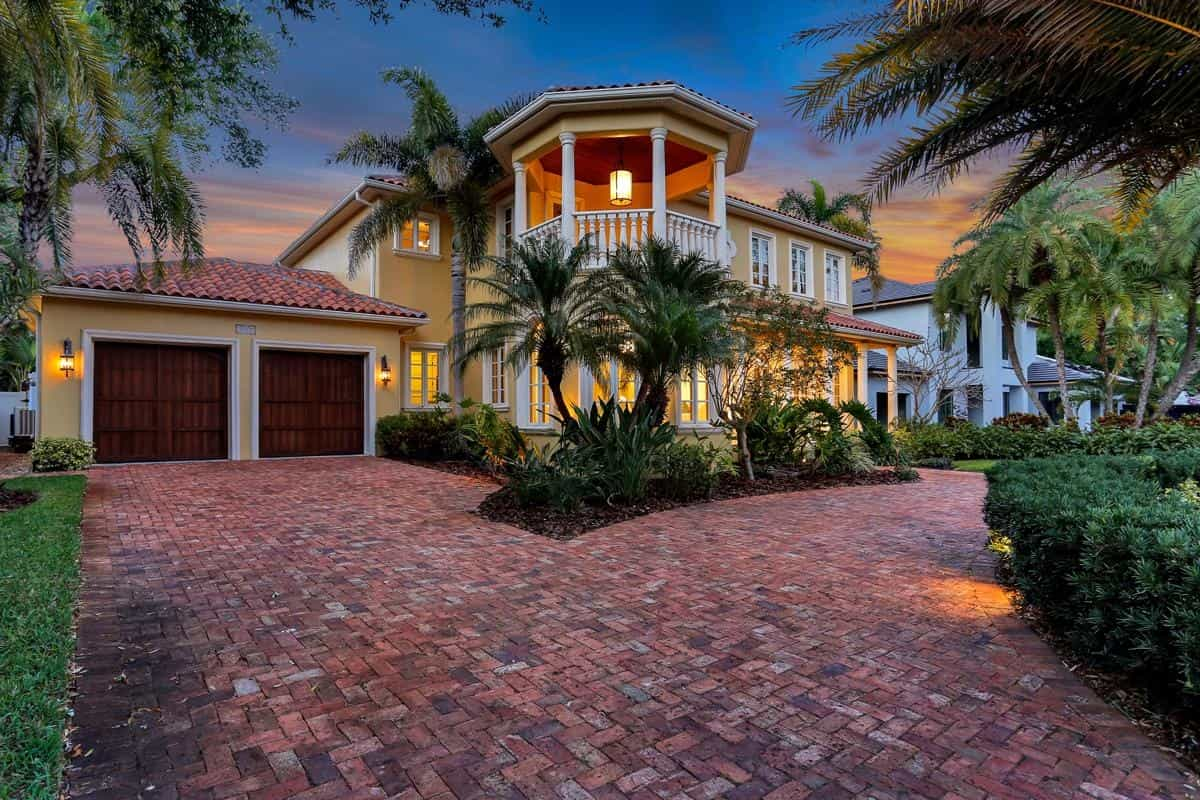 Home Insurance - Tampa, FL
If you have lived in Florida for a long time, you understand the need for quality home and auto insurance that covers damages not only from hurricanes but wind and even flooding. Even small storms can pack some powerful punches, knocking down trees and lifting lawn furniture or other outside items across fences and into swimming pools. This guide should help in your research:
Florida homeowners in Tampa are at risk for a unique set of concerns from different parts of the country.
1. Top Insurance Carriers in Tampa FL
The most important factors to consider when comparing insurance companies are:
Financial Stability Rating - AM Best or Demotech, are the top two trusted insurance rating companies in Florida.
Longevity in Tampa - did they just arrive in Tampa, or do they know the area well because they have been there a long time.
Online Reviews - your neighbors are your best guide about customer service and claim experience.
Our picks for Tampa, FL:
2. Common Insurance Claims in Tampa
The beauty and warmth of the sunshine state have been a pull for many Northerners who hate the brutal winters. However, many snowbird Florida home buyers may not realize that the weather can become fierce and damaging, aside from the beach allure.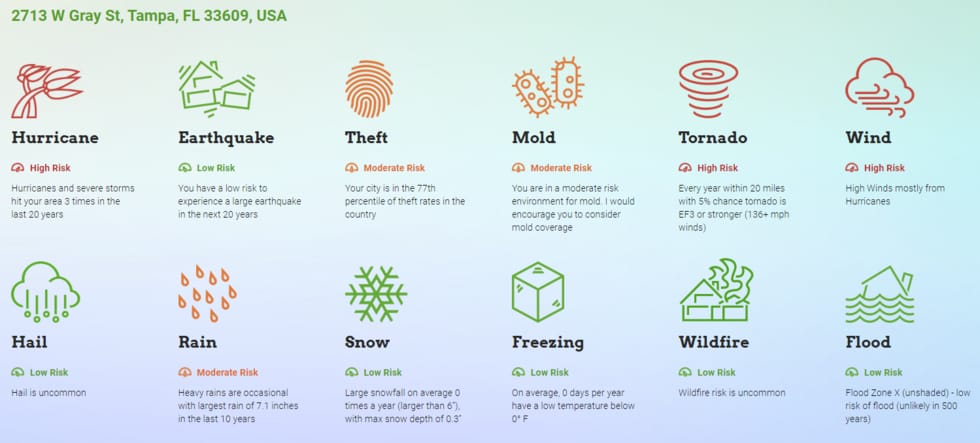 Some common claims in Tampa include hurricane damage caused by wind, flood, or water damage such as mold that grows after the flooding occurs. Sinkholes are also frequent in the Tampa area due to groundwater causing soil or rock to dissolve. This disaster can result in structural destruction to homes and businesses.

Changes in Florida and Tampa Building Codes
On August 24, 1992, Hurricane Andrew hit Dade County, causing devastating damage and loss of life. Because the area was unprepared, the numbers are tremendous. Hit with a category five hurricane, maximum sustained winds of 141 mph, and gusts of over 169 mph according to the National Park Services storm record, over 250,000 people were rendered homeless. The estimated cost of the damage is $26.5 billion.
More recently, the Mexico Beach community got leveled during Category 5 Hurricane Michael in October 2019.

Because of past hurricanes, the Florida Building Code divided Florida into several wind zones, and your home must withstand winds in your wind zone. In Bay County, where hurricane Michael hit, wind speeds are typically 130-140 mph.
Florida wind codes were last modified in 2010. They are up for revision every three (3) years, but changes do not always occur.
Only 25% of homes in the Tampa area are up to code. So, to incentivize homeowners, you get an extra discount on flood insurance for every foot you raise your home over the base flood elevation code. It adds building expense, but in exchange, flood insurance premiums could drop 17% and 37% for a second foot.
We recommend getting a wind risk inspection by a certified adjuster or request one through your insurer. For new home construction, you may use the City of Tampa's Private Provider program.
Wind Damage Insurance
Many of the area's older homes, while charming, are not up to code. Codes are now being enforced on all repairs and new builds to avoid future occurrences.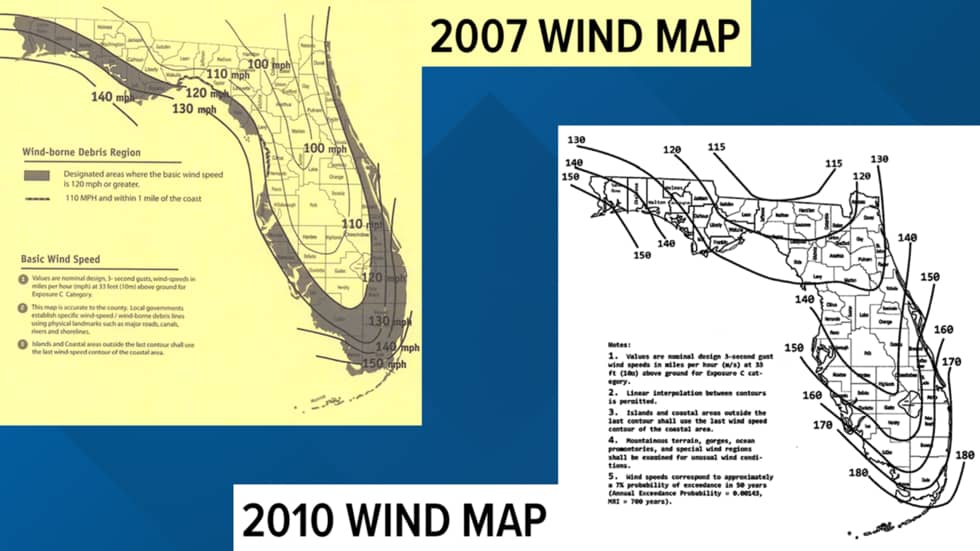 Impact glass and hurricane shutters provide shelter from strong winds. Hurricane straps and a hurricane resistant door is improving the safety of garages. New roof designs mean better survival during high winds and rain.

The good news is that new homes built or brought up to code often result in homeowner insurance discounts. Due to discounts, homeowners will be able to recoup the cost of meeting code regulations. It also means these homes are sturdier and better prepared for future storms.

Do I Need Flood Insurance?
Due to the coastal location, Tampa is a concerning area for flooding of many kinds. Some persistent drainage problems can make flooding a problem during heavy rains. Also, storm surge can become extremely high as winds and rain from tropical storms or a hurricane beat down on the coastal area. High rain amounts can cause flooding due to the water having nowhere to go as lakes, rivers, and ponds fill up.

Every area has a flood risk in Florida. However, the risk is higher for Tampa homeowners than in other regions due to the proximity of the ocean. While you may not be required to have flood insurance for the area you live, it is pertinent to protect your home just in case. Insurance offers peace of mind knowing your covered if you must file a claim.

3. Cost of Home Insurance in Tampa
Home insurance companies offer many variations in home insurance rates. However, you can expect insurance premiums between $889 and $2,233 per year. The average cost in Tampa is $1,625.65. If you find a reasonable rate, you will pay about $889/year in Tampa.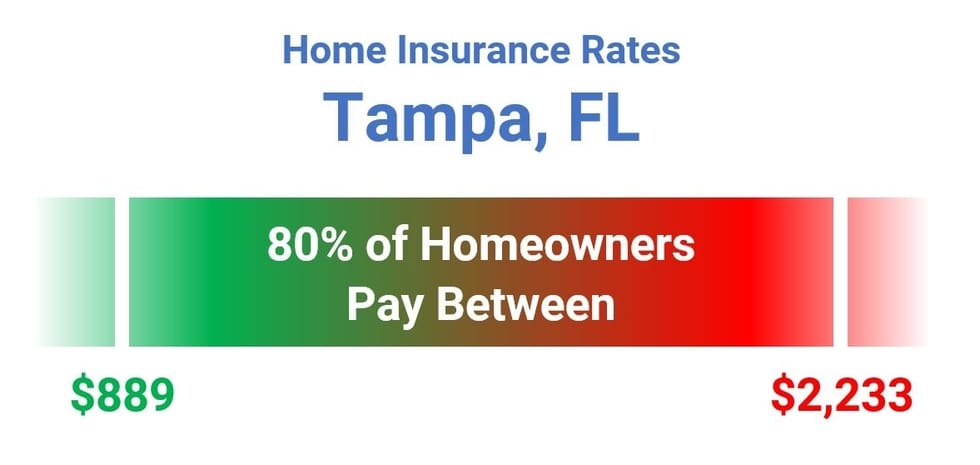 The value of your home and cost to rebuild it determines your homeowners insurance rate. So, when your home value increases, you will pay an extra $351/year for every $100,000 increase.
Home Insurance Rates in Tampa, FL vs Home Rebuild Cost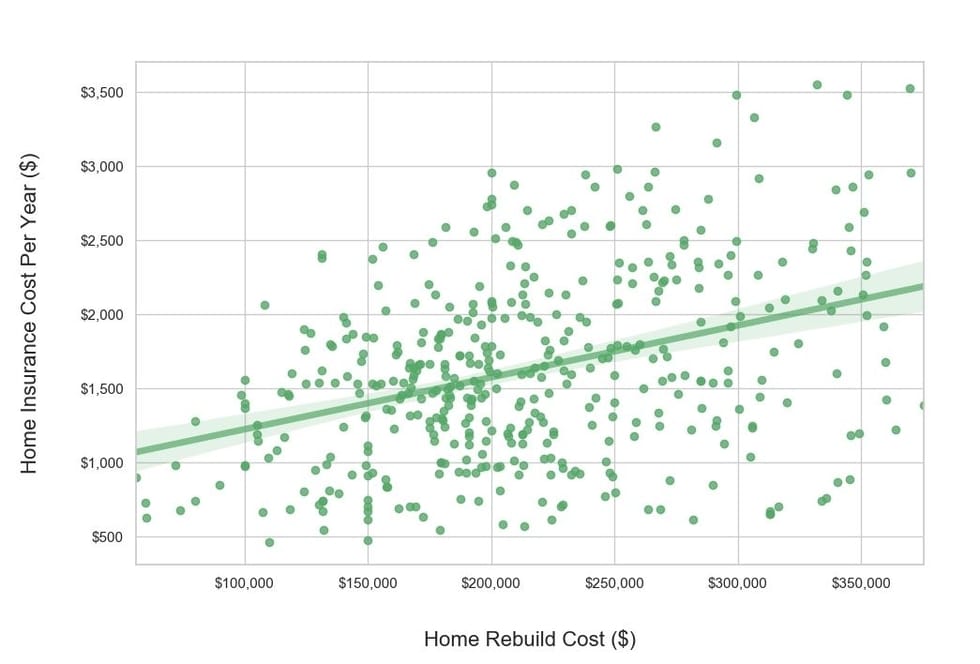 Home insurance rates data generated from the following zip codes: 33602 33603 33604 33605 33601 33606 33607 33613 33614 33615 33618 33619 33621 33622 33623 33624 33629 33630 33631 33608 33609 33610 33611 33612 33616 33617 33620 33625 33626 33633 33634 33635 33647 33650 33662 33663 33664 33674 33675 33677 33679 33637 33646 33655 33660 33661 33672 33673 33680 33681 33682 33684 33685 33689 33694 33686 33687 33688

4. Homeowners Insurance Coverage to Get in Tampa
Your policy should cover the following:
Coverage A: Dwelling Coverage is for the repair or rebuild of your home that is damaged or destroyed by a covered total loss.
Coverage B: Other Structures coverage is to repair or rebuild a separate structure on your property, such as a shed, garage, or fence due to a covered loss.
Coverage C: Personal Property is to replace items inside your home that are destroyed or damaged by a covered loss.

Coverage D: Loss of Use refers to payment for costs for you and your family to stay elsewhere while your home is uninhabitable due to a covered loss.
Coverage E: Personal Liability coverage protects you or any covered family member when being sued due to injury or property damage.
Coverage F: Medical Liability coverage covers medical costs that you are liable for when someone is injured but is not going to sue for the injuries.
When buying a home in Tampa, your mortgage company will require you to have homeowners insurance coverage. Homeowners insurance in Florida typically covers repairs or a total loss rebuild of your home that is damaged or destroyed. You are also usually covered for additional living expenses under your loss of use coverage. Medical payments coverage comes with your liability insurance portion of your policy.

5 Important Tampa Home Insurance Coverages

No matter where you live, knowledge, and understanding about your homeowners insurance policy is key to having no surprises when you need coverage. Some essential insurance coverages you should have when you live in Tampa, FL, are:
1. Water Damage
Water damage can be a covered expense, but it depends on the coverage you have on your policy. Some examples of this include:
Flooding is not part of a standard insurance policy. You can buy a policy from the National Flood Insurance Program or NFIP.
Burst Pipes have coverage except when leaks happen over time from poor maintenance.
Most standard policies will not cover water backup. However, consumers can buy an add-on to get this coverage.
Storm-Related damage is covered if the water comes from above ground level.
Water Seepage/Groundwater is not part of a standard policy, but consumers can purchase as an add-on coverage.
2. Screened Enclosures
A standard policy does not cover screened enclosures, but a consumer can buy an add-on policy.

3. Roof damage
Roof damage is usually covered if a covered peril causes destruction. However, the amount of reimbursement may be related to your roof's age. Some insurance companies will deem the lifetime of a roof is 20 years, and an older roof may be subject to depreciated value. Policy limits and deductibles will also determine how much of your roof damage will be covered.
There are two typical types of roof replacement coverages available:

Actual Cash Value (ACV) - ACV is the amount your roof is worth at the time of the damage.
An example:
Your roof is ten years old. With ACV insurance, depreciation of your roof would be $1,000 a year. The out of pocket expense would be $1,000 x 10 years = $10,000 in depreciation plus any deductible.
Replacement Cost Value (RCV) - Replacement Cost means if you have a loss, the insurance company will pay to replace the entire roof minus the deductible. This insurance comes with a more significant price tag.
4. Hurricane Deductibles
Hurricane deductibles are generally percentage-based, and typical amounts are 2%, 3%, 5%, or 10%.
An example:
$800,000 is your amount of coverage A on your policy with a 10% hurricane deductible = $80,000 is the amount you pay towards each hurricane-related claim ($800,000 * 10%).
Hurricane dollar-based deductibles are generally $500, $1,000, $2,500, $5,000 or $10,000. The most common deductible is $1,000.
An example:
$500,000 of coverage with a $1,000 deductible = buyer owes $1,000.
5. Animal Liability
Animal liability coverage is an integral part of your homeowners policy if you own a pet. The average dog bite claim is $45,000. Given the high cost, some insurance companies are carving out the canine liability coverage. Check your policy documents to see if you carry coverage.
5. Get a Tampa Home Insurance Quote
If you find yourself searching for home insurance in Tampa, let us help you. We are a completely online company that provides not only home insurance but renters and auto insurance too.
Get your free quote now and email with our customer service to find the best policy for you. Our products and services include homeowners and car insurance.

*Young Alfred does NOT sell customer information, so you will NEVER be bombarded with phone calls from insurance agents or insurance agencies.
Get Home Insurance Quotes in Tampa FL
At your service,
Young Alfred