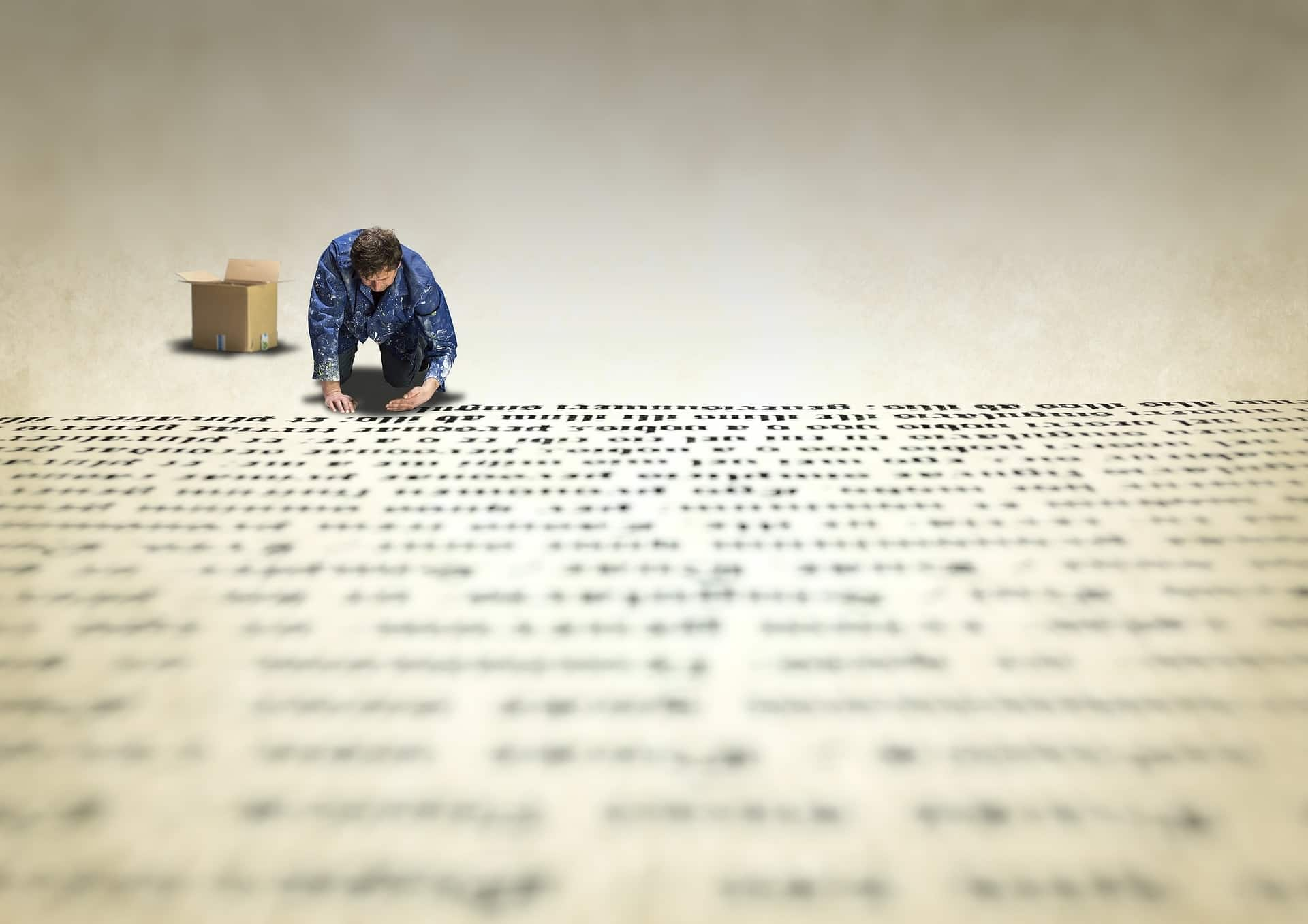 Homeowners Insurance Binder
When discussing homeowners insurance binders, many customers first imagine a notebook full of insurance documents. However, this is not the correct context. A more apt description for a binder is temporary coverage and proof of insurance while going through a transition period.
It is crucial to understand your home insurance binder whether you are buying a home, moving to a new one, or switching carriers. Here are the common questions on this topic and how to secure this needed form.
What is a Binder for Homeowners Insurance?
A homeowners insurance binder is a temporary legal insurance contract that furnishes coverage and evidence of insurance. The insured uses the binder to serve as proof of coverage until your formal policy is officially issued. It is a single document that is usually one or two pages long, and it acts as temporary proof of insurance.
A home insurance binder will include:
Insurance company name and contact information

The insurance binder holder and any named insureds

Binder number

Details regarding coverage including a list of assets or risks covered, deductibles, endorsements, terms and conditions, and premiums

Binder expiration date (usually within 30, 60, or 90 days)
When your insurance company finally underwrites your new home insurance policy, it issues a declarations page that confirms coverage and summarizes policy details. The declaration page replaces the home insurance binder as proof of insurance.
When Do I Need an Insurance Binder?
Immediately. The insurance binder protects you from liability and allows you to file claims before your insurance company issues your final policy. Two situations where this becomes necessary include:
Buying a new insurance policy.

If you are moving from a renters policy to a homeowners policy, you need a binder for your transition time. The binder provides temporary insurance that covers your property (including real estate) and accident damages.

This same situation applies when you are changing insurance companies and need proof of insurance during the transition period to the new provider.

Purchasing a home. Many mortgage lenders will not extend a loan offer until you secure a binder. It can take weeks until underwriters approve a policy, so short term coverage keeps your assets and property safe.
When you receive the binder, note the expiration date. Once the binder expires, you no longer have coverage unless your homeowners insurance enrollment is complete.
Insurance binders are not limited to homes. You also need them if you are financing an automobile or commercial policy. If you move your auto insurance to the carrier you use for homeowners insurance, get binders to protect you during that switch-over too.
How Do I Get an Insurance Binder?
Insurance companies can issue binders electronically. If you are in a hurry, make this request when you apply for insurance, so an agent sends you the binder via email.
If you currently do not carry a homeowners insurance policy, start by getting an online insurance quote. We can help. Our quote engine compares policies, products, and prices of over 40 carriers. We are a nationwide insurance agency, so we can also help you through the purchasing process.
If you have an insurer, contact your insurance agent or broker to start the application process. Your agent will discuss coverage limits and premium payments so you can make an informed decision.
If you already own a home, but you seek to buy a new one, request your binder before you look. Taking this step will hasten the mortgage application process and help you move into your new home sooner.
Help! My Binder Expired!
If your binder expired and you have not heard from your insurance company, follow up immediately. It may be a mere communication gap or an emailed policy ended up in your spam folder.
Your binder is a temporary document and temporary coverage. Your coverage ends if your binder expires before you get your formal policy.
You should stay in touch with your home insurance agent, broker, or customer service to avoid this from happening. If you made it as far as accepting a quote and making a binder payment, rejection is unlikely. But clerical mishaps and other developments can delay your policy.
If you are concerned you might not get approved for your new policy, start shopping for a new provider before your binder expires. It is better to move on to a new company than risk being without insurance coverage. Homeowners insurance is a competitive market. It is easy to find a new carrier if your current one does not make your requests a priority.
What is a Binder Payment?
The binder payment is the first payment made on an insurance policy. It 'holds' your insurance policy until it is final. Once you obtain a formal policy, you will make regular premium payments just as you do with your car, health, and commercial insurance.
If you apply for homeowners insurance online, the carrier requests payment at the end. So, if you need proof of valid insurance as soon as possible, make sure you have funds available to make that first payment. Otherwise, the insurance company will not release the binder to you.
Insurance Binder Form
The U.S. Securities and Exchange Commission provides a sample of an insurance binder coverage form. Also called an ACORD 75 form, this format is the standard of the insurance industry.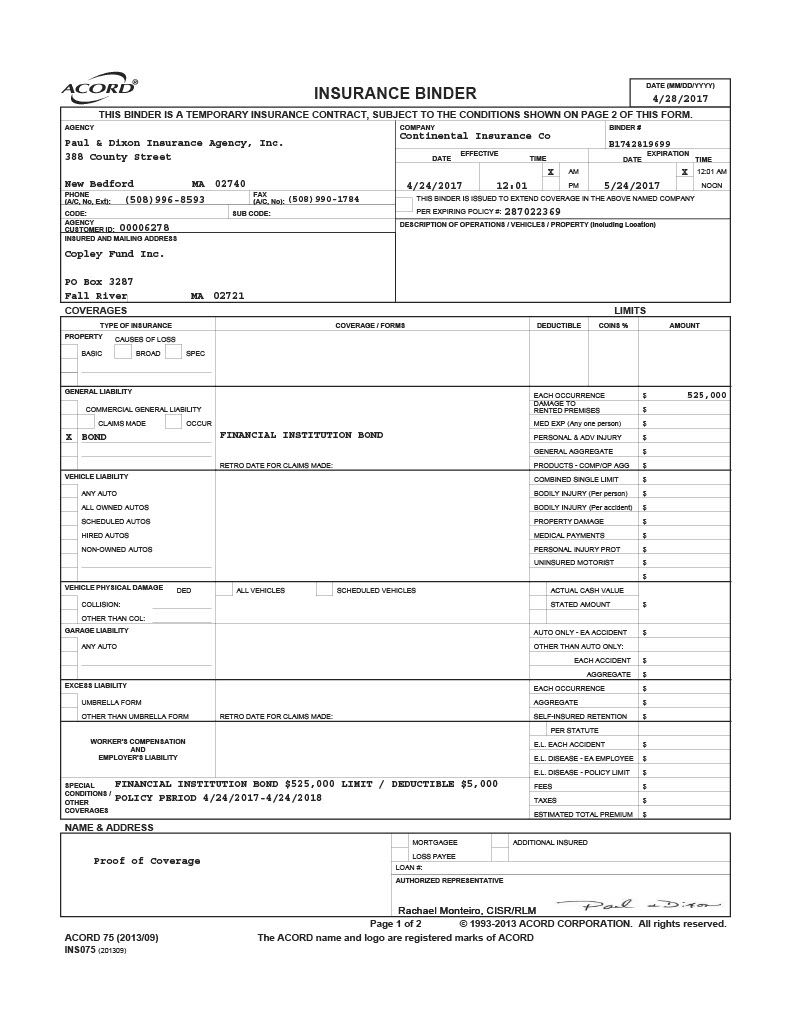 Your agent or broker fills out this form and provides it to you. When you receive it, check for accuracy on the agreed coverages. If something does not seem right, follow up with your agent and ask questions. You do not want inadequate coverage because someone in your insurance company's office made a clerical error.
Make sure your agent has binding authority. That is an authorization from your carrier to issue you a binder. Without binding authority, your binder will be invalid.
Finding the right insurance policy for your cherished home is challenging but working with a knowledgeable agent can make it easier. Our insurance carriers are ready to offer quotes and reassurance as you navigate financing a home or changing insurance companies. Get a quote below to get started.
Hope that helps!
Get Home Insurance Quotes Online
At your service,
Young Alfred