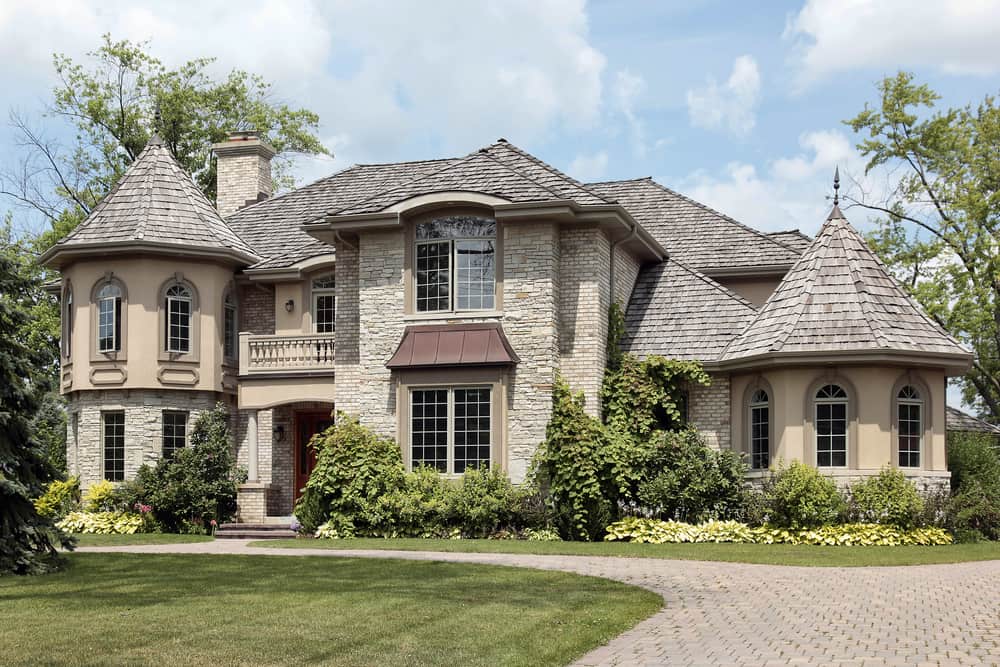 Homeowners Insurance in Texas

Homeowners insurance in Texas protects nearly 29 million people who call the Lone Star State home. Of those, over 700,000 residential property claims are filed annually on average.
This high volume of claims explains the importance of standard homeowners insurance and supplemental Texas windstorm insurance.
This guide includes everything you need to protect your property from natural disasters, devastating accidents, and criminal activity. We will cover the following:
How Much Is Homeowners Insurance in Texas?
The average price of home insurance in Texas ranges from $2,500-$3,500 per year. There are 3,359 miles of Texas shoreline in the direct line of floods in the Gulf Coast flood zone. If you are one of the homeowners close to the coastline, your costs are generally higher.
Although it is a necessary expense, many homeowners are understandably concerned about the cost of home insurance coverage in Texas. Also, high deductibles are an unfortunate reality of living in a place with significant risks of tidal waves and high wind damage.
Texas Homeowners Insurance Rate Increase
Historically, Texas home insurance rates increased after significant natural disasters such as Hurricane Ike in 2008 and Hurricane Harvey in 2017. The February 2021 winter storm that cost Texas an estimated $200-$300 billion has generated further discussion on rising insurance costs.
Texas covers 268,597 square miles. With the high probability of water damage and wind damage from tropical storms, insurance companies can justify the higher premiums.
What Are the Most Common Home Insurance Claims in Texas?
Your claim risk depends mainly on where you live. Northwest Texas has more hail, and the Southeast experiences hurricanes, floods, and high winds.
| | | | | | | | |
| --- | --- | --- | --- | --- | --- | --- | --- |
| | El Paso | Dallas | McKinney | San Antonio | Austin | Houston | League City |
| Hurricane | Low | Low | Low | Low | Low | Moderate | High |
| Earthquake | Moderate | Low | Low | Low | Low | Low | Low |
| Theft | Moderate | High | Moderate | High | High | High | Moderate |
| Mold | Low | Moderate | Moderate | Moderate | Moderate | Moderate | Moderate |
| Tornado | Low | High | High | High | Moderate | High | High |
| Wind | Low | Moderate | Low | Low | Low | Low | High |
| Hail | High | High | High | Low | Low | Low | Low |
| Rain | Low | Moderate | Moderate | Low | Moderate | Moderate | Moderate |
| Snow | Low | Low | Low | Low | Low | Low | Low |
| Freezing | Low | Low | Low | Low | Low | Low | Low |
| Wildfire | Low | Low | Low | Low | Low | Low | Low |
| Flood | Low | Low | Low | Low | Low | Low | Moderate |
What Does Texas Homeowners Insurance Cover?
Standard homeowners insurance in Texas covers 16 common perils such as losses from fire and water damage. Sudden and accidental losses may result from a variety of perils, but the ones covered in standard home insurance (HO3) include:
Fire

and lightning

Wind and Hailstorms

Explosions

Civil unrest

Land vehicles

Water damage

that was sudden and accidental

Damages from sudden and unintentional

power surges

Freezing

Sudden and unexpected damage to

HVACs

and automatic

fire sprinkler systems

Volcano eruptions
You may also obtain comprehensive coverage for earthquakes, flooding, and tornados through additional separate policies or endorsements. Otherwise, those perils get excluded. Keep in mind the more protection you have, the higher the price is for home insurance.
Property Coverages
Your policy covers your house, other buildings on your property, personal belongings, and personal liability. Here is a breakdown:
Dwelling Coverage. The policy limit is the amount you buy. It should be enough to rebuild your home.

Coverage Limits. Whether it be $50,000, $500,0000, or $1 million, you need an insurance policy that adequately covers the cost of repairs. There are limits on the dollar amounts the insurer will cover, so pay close attention to this part of your insurance agreement.

Each policy may have specific exclusions, so you should read these documents carefully. Take note of the special sub-limits as outlined below.


Other Structures

. Coverage for additional structures on your property is limited to 10% of the dwelling coverage.

Personal Property Coverage. This coverage ranges from 20%-70% of the dwelling coverage and splits into categories of household belongings. Some categories have sub-limits different from the total 20 - 70% in your personal property coverage.



For example:


Jewelry, Furs, Photo/Video Equipment, Computers, Postage, Stamps, and Bikes. Your sub-limit is commonly up to $1,500 for each category.

Fine Arts, Golf Equipment, Musical Instruments, Silverware and Firearms. Up to $2,500 of each category is insured.
Texas Homeowners Insurance Endorsements
When considering Texas home insurance, there are several endorsements to keep in mind. The term endorsement refers to additional coverage for specific perils or property not covered in your standard policy. Some popular Texas home insurance add-ons include:
Catastrophic Coverages in Texas
Earthquake Insurance Coverage in Texas. Although it is not the first state you may think of for earthquakes, earthquake coverage is becoming more common in Texas. That is because Texas is near the top 20 for U.S. earthquake activity.

There have been over 100 noticeable Texas earthquakes in this seismically active state within the last century. Some homeowners are interested in additional earthquake coverage since this damage is generally not covered in basic policies.

As with any policy, there is a deductible involved for Texas earthquake coverage. It is generally higher compared to standard insurance policies and flood coverage. The earthquake insurance deductible is typically 10-15% of your policy deductible.

Flood Insurance in Texas. The National Flood Insurance Program (NFIP) launched in 1968 alongside the National Flood Insurance Act. The program aims to minimize future flood damage by enforcing building standards throughout the community.

Flood insurance and floodplain management go hand in hand. FEMA ensures flood insurance is available to residents if the community implements flood management and building regulations that meet the minimum requirements established by federal authorities.

The NFIP dwelling coverage is limited to $250,000 for homes. Private insurers offer higher policy limits, but they come with larger deductibles. The personal property limit is $100,000.

Additional living expenses and cost of rent coverage are available only through private insurance companies.

Texas Windstorm Insurance. The Texas Windstorm Insurance Association offers TWI wind insurance coverage.

TWI policies are available to residents in high-risk counties. Other companies deny these homes for wind and hail coverage. Insurers like Allstate used to offer wind and hail insurance along the Texas coast but phased this coverage out in the mid-2000s. The existing policies moved to TWIA.

The average policy premium for TWI insurance is $1,700 a year. Windstorm insurance solely covers damage related to wind and hail. It does not cover water damage. NFIP policies can be purchased separately.

TWIA does not sell wind policies directly to consumers. You need to contact an authorized insurance agent registered with the TWI program to learn more and sign up.

Texas Wind Inspection Home Insurance Requirements

The windstorm insurance association (TWIA) stays busy dealing with the inevitable wind damage many Texas homeowners experience. That includes hard-hitting hurricanes along the coast and big winter storms.

Texas law does not require windstorm insurance, but some counties might require it due to the risk level determined in a geological survey. For example, homeowners in Harris County and 14 counties with coastlines need windstorm insurance.

TDI windstorm insurance claims may require building code inspections, which confirm the home's ability to withstand severe wind and hail. TWIA coverage confirmation comes after windstorm certification and windstorm inspections are complete.

Windstorm insurance usually covers physical damage to the home and personal belongings within the property. It excludes additional living expenses if you must move out while your home gets repaired.
Property Valuation Methods
Typically, standard home insurance policies use replacement cost valuation for your house and actual cost valuation for your personal belongings.
Home Valuation. The cost to build a new home sets the amount of coverage you need. Note, that number is lower than the total resale value of your home. The resale value includes your land and any extra features that would increase your property value, such as proximity to the ocean. Those things obviously don't factor into rebuilding your home.

Replacement Cost Valuation. Replacement cost valuation (RCV) values your property at today's retail price, with no depreciation deducted. Insurers use RCV for your home and "other structures" not attached to your home, e.g., pool house, backyard custom kitchens, etc. When you file a claim, they pay you the cost to replace the item, structure, or house.

Actual Cost Valuation (ACV)

Actual cost valuation

is the default valuation method in standard home insurance policies for personal property, e.g., furniture, clothes, dishes, electronics, etc. ACV deducts depreciation from each item's current retail price.
Deductibles
When you have filed a claim with your home insurance provider, you need to pay a deductible. It is the amount you must pay toward the cost to rebuild or repair your home or belongings after damage.
For example, let us say your home hail damage claim is $1,500, and there is a $400 deductible on your policy. You must first pay $400 on the claim, and your insurer pays $1,100.
Remember that deductibles vary by coverage. Also, sometimes policies have separate deductibles for specific perils. Wind and hail coverage often has a different deductible than your dwelling deductible.
Texas Homeowners Insurance Requirements
Technically, homeowners insurance is not a legal requirement in Texas. However, lenders require a home insurance policy. Insurers call it "hazard insurance." There are specific requirements before you receive home insurance coverage. You do not need these before buying a policy, but after your purchase, you receive temporary insurance before your final policy is authorized.
While you have this temporary insurance, your insurer may ask you to provide the following inspection reports. Once delivered to your carrier, they bind your policy, meaning your policy is officially active. Or they might require you to upgrade certain features of your home to be building code compliant or compliant with certain wind mitigation features. They may ask for:
Regarding your legal rights, there are rules in place to protect most homeowners who need insurance. Insurers cannot discriminate against homeowners by denying coverage or increasing rates based on age, race, gender, or religion. They cannot charge more solely based on your credit score, but they can deny you coverage if you have poor credit.
They also can deny you specific home insurance discounts if they can prove your home is at higher risk than others. Naturally, that results in higher rates. That is why you should consider upgrades found in your inspection reports. Your inspector should tell you which upgrades will award you discounts.
Home Insurance Agent - Texas
Many Texan regions have higher home insurance premiums than the national average. So, qualified insurance agents can help homeowners navigate their choices.
The more endorsements and add-ons you get, the more you pay. But you will have more protection than a standard policy.
We, Young Alfred, are a Texas Licensed Insurance Agency. We are licensed in all 50 states, which helps if you want to insure a vacation home. Our home insurance comparison tool looks at 40+ different carriers to find you the best coverage at the best price.
Homeowners Insurance Companies in Texas
There is no shortage of home insurance companies to choose from for residential coverage in Texas. Annual premiums vary by company. The best insurance companies for Texas homeowners insurance are below.
Top Home Insurance Companies in Texas
Insurance Company
Financial Stability
Experience
Online Reviews
State Auto
AM Best A-
Experienced
4 stars
Safeco

(Liberty Mutual)

AM Best A
Experienced
4 stars

Progressive

AM Best A+
Experienced
4 stars
Hippo
AM Best A-
New
5 stars

Encompass

(Allstate)

AM Best A+
Experienced
5 stars
Mercury
AM Best A
Experienced
5 stars

Tower Hill

AM Best A-
Experienced
5 stars
Travelers
AM Best A+
Experienced
5 stars
Stillwater
AM Best A-
Experienced
5 stars
Velocity
AM Best A
New
4 stars
Lighthouse
AM Best A-
New
3 stars
Foremost

(Farmers)

AM Best A
Experienced
3 stars
Homeowners Insurance Ratings in Texas
To determine which Texas home insurance companies will give you the best support, you should look at their ratings.
Numerous companies analyze carriers and rate them based on various factors, including their ability to pay a claim if a massive natural disaster strikes. You need to know if they have enough reserve money in these situations.
The highest ratings indicate which property damage policies are worth the money for property owners. Keep the following ratings in mind when evaluating possible insurance policies and companies for your Texas home.
A.M. Best Co. Ratings from A.M. Best recognize the financial stability and credit ratings of insurance companies. The highest A++ rating goes to insurers with a superior ability to fulfill their monetary claim obligations.

Fitch Ratings. According to the Securities and Exchange Commission, Fitch was one of the earliest rating agencies used throughout the insurance industry. Exceptional insurers who are likely to be unaffected by an economic downturn receive the AAA rating.

Moody's Investor Service, Inc. These historic agency ratings founded in 1909 range from AAA to C. Insurers with minimal risks and the highest quality of obligation fulfillment get the AAA rating. AA and A are considered low credit risks.

Standard & Poors. As the largest credit rating company, Standard & Poors assigns ratings from AAA to D. AAA means the company is well-positioned to pay out all policy commitments and debts.

Weiss Ratings. Weiss was the first rating agency to provide standalone financial strength ratings for health and life insurers. The highest A rating indicates excellence in their capital, profitability, liquidity, and asset quality.
Filing a Texas Home Insurance Claim
The first step in filing a Texas home insurance claim is to contact the insurance provider. The sooner you notify them of the damage, the better. The insurer's website should have the necessary claim forms. You can get started online, over the phone, or through a mobile app.
After you fill out the forms, you need to meet with the adjuster to assess the damage within 15 days. The claims adjuster will then have another 15 days to issue a verdict. During this time, you can seek estimates on the repairs.
After the claim verdict, you can negotiate the settlement with your insurer. Once satisfied, you agree to the settlement terms and receive funds within five days. If the insurer does not cover the damages for a covered loss, you can file a complaint with the Texas Department of Insurance.
You can increase your odds of a smooth claim process by providing ample documentation with your claim. Include photos, receipts, inspections, quotes for new items, property assessments, product information, certifications, police reports, and anything else that helps prove your items' value.
Texas Homeowners Insurance Comparison
With close to 6,000 insurance companies nationwide, there are many possible insurers from which to choose. Texas ranks in the top five U.S. states for the most expensive home insurance. So, comparing home insurance coverage and pricing is essential.
By comparing different insurers, you can find coverage that adequately protects your home from year-round risks.
First, use this home risk assessment tool to learn the perils your insurer considers your address at-risk of experiencing. Then, get a comparison quote below. Make sure you add coverage for those at-risk perils. Our software analyzes all the carriers in Texas to find you the best coverage at the best price.
Get a Texas Home Insurance Quote
You can find competitive homeowners insurance quotes for your exact address online today. Discover the best personal property coverage to keep your family's home protected against unexpected events and bad weather.

Hope that helps!
Texas Home Insurance Quotes Online
At your service,
Young Alfred