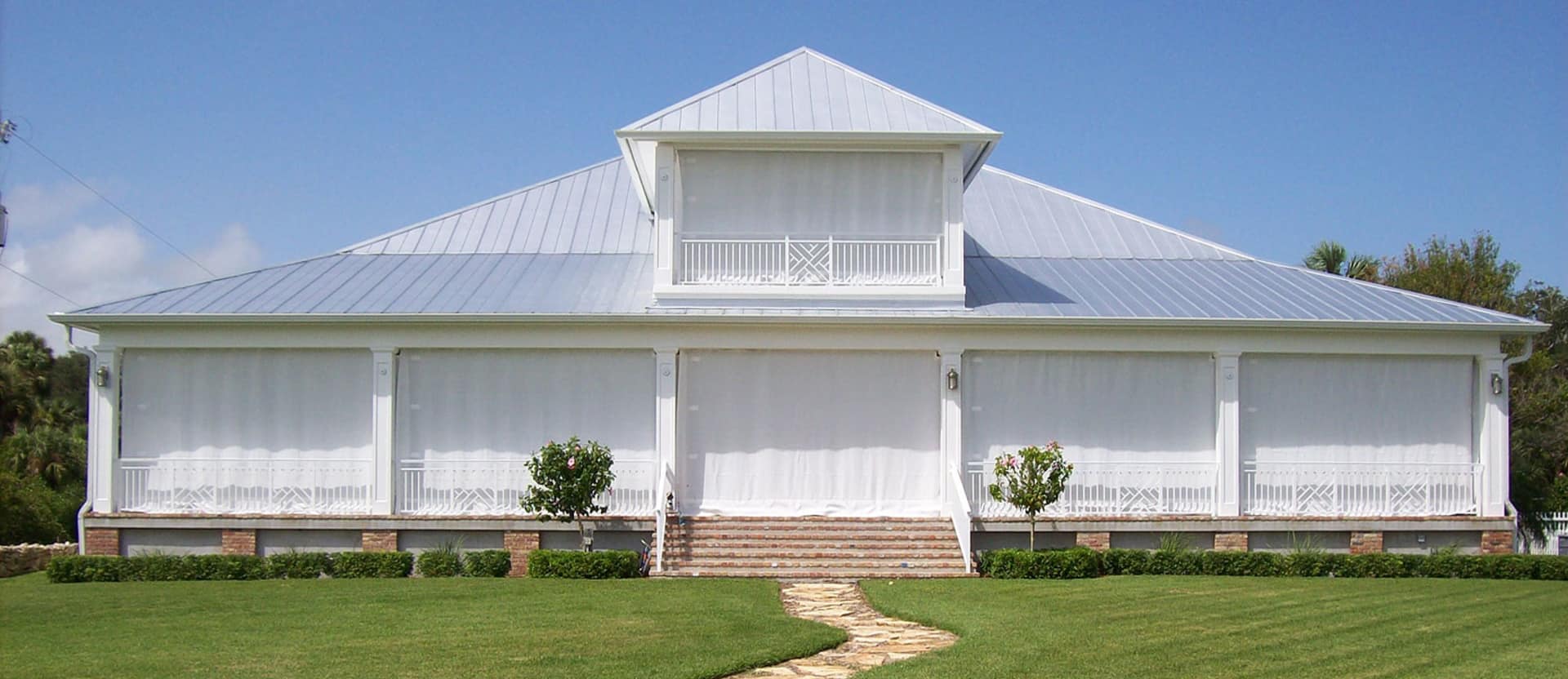 Photo Credit: Armor Screens
Hurricane Screens
According to the US Congressional Budget Office, damage from hurricane-related winds and flooding totals $54 billion. Much of that burden — $34 billion — falls on households.
Hurricane impact screens keep wind-driven debris and rain out of our home. Here is a complete unbias buying guide to help you understand them.
What Are Hurricane Screens?
Hurricane screens are coverings that withstand winds of up to 276 miles per hour. Much stronger than typical window screens, they protect homes and businesses from flying debris. They are especially suitable for large spaces such as lanais, porches, and balconies.
Hurricane Screens vs. Hurricane Shutters
Heavy-duty hurricane shutters are made of wood or other thick materials that block views and do not fit well in areas like carports and porches. The most common styles have a powder-coated finish. If you have a power outage, you will need a battery backup for motorized hurricane shutters. Also, shutters require a considerable amount of hardware, including locking pins and rods.
Hurricane screens are made of metal mesh fabrics, do not obstruct views, and are ideal for enclosing large spaces. They are cheaper than shutters, too.
Pros and Cons of Hurricane Screens
Pros
Can be permanent or removable

Can have them custom cut to fit large spaces and arches

They improve energy efficiency and therefore reduce energy costs
Cons
They may not look as stylish as hurricane shutters

You cannot install them during last-minute storm preparations
Do Hurricane Screens Work?
Yes. Hurricane impact screens stop at least 97% of hurricane winds and rain from impacting your home. They reduce the impact of fast-flying dirt and debris.
Hurricane-proof screens can withstand tropical storms and hurricane-force winds exceeding 100 miles per hour.
Cat 5 hurricane screens can block Category 5 hurricane gusts.
Types of Hurricane Screens (Style)
There are several types of screens:
Roll-Up & Rolling Hurricane Screens attach permanently to the top of an opening. You can roll screens into place through a motorized or manually operated mechanism.
Buckle-and-Strap Hurricane Screens can be open and closed with a zipper system, so you can easily get in and out. Buckle-and-Strap is the strongest hurricane screen system.
The I-Beam Track Hurricane System is permanently attached to your home via a top track. It is an Armor screen that lets you slide screens to the sides when not in use. And you can have the screens customized to fit curved spaces.
Hem Cord Hurricane Screens are easy to deploy before a hurricane because they slide out. They attach to the outside of first-floor windows and the inside or outside of second-floor windows.
The Grommet System uses rubber grommets that minimize anchor vibrations.
Slide Hurricane Screens are easily installed on windows and doors and protect homes from high winds.
Easy Hurricane Screens allow for tool-free installation. Just slide the screen along its top track and secure the straps along the bottom and sides.
Automatic hurricane screens are electric screens that work with home automation systems for seamless operation.
Hurricane security screens use high-strength steel mesh and aluminum to provide maximum protection. They offer high tensile strength, too.
Retractable hurricane screens work with an electric motor or hand crank.
Hurricane Screen Applications
Hurricane screens for windows and doors (also called hurricane wind abatement screens) consist of fabric panels that exceed ASTM International Standards and Florida and Texas building codes.
Hurricane Screens for Lanais are High-Velocity Hurricane Zone — HVHZ approved (#12573).
A hurricane Proof Screened-In Porch allows you to enjoy outdoor living while protecting your porch from storms, insects, and sun.
Hurricane Screen Materials
Stainless steel hurricane screens consist of stainless-steel mesh and serve as high-strength security screens because they keep storm debris and intruders out. They protect against bushfire, too.
Hurricane mesh screens function as insect screens. A mesh screen is ideal for a security screen door.
Reinforced polyvinyl carbonate (PVC) hurricane fabric is resin coated and eliminates the intense pressurization that causes roof lift.
DIY Hurricane Screens
DIY hurricane screens use patented clips that allow you to install the screens without a professional's help. The screens can provide year-round protection from weather elements.
How to Install Hurricane Screens
If you have screens professionally installed, a technician will put up either a mounting system that is permanently attached or a removable one. Professional installation is a must because the coverings must fit precisely, and you cannot secure them with nails.
Custom Hurricane Screens
You can customize screens to match your home's design and fit within the contours of windows, porches, and other openings.
Should I Remove Window Screens Before a Hurricane?
If you have impact-resistant windows that crack rather than spew glass when subject to high winds, you can leave screens intact. Hurricane impact windows are panes of glass treated to withstand strong winds. Use silicone spray to seal cracks around windows.
How to Protect a Screen Enclosure During a Hurricane
To protect a pool enclosure or other screen enclosures during hurricane season, remove the screen and screen doors to enhance airflow.
Cost of Hurricane Screens
The cost depends on their material and the mechanisms that operate them. Grommet screens are the most affordable Armor Screen. Motorized screens cost more than those that manually crank.
Does the Cost of Hurricane Windows Include Screens?
No. The cost of a hurricane window includes the panes of glass and the window frames. Frame materials come in wood, vinyl, aluminum, and steel. Wood frames provide good insulation but are high maintenance, while steel can be expensive. Vinyl is a cost-effective option.
You can also choose single-hung hurricane windows. A single-hung impact window made of impact-resistant glass can be more practical than placing shutters over existing windows.
How to Clean Hurricane Screens
Use mild soap and water on screens to wash away dirt and debris. For stubborn stains, apply OxyClean with a scrub brush. Wash and lubricate the tracks, too. Allow screens to dry thoroughly before storing.
Does Home Insurance Cover Hurricane Screens?
Yes. If your policy covers wind, your insurance should cover them. If flooding or mildew damages your screens, they most likely will not be covered. Most policies exclude mold coverage. Check with your insurance company to verify what is covered.
Are you protected for the next hurricane season? Get your hurricane risk assessment, and if you live in a hurricane-prone area, adequately protect your home with screens and wind and flood insurance.
Hope that helps!
Home Insurance Quotes With Hurricane Coverage
At your service,
Young Alfred