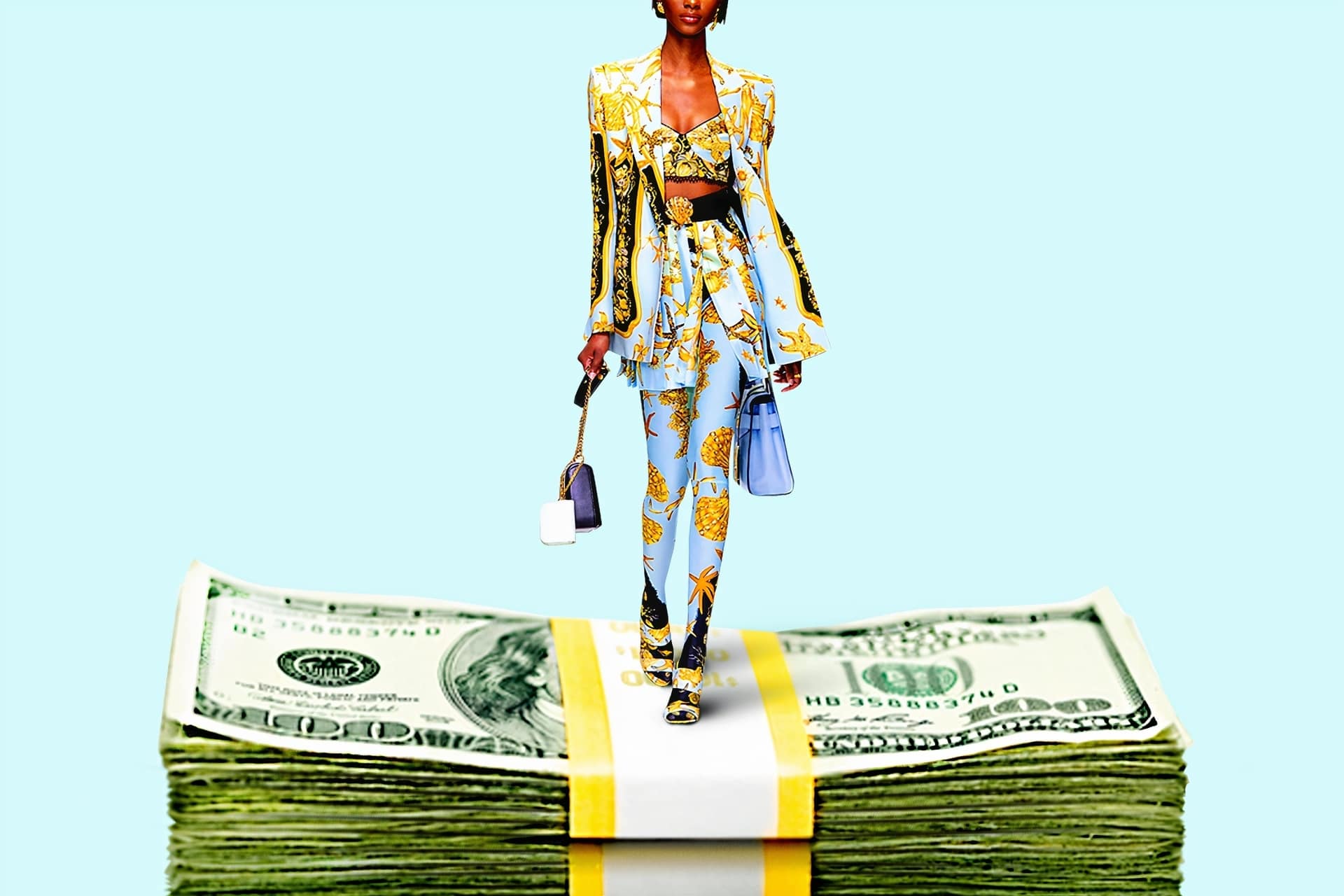 Should You Insure Your Fabulous Wardrobe?
You have a great fashion sense and a fashionable wardrobe to go with it. You probably did not buy it all with a single credit card swipe, so you might be surprised at what it is all worth. The average American family buys $1,700 worth of clothes annually, and you are not average. Owning a closet full of designer clothes does not come cheap, and neither is replacing it.
Next time you reach into the closet for your on-trend straight jeans and that open-back silk top that goes with them, do a quick calculation of the thousands of dollars hanging on the hangers. Then check your homeowners insurance or renters insurance policy to see if you could repurchase it all in case of a covered loss.
Insuring Designer Clothes
If your closet overflows with the names of runway designer celebrities, you should probably consider some added insurance protection for your clothing. The cost to replace them is high if these valuable wardrobe items are stolen or destroyed.
If you find yourself traveling with your wardrobe, extra clothing insurance might give you peace of mind if something happens to your articles. Baggage and clothing can disappear across airports and hotels.
Take note that most standard homeowners policies do not cover water damage to personal items after flooding. Homeowners who live in a flood zone can purchase additional flooding insurance protection. That coverage can include possessions like clothing and furniture.
It is essential to know the kinds of losses covered under a homeowners policy. Fire is an example of a covered loss. You should review covered losses and your personal property limit with your insurance professional to ward off any surprises. We listed covered perils below.
How to Insure Designer Clothes?
You have several options to insure your designer clothes through your standard home insurance or renters insurance policy:
Home Insurance - Personal Property Coverage

Home Insurance - Scheduled Personal Property Endorsement

Home Insurance - Personal Articles Floater

Standard Renters Insurance
Home Insurance Personal Property Coverage
Home insurance or renters insurance covers what you own up to a point. On a home insurance policy, personal property coverage protects your wardrobe and accessories. Most personal property coverage limits are 30 - 70% of your total dwelling amount.
So, if your home's coverage is $500,000, you have $150,000 - $350,000 for all your personal belongings. That covers your wardrobe as well as your furniture, electronics, fine art, etc.
Doing a home inventory should help you identify if you have enough personal property coverage for your clothes and everything else. If not, you can increase your coverage C (personal property) coverage limit, and we recommend doing so.
Covered Perils
A standard home insurance policy covers 16 named perils, including:
Electrical Currents
Fire and Lightning
Riots
Weight of Ice, Snow, or Sleet
Vehicles (not owned or operated by you)
Volcanic Eruption
Explosions
Accidental and Sudden Water Overflow from Appliances, Plumbing, or Sprinklers
Freezing of Plumbing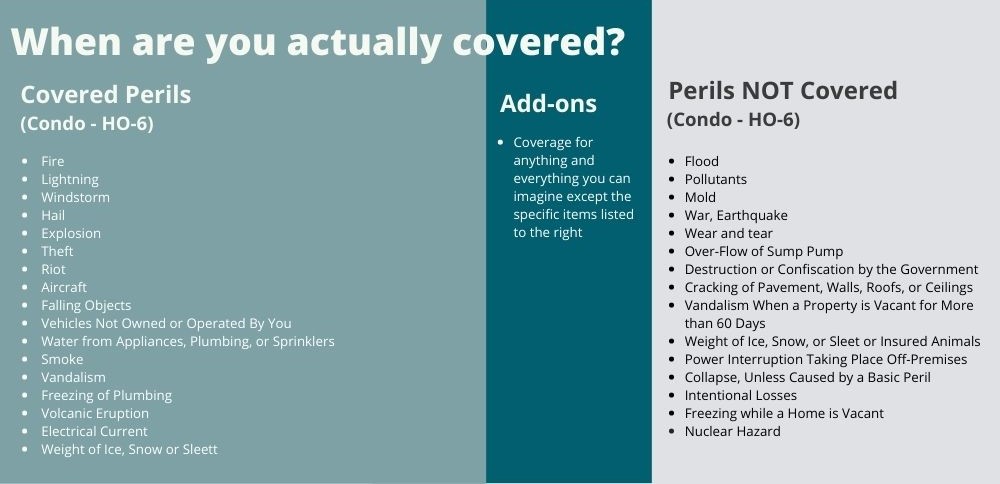 It does not cover floods, earthquakes, and other things seen in the above image. You can buy separate policies or endorsements for most non-covered perils, though.
Clothing Valuation for Insurance Claims
Another thing to understand is how personal property, your glamorous wardrobe, and even ready-to-wear garments get valued when filing a claim. The default claims valuation method for personal belongings is actual value cost (ACV). That means if your Michael Jordan shoes get stolen, your insurer will use the current retail price minus depreciation. If you have owned them for a couple of years, you might get half of what you need to buy new ones.
You can upgrade your personal property coverage to replacement cost value (RCV). That gives you the current retail price to replace your shoes.
Personal Property Deductible
Remember, too, that you will have a deductible to pay whether you have ACV or RCV.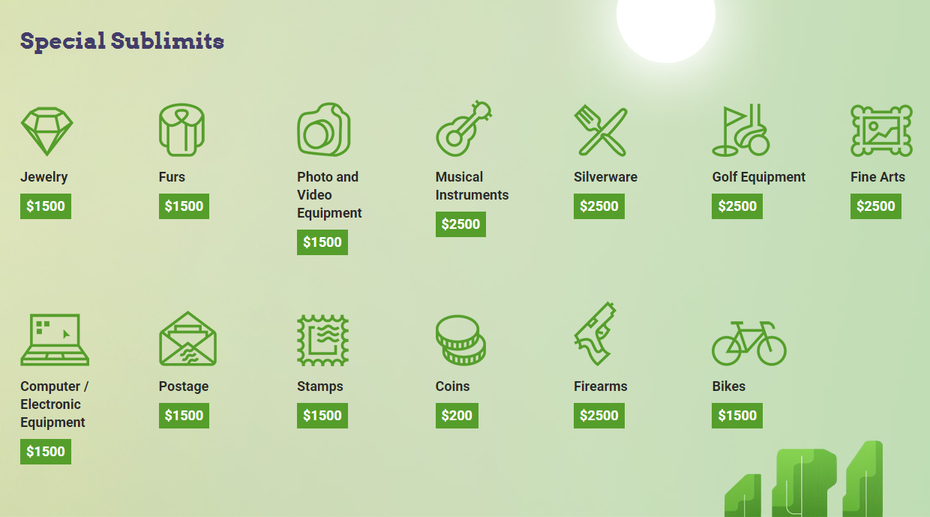 Personal Property Sub-Limits
Some items have sub-limits, but typically clothes do not - except furs and jewelry. Sub-limits are the maximum amounts you can claim for specific categories of personal items. Fine art, furs, jewelry, computers, bikes, etc., are some categories with sub-limits. Check your policy to ensure clothes have no sub-limits.
Clothing Insurance for Renters
If you are a renter, personal property is the only property your policy covers, so if it is enough to cover everything you own, you are okay. If not, we recommend increasing your coverage amount. Sub-limits do apply to you as well, so check the total value of your furs and jewelry.
Worldwide Designer Clothes Coverage
Your home and renters insurance covers your clothes, shoes, jewelry, and accessories when you are home, away from home in the US, or traveling abroad. This coverage also applies to storage units. Note, though, that it limits your coverage amount to 10% of your personal property coverage limit.
That means, using our example above, you would have $15,000 - $35,000 max of coverage under worldwide coverage. (10% x $150,000 or $350,000 = $15,000 - $35,000).
Sometimes worldwide coverage is limited to theft only. So, you would not be covered for fire, smoke, etc. Check your policy to see what your coverage includes or excludes.
Is Personal Property Enough for Your Wardrobe?
The coverage limit details are on your policy's declaration page. If you own haute couture or designer clothing, the costs to replace your shoes and handbags may easily top your home contents insurance limits. However, sometimes you might want more coverage. Read on.
Scheduled Personal Property Endorsement
You can add your designer clothes to a scheduled personal property endorsement, which is an add-on to your home insurance policy. It is ideal if you have one or a few pieces that total $5,000 or less.
A personal property endorsement is an extra insurance add-on that increases your coverage for the items you add to the endorsement. It also includes worldwide coverage, usually without the 10% sub-limit.
It comes with RCV claims valuation and has no deductible. That makes it superior to using your basic home insurance personal property coverage, as you will get enough money to replace your items at retail pricing.
You must itemize each item in your endorsement, and you might need a professional appraisal. Even if not, it is a good idea if you do. At a minimum, you should include pictures, videos, receipts, and product information for proof. That will help ensure a more straightforward claims process.
Personal Articles Floater
A personal articles floater is also an add-on to a home insurance policy. This type of insurance coverage is for policyholders with more than $5,000 worth of belongings to protect. If you have high-value items in your wardrobe, this may be a perfect option.
It too comes with RCV claims valuation and no deductible, so you will get total retail value to replace everything. It also includes worldwide coverage, usually without the 10% sub-limit.
For a personal articles floater, you must also itemize each item and get a professional appraisal showing the value of each item. Include pictures, videos, receipts, and product information along with the appraisal for proof. That will help ensure an easier claims process.
Endorsements for Shoes
If you have a soft spot for shoes crafted by a particular designer who favors red soles, you know how much a pair of fashionable heels can be.
But dressy shoes are not the only footwear that is expensive. Trendy tennis shoes can catch $500 a pair at major department stores. Brand-name comfort footwear can be easy on the feet but harder on the wallet. A set of designer initials on the toebox can instantly double the price of a pair of ballet flats.
If you have a shoe wardrobe that includes those kinds of high-value items, you may want to talk to your insurance agent about couture insurance and an endorsement or floater covering the value of your footwear.
Luckily, there are no sub-limits for shoes in your home insurance's personal property coverage. However, if your collection is high-value, we recommend a separate scheduled personal property endorsement or personal articles floaters for shoes. The choice depends on the total value of your shoe collection (see above).
Home Insurance for Designer Handbags
Designer handbags dripping in logos can cost anywhere from hundreds of dollars to thousands of dollars. High net worth individuals often sport Hermes handbags that sell for four or five figures.
Take an inventory of the high-dollar couture collection handbags in your closet and ask your insurance professional if you have the coverage to repair or replace them. As with high-value clothes and shoes, you will most likely want a separate scheduled personal property endorsement or personal articles floaters for your designer handbags.
Jewelry and Other Items
Jewelry has a sub-limit of $2,500 under your standard home insurance personal property coverage. So, a wedding and engagement ring set alone may reach the maximum coverage of a standard homeowners policy. For you, it is a tiny fraction of your personal property jewelry sub-limit.
You can rely on a professional appraisal to tell you what your jewelry collection is worth.
A personal property endorsement or a personal articles floater is likely the best way to insure your precious jewelry or other valuables.
Insurance While Your Wardrobe is in Storage
You may be storing your stuff during a move, or you are using seasonal storage services like MakeSpace or Clutter that picks up and drops off boxes on demand. Or perhaps you are using a high-end service like Garde Robe or a specialty storage service for furs.
Regardless, what happens if your wardrobe and designer gems are stolen or damaged? You can buy insurance through the storage company, or better yet, use your home insurance worldwide coverage.
As mentioned, it only pays you 10% of your personal property coverage, but you have likely upgraded to an endorsement or floater that has no limit. This option is ideal for off-site storage. Make sure your policy covers more than theft.
Need Help?
Take an honest assessment of your clothing wardrobe garments, shoes, and accessories to calculate its worth minus wear and tear. If it would cost you $2,500 or less to replace everything, your personal property insurance is probably sufficient.
If your clothing value is somewhere between $2,500 and $5,000, you may want to consult your insurance professional about adding a personal property endorsement to your coverage. If your clothing collection is worth more than $5,000, it may be time to consider a personal articles floater.
Get a home insurance quote below and work with one of our professional insurance agents. They can help you analyze your options and insurance companies to narrow down the best solution.
Hope that helps!
Free Online Designer Clothes Insurance Quotes
At your service,
Young Alfred