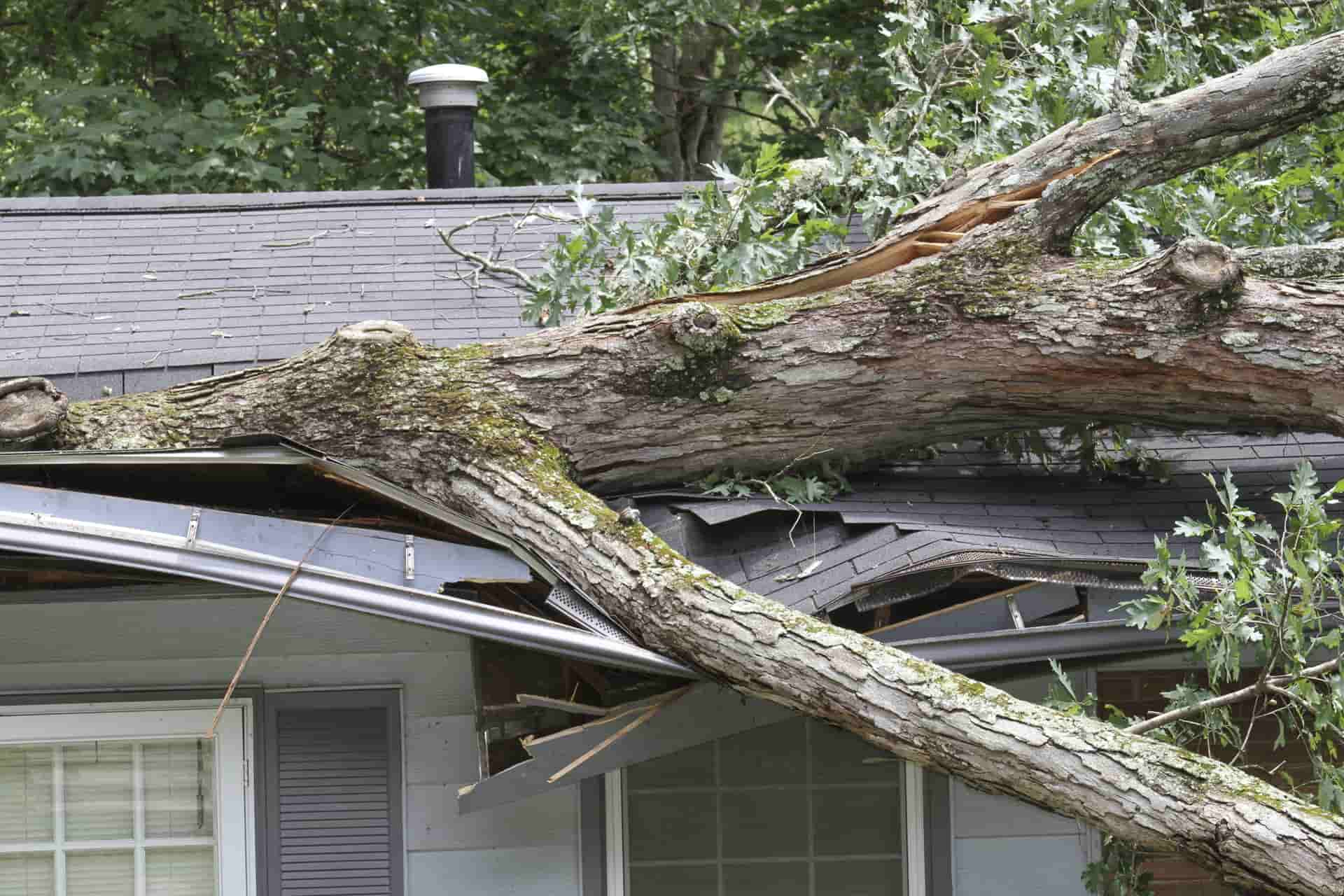 Is Wind Damage Covered in Homeowners Insurance?
According to the Insurance Information Institute's 2020 report, convective wind storms like tornadoes and Derechos (thunderstorms) cause the most damage, amounting to $17 billion in insured losses in a typical year. That is roughly equal to monies spent on hurricane damage. But anyone who has been through a bad windstorm knows you do not have to experience a hurricane to have overwhelming damage to siding, roofs, and other structures that generate cost-prohibitive repair bills for the average homeowner.
So, is wind damage covered by homeowners insurance? Yes. Most home insurance types cover damage from wind and hail storms; however, some policies have exceptions, separate deductibles, and coverage limits for how much they will pay. Furthermore, if you live in a high-wind or tornado region, your policy may exclude windstorm damage and require an additional rider if you want wind coverage or tornado insurance.
A homeowner's insurance policy that includes wind coverage typically covers:
Your Interior. Home contents can be damaged by wind breaching the dwelling. If the home's interior is damaged by wind-driven rain, it is typically covered, while home flooding may not be. However, which caused the damage is not always clear-cut.
The total amount that insurance pays out when wind damage occurs will be limited to the amount and policy type you chose when establishing or updating your policy.
How Am I Reimbursed for Windstorm Damage?
After you file your insurance claim, insurance typically covers damages in one of two ways:
Will I Owe a Deductible for Wind Damage?
If your policy covers wind damage, you will typically have a deductible, which may be the same as your dwelling coverage deductible or an additional wind deductible. If your policy has a separate wind and hail deductible, it probably is a percentage of your dwelling coverage, typically 1% - 5%.
So, if you have $500,000 of dwelling coverage, your wind/hail deductible will be $5,000 - $25,000.
Whether you have a separate deductible is dependent on risk factors like your location and whether you live in a wind and tornado hotspot such as Ohio and Tornado Alley (Oklahoma, Texas, Nebraska, and Kansas).
Is Wind Damage to a Fence Covered by Insurance?
Yes. Homeowners insurance typically covers fence wind damage, but there are a couple of factors to consider. Since it is a non-attached structure, it is regarded as an "other structure." That means its maximum coverage is 10% of your dwelling coverage.
If you have $300,000 of dwelling coverage, you will have $30,000 minus your deductible to pay for your fence.
A fence might be destroyed by a healthy tree falling over or dropping a large limb in a storm. Or high winds can directly knock down a well-constructed fence if the force is great enough. Check your home insurance policy, so you know what coverage you have.
Is Wind Damage to Landscaping Covered by Insurance?
No. Some policies will cover your landscaping and items in your yard when they are destroyed by fire, a vehicle, vandalism, and something similar. But, because landscaping is naturally very susceptible to the elements, it is not usually covered for wind damage.
The exception here might be if a tree falls onto an insured structure, it is usually covered, although a tree falling in the yard and damaging nothing may only cover the tree itself.
If a fallen tree is covered, keep in mind that landscaping coverage limits are 5% of your dwelling coverage amount. Also, individual items, like a shrub or a tree, are only covered up to $500 max per item. If you need to remove trees, your max coverage for debris removal typically is $1,000. That usually includes the $500 maximum per item, so if three trees fell, your insurance will pay for $1000 max of the cost to remove them.
Is Wind Damage to a Shed Covered by Insurance?
Whether a tree fell on it or it blew over, your wind policy may cover repairing or replacing a shed, unattached garage, or pool. These free-standing structures will fall under the policy's non-attached other structures coverages, which allows you 10% of your dwelling coverage.
This safeguard is put in place to prevent people from claiming multiple independent buildings under their homeowners policy. Typically, if you have several dwellings on the property, as might be the case with short-term rentals or a fancy guest house, you need a separate policy for each one.
Does Insurance Cover Hurricane and Tornado Damage?
Wind damage from a hurricane or tropical storm is usually covered as well as wind-driven rain damage. However, the line is often drawn at flooding, so you typically need separate flood insurance for flooding water damage. The same principle applies to tornadoes if you are in a high-risk tornado area.
How Do I File a Claim for Wind Damage?
As soon it is safe, you should begin filing a claim. You will want to take specific steps to ensure you get properly reimbursed.
Go outside to take pictures of the damage from different angles and create a list of damaged items. If you have receipts, all the better.

Secure the premises to reduce further damage. For example, if part of the roof has blown off, tarp it temporarily to prevent more damage when it rains. If a window blew in, board it up, and do not forget to keep your receipts. If you do not take these actions to prevent further damage, your insurer may deny your claim.

Review your homeowners policy to see what is covered, and if you are unsure, you can speak with your insurance agent or a claim specialist at the insurance company.

File a claim with your insurer using their portal or other claim filing systems.

When applicable, explore whether the event qualifies for emergency assistance from FEMA.

Prepare for an insurance adjuster visit, and when they arrive, provide them with copies of receipts, lists, photos, and any related information that may need to get an accurate estimate.

Get estimates for repairs and give those to the adjuster.

Get a payout up to the limits of your policy.

Does Your Homeowners Insurance Cover You Adequately for Wind Damage?
Does your current homeowners policy cover wind damage, and will the limits and deductible you currently have suffice? Find out below if you can get better coverage with a personalized home insurance quote.
Hope that helps!
Get an Online Home Insurance Quote
At your service,
Young Alfred