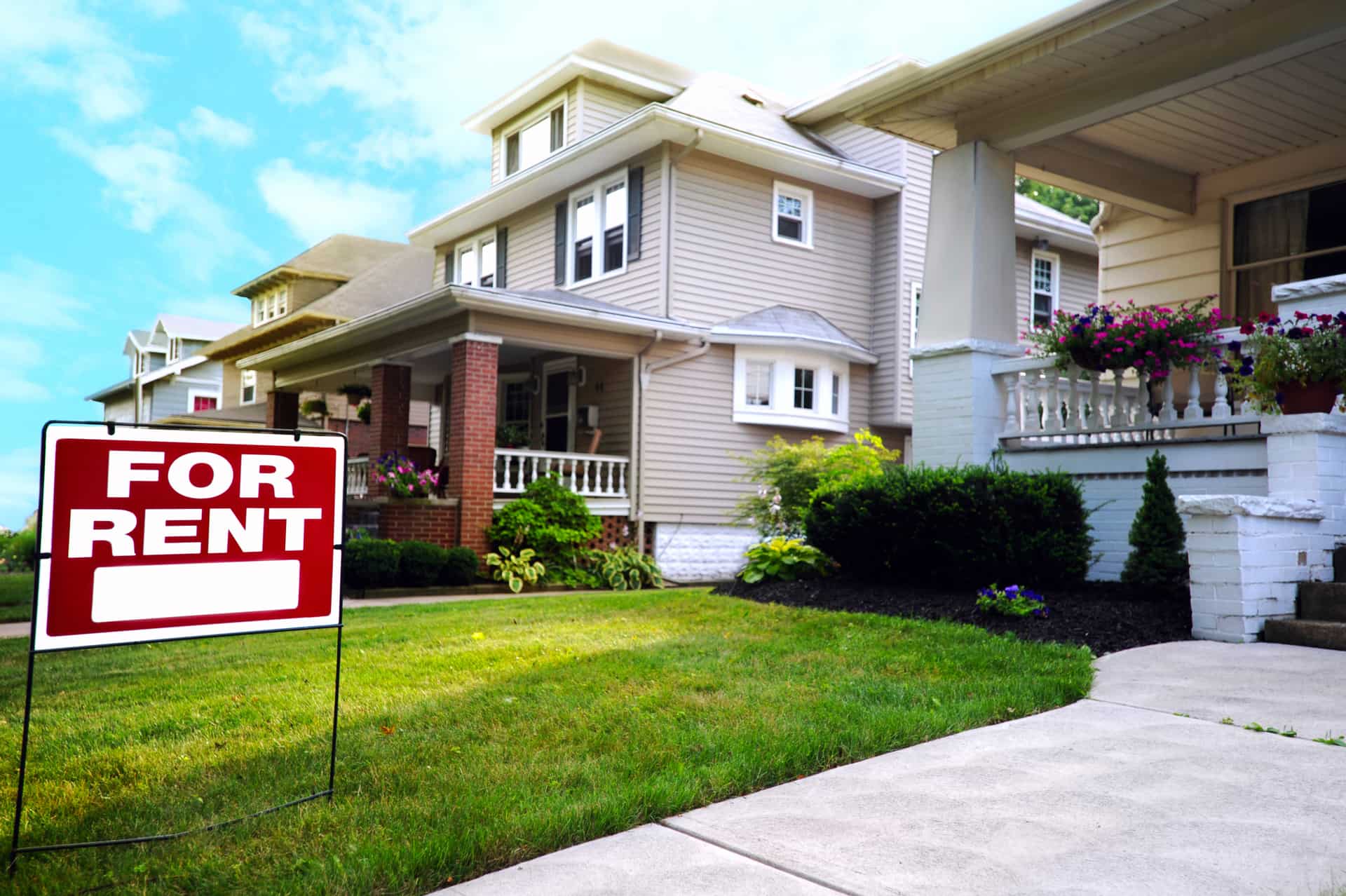 Landlord Insurance - New York

New York has more rental properties than any other state in the USA; 47% of residents in New York live in a rental home.

Most of the rental units are in New York City, and New York City landlords are more likely to invest in multi-unit apartment buildings.

In Upstate New York, you will find smaller multi-family homes and single-family homes.

With such a high volume of rental homes in New York, it means more landlords. Each of you needs landlord insurance as home insurance does not cover rental properties.

Landlord Insurance Cost in New York
Landlord Insurance in New York is no more expensive than anywhere else in the US. However, it is typically 25% more than what you would pay for standard home insurance.

In 2021, the average home insurance in NY is $987/year for $250,000 of dwelling coverage. That means landlord insurance is $1,234/yr for NY rental property owners.

However, the insurance cost depends on where the property is in the state of New York. The rates in NYC are much higher. Properties situated in high crime areas cost more to insure than areas of low crime.
How much you pay for your insurance also comes down to the policy you choose, coverage amounts, and the endorsements you add to the policy.

New York Landlord Insurance Discounts
There are ways that you can get a discount on the cost of your landlord insurance. Unfortunately, not all insurers offer these discounts, so it pays to shop around.
Claims Free. Discount for having made no claims in five years or more.

Multi-Policy. Combine policies to obtain a discount. For example, having a homeowners policy and landlord policy with the same insurer.

Buy Early. Shop around for a policy before your current policy expires to find discounts.

Safety Discount. Some insurers offer a discount for safety equipment like sprinkler systems and burglar alarms.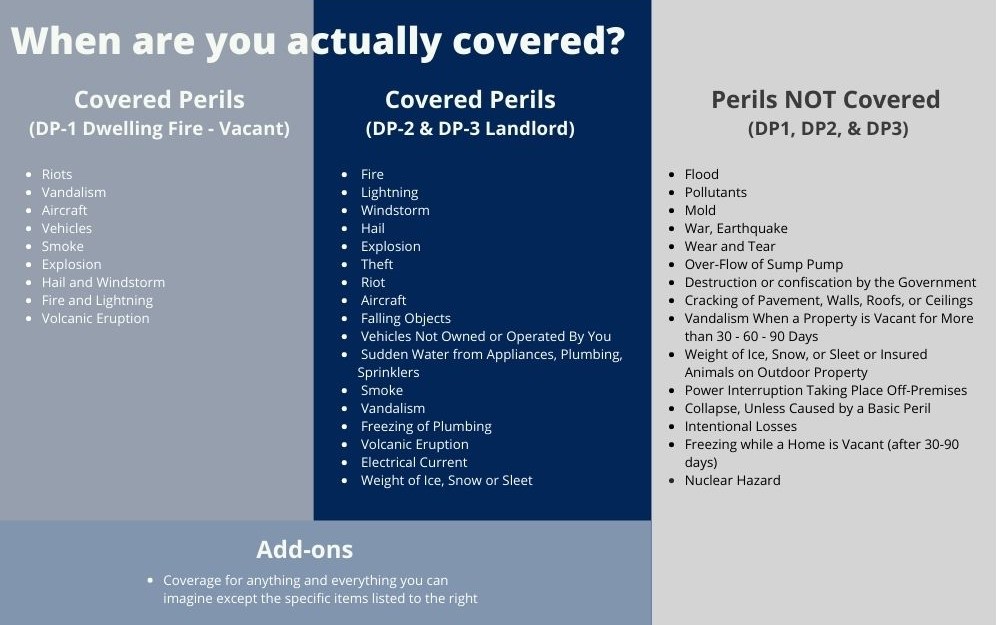 New York Landlord Insurance Coverage
There are three types of coverages available to landlords in New York.
DP1 - Dwelling Fire Insurance. This coverage is the most basic of the three options. It provides coverage for the structure of the rental property. It also covers any other structures on the property.

DP1 provides named perils coverage and covers nine specific perils. See the image above and check your policy document for the list of perils.

It does not provide liability coverage, loss of use, or personal property coverage. However, it will cover vacant properties making it a good choice if the home is empty.

Claims are valued at actual cash value (ACV) with depreciation subtracted from the claim payment. A rental dwelling deductible is also payable at the point of the claim.


DP2 - Named Peril Policy.

DP2 is also a named perils policy, but it covers 16 named perils. It also covers the rental dwelling and other structures. In addition, it includes loss of use, liability, medical payments, and personal property.

It is an RCV policy, which means you receive the claim's total value at replacement cost with no depreciation. Your deductible applies to all property claims.

DP3 - Standard Landlord Insurance.

DP3 is the

most comprehensive and popular of the three options. DP3 is an open-peril policy. It covers all perils unless explicitly excluded in the policy.

DP3 is an RCV policy, except for personal property, which is ACV. It covers the dwelling, other structures, landlord liability, medical payments, landlord's personal property, and loss of use.
All three choices include a deductible for claims, which you choose. The typical amount is $1,000, but it is up to you. You must also select coverage limits for each coverage category. The rental dwelling coverage amount must be at least 80% of the replacement cost to rebuild it.
For the remainder of this NY landlord insurance article, we will describe DP3 landlord insurance coverage for New York landlords. Now, let's dig a little deeper into DP3 landlord insurance and what it covers.
New York Landlord Insurance (DP3)
Standard homeowners insurance does not provide the right coverage for rental properties. So, when renting out your property, be sure that you get the right landlord insurance in place.
DP3 insurance is the most comprehensive insurance that a landlord can buy. As a result, it is the most common coverage landlords select and offers the best coverage.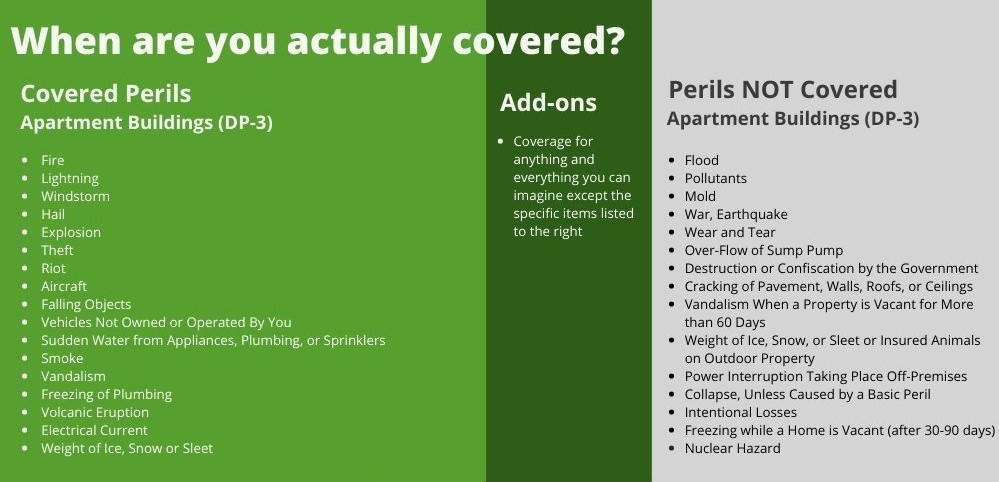 What Perils Does New York DP3 Landlord Insurance Cover?
Your rental house and other structures cover all perils under an open perils policy, except those listed as exclusions in your policy. The above image shows a list of usual excluded risks in landlord insurance.

However, your policy covers the landlord's personal property under a named perils policy. The image above shows the 16 perils policies usually cover.

New York Rental House Coverage
DP3 landlord insurance covers the structure of the dwelling from damage. Therefore, it pays to repair or rebuild your home when damaged by a covered peril. As mentioned, the rental house comes with open perils coverage, so NY landlord insurance pays for damages from all hazards except any listed as excluded in the policy.
The claim's department will value your rental house using RCV, so you will not get hit with a depreciation deduction. Your policy deductible will apply, however.
When you buy your NY landlord insurance policy, you will buy a coverage amount equal to at least 80% of the cost to rebuild your rental house, including materials and labor. We recommend buying 100% of the RCE costs. Your coverage amount is the maximum amount the insurer will pay if you ever need to rebuild.
Landlord Other Structures Coverage in New York
Other structures apply to buildings that occupy the same land as the rental property but are separate - not attached to the rental house. The definition of separate means a clear space between the property and the other structure. The coverage limit is 10% of the dwelling coverage limit. An 'other structure' could be a shed, fence, garage, or outhouse, for example.

Your other structures also have open perils coverage, RCV claim valuations, and the policy deductible applies to each incident.

Landlord Personal Property Insurance in New York
Landlord personal property refers to anything the landlord leaves on the premises for their tenant to use. It covers items like furniture, lawnmowers, dishwashers, and garden equipment. Make a list of the property on the premises and include it in your rental agreement, along with the value of each item.

Personal property insurance covers 16 named perils. Check your policy for the list of included risks. Insurers pay claims using actual cash value, which covers the cost of the item minus depreciation.

You decide on the amount of coverage and choose the deductible when you take out the policy. We recommend you select coverage equal to the value of your personal belongings.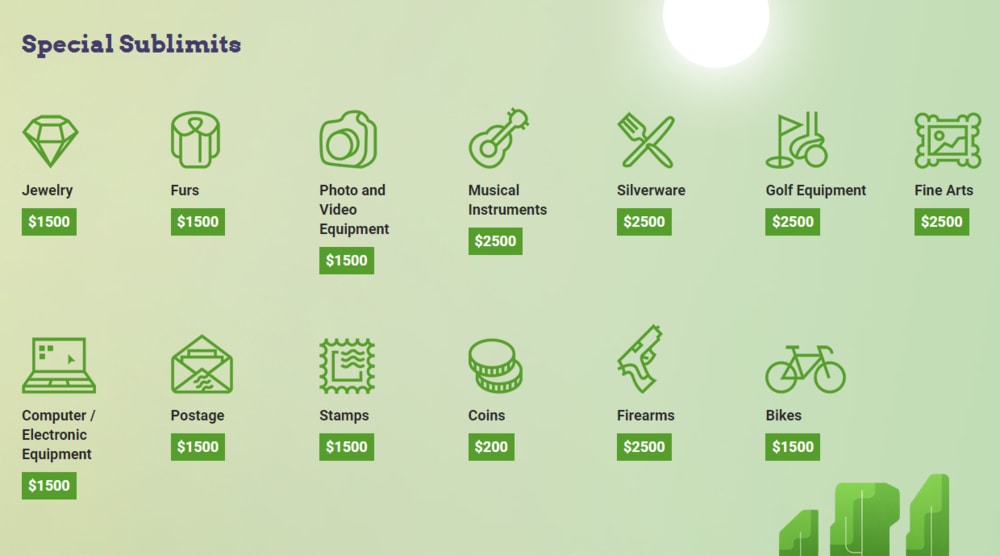 Personal Property Sub-Limits
Specific categories of items fall under an insurance sub-limit. A sub-limit is the maximum amount an insurer will cover for all those items. E.g., bikes, computers, and sports equipment.

Landlord Liability Insurance New York
Landlord liability offers financial protection if someone files a lawsuit against you. The claim must relate to personal injury or property damage that you or your property are responsible for causing.

Landlord liability insurance will provide coverage up to your policy limit, which you choose. The payout is RCV, and there are no deductibles.

Landlord liability usually offers coverage of between $100,000 and $300,000. However, if you feel it is an inadequate amount, you can buy an umbrella policy that can extend your coverage up to $1M and beyond.

New York Landlord Medical Expenses Coverage
This coverage protects you if someone suffers an injury on your property and does not sue you. It will help pay for the injured parties' medical expenses. You choose the coverage limit, which usually starts at $1,000 and goes up to $5,000. A deductible does not apply.

New York Landlord Loss of Use Coverage
Loss of use covers lost rent if your tenant must leave the premises while you repair it after a covered peril damages it. This type of coverage is also called Fair Rental Value, and you can usually claim it for up to 12 months.

New York Landlord Insurance Endorsements
DP3 landlord insurance offers comprehensive coverage for your rental property. But there may still be some gaps, and endorsements allow you to plug those gaps. Use them to extend or increase your coverage in certain areas.

New York Landlord Flood Insurance
Landlord insurance will cover water damage if it is sudden and unexpected. Unfortunately, insurers exclude flooding from natural causes from landlord insurance policies. You should buy a separate endorsement from the National Flood Insurance Program (NFIP) or go through an independent insurance company.

Air Conditioning and Heating Loss Reimbursement
If the air conditioning or heating breaks down in your rental property, your tenant might request a rent reduction. This endorsement helps you to recover financial losses from reduced rental payments.

Service Line Endorsements
Rental property owners are responsible for the service lines that run underneath the property. Service, or utility lines, carry water, power, and natural gas, etc. Adding a service line endorsement to your policy will reimburse you for any repairs.

Non-Occupied Dwelling
DP2 and DP3 policies do not cover your property if it is vacant for more than 30 to 90 days. Therefore, a non-occupied dwelling endorsement extends the time that you can leave your vacation home, Airbnb, resort property, or rental property empty.

Short-Term Rental Permission / Occasional Rental Permission
There are times when a homeowner is absent from their property. If the property is a second home, for example, they may rent it out. But, unfortunately, homeowners insurance does not provide the right kind of coverage for that, so this endorsement allows the homeowner to keep home insurance without converting to landlord insurance for a short period.

This endorsement is valid for owner-occupied homes or homeowners who leave and rent their house out on occasion. You add it to your home insurance policy, not rental home policies. It is also called a short-term rental permission endorsement.

Equipment Mechanical Breakdown Insurance
Landlord insurance does not cover mechanical breakdowns. Items like dishwashers and refrigerators can be expensive to repair and replace if they stop working. A breakdown endorsement will cover you for mechanical repairs or replacement. It does not include breakdowns from wear and tear.

Scheduled Personal Property
This scheduled personal property endorsement provides additional coverage for personal items when you want better coverage.

For example, golf clubs have a sub-limit of $2,500, and therefore ideally, you would have them covered by a scheduled personal property endorsement.

This endorsement will insure the golf clubs up to their total value using RCV for claims and it has no deductible.

Loss of Rental Income Endorsement
This endorsement covers the landlord for lost income when a tenant stops paying or defaults on their rent.

Tenant Move Back Costs
This endorsement will cover your tenant's expenses when they move back into the property following repairs or renovations.

Ordinance or Law / Building Code Upgrades
Buildings are often subject to building code upgrades that you may not know about until you start repairs. This endorsement covers the costs of upgrading the property to comply with building codes.

It only applies when you make repairs from a covered peril. That means it will not cover building code upgrades you do during regular renovations.

Condo Landlord Insurance New York
Owning condo unit rentals in New York means that you benefit from the condo association's master insurance policy. But their policy will only cover the structure of the building and common areas. So, if you rent out your condo to tenants, you should buy landlord insurance to cover your condo unit.

Coverage is the same as the standard landlord insurance coverage discussed above, except for the dwelling coverage. You only need to buy enough coverage for the parts of the condo you own, like carpet and wood floors, light fixtures, non-load-bearing interior walls, and sometimes kitchen cabinets.

Check with your condo association about what they own and what you own so you know what coverage amount to buy. For example, they typically own shared and exterior walls, ceilings, floors, plumbing inside the walls, interior load-bearing walls, and sometimes kitchen cabinets and exposed and enclosed plumbing.

Best Landlord Insurance Companies in New York
So now that you know all there is to know about landlord insurance, it is time to find an insurance company. But who are the best insurance companies in New York?
Look for insurance companies with excellent financial strength and a high financial stability rating. Those ratings show that an insurer has enough capital to cover any claims.
Below is a comprehensive table of landlord insurers in New York.
Landlord Insurance in New York Covering All Dog Breeds
Dog bites are one of the things that your tenant's renters insurance policy must include if they have dogs. But not all insurance companies cover all breeds of dogs. Here are some of the dangerous dogs that insurers will not cover.
Alaskan Malamute
Akita
Bull Mastiff
Cane Corso
Chow Chow
Doberman
German Shepherd
Great Dane
Presa Canario
Pit Bull
Rottweiler
Wolf Hybrid
If a landlord wants to offer a pet-friendly home, they should clarify that tenants do not allow any of the breeds listed above or have renters insurance that will cover these breeds and all dog breeds.

Can a Landlord Require Renters Insurance in New York?
Yes, a landlord can include a clause in the rental agreement asking their tenant to get renters insurance. The tenant decides if they want to get insurance or not as there is no legal obligation. But if they refuse, you may want to look for a different tenant.

Ask the renter to add you as an additional insured. Their insurance agent should be able to sort that out for them. It means that you can file liability claims on their insurance, which is helpful if you own multiple properties. The more insurance claims you make, the higher your insurance premiums go, but not if you make claims on your tenant's insurance instead of yours.

Before the tenant moves in, also ask for proof of insurance and have them add you as an interested party. It will not give you access to their policy but will notify you if the insurance lapses or the tenant cancels it.

Do I Need Landlord Insurance in New York?
No law states you must have landlord insurance in New York. But your mortgage company can insist that you have insurance before they agree to the loan. After all, if you have paid a lot for your property, they want to protect their investment.

New York Landlord Insurance Quote
Young Alfred is a licensed New York landlord insurance agency. We will use our list of 40+ home insurance carriers to find the best policy for your needs.

Hope that helps!
Free Online Landlord Insurance Quotes
At your service,
Young Alfred