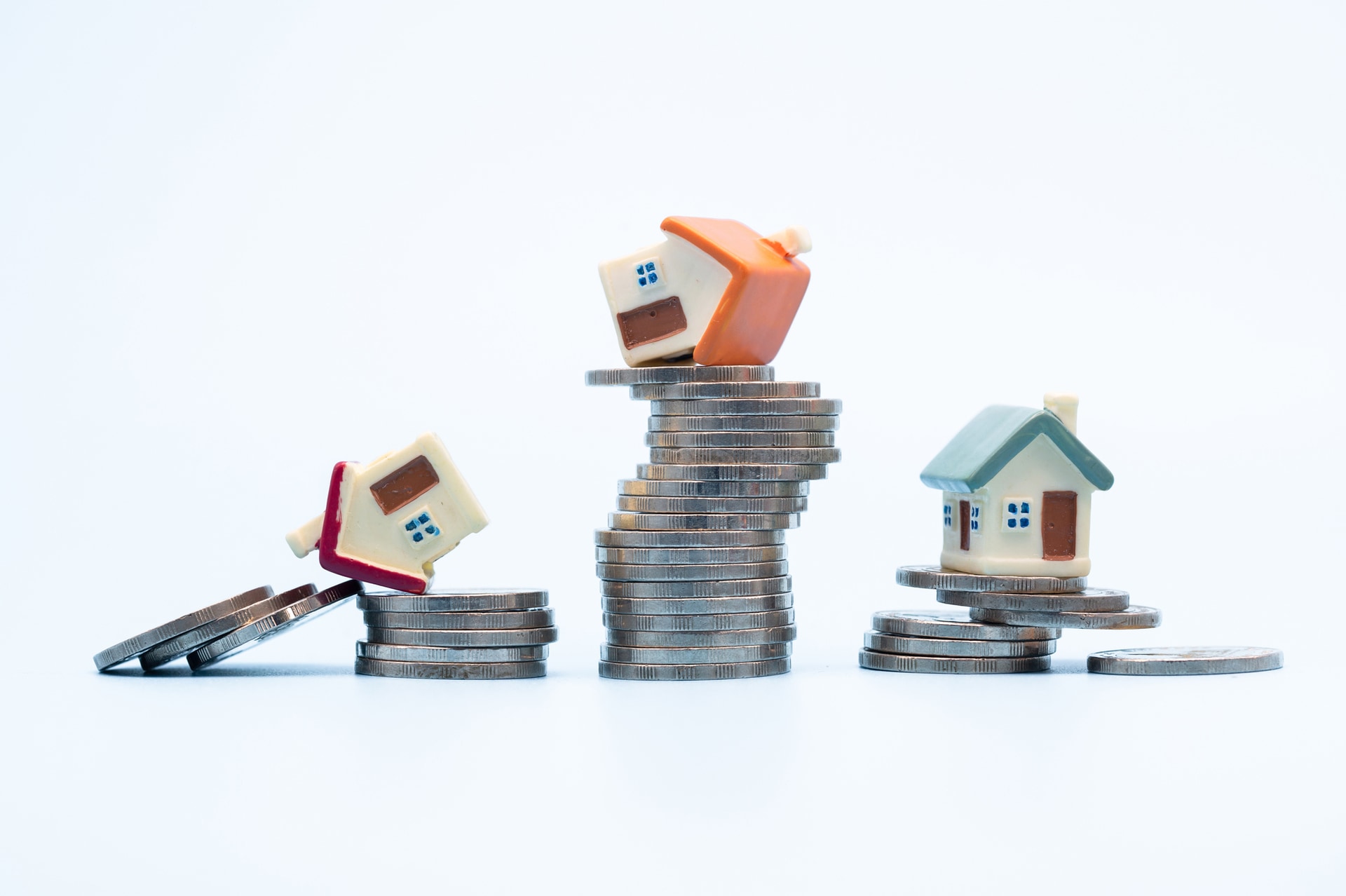 Loss of Rent Insurance
If you are a rental property owner, you need loss of rent insurance. This insurance will protect you from financial loss when your property is not usable. Loss of rent insurance is also often called "loss of use" on a landlord insurance policy.
Below is some rent-loss insurance information to help you understand how it works.
What Is Loss of Rent?
Loss of rent insurance covers rental payment losses when damage makes your rental unit uninhabitable. Damages must occur because of a covered peril to qualify for loss of rent coverage. See examples of covered perils and non-covered perils in the image below.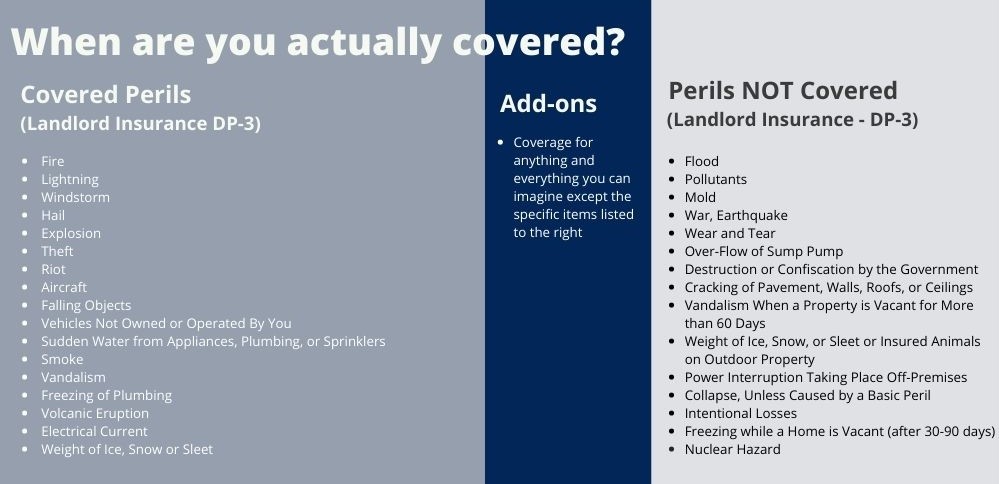 Loss of rent insurance will pay your rental income while you repair the damage. This rent loss insurance gives you the time and money you need to focus on making repairs. It covers you when your tenants move out during repairs.
Do not confuse loss of rent insurance with a lost rental income endorsement, also called loss of rental income, rent default insurance, and rent guarantee insurance. A lost rental income endorsement covers your financial losses when tenants default on their rental payments—more on that below.
Does Landlord Insurance Cover Loss of Rent?
Most insurers include loss of rent insurance (loss of use) with standard landlord insurance policies. If damage occurs because of a covered peril, your landlord insurance policy will pay to fix the damages. Plus, the policy will replace the rental income you lose while making repairs.
However, some insurers do not cover the loss of rent. Therefore, it is essential to read your landlord insurance policy carefully and ask questions before you buy.
Loss of Rents Endorsement
When buying landlord insurance, if your policy does not cover loss of rent, you may be able to add a loss of rents endorsement. With this endorsement, your policy will cover the loss of rental income during repairs. However, adding the loss of rents endorsement will typically raise your premiums.
Loss of Rents Coverage
Loss of rents coverage will pay the rental income you lose when your rental unit is not occupied during repairs. It applies when a covered event, such as a fire damages the property. If you cannot have a tenant living on-premise while making repairs, the policy pays benefits.
However, read your landlord insurance policy carefully as loss of rent insurance coverage varies by insurer. As we mentioned, loss of rent might be called loss of use in your policy. Or the coverage may be completely different.
E.g., State Farm calls it "tenant move back expenses." They only pay for your tenant's moving expenses when you temporarily move your tenants out during repairs.
Allstate's landlord insurance policy ordinarily does not cover loss of rent costs if the damage to your rental home was caused by vandalism. They do, however, offer an optional vandalism rider. The vandalism rider is ideal for a rental property in high-crime areas.
6 Months' Rent Loss Insurance Coverage
The exact coverage provided by rent loss insurance varies. Some insurers limit coverage to a specific dollar amount. Others limit coverage to a particular number of months. You can cover your property for six months by:
Choosing a policy that covers at least six months of payments
Choosing a policy with a dollar limit equal to at least six months of unpaid rent
How Does Loss of Rent Insurance Work?
Loss of rent insurance works by paying benefits every month. For every month your rental property is not occupied, you will get a payment from the insurer. Payments will stop once you have reached the policy's limit or completed the repairs.
Keep in mind that these policies exclude loss of rent due to owner negligence. Negligence includes damage caused by poor maintenance, property's old age, and even vermin, rot, and other pests. Refer to the perils image above.
Is Loss of Rent Insurance Taxable?
Yes. The payouts you receive from loss of rent insurance are typically taxable. That is because these payments replace rent, which you would have reported as passive income.
However, reporting these payments will not increase your income taxes. If you had not lost the use of this unit, you would have been claiming this income anyway. Thus, your taxable income should stay the same.

Rental Loss Limitation
The losses you experience because of damage to your rental property can lower your taxes. The IRS considers this a passive activity loss; you can report passive rental losses on Form 8582. These losses can usually reduce passive income only.
You may qualify for an exception to this rule if your modified adjusted gross income is less than $100,000. In this case, you can deduct up to $25,000 against your ordinary income.
Rent Default Insurance vs. Rent Guarantee Insurance vs. Loss of Rent
Rent default and rent guarantee insurance are the same. Both policies pay benefits when a tenant stops paying rent. In addition, it may cover legal expenses. Keep in mind these policies apply specifically to cases where the tenant defaults. It does not apply when property damage is the cause of nonpayment.
As we have already discussed, loss of rent covers the rental income you lose when your property is damaged. However, it will not cover rent losses related to tenants who do not pay or default when the unit is habitable.
Many landlords will invest in both types of policies to protect themselves thoroughly.
Rent Reduction for Loss of Amenities Use
When tenants lack amenities promised in the lease, you may reduce rent. For example, pretend laundry rooms flood and become unusable. You may decrease your tenants' rent until laundry service is available again. In these cases, the rent loss insurance may cover the reduction in rent.

Typically, you can file a claim only if the lease includes the procedures used to reduce rent.

Rent Protection Insurance Cost
The cost of insurance to cover rent payments varies based on your situation. For example, higher coverage limits come with higher premiums. Higher levels of risk also raise your premium. You can save on rent protection insurance by shopping around.

Loss of Rent Insurance Claim
To avoid financial hardship because of lost rental income, file a claim quickly. You will need to fill out a claim form and submit it to your insurance company before you can collect benefits.

You must show that your loss meets your policy's requirements as well. For example, you may need to explain the cause of the damage. You must also show the rental unit is uninhabitable.

Your insurance agent can guide you through this process.
Hope that helps!
Free Online Home Insurance Quotes
At your service,
Young Alfred