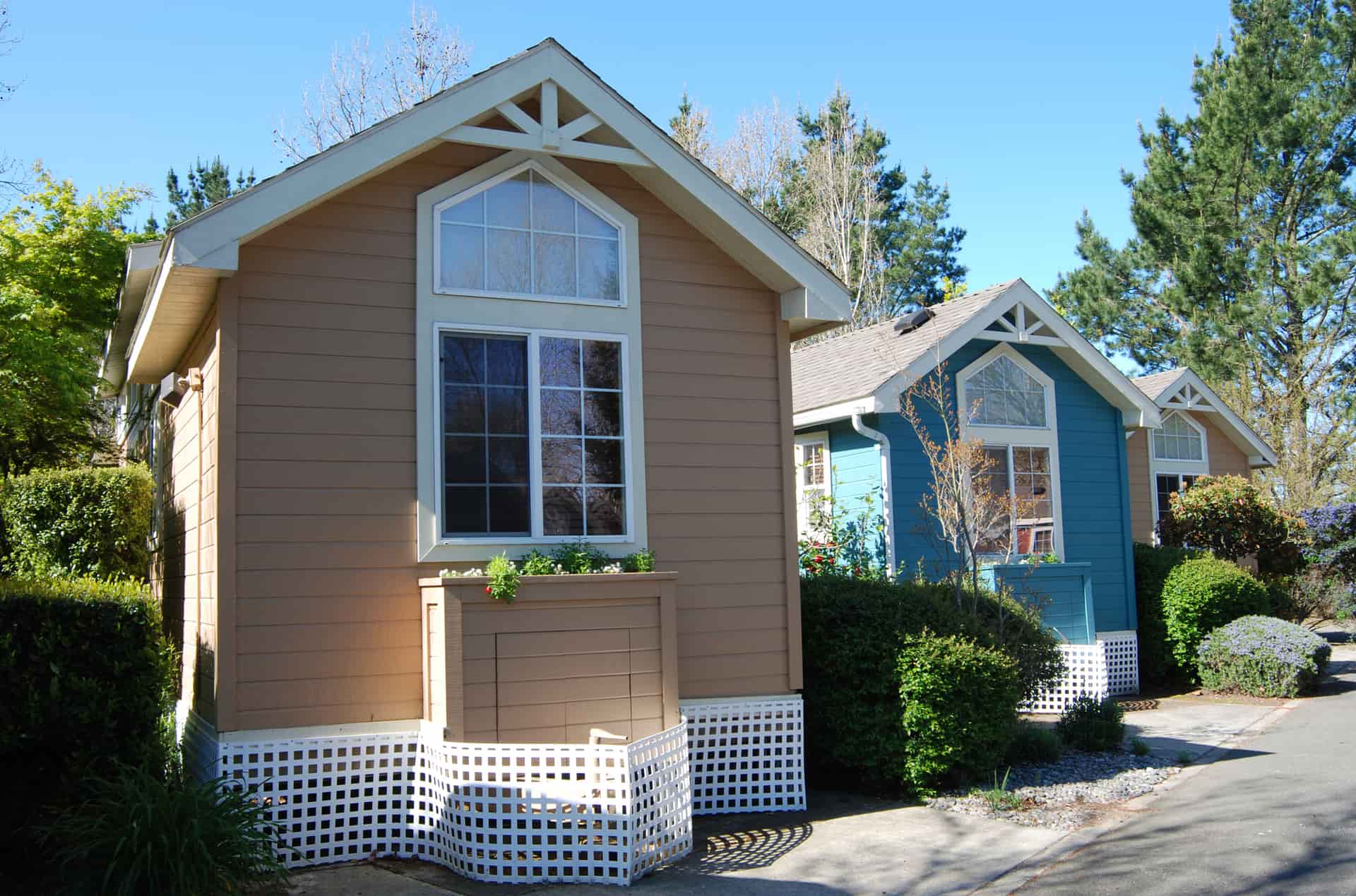 Mobile Home Insurance Quote

For many, a mobile home is an affordable alternative to a traditional house. In 2020, the median price of a mobile home was $88,200 compared to $325,500 for a standard home.

While these homes are less expensive, it is still essential to protect your investment. A mobile home insurance policy is there to help when the unexpected occurs.

But manufactured home insurance is expensive, right? Wrong. A mobile home policy is not only affordable, but it is also worth the money.

Let's look at how insurance carriers come up with their rates and walk you through the process of getting a mobile home insurance quote.

Mobile Home Insurance Calculator
The easiest way to get your mobile home insurance quote is online. Using an online mobile home insurance calculator enables you to gather several quotes and make a side-by-side comparison.

Before you get started on your quote, there are a few things you will need. First, if you already own the mobile home, make sure you have a copy of your current insurance policy and coverages. If this is a new mobile home, make sure you have any paperwork related to the sale.

You must know the value of the home, excluding the land. For a single-wide, you will need to insure it for at least $30,000. For double-wide, the minimum coverage required jumps to at least $50,000.

Welcome to Young Alfred, the Best Mobile Home Insurance Agency in All 50 States!
Young Alfred's mission is to ensure we meet every customer's insurance needs. We are a licensed, nationwide insurance agency offering many products, including mobile home insurance. We provide you with options by comparing rates and coverages from 40+ carriers to help you make an informed decision.
Our customer service ranks among the highest, offering:
​​​Customer Service 24/7. Our agents are available online and by telephone.

No Obsessive Phone Calls. We will never call you about your online quote unless you request it.

Personal Data Kept Private. Unlike most online companies, we will never sell your personal information.

Available Across the Country. We're licensed in all 50 states.

Reputable Insurance Companies. We work with 40+ of the best insurance carriers.

Broad Range of Personal Lines Products. We offer many different personal lines insurance policies, from mobile home insurance to flooding and earthquake policies.
As a Young Alfred customer, you will get the best in insurance products and customer service.

What Do I Need to Get a Mobile Home Insurance Quote?
To get a manufactured or mobile home insurance quote, you will need information on both the home and the property it sits on. Let's look at the information you'll need to gather.
For Your Quote
The first thing you'll do is enter your name and the property address. Then, using the address you provide to us, our system will complete a risk assessment.
The risk assessment determines your risk level for certain disasters to your home. Risks include everything from hurricanes to hail and earthquakes and assists you in determining your insurance needs.

At that time, you must enter your name and email address. Not to worry; we promise not to fill your inbox! We only send your quote, then a note from one agent you can work with - and no phone calls.

You will also need to provide some basic personal information on each person in the household who you want to be covered by your mobile home policy.

Now it is time to get into the details of your home. If you don't have all your mobile home's information, you can save your progress at any time and go back to it later.
Here is an overview of the information needed to complete a quote:
Type of Home. Is it a mobile home, manufactured home, or modular home? Is it a tiny home, single-wide, or double-wide?

Home Details. What is the year and make? What is the roof material? Is it skirted? What are the length and width?

Quality of Interior. Is it economy, builder's grade, semi-custom, or custom?

Features of the Home. Does it have add-ons? For example, solar panels or a fireplace? What is the primary heat source? Do you have a garage? What type of foundation does it have? Is it tied down?

Property Details. Is there a fire hydrant within 1,000 feet? Distance to the nearest fire station (our tool might calculate that for you)? Is it in a gated community, private property, or mobile home park?


Pets

.

If you have any pets, how many and what kind?

Existing Damage. Is there any unrepaired damage, such as leaks or cracks?

Use. How Is the Property Used? Is this your primary house? Is it used for business or farming?

Purchase Details. What is the date of purchase? What's your previous address? Are you currently insured?

Insurance Information. Who is your insurance carrier? What coverages do you have for personal property and liability? Do you have any add-on endorsements? How many mobile home insurance claims have you had in the last five years? What deductible would you like? Deductible options range from $500 to $5000.

Mortgage Information. How many mortgages do you have?
There are a few optional questions throughout the quote. While you're not required to answer them, they help ensure we provide the most accurate quote.

Once you've entered this information, our system will recommend add-on endorsements. They are 100% optional.

Recommended endorsements include everything from earthquake insurance to a scheduled personal property endorsement. Or you can ask for a personal articles floater.

Your quotes will be in your inbox within a few minutes with side-by-side comparisons. This analysis helps give you the peace of mind of knowing you're getting the best possible coverage for your home.

To Buy Your Policy
Once you've decided on a policy, you can move on to buying the policy.

Every company's underwriting rules are different. Therefore, before binding the policy, your agent will collect this underwriting information.

All mobile homes must be permanently attached to the foundation. It must also meet the construction standards established by HUD.

We will also need the VIN of your mobile home.

Assuming you meet the underwriting needs, payment is necessary to bind coverage. Escrow payments, credit cards, and bank account EFT are accepted.

Average Cost of Mobile Home Insurance
The average cost of mobile home insurance for single-wide ranges from $250 to $700. Insuring a double-wide costs $300 to $800 per year. The annual premium for a triple-wide is $550 to $1,300.

Insurance premiums vary by state. Additional factors that impact your insurance premium include these and more:
Age of Mobile Home
Purchase Price
Size
Location
Proximity to Flood Zones or Earthquake Fault Lines
Deductible
Coverages and Endorsements
What Is Included in Your Mobile Home Insurance Quote?
Mobile home insurance offers many of the same protections a homeowners insurance policy does. Let's look at what's included.
What Perils Will My Mobile Home Insurance Quote Cover?
You'll have two coverage options should a total loss occur:
Replacement Cost

.

The policy pays RCV for repairs or replacing your mobile home at today's building costs/values or the price to buy a new one. This coverage does not deduct depreciation.


Actual Cash Value

.

The policy limits claim payments to the depreciated value of the mobile home or damaged personal property. Many homeowners find themselves underinsured with this type of coverage. This coverage is also known as ACV.
Your mobile home policy has open perils coverage. It covers all perils not listed as an excluded peril. Excluded perils typically include:
Vandalism on a Vacant Property
War
Pollutants
Nuclear Hazard
Cracking
Wear and Tear
Insects, Vermin, and Birds
Power Interruption
Damage by Government
Snow on Outdoor Property
Negligence or Intentional Loss
Depending upon the carrier, you may be able to add some exclusions back with an endorsement.
What Damages Will My Mobile Home Insurance Quote Cover?
Most manufactured home policies include the following protections.
Dwelling. This coverage covers your mobile home and attachments, such as a deck. It typically comes with ACV claim valuations minus your deductible.


Other Structures

.

This part provides limited coverage for other property structures, such as a detached garage or a shed. It has a coverage limit of 10% of your dwelling limit, minus your deductible. It typically comes with ACV claim valuations minus your deductible.


Personal Property

.

Imagine turning your mobile home upside down and shaking it. Everything that falls out is personal property. It has a coverage limit of 30% - 70% of your dwelling coverage limit, minus your deductible. It typically comes with ACV claim valuations.


Liability

.

If you get sued due to an injury or property damage on or off your property, this coverage will protect you. It covers both damages and legal fees, up to the limits of the policy; no deductible.


Medical Payments

.

This coverage is a sub-limit of your liability coverage. It covers injuries when the injured does not sue you. Coverage limits usually start at $1,000 and might be $5,000.


Additional Living Expenses

.

If your mobile home gets damaged from a covered loss, such as a tornado, it may be unlivable. This coverage will compensate for added expenses incurred while being fixed, like hotel and food.
Can You Buy Mobile Home Endorsements?
Most insurance companies view manufactured homes as higher risk. Therefore, you should consider a few endorsements.
Builder's Risk. This endorsement protects your mobile home from the time you buy your mobile home to the moment you take occupancy at closing.

Breakdown Coverage

.

This one covers the mechanical breakdown of certain items for your mobile home, such as appliances and lawnmowers.

Enhanced Protection. This add-on offers increased limits for certain coverages.
Can You Get Flood Insurance on a Mobile Home?
If you are near a flood zone, you may need to consider flood insurance for your mobile home. A flood policy covers your home for water damage from rising water.

Your flood zone and amount of insurance coverage impact the annual premium. Annual premiums range from $130 to over $2,500.

You can add flood insurance to your mobile home quote; it shows up as an add-on policy. There is no obligation to buy.

How to Compare Mobile Home Insurance Quotes
Within minutes, you will have a quote that shows the best companies for you.

Our quotes include a side-by-side comparison of all your options. Every quote includes:
Insurance Company Ratings
Coverages
Deductible Options
Monthly Premium
All quotes are good for 14 days. During this time, we assign an agent. That agent is there to answer all your questions and concerns. You can make agent changes at any time.
Mobile Home Insurance Quotes Online
Young Alfred only partners with companies with high financial ratings, ensuring you receive the very best insurance coverage.
Get started today and let us begin working for you!
Hope that helps!
Free Online Mobile Home Insurance Quotes
At your service,
Young Alfred