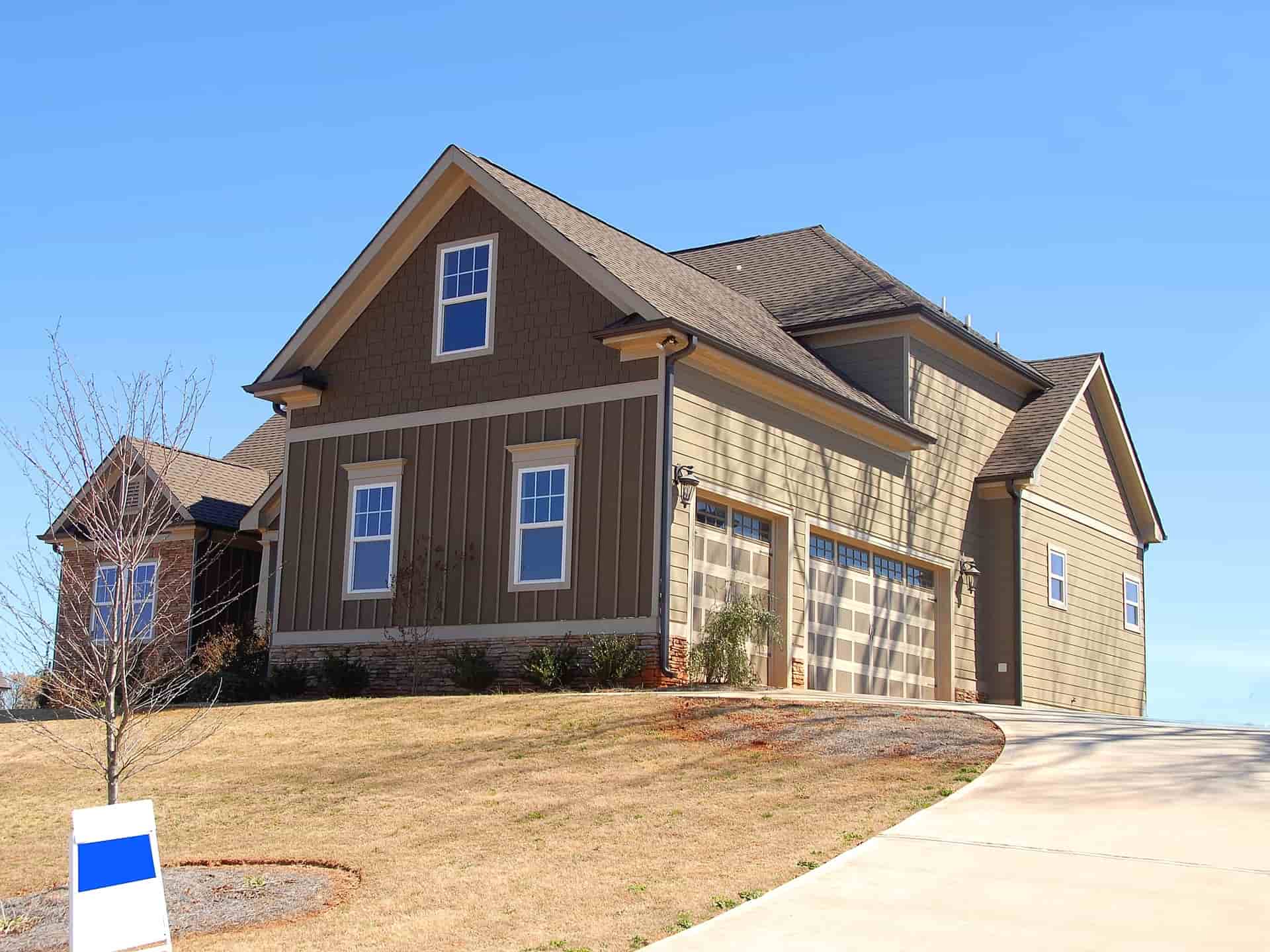 Safeco Landlord Insurance

The United States has about 22.7 million rental units owned by individual property owners. With so many landlords in the country, they all need insurance to protect their properties. Safeco landlord insurance can help pay for various disasters and perils.

Let's see what this policy type can offer.

Who is Safeco Insurance?
Safeco Insurance is one of the oldest insurers in the US, founded in 1923. Safeco has different insurance products such as car, home, motorcycle, and boat protection. In addition, the company also offers specialty products like identity theft protection and RV insurance.

Safeco Insurance is part of Liberty Mutual Insurance, the sixth-largest carrier in the country.

Does Safeco Have Landlord Insurance?
Yes, Safeco Insurance does offer landlord insurance for single and multi-family properties. Usually, the maximum number of allowable rental units per landlord is 16. However, the number varies by state.

What Types of Rental Properties Does Safeco Landlord Insurance Cover?
Safeco's landlord insurance covers the following types of residential rentals that have up to four units:
Vacation Homes
Single Family Homes
Condo Units
Duplexes
Triplexes
Fourplexes
Safeco landlord insurance excludes certain types of rentals, such as:
Non-commercial residential properties. Safeco Insurance does not cover mixed-use buildings with commercial space on the bottom of the building and residential units above it.

Up to 16 Rentals. Safeco Insurance will cover only up to 16 rentals per landlord. They count a fourplex as four units, duplexes as two units, and so on.

Mobile or Manufactured Rental Homes. This restriction includes tiny homes, 3d printed homes, and home kits.

Historic Homes. Rentals that are listed in a historic registry.

Open Foundations. Homes with open foundation construction.

Farms. Homes with farming exposures.

Old Homes. Older homes with outdated electrical wiring.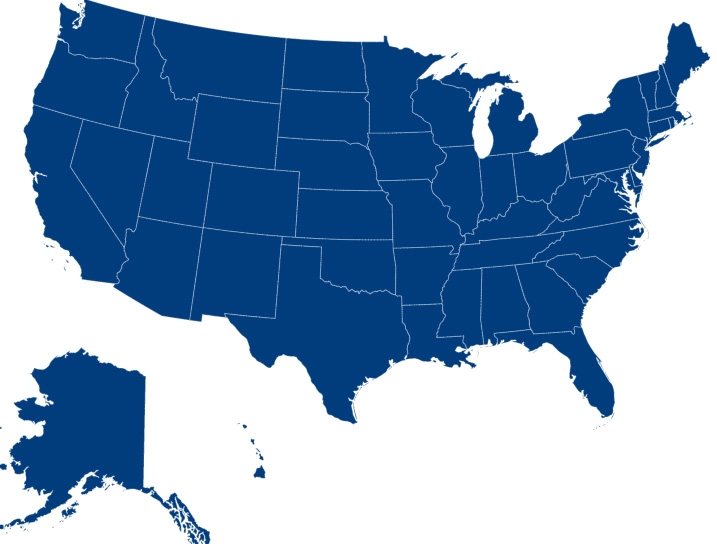 In Which States is Safeco Landlord Insurance Available?
Safeco Insurance is available in all 50 states. We, Young Alfred, can help you tailor your Safeco landlord insurance to meet your needs. We are an independent agency and certified to sell Safeco landlord protection. We, too, cover all 50 states.

Is Safeco Insurance Good?
It is hard to say whether any company is "good." But, because good is a subjective term, let's look at what reviewers have to say.

Safeco Insurance Ratings and Reviews
The insurance industry has reputable companies that rate and review insurance providers. They have many criteria, but the most significant is whether the insurer can pay claims if a major catastrophe happens that could wipe out their bank account.
This rating is essential to you because you want them to have enough money to pay your claims. AM Best is one of those rating companies.
AM Best Rating for Safeco Insurance Company
Although AM Best has not rated Safeco Insurance recently, it gave an A rating to the company in the past. This rank means that Safeco Insurance is financially stable and can pay off its liabilities.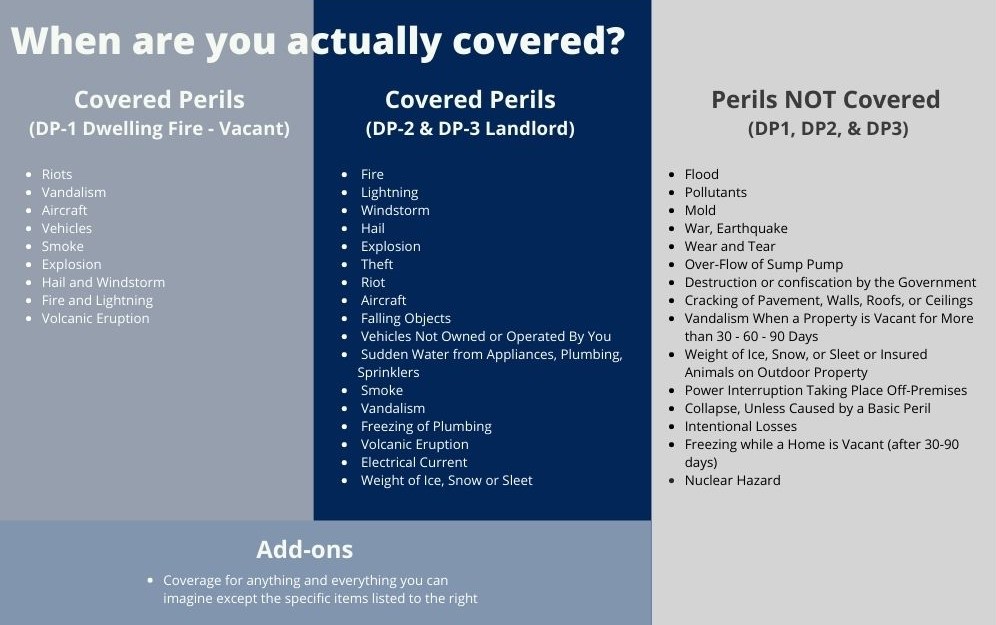 Safeco Landlord Insurance Coverage
Before buying a policy, make sure that you get suitable types of coverages. There are three types of policies available to landlords:
DP1. This policy has bare-bones coverage for only the rental home and other structures on the rental property. It also only covers nine (9) perils that cause damages or total losses. Property claims use ACV, which subtracts depreciation.

DP2. This policy covers everything DP3 covers, except it provides named-perils coverage for the dwelling and other structures instead of open perils coverage.

DP3. This one is the most popular and is standard landlord insurance. It covers the rental home, other structures, landlord belongings, liability, medical payments, and loss of use.

It is an open perils policy for the rental dwelling and a named perils policy for personal property. It uses RCV for the rental house and other structures and ACV for personal property.
In this article, we will be discussing Safeco's DP3 landlord insurance as it is the most common.
Which Perils Does Safeco Landlord Insurance Cover?
Safeco's landlord insurance (DP3) comes with open perils coverage for your rental home and other structures on the property. Open peril coverage means your policy covers any type of damage or loss, except perils excluded explicitly on the declarations page or elsewhere in your policy.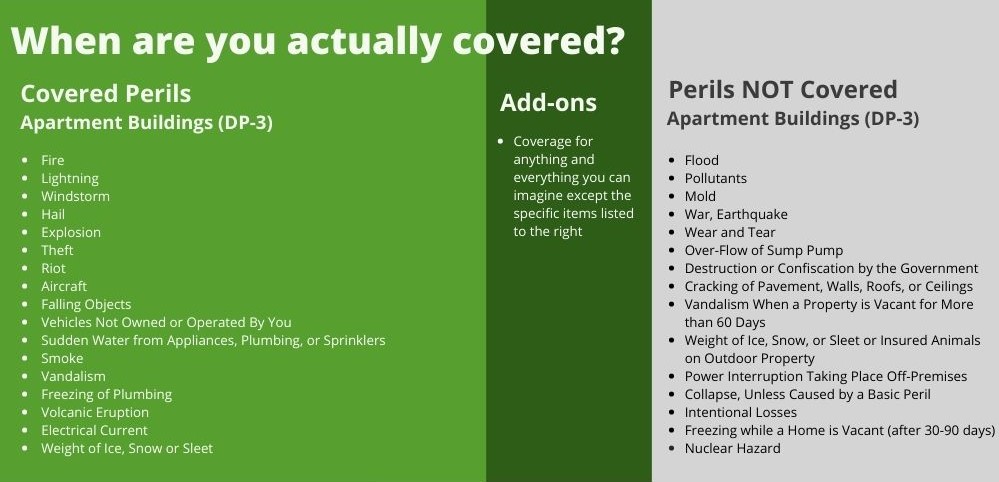 Landlord insurance covers personal property with named perils coverage. That means it covers the property owner's possessions for damages caused by 16 perils listed in your policy. Check out the image above to see the usual 16 hazards.
Keep in mind that flood insurance and earthquake coverage are not covered. Wildfire insurance is also often an additional policy for rental homes in wildfire zones.

Safeco Landlord Dwelling Insurance Coverage
Safeco Landlord insurance handles any damage to the rental home's structure. Since it has open perils coverage, it covers all perils, including the common ones, wind, hail, and fire. Refer to the image above.
Dwelling insurance pays the replacement cost value (RCV) for the property. However, you must pay the deductible first when filing a claim. Usually, property insurance deductibles are around $1,000; you can choose your deductible amount.
You will have a coverage limit that you set; it must equal at least the cost to rebuild, including materials and labor.
In some states, Safeco Insurance includes extended dwelling coverage. It provides up to 25% more coverage than the typical rental dwelling limit in your policy.
Safeco Landlord Other Structures Coverage
In this case, the insurance covers other buildings on the property. Examples can include a woodshed or guest house. Usually, the coverage limit is 10 percent of your rental dwelling insurance.
It comes with open perils coverage, RCV property valuation, and the policy deductible applies per claim.
Safeco Landlord Personal Property Coverage
Typically, landlord insurance does not cover personal belongings. However, some items may be part of your policy, such as lawnmowers or appliances.
If you have a furnished rental, tell your insurance agent, and provide them an itemized list with the value of each item of everything you leave for your tenant's use.
You should also give this to your tenants and include it in the rental lease. That list will save you a lot of headaches with the tenants and your insurer later if any damages occur.
Personal property insurance usually pays actual cost value (ACV). However, you can upgrade to replacement cost value (RCV) if you like. Your policy deductible applies, and so does the coverage limit for your personal property coverage.
Personal property coverage only covers 16 named perils (see the image above).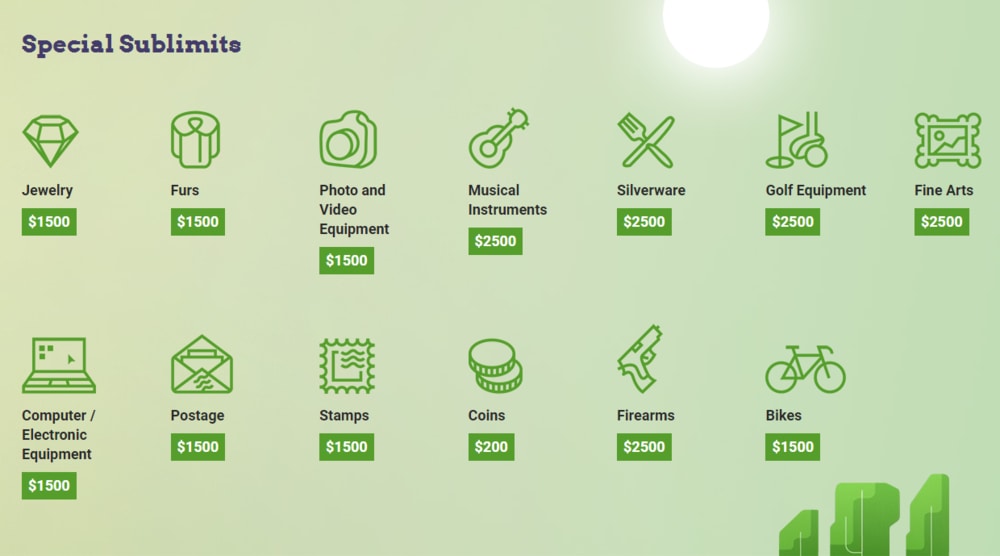 Personal Property Insurance Sub-Limits
When covering your personal items, be sure that you have enough protection. Insurance companies usually cap coverage amounts for specific categories of belongings, such as electronics or bicycles. We provided examples in the image above, but you will have to ask your insurance agent for your policy's specific limitations.
Note that this applies to categories, not one item. So, if you have two bikes worth $3,000, you will only get $1,500 back, minus the deductible and ACV depreciation.
In these cases, it usually does not make sense to file a claim, so consider a scheduled personal property endorsement for better coverage. We will discuss that endorsement more later in the article.
Safeco Landlord Liability Insurance
Liability coverage pays for lawsuits and medical expenses if someone gets hurt on your property. It also applies to property damage to other people's things. Tenants should have their own renters insurance, but you may be liable for personal injury and damaged property in some cases.

In addition, Safeco's landlord liability coverage pays for lawsuits relating to wrongful entry, wrongful eviction, and invasion of privacy lawsuits.
Liability insurance does not require a deductible. Instead, you set your landlord liability coverage limit. Your agent may offer a default of $100,000 to $300,000, but we recommend having more.
Safeco Landlord Medical Payments Coverage
If your tenant or their guest suffers an injury and it happened from something faulty on your property, this pays their medical bills if they do not sue you. It usually defaults to a $1,000 to $5,000 coverage limit per incident, but you can increase that.
Safeco Landlord Loss of Use Coverage
When disaster strikes, your tenants cannot live in destroyed property. Loss of use protection helps reimburse you for any lost rental income related to your tenants having to move out while you make repairs.

Safeco Insurance Umbrella Policy
While liability insurance works well for lawsuits, what if you do not have enough protection? Umbrella insurance increases your liability coverage. Usually, you can get a policy worth over $1 million.

Safeco Insurance - Trampolines
If there is a trampoline on the property, your insurance company may deny coverage. Otherwise, the insurer might require more liability protection because of a higher risk of injury. As a landlord, it might be a good idea to prohibit trampolines altogether. This way, you can avoid the risk and potential lawsuits.
If you allow them, make sure your tenants carry renters insurance with a sufficient amount of liability coverage.

Safeco Condo Landlord Insurance
Safeco Insurance's condo landlord coverage is the same as standard landlord insurance, with one exception. Condo associations own the shared walls and exterior walls in your apartment. Sometimes they own plumbing, appliances, and kitchen cabinets. So, condo landlord insurance handles your dwelling coverage differently.

Your condo landlord insurance policy will cover only the structural parts of your unit that you own. Your condo association will have insurance coverage for the structural components they own through a master insurance policy. That master policy will also cover common areas in the building, like parking lots, lobbies, hallways, pools, and playgrounds.

If you own the condo building, you will need commercial insurance for the building. Safeco's landlord insurance covers buildings with up to 16 rental units. In addition, you can get coverage for the building and shared spaces. Again, examples of these spaces include elevators, hallways, and common areas.

Each condo unit owner needs their own policy to protect against any damages within their units in your building.

Safeco Landlord Insurance Dog Policy
Dog bites are a big part of liability insurance. Many insurance companies prohibit specific breeds, like pit bulls or Dobermans. As a landlord, you could lose coverage if you allow tenants to move in with those breeds.

The reason insurers prohibit these dogs is that they are more often involved in dog bite incidents. So, rather than trusting them on a case-by-case basis, carriers decide to ban them outright. The most banned breeds include:
Pit bulls
Dobermans
Rottweiler
Great Dane
Canary Mastiff
Chow Chow
German Shepherd
Alaskan Malamute



Safeco Landlord Insurance Endorsements
Standard landlord insurance may not cover all situations. Here are some extra protections you can include within your policy.

Safeco Insurance Inflation Protection
The costs of building materials regularly increase, especially after a major storm in an area. Inflation protection increases your rental coverage limit. This way, you do not have to worry about potential price surges after a natural disaster.

Safeco Insurance Service Line Coverage
Service lines like the sewer are not protected under a standard policy. This add-on helps pay for damage to these lines, such as if the sewer backs up.

Scheduled Personal Property Endorsement
When you need extra or better protection for possessions you leave behind for your tenant to use, you can get a scheduled personal property endorsement. It covers categories of high-value items using RCV coverage and no deductible. You can set your coverage limit based on the assessed value of your items.

Non-Occupied Dwelling
Typically, insurers will cancel landlord insurance if the property is vacant for more than 30 days. Non-occupied dwelling coverage extends this time limit. This add-on helps if you are struggling to find new tenants.

Occasional Rental Permission / Short-Term Vacancy Permission
This endorsement is added to your home insurance, typically not landlord insurance, when you occasionally rent out a room or your entire home. If your property stays vacant for 30 days or more, you might lose coverage. Therefore, if you only rent your rental home for part of the year, you might need this coverage.
This permission allows you to keep your existing policy, even if no one is living on-site. Otherwise, you would have to cancel and convert your home insurance to landlord insurance for your short-term or occasional rentals.

Safeco Insurance Earthquake Coverage
Standard landlord insurance does not cover earthquakes. Unfortunately, if you own property on the west coast, you will have to worry about this disaster more often. Safeco Insurance offers standard earthquake insurance, which helps cover rebuild costs.

These policies also include personal property protection. Finally, this insurance can pay for loss of use coverage too.

Equipment Mechanical Breakdown Insurance
Appliances break down all the time. If the washer, dryer, fridge, or other device breaks suddenly from a mechanical issue, most insurance will not cover it. This add-on helps pay for breakdowns that occur. However, the policy does not include damage from wear and tear, so keep that in mind.

Ordinance or Law / Building Code Upgrades
Building codes can change regularly. When that happens, you need to pay to upgrade your property to the current state and local building codes. This coverage helps cover those costs. It only pays out when you are already repairing your home after a covered peril damaged it. It does not apply to voluntary remodels.

Loss of Rental Income Endorsement
Ideally, tenants should always pay their rent on time and in full. However, if your renters do not pay up, this insurance can help you recoup your loss of rent. It pays your rental payments at fair market value for up to 12 months.

Fair market value means Safeco will determine the price for other rentals like yours and pay your monthly rent based on that figure.

Tenant Move Back Endorsement
If your renters must move out because of damages, you might have to help pay for them to come back. This endorsement helps cover move-back costs for tenants, and it is often related to the loss of use clause.

How Much Does Safeco Landlord Insurance Cost?
As a rule, landlord insurance costs about 25 percent more than a standard homeowners policy. Unfortunately, Safeco Insurance does not list prices on their site, so you must talk with an agent. The cost of your landlord policy depends on various factors, including the size of the property, type of coverage, and any add-ons you include.

Safeco Insurance offers discounts to landlords who bundle other policies with them, like car insurance, homeowners insurance, and umbrella coverage. So, keep bundling in mind when getting your quote.

Should Landlords Require Tenants to Purchase Renters Insurance?
Yes, landlords should make tenants have renters insurance. Doing this helps share the potential burden of insurance claims. In addition, renters insurance helps pay for the tenant's personal property and liability. Without this coverage, the landlord might get sued for damages if someone gets hurt on-site instead of the guest suing the tenant.

Landlord as Additional Insured on Their Tenant's Renters Insurance Policy
Landlords should also ask tenants to include them as an "additional insured" on their renters' insurance policy. In this case, the landlord can use the tenant's policy for liability claims.

The benefit is so the landlord does not have to file on their policy. Since premiums increase and their insurance score takes a hit, filing through the tenant's policy is much better.
Also, require your tenants to add you as an interested party. That requires their insurer to alert you when they cancel, change, or do not renew their policy.

Safeco Landlord Insurance Claims
Safeco Insurance offers 24-hour claim assistance. Users can call the phone number or use the online portal. Landlords can also use Safeco's mobile app to submit claim information. Usually, filing a claim takes about 10 minutes.

Safeco Landlord Insurance Customer Service Phone Number
Safeco's customer service number is 1-800-332-3226. Agents are available 24/7.

Safeco Landlord Insurance Email Address
Safeco Insurance does not have an email address to contact their support team. Instead, users must use the online portal, phone number, or mobile app.

Safeco Landlord Insurance Quote
Landlord insurance helps provide peace of mind. Let us help you get the best policy from Safeco Insurance. We are a certified Safeco insurance agency, so we know how to customize your plan. Click below to get started.

Hope that helps!
Online Safeco Landlord Insurance Quotes
At your service,
Young Alfred