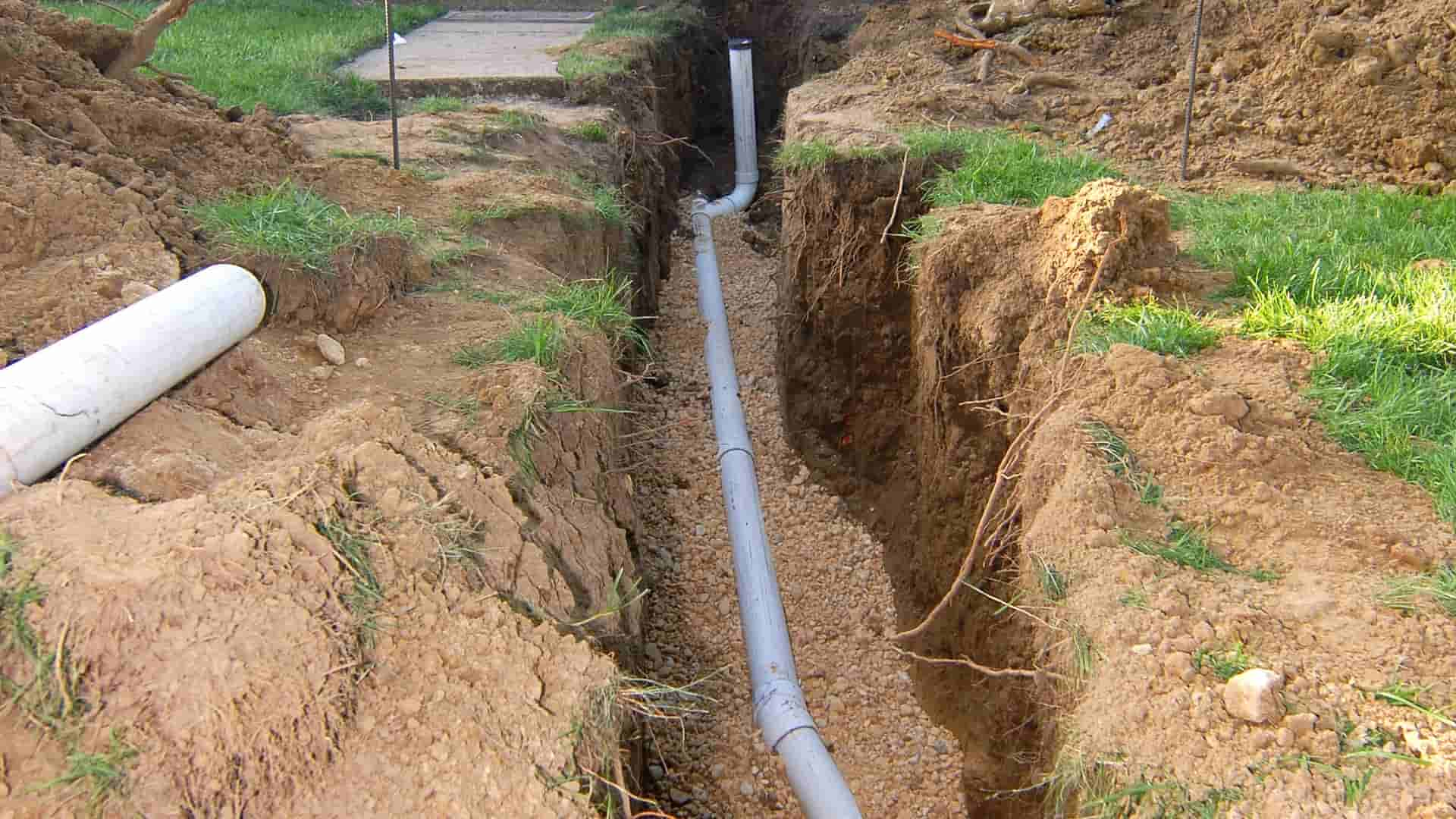 Sewer Line Insurance - A Complete Guide
Everything you need to know about sewer line coverage in your homeowners insurance policy.
1. What Are Sewer Lines?

If your home connects to a public sewer system, you have a sewer line located underground that you own and for which you are responsible. It is the avenue that sewage travels from your home to the utility company's main sewer drain.
As long as you care for and update your sewer line as needed, it functions as it should. However, sometimes there are problems in these lines that come from tree roots, poor maintenance, old pipes, or other issues.
When this happens, it can cause a great deal of trouble to your home and yard. Unfortunately, fixing these issues is expensive.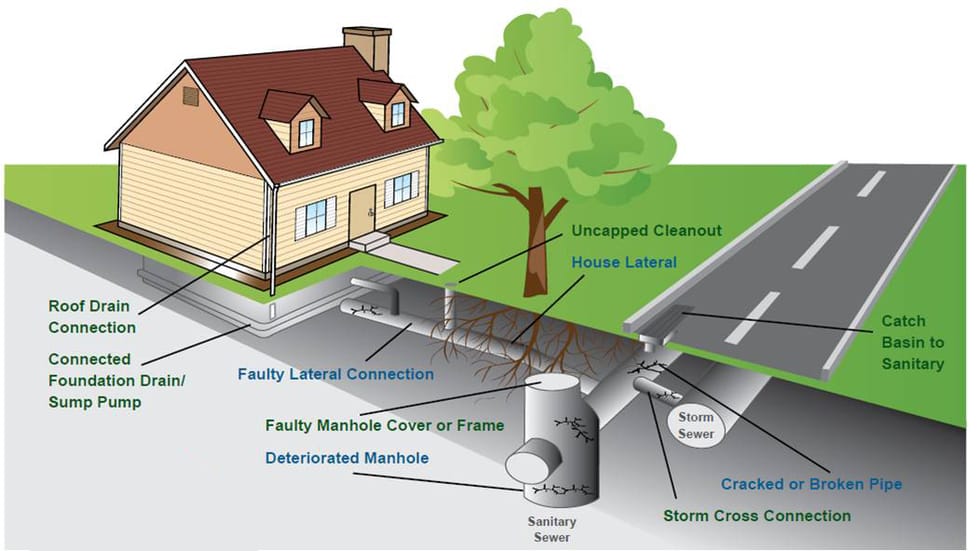 2. Does Home Insurance Cover Sewer Lines?

Typically, homeowners insurance does not cover your sewer lines, although that can vary according to policies and the damage done. Let us have a more in-depth look.

When Does Homeowners Insurance Cover Sewer Lines?
In some circumstances, standard homeowners insurance will cover sewer line repair or replacement costs, although the allowance is quite strict. Your sewer lines are, at times, considered other structures, at which point your home insurance usually extends to your sewer lines.
Coverage activates when you can prove sudden accidental damage caused by one or more of the covered perils in your home insurance policy. Some include the following:
Damages from acts of God, such as lightning, hailstorms, fire, etc
Damages caused by others, such as a neighbor digging to install a fence and hits your line
Explosions caused off your property
Damage caused by aircraft or falling objects
Vandalism
Sewer Line Claims That Homeowners Insurance Does NOT Cover
A standard insurance policy never covers damages caused by a lack of maintenance, earthquakes, tree roots, pests, floods, sump pump overflows, mold, and any peril not included on your standard homeowners insurance policy.
Additionally, if a water backup causes the damage, standard homeowners insurance will not cover it. Normal wear and tear are not covered under any homeowners policy, either.
3. Can I Buy an Endorsement for Sewer Lines?
Yes. Most insurance companies offer the option to purchase an endorsement, rider, to your standard home insurance policy that will cover your sewer lines.
What Does a Sewer Line Endorsement Cover?
Carrying this endorsement provides the following coverage:
Inspections - Locating blockages in the sewer system and unblocking sewer lines.
Excavation - Digging for gold and your pipes.
Repair - Fixing damages caused by digging and replacing pipes - including refilling opened areas, and pipe cutting.
Replacement - Replacing or repairing a cracked sewer pipe or broken pipes, damaged seals, and joints from a covered event.
Restoration - Welding, fusing, and fitting external valves.
Landscaping - Restoring your beautiful lawn.
Loss of Use - Additional Living Expenses
Sewer Line Endorsement Covers Damage Caused By:
Marring
Rust
Digging
Deterioration
Collapse
Invasion by tree roots
Wear and tear
Weight of Equipment, Animals, and People
Artificially Generated Electric Currents
Lightning strike
Mechanical breakdown
Corrosion
Ground freeze
Pressure system breakdown
Landscaping accident
Hidden Decay
When you carry sewer line insurance, the insurance company will locate licensed and local sewer repair contractors that guarantee your repairs and schedule an appointment for you.
Your Sewer Line Endorsement Does NOT Cover the Following:
Volcanic Eruption
Lightning
Riots
Falling Objects
Civil Commotion
Vehicles
Vandalism
The Weight of Snow, Sleet, Ice
Hail
Aircraft
Windstorm
Explosion
Fire
How Much Does a Sewer Line Endorsement Cost?
Prices vary by location. Purchasing service line coverage as an add-on costs about $40 or $50 a year. A service line endorsement includes water lines, sewer, septic lines, gas lines, and all lines running from your utility company to your property line. It provides service line repair and replacement for all your underground utility lines that bring utility services to your home and other structures, and most importantly, peace of mind.
Policies typically have a $10,000 per incident limit and a $500 deductible for a sewer line claim.
If you buy sewer line protection as a separate stand-alone policy, you can expect to pay $10 to $15 a month. You can get independent policies for water or sewer and other service lines, but it makes the most sense to combine them all under one service line endorsement.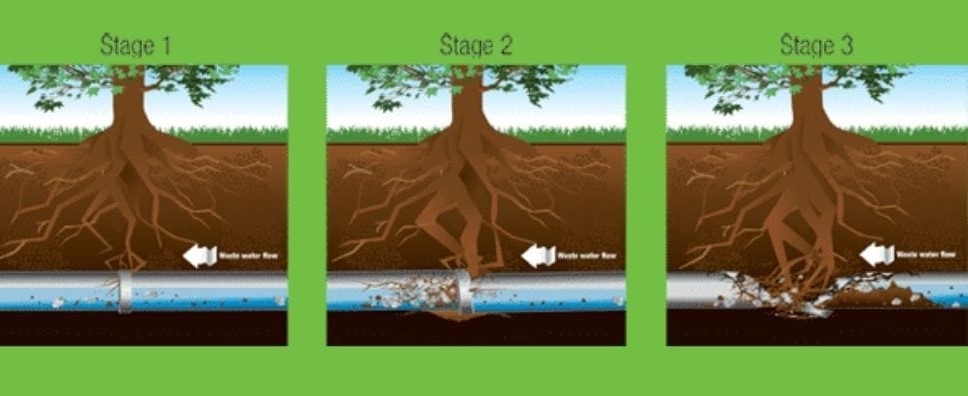 ​
4. How are Sewer Line Claim Payments Calculated?
The amount your insurance company pays depends on the policy you have, and whether you have Actual Cash Value or Replacement Cost coverage. Some policies state the specific methods used to determine how they will cover repair and replacement. Replacement Cost coverage is the most common method used in Service Line policies.
Replacement Cost Value (RCV)
Replacement Cost Value, or RCV insurance coverage, is the amount it costs to replace a brand-new version of that item or something similar.
You may have an old Texas home with cast iron sewer lines, for example. They were the preferred choice 30-50 years ago because they could withstand earth movement and tree root damage. But they also rust and corrode, so you will likely want new PVC sewer lines instead. Your service line, or sewer line, add-on policy should cover the full cost of replacing the cast iron pipes with new PVC pipes.
What Does it Cost to Repair or Replace a Sewer Line?
On average, sewer line repair costs $2,556 and ranges from $1,000 to $4,000, and homeowners can pay anywhere from $3,000 to over $20,000.
The actual line replacement cost will depend on several factors, such as:
How much work do you need? Is it a fully broken sewer line, a leaking sewer pipe, or a collapsed sewer line? Does a section of the piping need replacing, or do you need an entire sewer line replacement? Do you need cracked sewer pipe repair or trenchless sewer line repairs?

The tubing material you currently have for your sewer lines can affect the handling and scope of work -- examples include PVC piping, cast iron pipes, or terracotta sewer pipes.

The pipes you choose for a replacement affects the cost.

The sewer system you choose, such as cured in place pipe trenchless methods or traditional drain line methods, affects the cost of repair or replacement.
Following are some cost averages that will help you determine an accurate sewer line replacement cost estimate:
Average Cost to Replace the Sewer Trap - $45 to $200 per hour

Average Cost to Replace a Sewer Line Under the Slab - $150 to $200 per foot

Replacement of Cracked Sewer Pipe in the Basement - around $600 (not including the cost of cutting and exposing the pipe)
Cost of Trenchless Sewer Line Replacement - The average trenchless sewer line replacement cost ranges from $6,000 to $12,000. However, pipe replacements can differ significantly, depending on the trenchless method.
Trenchless pipe bursting can range from $3,500 to $20,000.
Cured in place pipe lining can range from $4,000 to $20,000.
5. How to File a Sewer Line Insurance Claim
The best way to get your insurance claim paid lies in the topic below: Preventing Sewer Line Issues. Being proactive in maintaining your pipes increases your chances of a successful claim as the damage is not due to poor maintenance.

Keep documentation of all maintenance performed so that it is easy to prove.

Look at your current policy. If there is no mention of sewer line coverage, immediately look for additional coverages or switch to a different insurance company.

Should damage still occur, do your best to prevent any further damage. The less cost you need to claim, the higher your chances of success.

Document everything from the damage done to the steps you took. Do this with both photographs and writing. Create a thorough inventory of all damaged items.

Report the incident as soon as possible. If you can, do so the same or the next day.

You must use a professional. Bear in mind that insurance companies do not cover work done by a non-professional. Professionals are licensed, guarantee their work, and know the building code to follow when repairing or replacing pipes. Using a local licensed and insured technician leads to a higher chance of your pipes functioning and lasting longer, meaning you will- theoretically- not need to put in any additional claims soon.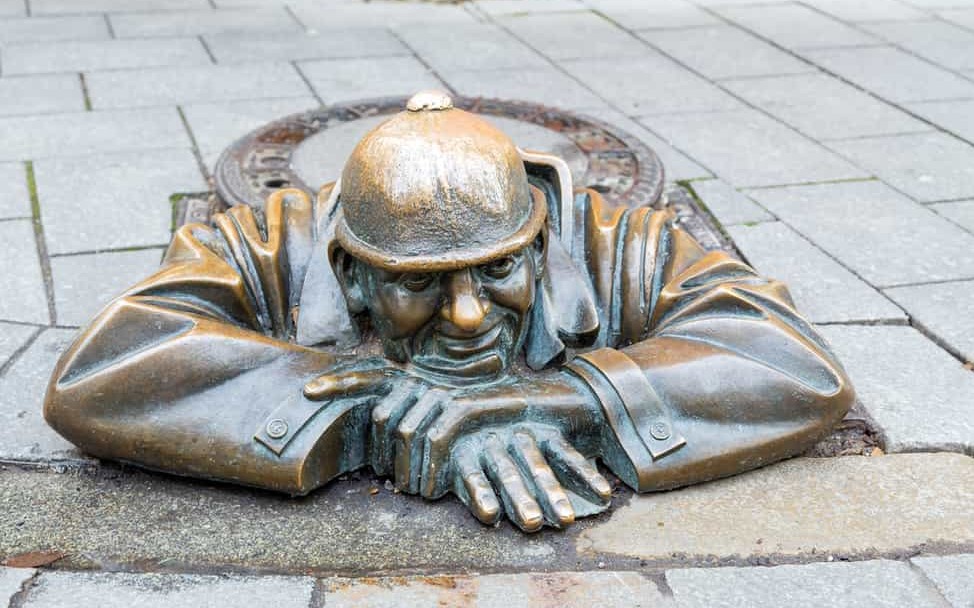 6. How to Prevent Sewer Line Damage or a Total Loss
The best way to save money on pipe repair or pipe replacement is to prevent damages in the first place. Some of the best steps you can take toward this are the following:
Be careful what you flush. Anything that is not natural waste or biodegradable can damage and back up sewer lines. Large objects are also problematic. Paying attention to what goes into your sewer lines is the first step to preventing trouble.
You should be aware of where your sewer lines are. When you know, you can make a concerted effort toward avoiding them as much as possible when driving on your lawn, having construction done, and other activities that could cause trouble.

As much as is possible, be aware of where tree roots are. It is usually cheaper to have tree roots removed than to worry about them damaging sewer lines.

When you notice a problem, such as blocked sewer lines or a leak, have it inspected immediately. Do not wait until a small issue causes a large amount of damage. If it is due to tree roots, a sewer rooter professional can help provide a swift solution. The earlier you catch it, the less it should hurt your wallet and disturb your life.

The type of piping you have can cause or prevent damages. Cast iron pipes are not conducive to properly functioning sewer lines, and they rust and corrode. If you can, have your existing pipes replaced with PVC lines.

If the cost to replace your pipes with PVC lines is out of reach, you should still consider having your cast iron pipes checked. A cast-iron pipe creates gasses that can damage your drain lines and cause broken pipes and other plumbing issues. Search for "cast iron repair near me," and you should see a list of local licensed plumbers that can help keep your main plumbing line in good working order.

Have a general inspection done for your sewer lines. A sewer line inspection can point out potential issues that you may face, which gives you time to prevent a sewage pipe burst or the need for a sewer repair company.

To save money, make the general inspection a sewer camera inspection. A professional puts a video camera through your pipes to detect obstructions or other apparent issues.

Consider periodically hiring a hydro jetting professional. A hydro jet is like a pressure washer for your pipes. It can get everything from large debris to the gunk that attaches to your pipes, keeping them running smoothly.
Get a Free Online Home Insurance Quote
If your policy does not have Service Line, or Sewer Line coverage, let us help you figure that out! Get a free online home insurance quote.
At your service,
Young Alfred