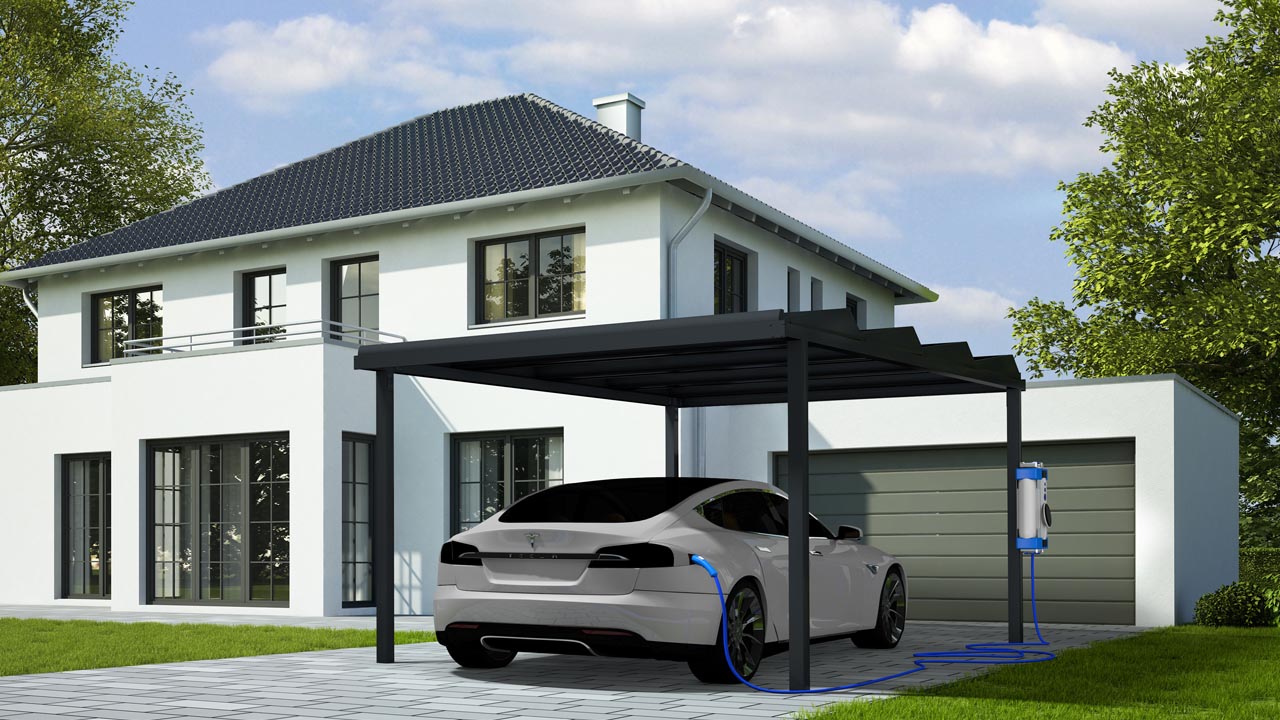 Image Credit: Shadow Solar Evolution
Solar Panel Carport
A solar panel carport system, also known as a solar canopy, is often seen on commercial properties. However, residential solar shade structures are growing in popularity with homeowners wanting to save money and save the environment.
What is a Solar Carport?
A solar carport system is a canopy designed from solar panels to cover parking areas and is one of several ways for homeowners to take advantage of solar energy. The other two include ground-mounted solar systems and rooftop solar systems.
All three provide advantages and disadvantages. Both the rooftop system and the carport are higher, so they are closer to the energy source. Both also utilize space you already have available.
Ground-mount solar systems, on the other hand, require additional land. Solar carports and rooftop systems require climbing for repairs, cleaning, and maintenance. A ground-mount system, on the other hand, is easy to access.
Though all three are good options, a solar carport provides benefits that the others do not, as listed below.
Benefits of Solar Carports
If you install solar panels over your parking space, you experience the following additional benefits:
They decrease the amount of energy you use, lowering your electricity bills.

Solar panels harvest solar power, which is pollution-free, renewable energy.

It is an efficient use of space as you can use solar carports to lower your energy costs, provide safer parking, and charge your electric car with a solar carport charging station.

Your residential solar carport will sometimes generate electricity that goes beyond your household needs.

When you have additional solar energy production, you can store it in your solar batteries, or you can sell it to the grid through a process called net metering.

Home solar carport structures mean cooler parking, which leads to lower fuel costs for air conditioning in warm and hot months.
Types of Solar Carports
There are a few solar carport design options to choose from, depending on your specific needs.
Size
You can choose solar panel carports that cover one, two, or three rows -- usually the most space you need for a domestic solar carport. However, if you need more space, they come in larger sizes, as well.


Frames
You can choose between steel frames and wood frames. Steel is more substantial and tends to last longer, but some people prefer the look of wood instead.
Shape
Your solar panel carport roof can come in several shapes. It can come angled upward, curved, or only slightly curved to appear flat.
DIY Solar Carport
If you would like to install a solar energy system yourself, there is good news. You can purchase a DIY solar panel carport kit.
Most solar companies offer different solar carport kits for different parts of the United States to address that region's weather. For example, some are made for a more massive snow load while others stand up against hurricanes better. Before starting your solar project, be sure you have chosen the best option for your region.
Residential Solar Carport Cost
The cost of a solar carport varies according to the type you choose and the size of the system. According to Solar Electric Supply, a solar company, a 5kW solar carport, approximately 3,500 sq. ft., costs about $20,500. That same 3,500 sq. ft. with a 50kW system runs nearly $68,000.
While the initial cost is high, the long-term savings are well worth it as they can efficiently harness solar energy for about 25 years. Additionally, federal tax credits can help with a portion of those costs.
Solar Carport Cost Per Watt
Residential carports typically cost anywhere from $3.45 per watt to $3.99 per watt. About 11 kilowatts of solar power can meet nearly 99 percent of your solar needs.
Federal Solar Tax Credits
There are tax credits that can cut your solar panel system's price by tens of thousands of dollars. The Energy Policy Act of 2005 came to be to fight rising energy costs. Part of this act is called the Federal Solar Tax Credit or Solar Investment Tax Credit (ITC).
When it first began, the Solar ITC equaled 30 percent of the cost of installing a solar array. This energy credit was only supposed to last until 2007, but it was extended and remained 30 percent with the following changes put in place:
In 2020, the credit amount dropped to 26 percent of solar installation costs.

In 2021, the credit decreases to 22 percent of the total cost to have solar installed.

It will expire in 2022, meaning homeowners will be solely responsible for the solar carport installation costs.
To qualify for the tax credit for solar carports, you must meet a couple of requirements:
You must own the home solar carport. You cannot be getting it through a solar lease or PPA as the system owner receives the energy credit.

You must owe income taxes the year you claim the credit because it only lets you reduce your federal tax liability to zero. If you owe no income taxes, you receive no credit. It does not allow you a refund.

However, you do not have to claim the entire credit in one year. If the credit is more than your federal taxes, you can let the remainder roll over until the following year to take advantage of the full credit.
Does Home Insurance Cover Solar Carports?
Yes. Typically, your standard homeowners insurance covers your solar carport damage due to a covered event if you own the system. An HO3 standard home policy covers you for 16 named perils. That includes fire, falling objects, storm damage, lightning, and more. Make sure your policy does not exclude specific hazards common to your region experiences.

The amount of coverage you have depends on the structure. If it is a permanent attachment to your house, your home insurance covers you at full replacement cost.

If you have a detached carport, a stand-alone carport, it is considered an "other structure" on your property. In this case, your coverage amount equals 10% of your dwelling coverage limit. E.g., if your dwelling coverage limit is $200,000, your carport has $20,000 worth of coverage.

Your insurance agent can give you information on the coverage limit for your solar panel system. You might need to work with your insurance company to increase your coverage for a higher insurance premium.

Your homeowners insurance coverage does not extend to leased solar carports. Instead, you will need to purchase solar panel insurance through the solar industry.

Hope that helps!
Get an Online Home Insurance Quote
At your service,
Young Alfred