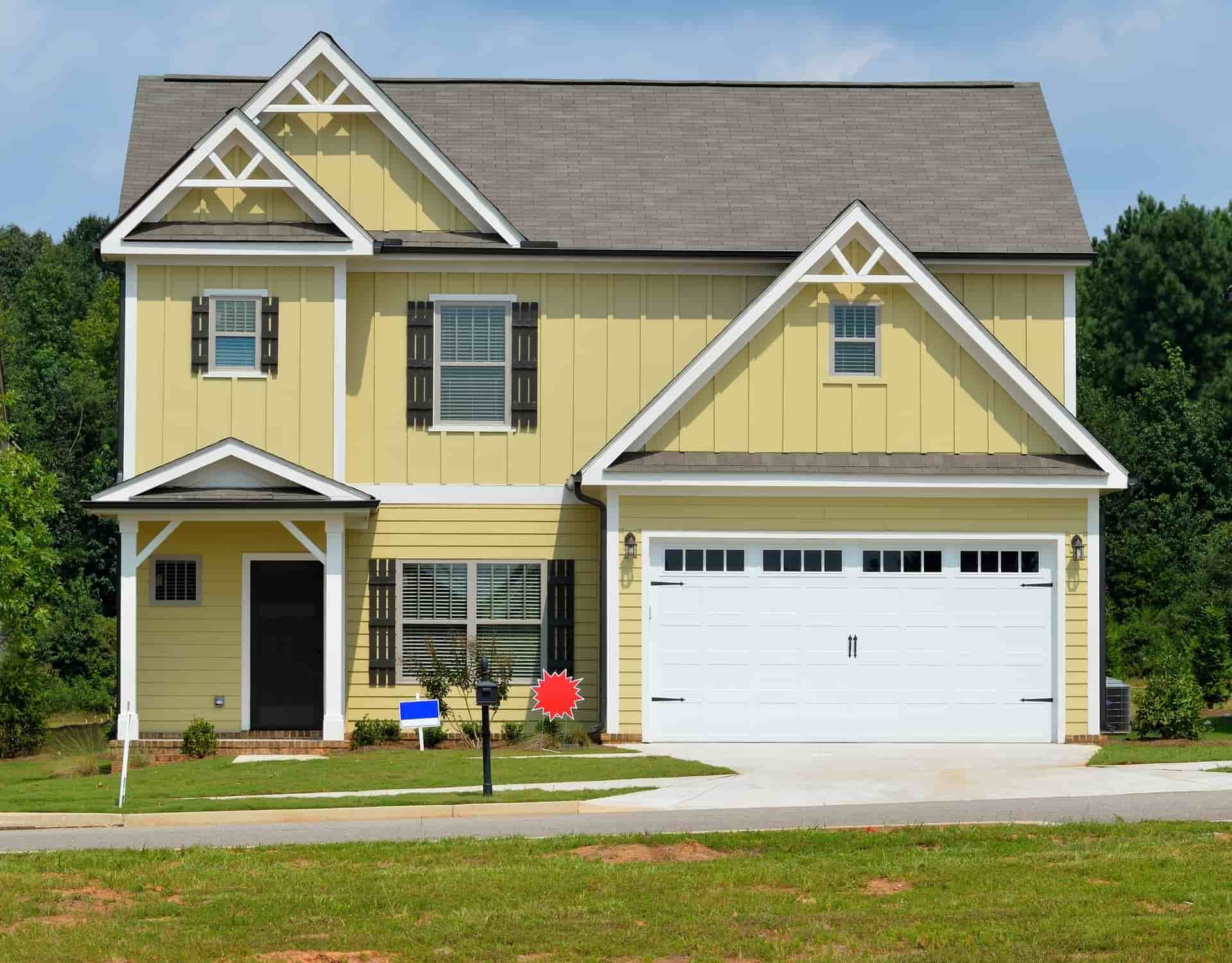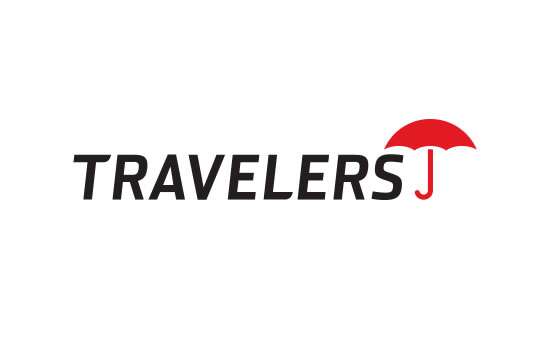 Travelers Landlord Insurance

Travelers Insurance is a well-known insurance company and has had many successful years in the insurance industry. In this article, we look at their landlord insurance.

About Travelers Insurance
Travelers first established itself as an insurance company over 165 years ago. They employ more than 30,000 people and have brokers in the US, Canada, Ireland, and the UK.

Young Alfred is a certified Travelers Insurance agency with agents and licenses to serve you in all 50 states.

Does Travelers Sell Landlord Insurance?
Yes, Travelers sells landlord insurance to individuals who rent out their property.

Where Can You Buy Travelers Landlord Insurance?
Travelers landlord insurance offers landlord insurance in all 50 states.

Travelers Landlord Insurance Coverage
Travelers Insurance offers landlord insurance to property owners renting out their property. Travelers landlord insurance protects property owners from financial losses from:
Dwelling and Other Structures
Liability
Personal property
Loss of Use
There are different coverages available for liability, including medical payments and damage to other people's property.
Travelers landlord insurance comes in three different types of policies: DP1, DP2, and DP3. In this article, we will discuss the most common and the most comprehensive landlord coverage, DP3.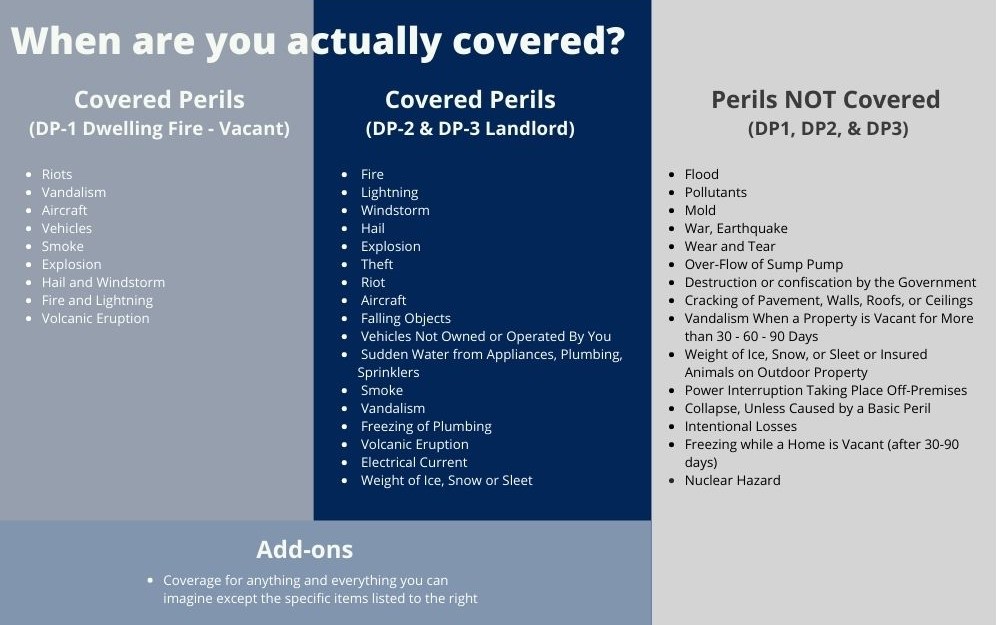 DP1 only covers nine perils, whereas DP2 covers 16 perils, and DP3 covers all perils that could damage the rental dwelling and other structures, except those excluded in the policy.
DP1 only covers damage to the rental dwelling and other structures, not landlord liability, personal property, or loss of use coverage.

Click on this link to learn more about DP1 and DP2 policies.

What Perils Does Travelers Landlord Insurance Cover?
The most comprehensive landlord insurance is a DP3. It is an open-peril policy for the rental dwelling and other structures on the property, covering all perils unless explicitly excluded. The image above lists Travelers' standard landlord insurance non-covered perils, including wildfire, hurricanes, and more.
It covers personal property under a named perils policy for 16 perils.
Check your policy's declarations page for a list of perils not covered.

Landlord Dwelling Insurance Coverage
The dwelling aspect of Travelers landlord insurance covers the structure of the rental unit. It covers any property damage done by any peril as the dwelling falls under open perils coverage. Your policy will also list excluded perils, like floods and earthquakes, in your policy.

Travelers' standard landlord insurance for the rental home includes Replacement Cost Value (RCV). When you make a claim, you will receive the total amount with no deprecation. The claims payment is up to the coverage limit, and a deductible applies.

You must buy a coverage limit equal to the cost to rebuild your rental home if a disaster destroys it.

Landlord Other Structures Coverage
Travelers' standard landlord insurance covers other structures, including fences, sheds, and garages. The coverage limit is 10% of the dwelling coverage, and the deductible is the same as the dwelling.

Travelers Insurance uses RCV when valuing the claim. It, too, comes as an open perils policy with a list of excluded perils for your other structures. The exclusions are the same as those listed for the dwelling.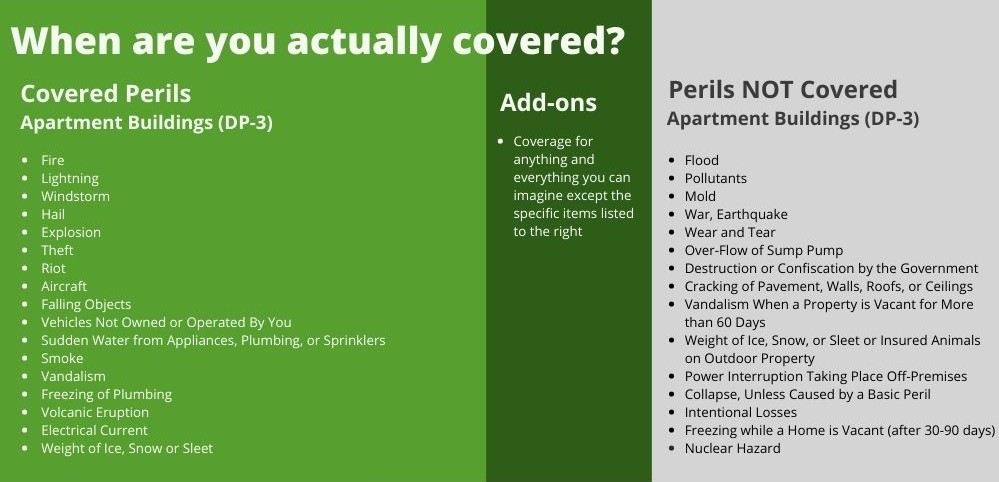 Landlord Personal Property Coverage
Travelers landlord personal property coverage covers items belonging to the landlord. It includes items left for the tenant's use, like appliances and garden furniture. It also covers furniture and other things if your rental home comes furnished.

A separate personal property deductible is payable when you file a claim, and payouts are Actual Cost Value (ACV). ACV means you receive the item value minus a depreciation deduction.

Personal property coverage is usually 30 — 70% of the total dwelling coverage limit. But you set the amount based on the value of your belongings.

Personal belongings come with named perils coverage, which means those items only have coverage for 16 perils named in your policy. Personal belongings also come with the same non-covered perils as your landlord dwelling coverage.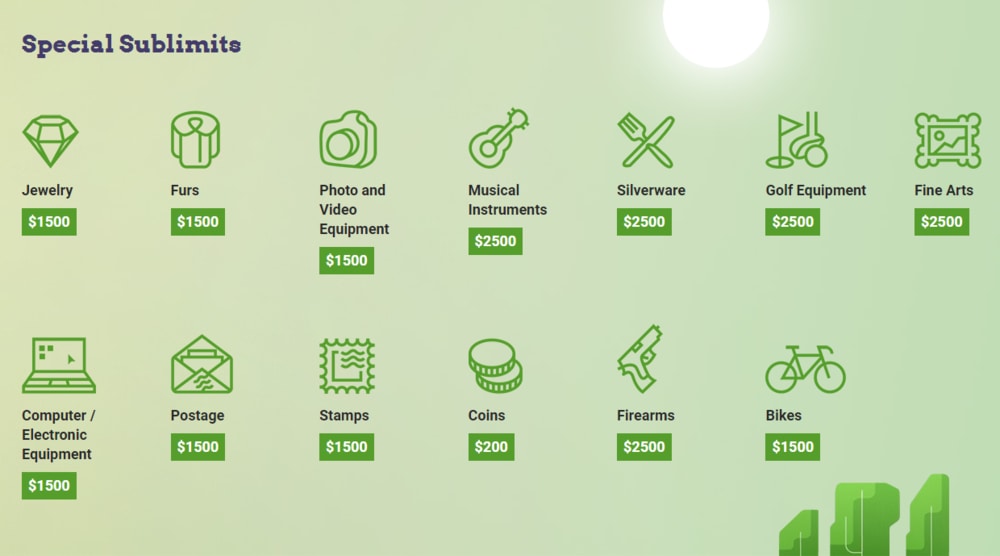 Personal Property Insurance Sub-Limits
A sub-limit is the maximum payout for specific categories of high-value items. For example, Travelers' landlord insurance has a list of categories, and each has a separate coverage limit. Items can include fine art, bikes, computers, and sports equipment.

Travelers Landlord Liability Insurance
Travelers' standard landlord insurance protects a landlord from lawsuits if someone suffers a personal injury while on the premises. It also covers damage to other people's belongings if damaged from faulty items on the property. If the landlord is at fault, the individual may sue.

Liability insurance covers attorney fees, additional legal fees, medical bills, and more. Coverage starts at $100,000, has no deductible, and payouts are RCV. You set the coverage limit which should be higher than the $100,000 default.

Travelers Insurance Landlord Medical Payments Coverage
Travelers' standard landlord insurance includes a medical payment coverage limit of $1,000. Higher limits are available. You use this only when the injured party does not sue you. If they sue, standard liability kicks in.

It gives coverage for medical expenses if an injury occurs on the property. There is no deductible, and the payout equals the full cost of the medical bills.

Travelers Insurance Landlord Loss of Use Coverage
If the property is uninhabitable due to a covered loss, the tenant may move out while repairs take place. Travelers landlord insurance loss of use pays your tenant's rental payments until the tenant returns.
Loss of use is subject to coverage limits you set when buying the policy.

Travelers Landlord Insurance Breed Restrictions
Landlord liability insurance and your tenant's renters insurance will sometimes cover dog bites, amongst other incidents.
However, some dogs are on the dangerous breed list, and insurers may use this list to put restrictions in place. So, if you want your property to be pet-friendly, check your and your tenant's renters insurance policy first to see if any restrictions apply.

You can require your tenant to choose the most dog-friendly renters insurance in the rental lease agreement. If they have an uninsurable dog breed, try an umbrella policy. Also, know your state and local dog breed laws and require your tenant to abide by those laws. For example, some states require an outdoor kennel on your property for dangerous dogs.

Dogs most likely to have restrictions:
Akita
Alsatian
Chow
Doberman Pinscher
Great Dane
Pit Bull
Rottweiler
Staffordshire Terrier
Travelers Insurance Umbrella Policy
Umbrella insurance offers additional coverage if a covered claim exceeds the policy limits. Landlord insurance liability coverage limits typically are $100,000 - $300,000 and up to $500,000. Umbrella policies usually start at $1M. Remember, though, that they only cover liability claims, not property claims.

Travelers Condo Landlord Insurance
Condo associations have their own insurance policies. Travelers' standard landlord insurance helps to bridge any gaps. Condo association policies usually cover the structure of the rental's exterior walls. In contrast, landlord insurance protects the parts of the structure the condo owner owns, like interior walls and kitchen cabinets.
Otherwise, condo landlord insurance and standard landlord insurance are the same.



Travelers Landlord Insurance Endorsements
Below is a selection of endorsements to consider when taking out landlord insurance.

Agreed Loss Settlement
Agreed loss endorsement pays out the amount stated on the endorsement when there is a total loss. It pays the full amount on the endorsement regardless of the property's actual value.
E.g., you and your insurer agree on a value for your rental home when buying the policy. You will get that amount if a covered peril destroys your rental.

Air Conditioning and Heating Loss Reimbursement
If the air conditioner or heating system fails, the tenant may ask for a refund or reduction on their rent. This endorsement reimburses the landlord for any refunds or deductions due to the HVAC system's failure.

Equipment Mechanical Breakdown Insurance
It covers mechanical items on the property that break down from mechanical failure suddenly and unexpectedly. Coverage includes the cost of repairing or replacing items. The endorsement excludes breakdowns due to wear and tear.

Extended Replacement Cost
Standard insurance policies pay up to your RCV coverage limit. Extended replacement cost pays between 10% and 25% above the policy limit.

Flood Insurance
Travelers' standard landlord insurance policies exclude flooding, and they do not offer flood coverage endorsements.
However, if your rental property is in a flood-prone area, you can buy a landlord flood insurance policy from the NFIP. You can also purchase flood coverage from another private carrier.

Loss Of Rental Income Endorsement
You can buy a loss of rental income endorsement. Rental loss occurs when your tenant defaults on their rent payments.
If you have a policy that excludes loss of rent, this endorsement will pay your rental payments. The coverage limit is up to 12 months, or the timeframe you set when buying your policy.

Non-Occupied Dwelling
A non-occupied dwelling endorsement covers the rental home if it is not occupied over several days or months. The limit is usually 30, 60, or 90 days depending on what your policy includes. Non-occupied means it has furniture but no people.

Occasional Rental Permission
This endorsement provides additional coverage for the short-term rental of seasonal homes. It covers the property when the owner is absent and is renting out the property.

Optional Replacement Cost
The optional replacement cost endorsement shields your belongings and home from depreciation on claims. If you have a policy that pays ACV, this endorsement upgrades you to RCV. Then your policy covers your property up to its total value.

Ordinance Or Law / Building Code Upgrades
The ordinance or law endorsement covers the cost of upgrades to your property as required by law or building codes. It is also called the building code upgrade endorsement.

Scheduled Personal Property
This endorsement covers high-value items subject to a sub-limit or things for which you prefer to have better coverage.
You choose a coverage limit for individual items, including bikes and equipment like lawnmowers. It comes with RCV coverage and no deductible, opposite of standard personal property coverage that has a deductible and ACV coverage.

Service Line Endorsements
The service line endorsement provides coverage for utility lines that run to and from your property. Service lines include pipes that provide heat, natural gas, telecommunications, and water to your home. Standard landlord insurance excludes service line coverage, so this coverage is practical and inexpensive.

Short-Term Vacancy Permission
This endorsement provides financial protection when your rental property is vacant for a short time. For example, in between tenants or during a remodel.

Tenant Move Back Costs
Usually, a tenant must leave the property during repairs or renovation. This endorsement covers any costs that they incur when they move back. It may incentivize your renters to return rather than find a new place leaving you to find new renters.

Travelers Short Term Landlord Insurance
If you rent a property out for the short term, your homeowner insurance may offer some coverage, but you want to be sure that your property and belongings have the correct coverage. Short-term landlord insurance is available.

It is important to talk to your insurance agent to find out the best insurance for your rental property.

Should Landlords Require Their Tenants to Buy Renters Insurance?
Yes. Landlord insurance covers the dwelling, the landlord's personal belongings, landlord liability, and loss of use. It does not protect the tenant's belongings, so you must ask your tenant to buy renters insurance. You can add it as a clause in the rental agreement.

Renters insurance includes
Personal Property
Renter's Liability
Additional Living Expenses
It makes sense for your tenant to add you as an interested party. You will receive notifications when the policy is due for renewal or if your tenant cancels the policy.

Additional Insured Landlord Recommendation
You can ask your tenant to add you to their policy as an additional insured. You can then make liability claims on your tenant's insurance policy instead of your own landlord policy. That keeps your claim's history clean.

How Much Does Travelers Landlord Insurance Cost?
The cost of Travelers landlord insurance depends on several factors. Some factors include which policy you take out, which endorsements you add, and your location. But expect to pay 25% to 30% more than you would pay for home insurance on the same property. Price also varies by state.

What Type of Rental Properties Does Travelers Landlord Insurance Cover?
The Travelers insurance landlord policy protects various types of rental properties:
Single-Family Homes
Vacation Property
Condominium
Small Multi-Family Units
Apartment Building
Multiple Properties
Is Travelers Insurance Good?
Yes. Travelers insurance is one of the most established insurance companies in the United States.

Travelers Landlord Insurance Reviews
Am Best Rating for Travelers Insurance Company
Travelers Insurance Company Ltd has an AM Best rating of A++.

Travelers Landlord Insurance Claim Process
Report your claim as soon as possible, either online or over the phone.

Travelers Landlord Insurance Claims Phone Number
In the event of a claim, contact Travelers Insurance 24 hours a day on 1.800.252.4633.

Travelers Landlord Insurance Claims Email Address
To make a claim online, go to the Travelers claim center. There is no email support for claims. But you can email Travelers if you have a query about your claim or anything else, them.

Travelers Landlord Insurance Quote
We are a certified Travelers landlord insurance agency. As independent agents, we can help you with a Travelers Landlord Insurance quote. We promise not to sell your personal information, and there will be no spam calls from any of our agents.
We are a licensed insurance agency and are happy to help you find the best landlord insurance for your rental properties.

Hope that helps!
Free Online Landlord Insurance Quotes
At your service,
Young Alfred