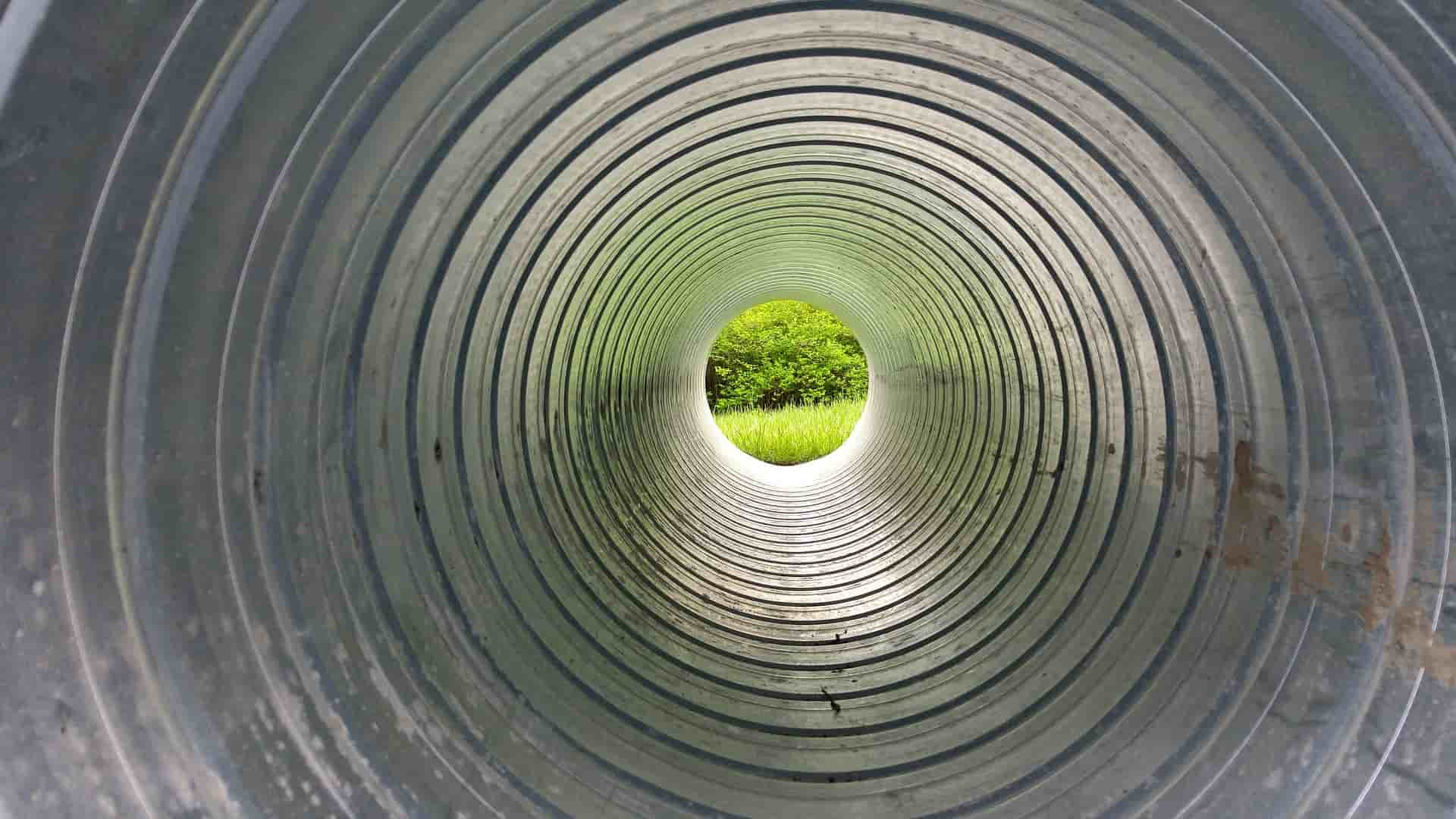 What is Trenchless Technology?
Unlike the traditional open-cut construction methods of replacing sewer and drain pipes, the trenchless process is a no dig technology. Trenchless technologies used for homeowners adds either a durable liner to your existing pipes or new pipes that last 50-100 years. The trenchless method used depends on the severity of the damage.

Having your lawn and driveway dug up is daunting and unsightly. Trenchless technology is minimally invasive and creates little damage to your landscape, costs 75% less, and takes a few hours versus days compared to excavation methods. It also leaves a much smaller eco-friendly footprint on the environment.

What is a Trenchless Sewer Line?
Trenchless construction is a sewer repair method of repairing or replacing damaged sewer lines with minimal disruption to the ground surface. With only one or two holes depending on the technique, your current sewer lines are repaired or replaced in less time for thousands of dollars less than traditional methods.
Pro tip: Do you know if you or the city is responsible for sewer line repair? Check out this article, "When is the City Responsible for Sewer Lines?" before you spend any money.

Trenchless Sewer Line Installation Methods
There are four standard trenchless rehabilitation methods for repairing or replacing sewer line structures without excavation: Cured in place pipe (CIPP), mechanical or sectional spot repair, pipe bursting, and sliplining.
Cured in Place Pipe (CIPP)


The cured in place pipe is where a new epoxy-resin lining forms inside of your old pipe. Pipelining is a more common option for sewer line repair.

How It Works
First, a video inspection identifies the exact cause and how severely damaged your pipe is. Then technicians determine the materials needed for the type of damage you have. If the damage is not too severe, an epoxy-resin lining will suffice. They shoot the epoxy-resin into the pipe, and it is cured-in-place with an inflatable air bladder.

The resin on the tube hardens against the old pipe creating a durable lining that will not rust or corrode. Curing takes only a few hours, after which the bladder gets removed. A final video inspection confirms (or not) that the pipe relining was successful. With this method, trenchless pipelaying contractors only need to dig one hole.



Sectional or Mechanical Spot Repair


For damaged sections of pipes, spot repair is ideal. The CIPP methods are used, but only for the damaged area.

How it Works
Like CIPP, a video inspection reveals how damaged the line is and if damages are isolated and suitable for spot repair. If so, experts pull inflatable air bladders through the pipe and apply epoxy-resin. It is done through existing entry points and finally put it into place.

Once the lining cures, the bladder is removed, and a final video inspection helps determine if the installation was successful and if the problem got fixed.

Pipe Bursting
Pipe bursting is also known as trenchless excavation or trenchless tunneling. Pipe bursting is the more common trenchless method for pipes in rough shape, misaligned, or offset and requires replacement instead of repair. Existing pipes with 2 inches to 48 inches of inside diameter qualify for bursting, and a pull-line of more than 1,000 feet qualifies.



How it Works


This trenchless underground pipe installation method requires contractors to dig two holes. After a video inspection reveals the extent of the damage and that pipe bursting is needed, experts pull a winch line through the existing pipe using existing entry and exit points or non-invasive holes.

Next, a cone-shaped steel bursting head is attached to the winch line and pulled through the old pipe. The piercing head breaks or bursts the old pipe, and the broken fragments move through and exit the tunnel for disposal. During the same process, the new pipe is also pulled through the tunnel and permanently installed. These three steps occur concurrently in one seamless, single pass-through.

After the new caps are installed, connecting the new pipe to your water system, a final video inspection ensures a successful installation.


Sliplining


Sliplining is different than CIPP and pipe bursting in that it places a new pipe inside the old pipe. It is the oldest trenchless method dating back to 1940.



How it Works


Once the video inspection reveals the severity and damaged locations, a new pipe gets pulled through and placed inside the old pipe, with the ends finally sealed. Materials typically used with slip liners are PVC, fiberglass reinforced pipe (FRP), and high-density polyethylene (HDPE).

There are two slip line methods typically used: segmental and continuous.

Continuous sliplining uses a fusible PVC pipe, a long continuous pipe, or an HDPE pipe that gets welded into contiguous pieces. The new pipe gets pulled through the old pipe, from one endpoint to an exit point.

Segmental sliplining is like continuous sliplining, except for the type of pipe used. Bell and spigot pipes, e.g., PVC, HDPE, FRP, or individual pieces, get lowered into place, fused, and pulled into the existing pipe passageway.

With both methods, the circular space between the two pipes gets grouted.
Advantages of Trenchless Technology
The benefits of Trenchless technology are many, including those below.
Less disruptive to surface traffic. Trenchless technology connects with the city infrastructure with minimal disruption; therefore, there is a lower chance of disrupting surface traffic on driveways, sidewalks, and roads.

Environmentally friendly. The trenchless process is much more ecologically friendly than digging up large portions of the earth.

High-quality sewer lines and construction. The newer technology, both trenchless pipes and construction methods, are superior to older pipes and methods. Your new pipes will not rust, corrode, crack, and can withstand tree root invasions.

It takes less time. The rehabilitation of existing underground lines takes much less time with trenchless drainage installation. What might take days with the traditional open-cut method can take just a few hours with the trenchless method.

Pay 75% less. The shorter time frame not only gets your drain flowing again quickly, but it also cuts down on the labor hours you get billed, and linings are less costly than new pipes. You can expect to save roughly 75%.

Less disruptive to your landscaping. You will not undergo extensive excavation that disrupts your lawn, garden, and life. No-dig technology takes a few hours and creates only one or two holes and minimal disruption to the surface.

Durability and life expectancy. The epoxy resin used in trenchless sewer pipes has a 50 to 100-year life expectancy, meaning you should spend less on repairs and replacement over time.

Pipe agnostic. CIPP trenchless technology lines your old pipes, so the material of your old pipes does not matter. Trenchless materials work with cast iron, concrete, clay, or Orangeburg pipes. Most pipe materials can be burst, except HDPE, and some ductile iron and reinforced concrete might be difficult.

No driveway damage. If you have a driveway, trenchless technology has a much lower chance of damaging or interfering with it. It saves money when you do not have to replace your driveway.

You can increase pipe size. Pipe bursting allows you to increase the pipe's diameter.
Disadvantages of Trenchless Technology
You should know the downsides, but most people find that trenchless technology's advantages far exceed the few disadvantages. Also, many of these disadvantages are fixable by trenchless experts.
Flowthrough loss. The CIPP method of trenchless sewer technology shrinks the inner diameter of your pipe about ¼" inch. Most people notice no difference, but it is worth noting. The sliplining method reduces the pipe's diameter by roughly 10%.

Disqualified lines. Sometimes your old line is too damaged, or other issues prevent adding a trenchless liner or new pipe with the slipliner or pipe bursting method. In that case, you will have to revert to the old way and excavate and have new lines installed.

Some digging. Although trenchless is much better than the old process, trenchless sewer repair does require one or two entry and exit holes.

Not advisable for compressible soil. Sometimes, rocky or sandy soils do not respond well to trenchless methods.

Not suitable for some pipes materials. Some pipes, e.g., reinforced concrete, deductible iron pipe, and HDPE, cannot be used.

Obstructions. If the line has an obstruction, it might not be possible.

Ground heave. Shallow lines, especially in clay soil, can cause swelling and upward movement.

Adjacent ground movement. The earth and underground infrastructures, including adjacent pipes, nearby could shift or get damaged from the force of bursting.

Gaps. Stretched replacement pipes can retract and leave gaps at the entry or exit points.
Choosing Your Trenchless Contractor
Choosing the wrong company for your trenchless sewer can cost you a great deal of money and headaches over time. Not every contractor or plumbing company can effectively install trenchless technology.

Ensure you choose one that does by checking with the North American Society for Trenchless Technology (NASTT). Their website has links to thousands of professionals worldwide that you can trust with your sewer lines.
Are Your Sewer Lines Covered by Homeowners Insurance?
Standard homeowners insurance does not cover sewer line damage. But, for only a few dollars, you can get sewer line insurance as an add-on to your homeowners insurance. You can also purchase service line insurance for very little money that will cover your sewer line and all other utility lines you are financially responsible for, such as gas lines, water lines, etc.
I hope that helps!
Get an Online Sewer Line Insurance Quote
At your service,
Young Alfred