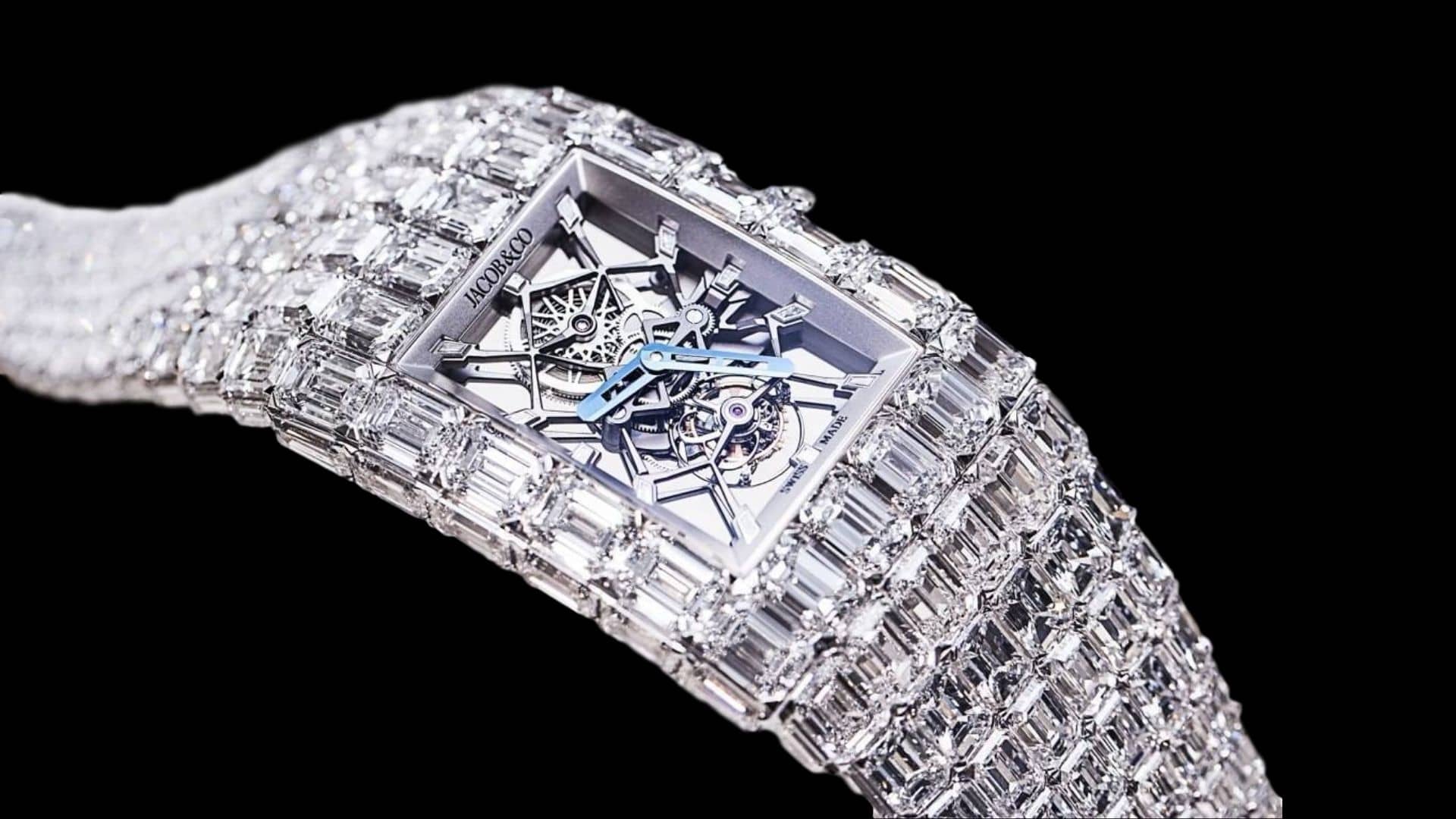 Jacob & Co. Billionaire Watch -- $18 Million Watch (HYPEBEAST®)
What is Watch Insurance?
Watch insurance is an insurance product that protects you if your precious timepiece is damaged, destroyed, or stolen. Your insurer will reimburse you a certain amount of money to repair or replace your watch affected by a covered peril, such as fire or theft.
What Does Watch Insurance Cover?
Typically, watch insurance covers the same 16 (perils) events that are covered in your condo (HO-6), or house (HO-3) insurance policies include:
Theft
Civil commotion and riots
Hail and windstorms
Sudden tearing apart of air conditioners or water heaters
Lightening and fire
Damage caused by artificially generated electrical surges
Explosions
Freezing
Vehicles
Volcanic eruption
Steam or water damage, excluding floods
Falling objects
Aircraft
Weight of sleet, ice, or snow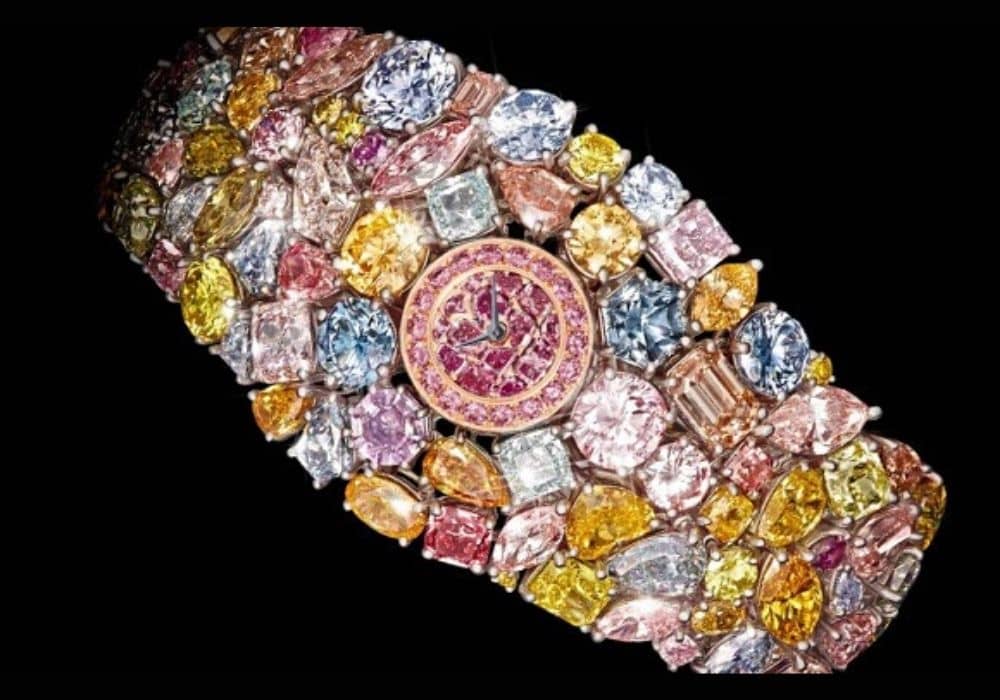 The Graff Diamonds Hallucination -- $55 Million Quartz Watch (aBlogtoWatch)
What Does Watch Insurance NOT Cover?
Each insurance provider has different rules for a damaged or lost watch insurance claim. However, the following perils are typically excluded from watch insurance:
Your provider would not pay a claim if the damage occurred due to normal wear and tear.
Your watch is not covered if it gets stolen or damaged while out of the country, and you do not have worldwide coverage as part of your plan.
Theft committed by someone named on your policy or you.
You are not covered if you lose your watch (applicable only to standard home insurance; lost watches are covered under a floater).
If your watch is part of a claim and you intentionally caused the damage, your watch is not covered. E.g., if you start a fight and your watch is damaged, or you go swimming and do not remove your watch that gets water damaged.
Theft from a rented section of your house.
A watch damaged or destroyed in an earthquake or flood is not covered by home insurance.
A home construction accident caused the damage.
Theft from semi-trailers, campers, trailers, and watercraft.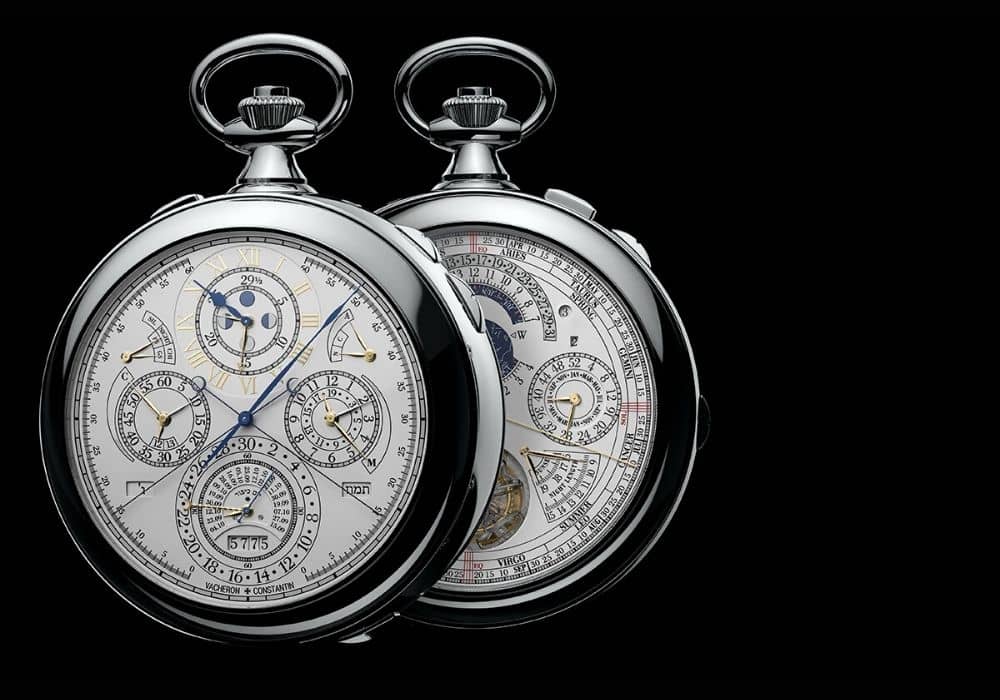 Vacheron Constantin 57260 -- $11 Million (New Atlas)
How to Buy Watch Insurance
You can buy watch insurance in three (3) ways:
It comes with your standard homeowners or renters insurance policy.
Add your watch to your jewelry insurance rider.
Purchase it as a separate watch insurance rider on your homeowners insurance policy or through a specialty carrier.
Each coverage option reimburses you if something happens to your timepiece and if that something is a covered peril.
1. Does Homeowners Insurance Cover Your Watch?
Yes. Your standard homeowners insurance coverage includes watches; however, it has reimbursement limits that average $1,500 per jewelry claim. Insurers consider jewelry and watches as the same.
For example, if your Rolex worth $15,000 gets stolen, you would only get $1,500 minus your deductible. Worse yet, standard homeowner policies use a reimbursement calculation method called actual cost value, which deducts depreciation. That means your reimbursement would be $1,500 - deductible - depreciation = your reimbursement.
2. Add Your Watch to Your Homeowners Insurance Jewelry Floater
In most cases, you can add a watch onto a home insurance jewelry rider that you may already have for your engagement ring and other jewelry. The insurance company may also call the rider a personal articles floater, scheduled, or contents insurance, which is an additional policy that covers high-value jewelry above the coverage limits that you otherwise get with your standard homeowners insurance policy.
Floaters cover you up to the value of your watch, via a professional appraisal that sets the amount. One significant advantage of a watch endorsement is that it covers you if you lose your watch, e.g., you leave it in a hotel room, or it falls off and down a sewer drain.
If you have an expensive watch, this is a better way to go. It will cost slightly more, but it is worth it. Most floaters come with a replacement cost value policy used for reimbursement calculation. This way, your claim check will cover the cost of a new watch, and depreciation will not count against your claim payment amount.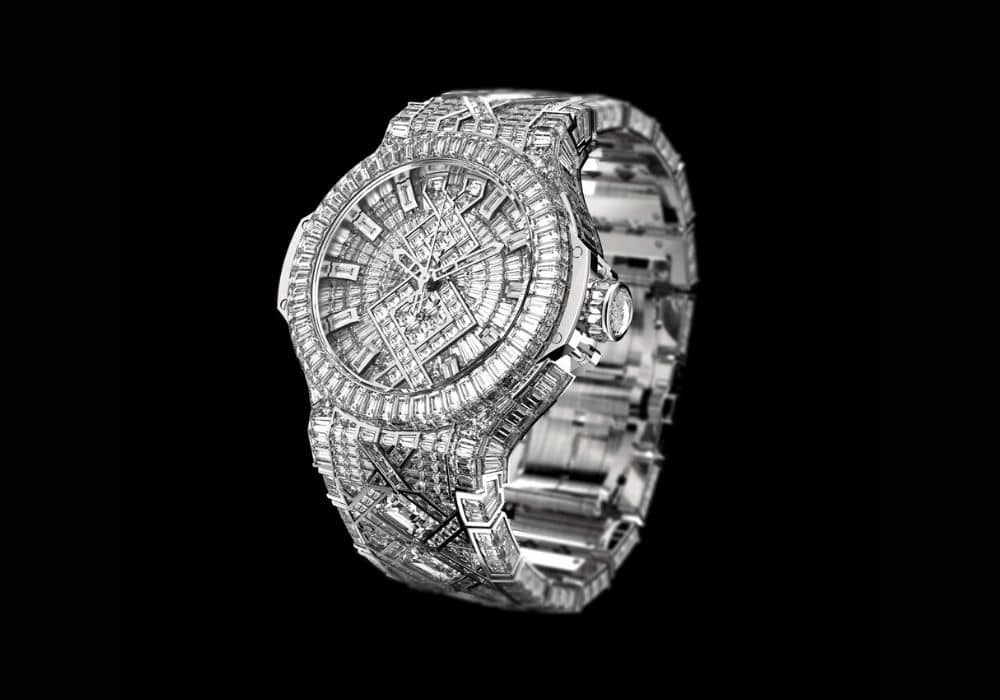 Hublot Big Bang Diamond -- $5 Million (Wealthy Gorilla)
The value of your watch determines how to add it to your homeowners insurance policy. For instance, a stolen watch insurance claim of $50,000 on your standard home insurance policy will not help you much because of policy limits; most standard homeowners policies only cover single article items up to $1,000 - $2,000. Your watch has a higher value, so you would be in the hole $48,000 - $49,000 on that claim. Plus, you then subtract your deductible. You are much better off with an add-on covering the full amount of your high-end watch.
On the other hand, a watch or jewelry endorsement for an Apple Watch under $1,000 is silly; your deductible might be $500, and is it worth risking an increase in your policy premiums for a $500 claim?
Expect to pay more on your policy, but your luxury watch endorsement is well worth the extra pennies versus your out-of-pocket replacement expense if it is stolen.
3. Buy a Separate Watch Insurance Policy or Watch Floater
Another possibility is to take out a dedicated luxury watch insurance policy or watch floater with your homeowners insurance that protects luxury watches. A specialized jewelry insurance plan is available through providers like Chubb Watch Insurance. Coverage is tailored and provides comprehensive protection in most scenarios, including the mysterious disappearance of your watch. It even covers you if you lose your watch.
Specialty insurers use a jewelry insurance valuation method to figure out how much coverage to provide in case of a loss claim. Through their methodology, 100 percent of the total cash value agreed upon when the contract is purchased gets paid-out for a total loss, theft, and damages.
In either of these three (3) scenarios, a watch appraisal must occur before coverage begins. Luxury watches tend to go up in value, so choose a provider who pays market value over depreciation amounts.
In the last two (2) scenarios where you have a separate policy for your watch, it is critical to add your watch to your policy; also include your professional appraisal and watch purchase receipt. Schedule, or list, each piece of jewelry individually.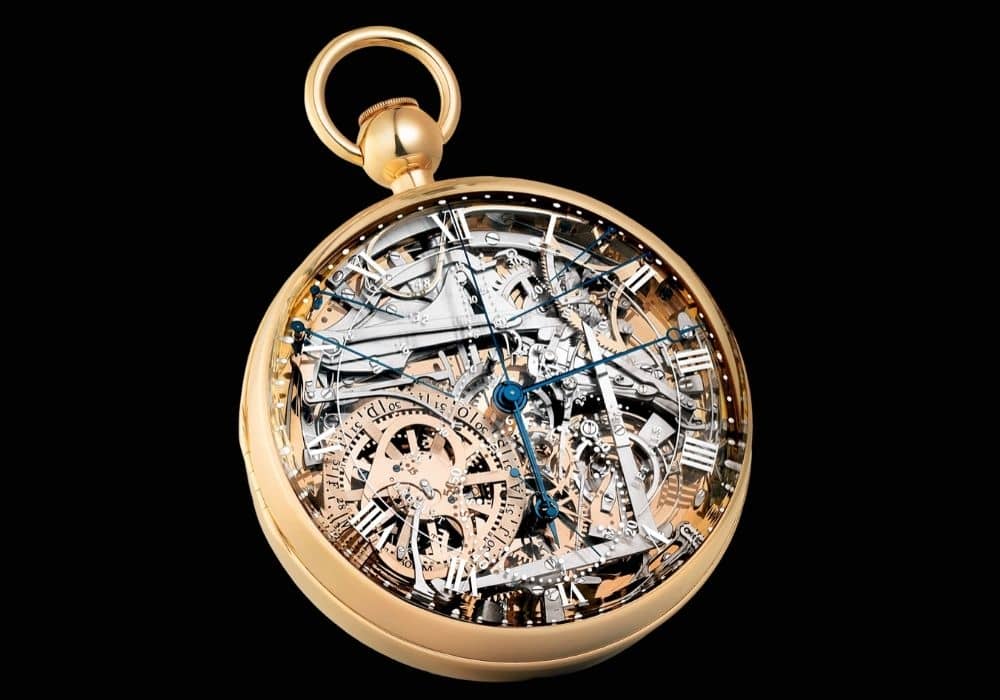 Breguet 1160 Marie Antoinette Pocket Watch -- $30 Million (aBlogtoWatch)
Comparing Your Options
Your choice comes down to money. If you have a watch under $1,000, rely on your homeowners insurance. Go with a jewelry floater or a dedicated watch policy if your watch exceeds $1,000 in value.
| | | | |
| --- | --- | --- | --- |
| | Homeowners Insurance Policy | Jewelry Floater on Homeowners Insurance | A Dedicated Watch Policy |
| Covers damage from fire, storms (16 perils) | Up to $1,500 or Coverage C limit | ✔ | ✔ |
| Covers what home insurance excludes | X | ✔ | ✔ |
| Covers theft | Up to $1,500 | ✔ | ✔ |
| Covers your lost watch | X | ✔ | ✔ |
What Type of Watches Are Covered by Insurance?
You are probably not looking for insurance on a multi-million-dollar watch like you see in our article images, some of the most expensive watches in the world. Regardless, when shopping for your watch insurance, the insurance company is likely to provide a list of the wristwatch and luxury brands that they cover.
You might be looking to buy insurance for a women's or men's Rolex watch or similar high-end brands, or a pocket watch. Rolex watches are investments; most models cost upwards of $10,000. Due to their high cost, your insurance will not cover them under a homeowners policy because its limits are lower than the price to replace your Rolex.
Your less expensive watches, such as Breitling, Timex, Apple Watch, and Tag Heuer that are $1,000 or less, will be covered by your standard policy, but a Rolex will need a rider for complete peace of mind.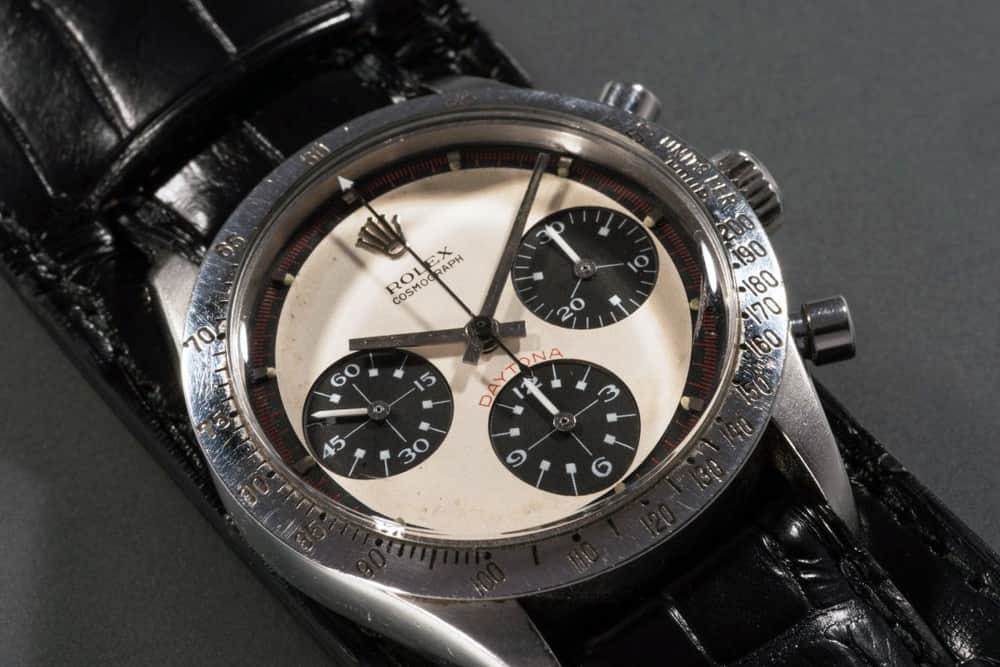 Paul Newman's Rolex Daytona -- $17.8 Million (Luxe Digital)
How Much Does Watch Insurance Cost?
The type of watch you own and its value influence the cost of your premiums. For instance, an antique Rolex insurance endorsement may cost more because it is expensive to repair or replace your timepiece, and the rarity of replacement parts drives prices up further.
A watch appraisal ultimately determines the cost of your watch insurance. Another cost factor is choosing a higher deductible. Your watch insurance provider may also discount premiums if you have an alarm system installed in your home. Coverage limits also vary based on the type of policy you have. Under standard homeowners insurance, coverage limits are usually set around $1,000 - $2,000, and in a jewelry floater and dedicated watch insurance plan, they are based on the watch's value.
Expect to pay around 1% of the value of your watch if added to your home insurance policy as a floater—for example, a $20,000 watch costs around $300 per year to insure.
| | | | |
| --- | --- | --- | --- |
| | Homeowners Insurance Policy | Within a Jewelry Floater on Homeowners Insurance | A Dedicated Watch Policy |
| Premiums | No extra cost | Based on the appraised value | Based on the appraised value |
| Coverage limits | Up to $1,000 - $2,500 | Appraised value | Appraised value |
| Deductibles | Same as homeowners deductible | No | Dollar based options |
| RCV or ACV | ACV or RCV | RCV | RCV |
The Best Watch Insurance Companies
We have analyzed the best home insurance companies that provide floaters for watches under your homeowners insurance, or you can check a specialty jewelry insurance company like Jewelers Mutual.
Should I Get Watch Insurance?
Yes, if you have a precious timepiece valued at a price point higher than your home insurance's personal-article coverage limit. That is true in most cases. We recommend getting an add-on endorsement if your watch's value is more than $1,500.
Keep in mind that if you have a collection of watches, you will need a specific insurance type. For a collection, you may need multiple endorsements on the policy.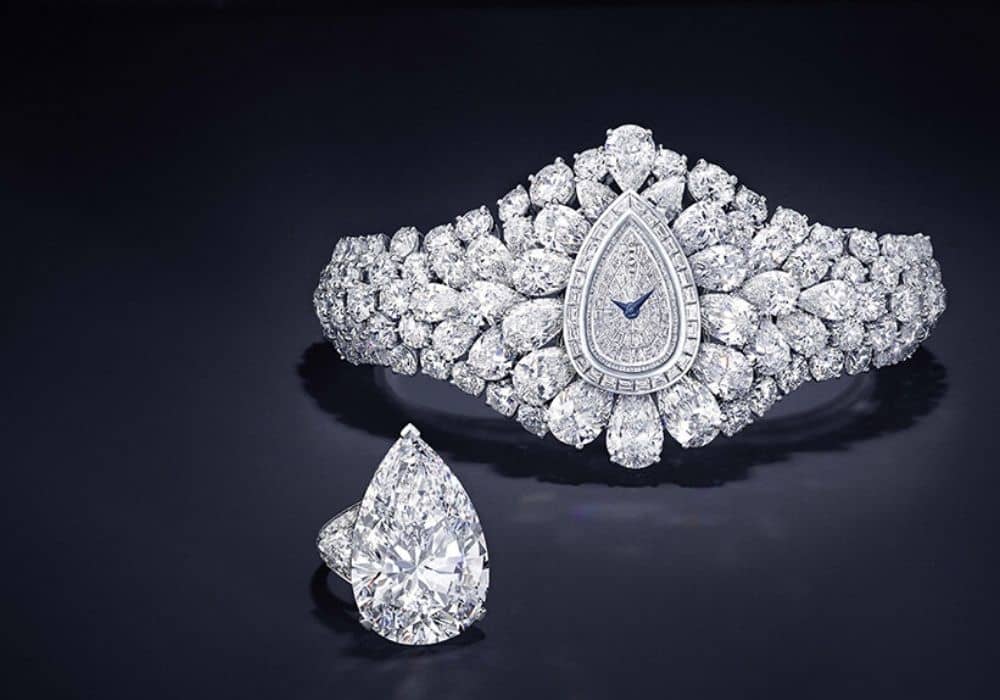 Graff Diamonds – The Fascination -- $40 Million (Pursuitist)
How do Insurance Companies Calculate Claim Payments?
First, it depends on the nature of your watch's loss; if it was damaged or destroyed in a covered peril along with your other belongings, your policy's maximum personal property limit kicks in, e.g., $100,000. In that case, the cumulative cost of everything that is damaged, including your watch, fits into that $100,000 max limit.
If only your watch gets damaged, destroyed, or stolen, your jewelry's maximum personal property limit kicks in, usually $1,500 on average.
A summary comparison of how claims get paid for covered and non-covered perils is simple to see in this table:
| | |
| --- | --- |
| Peril | Coverage for watch repair or replacement? |
| Damage from a covered peril, like fire or explosions | Full coverage, up to your policy's maximum personal property limit |
| Theft | Limited coverage up to each personal property's maximum, usually $1,500 in most cases; check your policy for your jewelry coverage limit |
Second, insurance plans have different payment options for watch claims, including the following, and each one pays out a different amount.
ACV:

Actual Cash Value. Typically used for personal belongings in your renter or home policy, it pays the current estimated worth of the watch, replacement cost minus depreciation. It pays the least amount of all options.

RCV:

Replacement Cost Value. Typically included in a renters policy or a floater, it guarantees the plan holder receives the full and current replacement value of the item.

FRC:

Functional Replacement Cost is a type of policy that provides the insurer with payment based on repairing or replacing the timepiece with an equivalent material.

ERC:

Extended Replacement Cost policies allow reimbursements to exceed coverage limits. For instance, if you have a watch coverage limit of $10,000 and your watch appreciated to $15,000, and you chose a 50% ERC, you will receive $15,000.
GRC: Guaranteed Replacement Cost plans pay the full cost of replacing the watch, regardless of coverage limits.
In any of these scenarios, your watch appraisal is a critical factor in the calculation formula. Luxury watches tend to go up in value, so it is better to choose a provider that pays market value without depreciation amounts.
The appraiser evaluates the straps and clasps of the watch along with the face. Keep aftermarket straps and clasps in good condition to retain coverage.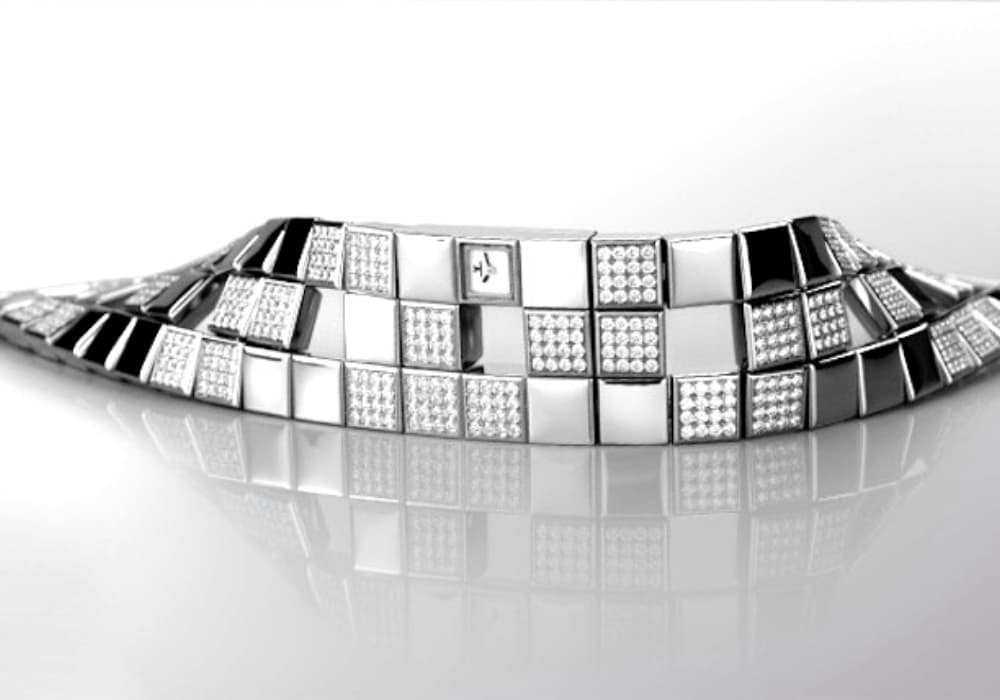 The Jaeger-LeCoultre Joaillerie 101 Manchette – $26 million (Jaeger-LeCoultre)
Claim Tips and Safeguards
We recommend that you take photos of your watch and your purchase receipts and get an appraisal. Get an annual maintenance inspection of your watch to note any damage and malfunction and have it professionally cleaned. When not wearing your watch, keep it secure in a home safe or safety deposit box.
Carry your watch on your person while traveling. Never store it in luggage if bags are being checked and handled by cruise lines and airports, and never put it loosely in the airport screening tray. Instead, put it in a pouch you can use to safeguard your wallet, watch, and other high-value items and secure it to your larger carryon. That deters airport thieves.
Hope that helps!
At your service,
Young Alfred