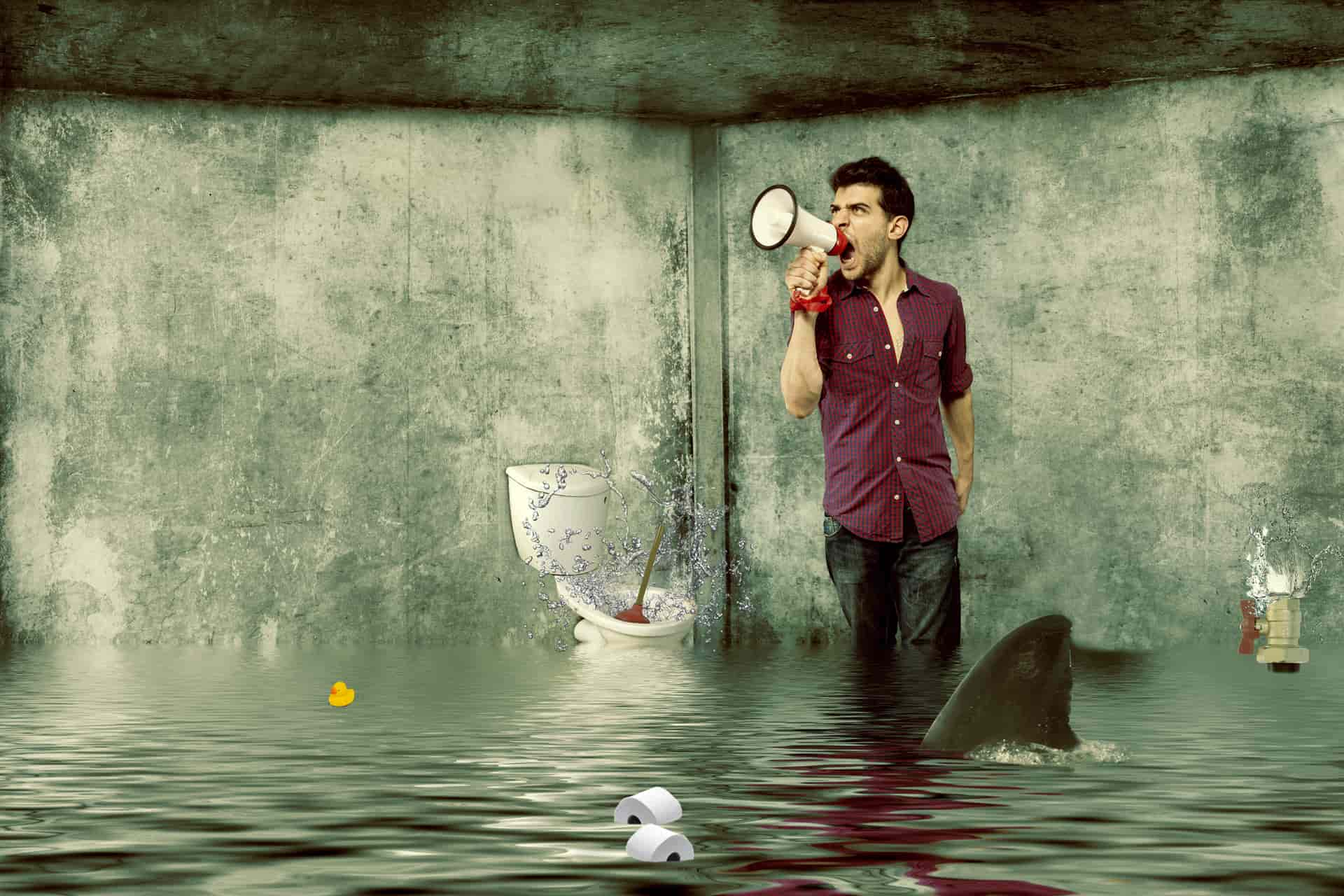 Water Backup Coverage
Water backups are increasing at 3% annually. Travelers Insurance reports that 20% of all water damage claims are non-weather related.
Most standard HO3 home insurance policies do not cover water backups unless you specifically purchase a water backup endorsement. The damage backups cause can cost thousands of dollars. So, at the average cost of $25 a year, a water backup endorsement seems like a no-brainer.
Let's delve more deeply into the water backup endorsement, also called sump pump backup coverage and sewer backup insurance.
What is Water Backup?
Water backup is a term commonly used in the insurance industry. It refers to incidents when something stops dirty drainage water or sewage from naturally flowing through the pipes that exit your home. When this stoppage occurs, the water has nowhere to go and creates a flooding situation in your home, usually the basement.
The pipes carry dirty water out of your home. It could be dirty water from your kitchen and bathroom sinks, dishwashers, washing machines, bathtub drains, and toilet sewage. If your home is prone to floods, you probably also have a sump pump. The sump pump sits below your basement, collects excess water from drains, and pumps it out and away from your house to the city's sewer main line. When these two systems fail, water backup can occur.
It is important to know that homeowners are responsible for the pipes that run to and from their homes to the city's lines.
Pipe blockage in those lines could happen from numerous things, such as:
Tree roots. Trees, shrubs, and plant roots grow towards moisture. They can crack and sever pipes causing blockages.

Clogged drains. From grease, paper products, silt, debris, and other things.

Sump pump failure. If you have a sump pump failure, the water will back up.

Old sewer lines. Rust, corrosion, and aging can cause cracks and breakage in pipes.

Combined pipelines. Stormwater from gutter systems and rainwater lines are sometimes combined with raw sewage lines into the same pipe. Heavy rains and hurricanes fill these lines with more than they can handle. If these lines overload, the contents can dump sewage into basements and other low-lying drains.

City main line blockages. The city's sewer and water lines can become blocked, causing backup into your home.
To protect you from the financial blow from water backup damage from water lines, sewer lines, and failed sump pumps, the industry created a water backup endorsement.
What is Water Backup Coverage?
Most standard HO3 homeowners insurance policies do not include water backup insurance coverage. However, most carriers offer water backup coverage as an add-on policy. It provides coverage for damage to your house and belongings in case of sewage or sump pump backups.


What Does a Water Backup Endorsement Cover?
Water back up coverage pays for water damage to the structure of your home and your personal belongings in the case of the following situations caused by sewer line or sump pump backups:
A sewer line or drain overflow

Sump pump overflow with or without mechanical issues

Backup from subsurface water filtration near the foundation

Heavy rain incursion

Sudden and accidental damage to the septic tank

Loss of use. The endorsement does not pay the additional living expenses, but it qualifies you to receive them if you cannot live in your home after a backup problem.
Does Homeowners Insurance Cover Water Damage from Toilet Overflows?
Yes. While every policy is different, most standard homeowners insurance policies include coverage for toilet overflows. The water backup rider is not necessary for toilet overflows as your standard policy takes care of that. However, if the toilet backups because of a blocked sewer line, you will need the water backup endorsement to cover that scenario.
Does Homeowners Insurance Cover Cesspool Collapse?
Yes. If your septic tank collapses due to a covered peril, you will probably receive reimbursement for the damages. A septic system is typically considered part of your home's main structure, so your standard HO3 home insurance covers it. A water backup endorsement is not needed for cesspool collapses.
Does Homeowners Insurance Cover a French Drain?
Most standard home insurance (HO3) policies do not cover French drains unless you have a French drain rider. Like other pipelines, French drains direct surface water away from your home, and they are not part of your standard home insurance. But your water backup endorsement does cover French drains.
What Does a Water Backup Endorsement Not Cover?
Here are examples of items water backup insurance typically does not cover:
Poor maintenance. It will not pay if your sump pump fails due to poor maintenance. You can request equipment breakdown coverage if you want reimbursement for failed equipment.

It also does not cover negligence. Therefore, if you forget to turn on the sump pump and your basement floods, your endorsement will not cover the damage.

Water damage from floods. You can purchase a separate government flood policy from the NFIP or a private insurer.

Burst pipes. Your home insurance covers burst pipes.

Surface water, tsunamis, hurricanes, or overflow of lakes or other bodies of water. Your flood insurance policy usually covers these. Your flood policy covers water backup damage caused by a natural disaster, such as hurricane flooding.

Swimming pool overflow. Your standard home insurance policy will pay for the neighbor's property, but not yours.

Wear and tear. Wear and tear of equipment or pipes are never covered.

Water heater leaks. It does not cover leaks from your water heater. An equipment endorsement might cover your water heater.
Sewage backup creates unsanitary conditions and can result in property damage and unsafe living conditions. Hurricane Katrina is a perfect example. Many homes in New Orleans remain unlivable due to category-3 water damage.
But floods are not the only danger. If you have a basement, water and sewage may come up through the basement floor from any of the conditions mentioned above. That means any home is susceptible to toxic conditions from a water backup problem, which is why this endorsement is so important.
Average Cost of Water Backup Endorsements
Sewer backup endorsements typically cost between $25 to $70 per year for every $5,000 of coverage, in addition to your homeowners premium. If you need more, it is $25 - $35 for each additional $5,000 of coverage. That is nothing compared to the repair costs of sewer backup damage.
Water backup insurance will probably be subject to a deductible. Deductibles vary and can range from $250 - $1,000 per incident, or sometimes your standard policy deductible applies. So, bear that in mind when making insurance claims.
How Much Water Backup Coverage Do I Need?
Most insurance companies offer $5,000 to $25,000 of water backup coverage in an endorsement. If you choose an amount yourself, consider adding coverage for 25% beyond your regular homeowners limits to cover labor and materials to fix sewage backup damage.
Water Backup Coverage Limits
The water backup endorsement will have a separate limit from your homeowners insurance. Typically, add-ons such as sewage backup coverage cap off at the amount of coverage you purchase.
Water Backup Coverage with Renters Insurance
You can add water backup coverage to a renters insurance policy. It covers the risks mentioned above. It pays for replacing or repairing your personal property, but not the rental unit -- just like your renters insurance. Consider water backup insurance if you live on the first floor or near oceans or rivers prone to flooding.
Water Backup Coverage for Condos
As with regular homeowners insurance, condo insurance does not typically include water backup coverage without an add-on endorsement. Consider adding water and sewer backup coverage to your policy to protect your personal belongings.
Do I Need Water Backup Coverage?
Whether you need sewer backup coverage is ultimately a personal decision. You are more vulnerable to water backups if you live in:
Your insurance agent or insurance customer service can help you determine if you need a policy.
Do I Need Water Backup Coverage for My Apartment?
Probably not. Apartment buildings usually cover water backups and the building's plumbing (including your apartment's plumbing inside the walls) through their master policy.
Whether you rent or own an apartment, the importance of water backup insurance depends on your apartment and who is responsible for backups. It is a wise insurance investment if you live in a high-risk flood zone and you are on the first floor or if you have a basement. Otherwise, you might not need it.
Hope that helps!
Get a Home Insurance Quote with Water Backup
At your service,
Young Alfred