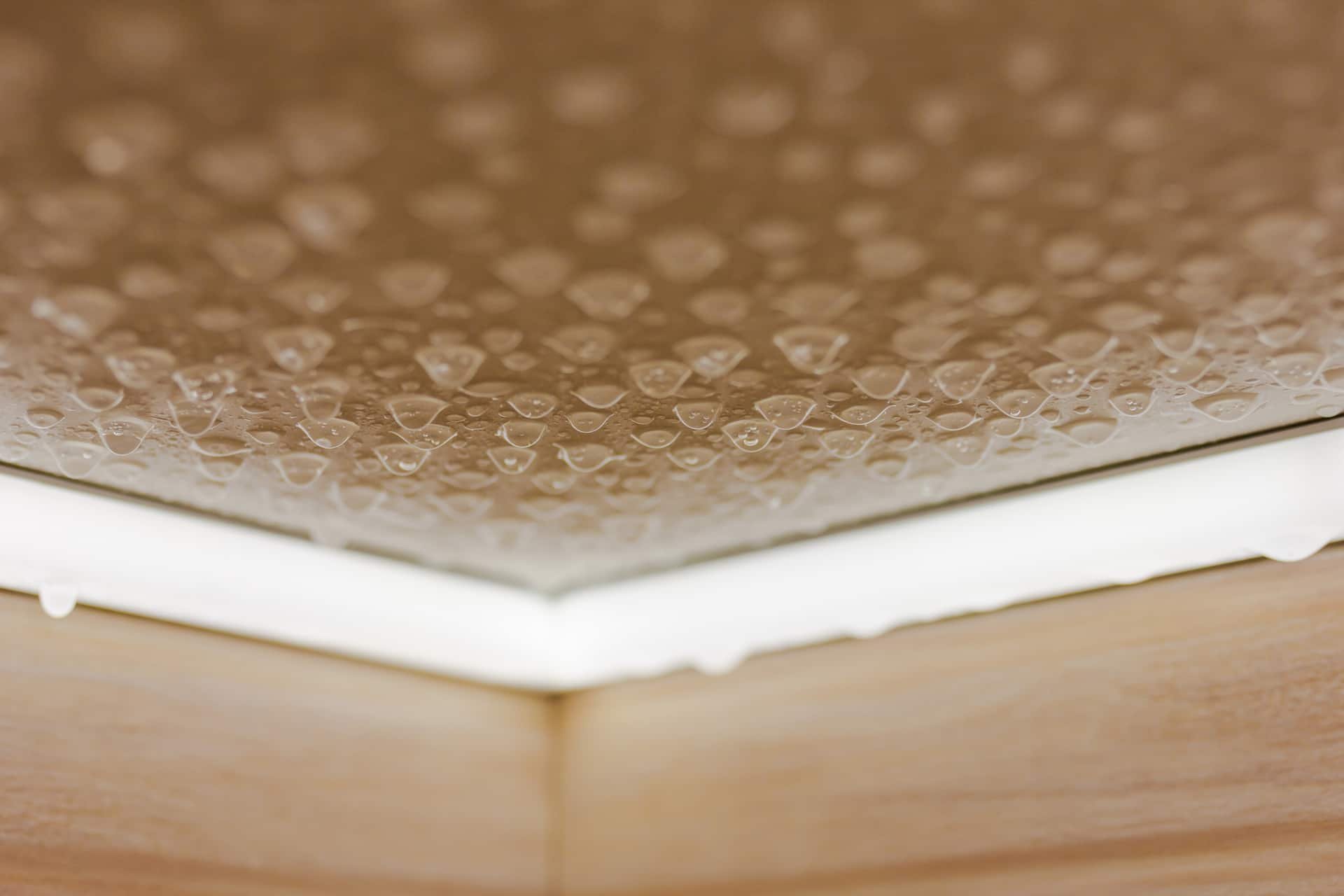 Water Damage to Ceilings
Water damage to ceilings is a common issue. If not appropriately addressed, it can destroy homes, cause mold growth and sickness, and cost tens of thousands of dollars to repair. Homeowners must know how to recognize the signs so that they can fix it swiftly.
Water Damaged Ceiling with Mold
Water damage and mold growth often go hand-in-hand, and it can be hazardous to your health. In most cases, mold spores develop in as little as 48 hours, making it vital that you begin mold remediation immediately. For the best results, consider calling in professionals to get rid of mold for you.
Water Damage to Ceilings & Insurance
Home insurance will usually cover water damage to ceilings if caused by a covered peril or sudden and accidental damage. Damage from a lack of maintenance or normal wear and tear is not covered.
For example, let's say you have water damage on your living room ceiling due to water dripping from the upstairs bathroom. If the dripping has been happening for months, the damage will likely not get covered. If, however, a pipe suddenly bursts, insurance coverage should apply.
If it is flood damage, insurance will not cover the cost unless you have a separate flood policy. You will need to check your insurance policy for the full scope of covered damages. Only then will you know for sure what your homeowners insurance covers and whether you need any additional coverages.
Signs of Water Damage on the Ceiling
Several types of ceiling damages come from water exposure.
Ceiling Cracks
Cracks in the ceiling, even hairline cracks, can be indicative of a water damaged ceiling. They can show up as a straight line or a spiderweb pattern.
Peeling Paint
Water damage can cause your ceiling paint to peel, flake, or crack. You might also notice the trim and baseboards separating from the walls or ceiling.
Water Stains
Ceiling water stains may be one of the most recognized warning signs of water damage. They often look dark and wet, yellowish, or rusty. You might also see that some parts of the ceiling look like it is sweating.
Sagging
Over time, even a tiny water leak can lead to a swollen, sagging, or bowed ceiling.
Mold Growth
Water damage often presents as a mold problem in the corners of walls and ceilings, especially if the room is humid.
Causes of Water Damage on Ceilings
Though not an extensive list, the following are some of the most common causes of water damage.
Moisture in the Air
If moisture is always present in one room or area, there is a high likelihood of water damage.
Structural Damage
If a ceiling joist or a wall stud is damaged, parts of the home can shift. This shifting can create holes and cracks for water to seep through.
Leaks
Your home can produce many types of leaks that cause water damage to ceilings, including roof leaks and leaks from plumbing.
Age of Your Home
As homes age, they settle and shift, which often causes cracks in walls and ceilings. These cracks make it more possible for water to leak through.
Standing Water
Without a place to drain or airflow to dry them, even the tiniest drops of water can form a puddle or water pool.
Clogged Gutters, Ice Dams, or a Broken Pipe
Any of these can lead to a gush of water or a slow drip. Either way, without proper attention, water damage occurs.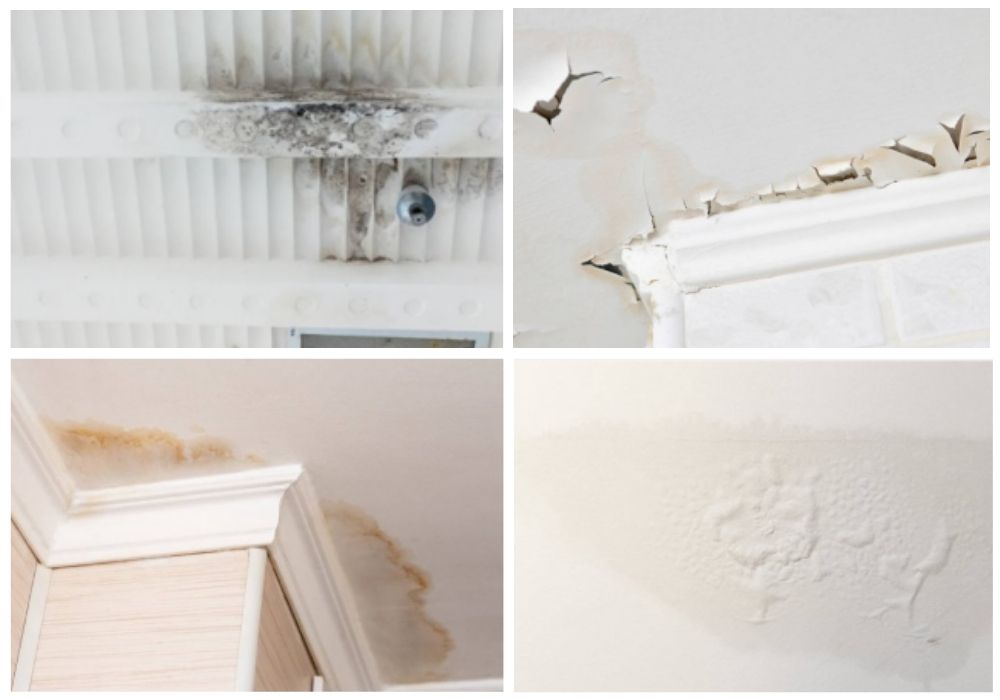 Ceiling Repair After Water Damage
As soon as your ceiling starts showing signs of water damage, it is imperative to get to work on the steps below.
Find the Source of the Water Damage


The very first step to take is to determine where the water damage started. There are several places this could be. Some common areas to check include:

Plumbing fixtures: Some water damage is due to a burst pipe or loose plumbing connections.

Attic spaces: Roof damage can lead to water damage. You can check for holes in your roof from the attic.

Exterior walls: Damage to siding and exterior walls allows water in the ceiling and wall cavities.

Appliances in the bathroom and laundry room: Look for leaks around the water heater and washing machine.


Mitigate the Damage


When you find the source of the leak, you need to mitigate further damage. Water mitigation might include turning the water off, tightening hose connections, drying any present water, using a putty knife to patch a hole, or other similar actions.

It is also smart to clean the area with bleach to prevent mold growth. If you do not take steps to mitigate the damage, your insurance company will probably deny your claim.


Repair the Source of Water Damage


The next step is to fix the problem. Otherwise, you will end up with more water damage. Some fixes, such as tightening a hose, are simple, and you can complete them independently. For larger projects, such as a broken pipe, you will probably need to call in a professional contractor.


Repair or Remove Damaged Materials


Start your repair work with a little preparation. You want to have a dust mask and safety goggles for protection. It would be best if you also lay down a drop cloth to make cleaning easier.

Next, remove and replace the wet sections completely. This process should not be too tricky as wet drywall or plaster tends to crumble. Remove and replace any wet insulation. Before going any further, dry the area thoroughly.

If your damaged drywall is only stained, there are two different things to do. For a damaged area smaller than 12 square inches, you can remove and replace only that piece of drywall. You will need to replace ceiling tiles entirely.

If it is 12 square inches or larger, you should completely replace the drywall panel. This rule is essential because your drywall must attach to studs or ceiling joists to secure it.

You can now replace the drywall, prime it, and paint it. Or, if you prefer, you can hire a professional ceiling repair company to take care of it for you.

After your water damage gets repaired, follow these steps from the Insurance Information Institute to protect your home from water damage.

Who to Call for Water Damage in Ceiling?
Typically, calling a water damage restoration and mold removal company first is the wisest move. You want to get anything hazardous to you and your family out immediately.
After the water is dried and the mold is gone, you can call in a professional ceiling repair company. The water damage restoration company might provide some of the repairs, but this is not always the case. Check websites like HomeAdvisor and Angie's List for local companies.
Ceiling Water Damage Repair Cost
The average repair cost to fix a water damaged ceiling is usually no more than $1,200. There are, however, several cost factors that impact the total. The most important factors include:
Extent of Damage
Project costs revolve around the damaged area's size and severity of the damage. If, for instance, you need a few pieces of drywall replaced, you can expect to pay a couple of hundred dollars or less. If, however, you need roof repairs or structural materials are damaged, ceiling repair costs can add up to tens of thousands of dollars.
Type of Ceiling Material
The material type that needs to be repaired or replaced is a significant factor in the equation. Drywall ceiling repairs cost about $45 - $55 per square foot.
Popcorn ceilings usually cost between $75 and $90 per square foot. The drywall and popcorn ceiling prices here include averages for both labor and materials.
On the other hand, a drop ceiling costs between $4 and $68 per 2' X 2' square. As they are simple to replace, professional installation is not necessary.
Labor Costs
If you choose to hire someone to repair a ceiling, they will charge for labor as well. Typically, a professional contractor charges anywhere from $60 to $90 per hour.
Ceiling Water Damage Insurance Claim
Before you choose to file a claim for water damage, be sure you know the cause and fully understand the types of coverage you have. Filing a claim for a non-covered peril will do nothing but negatively impact your claims history.

If you determine that your water damage claim is valid, call your insurance agent to get the process going. They will set up an appointment for an insurance adjuster to come out and inspect the water damage.
Having a public adjuster present during the inspection is a good idea as they work for you -- not the insurer. If your home insurance claim is valid, the public adjuster can help get reimbursement for the full cost of repairs from your insurer.
Hope that helps!
Get an Online Home Insurance Quote
At your service,
Young Alfred