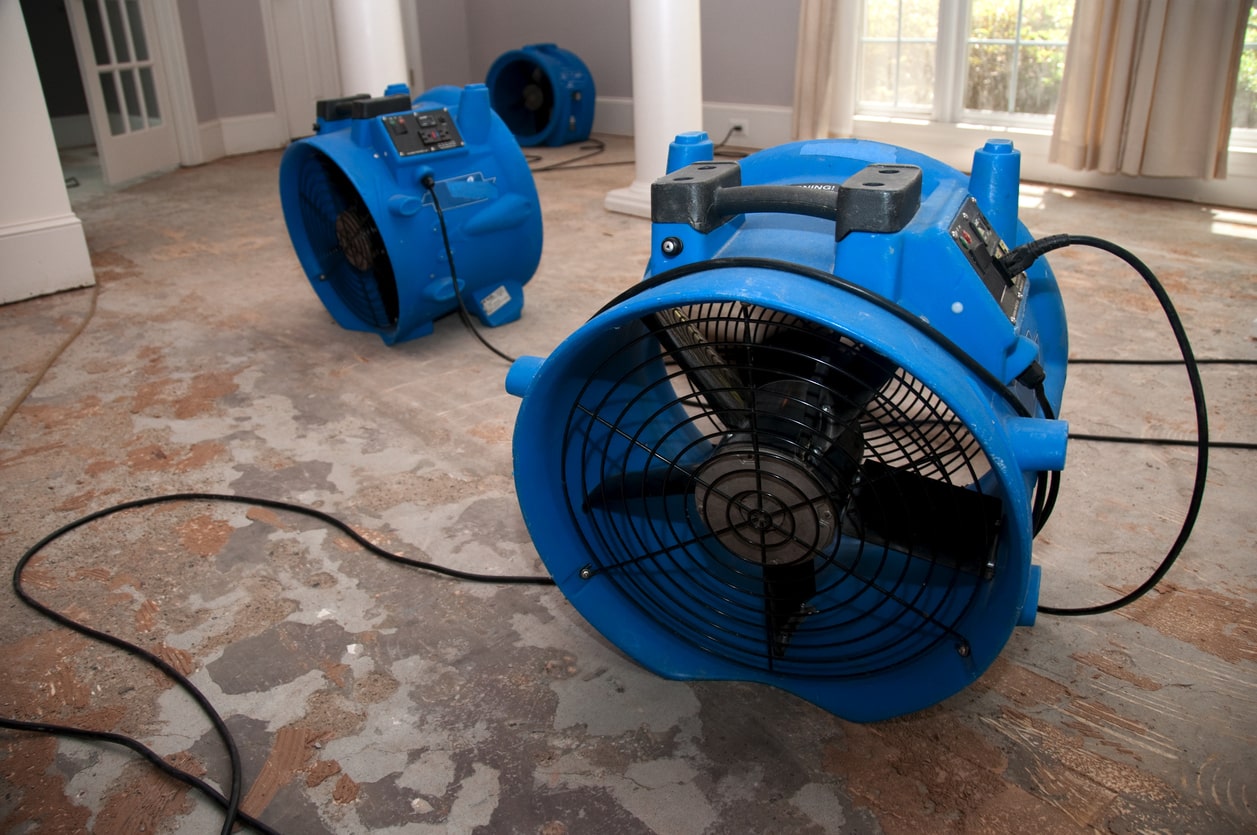 Water Mitigation
Water damage can come from several different events and sources, but it all has a couple of things in common. The first is that water damage is one of the leading causes of home insurance claims, costing millions of dollars each year. In turn, it is one of the reasons insurance rates continue to rise.

The second is that when ignored, it can lead to many other hazards. Mitigating water damage as soon as you notice it is the best way to prevent health issues, instability of your home, and a massive drain on your finances.
What is Water Mitigation?
Water mitigation is preventing water damage from spreading any further by removing standing water and drying affected areas. It should be the absolute first response when one notices a water leak or any subsequent water damage. The homeowner can complete some mitigation, but most of it requires a water mitigation specialist.
Does Homeowners Insurance Cover Water Mitigation?
Under many circumstances, standard homeowners insurance does cover water mitigation. However, it must be caused by sudden and accidental events. Standard home insurance does not cover normal wear and tear or a lack of maintenance.

For instance, if the roof starts leaking due to a tree falling on it during one of several natural disasters, you should be covered. If the water damage is due to frozen pipes, homeowners may cover the damage. The frozen pipe itself, though, is usually not listed under covered damages.

However, if the roof starts leaking because it is old and in disrepair, your insurance company probably will not take care of the costs. Also, backed-up sump pumps are another event typically not covered by homeowners, so maintenance is necessary. We recommend that you check if your insurance covers water damage.

Additionally, most basic homeowners policies do not cover flood damage. You must have separate insurance coverage for floods, which you can purchase through FEMA's National Flood Insurance Program (NFIP). Without a flood policy, you would have to cover the costs out of pocket to repair water damage due to floodwaters.
Water Mitigation Services
Water damage mitigation and restoration companies offer several types of services. Not all companies provide each one, so it may be necessary to hire different companies for different needs. The most common offers include the following:
Fire and water mitigation
Flood water mitigation
Water cleanup
Flood water remediation and flood restoration
Water damage repair
Water testing for health risks
Additionally, many companies provide 24/7 emergency water mitigation services. Even if your pipe bursts and floods your floor at 2 a.m., they are typically available.
Water Damage Mitigation Process
A successful water mitigation process requires several steps that should be completed by professionals. The process they usually follow is:
Step 1: Inspect
Before water extraction services get to work, they need to know what they are facing. The inspection begins by classifying the types of water (the toxic danger levels) and its damages.

Toxic Water Damage Categories
Category 1:

This category refers to damage caused by clean water sources, like a burst pipe, toilets, or overflowing sinks.
Category 2:

Category 2 is damage from a water source that contains other ingredients, such as your washing machine water mixed with detergent. This type of water is also known as "gray water."
Category 3:

Category 3 water, also known as "black water," comes from unclean water. It includes sewage water, river water, and water standing long enough to grow bacteria.
Water Damage Classes
Class 1:

Class 1 is the lowest amount of water damage. It means that only a part of a room has absorbed a small amount of moisture.


Class 2:

Class 2 water damage means that the entire room, including the carpeting and the walls, has absorbed the moisture.


Class 3:

Class 3 is typically considered the worst type. This water damage is in the walls, in the ceiling, and has saturated most of the area.


Class 4:

Class 4 occurs when certain materials are damaged that require specialized equipment for drying. These include stone, concrete, and hardwood.
Step 2: Remove Water and Dry Out Home
Depending on the type of water damage class and category, the water mitigation servicer chooses the correct equipment to remove the excess moisture. This equipment includes pumps, vacuums, dehumidifiers, heavy-duty fans, air scrubbers, and more. The water mitigation specialist begins extracting water as quickly as possible to prevent mold growth and bacteria.
Step 3: Remove Damaged Items
Any damaged possessions or materials, including drywall, furniture, and carpet, get removed from the home.
Step 4: Provide Temporary Solutions
While waiting for the drying to complete and water damage remediation and restoration to take place, your water mitigation technician will provide temporary solutions. These solutions might mean boarding up broken windows, covering areas with tarps, and more to prevent further damage.
Step 5: Determine Next Steps
After water damage mitigation is complete, the professionals determine if they should repair or replace damaged items. They formulate a plan with the next steps according to that information.
How Long Does Water Mitigation Take?
The amount of damage incurred determines the length of time it should take. However, many experts suggest expecting the drying process to take up to 72 hours for an average-sized room. Keep in mind that it takes only 24 hours for mold spores to develop. Mold can cause severe health risks, and it is a damaging agent to your home.

Once dry, it can take up to another week for mold and mildew removal. When reconstruction begins, you can typically expect it to take a couple of weeks longer.

Overall, the entire process from beginning to completion of reconstruction could take three weeks or more. For homes that need a great deal of work, that amount of time will increase.
Remediation vs. Mitigation
Many times, the words water mitigation, water remediation, and water damage restoration get used interchangeably. While all typically get used in fixing water damage, each has its place.

Mitigation is water damage removal and the prevention of additional damage. It addresses the immediate concerns. Water damage remediation is the process of salvaging items that are salvageable.

Remediation typically involves cleaning, sanitizing furniture, and more if they do not need replacing. It might also include low scale repairs to building materials, such as patching a hole in the drywall.

In some cases, remediation is the best course of action. However, it can be risky with some materials as they can develop bacterial growth in unreachable places. These often include soaked rugs and carpets, insulation if the water has seeped through the walls, and other extremely absorbent materials.

Pro tip: if your insurance company only approves remediation vs. restoration, and a section of an item like carpet or flooring gets replaced, your insurer must match the contiguous pieces. There are "matching regulations for insurers," so if they cannot match your existing carpet, wood flooring, etc., they must replace the entire floor covering.
Mitigation vs. Restoration
Water mitigation and restoration are parts of the water damage solution, but they play quite different roles. Again, water mitigation is simply about stopping water damage in its tracks. It prevents the spread of damage as much as possible.

Water damage restoration comes into play when materials are too damaged or are not good candidates for remediation. It is a much bigger process to repair any existing water damage. The overall goal is restoring your property to its pre-loss conditions.

The water damage restoration process can include:
Repairing structural damage inside walls or ceilings
Replacing pipes
Laying new carpet
Reconstructing entire rooms or homes, if necessary
Water damage restoration is about protecting the integrity of your home. A water damage restoration company should take all necessary precautions to ensure that your dwelling is structurally sound and not hazardous to your health due to water damage.
Water Mitigation Costs
The amount a home spends on water mitigation depends mostly on the affected area's size, the amount of damage incurred, and the type of work needed. The following are a few statistics to give you a good idea.
Home Advisor reports that water removal costs anywhere from $3.75 to $7 per square foot.
The average cost to repair ranges anywhere from $450 to $7,000.
The overall process typically averages anywhere from $1,152 to $4,752.
The cost to restore a basement can be as high as $85,000.
These prices do not necessarily include labor costs of water restoration professionals, which averages about $75 an hour.
How to Hire a Water Mitigation Company
The moment you notice a water leak, respond quickly. It is your responsibility to minimize the amount of property damage it causes. Otherwise, any standing water can cause more damage and mold growth. If you fail to take the necessary steps, your insurer might not pay for all or any of the damage.

Your first steps should be cutting off water at the source and drying as much as you can with what you have available on hand. You should then find a water damage emergency service that can quickly come to your home and start the water extraction process.

Some people assume that they are obligated to use water damage restoration services chosen by their insurers. This belief is not valid. You have the right to select your own. If your insurance covers the event that caused the water damage, the insurer must pay reasonable costs for water damage cleanup services.

The best thing to do when hiring a water damage restoration company is to get several free estimates for the cost of water damage services. Make sure that you choose a licensed professional. You can check the Institute of Inspection, Cleaning, and Restoration Certification for a list of professional restoration and water cleaning companies.

Also, ask that the water damage specialist be present when the insurance adjuster assesses the damage. Having a professional there can help ensure a fair settlement amount.
Homeowner Beware
In emergencies, especially when dealing with floodwaters, some unlicensed and unscrupulous individuals try to take advantage of the situation. They drive to homes in affected areas offering flood damage repairs. Do not accept any offers without first ensuring the individual or company is legitimate.
Hope that helps!
Get an Online Home Insurance Quote
At your service,
Young Alfred