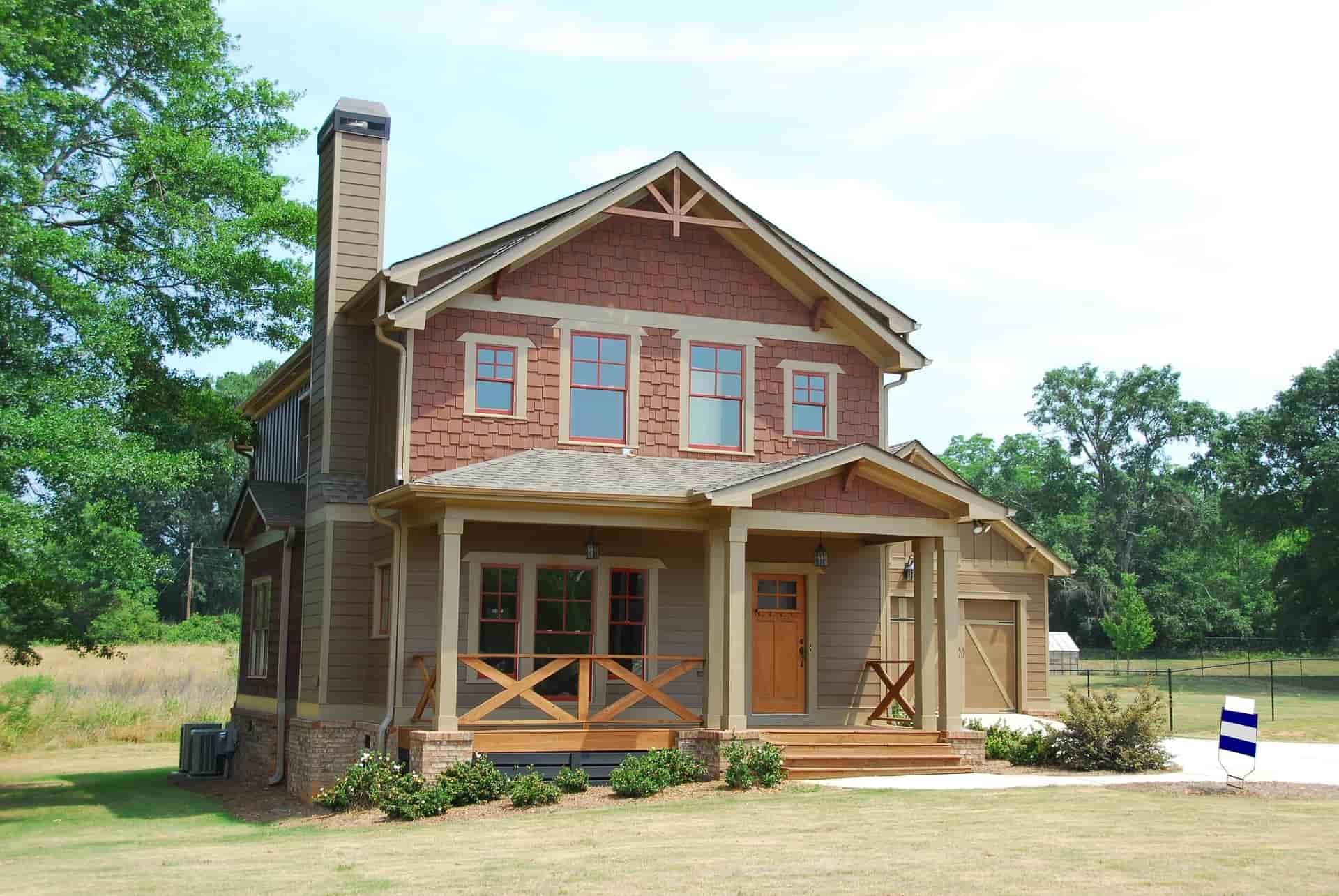 What Does Landlord Insurance Cover?

People rent out properties for many reasons. For some, it provides them with a regular income. For others, they may have a second home that they rent out when they are not using it.

Or they may rent out a room or whole house via a platform like Airbnb. Homeowners insurance with a short-term rental endorsement will cover you if you rent a room for a limited timeframe, but you need to invest in landlord insurance if you want long-term coverage for a rented room or home.

Whatever the reason, you will want to ensure that you have the correct insurance to protect you from financial losses. Renting out a property means you must have landlord insurance. The most comprehensive landlord insurance available is DP3.

In this article, we look at the DP3 standard landlord insurance in more depth. Find out why it is the best insurance for anyone renting out their property.
What Does Standard Landlord Insurance Cover?
Most standard landlord insurance policies (DP3) cover the following things.
Landlord Dwelling Insurance. Landlord dwelling coverage pays for repairs and replacement of the structure of your home. You can claim damages from any peril, including a natural disaster, a covered peril, or a tenant.

It is an open perils policy for the dwelling and other structures, which means it covers all perils unless those listed as exclusions on the policy. It includes replacement coverage (RCV), a deductible applies, and your coverage limit should equal the cost to rebuild your rental home, excluding the land value.




Landlord Other Structures Coverage. Standard DP3 landlord insurance pays for damage to structures not attached to the rental house — for example, a shed or garage. The coverage limit is 10% of the dwelling coverage limit. It uses RCV to calculate claim property value, and your dwelling deductible applies.

The policy covers other structures with open perils coverage, like the dwelling.

Coverage for the Landlord's Personal Property. Landlord insurance provides coverage for accidental damage to a landlord's contents. Personal belongings have named perils coverage for the 16 perils listed in the above image. Items include appliances, furnishing, and anything left for the tenant to use or things you store at the rental unit.

It is helpful to write a list of all the things left on the property. Also, have your agent include the list on your declarations page or as an addendum to your policy when taking out the insurance to be sure that you have enough coverage and easier claims.

It uses ACV to calculate the value of each claim (RCV minus depreciation). Coverage usually is 50% — 70% of the coverage limit, and a personal property deductible applies. You, the property owner, set the coverage limit. Sub-limits apply to high-value items like bikes, art, and sports equipment.



Landlord Liability Coverage. This part provides coverage if a tenant or guest injures themselves and sues the landlord. It covers legal fees, medical bills, property damage, and anything else connected to the lawsuit. The policyholder sets the coverage limit, and no deductible applies.

Landlord Medical Payments Coverage. DP3 provides coverage for the tenant's medical bills if the landlord is to blame for an accident. The policy will cover the injured party's medical bills if they do not sue. The landlord sets the coverage limit, and no deductible applies.

Landlord Loss of Use Coverage. This coverage covers your monthly rent if the property is uninhabitable due to damage from a covered peril. Payment of rent continues until the completion of the repairs, and the tenant can return.

Landlord Endorsements and Floater Add-ons. If a landlord needs more protection, endorsements and floaters are available—for example, flood coverage, water damage, and equipment breakdown.
Types of Landlord Insurance Policies
There are three types of coverage.
DP1. Dwelling Fire Policy. This policy is the most basic, bare-bones landlord insurance available. It only protects the rental home and offers no liability protection, medical payments, personal property, or loss of rent coverage. But you can buy these as add-ons.

This policy covers nine perils, including wind damage, lightning, and fire. DP1 also protects your property if it is vacant, so it is a good choice if you rent out occasionally. DP1 is an Actual Cost Value (ACV) policy, meaning you get a payout after depreciation. But be aware that ACV can leave you out of pocket financially.



DP2. This policy has the same coverage as a DP3 policy, except it is a named perils policy, meaning it covers your dwelling and other structures for only 16 named perils. Unlike DP1, it does not cover your property if left vacant for a specific period (your policy will state the number of days, usually 30, 60, or 90.)

DP2 is a Replacement Cost Value (RCV) policy for the dwelling and other structures. You receive the total cost of repairs or replacement (up to your coverage limit) regardless of the property's age (no depreciation is deducted). Although, it covers the landlord's personal belongings with ACV claim valuations.

DP3 Standard Landlord Insurance. This level of policy is the most comprehensive of the three choices. DP3 is an open peril policy for the dwelling and other structures. It covers all perils unless explicitly excluded in the policy. It covers the medical bills of tenants if the landlord is not sued and landlord liability, loss of use, and personal property.

It is the best type of insurance if you plan to rent out long term. As with the DP2, the DP3 is an RCV policy for the dwelling and other structures and has a deductible. The personal property coverage comes with ACV valuation, however.
In this article, we focus on the standard landlord insurance policy, DP3.

What Perils Does Landlord Insurance Cover?
Standard landlord insurance is the most comprehensive landlord insurance policy. It is an open perils policy for the dwelling and other structures. Therefore it covers damage or loss from all perils except for perils the policy lists as not covered, like floods. There are several non-covered perils shown as examples in the above image.
Your insurance policy's declarations page will specify the excluded perils.

Here are some frequently asked things about landlord insurance coverages:
Accidental Fire Caused by Tenant. Unintentional fires, for example, during cooking, will have coverage in landlord insurance.

Vandalism Coverage for the Rental Property. It covers intentional damage or vandalism.

Tenant Negligence Damage. Landlord insurance does not cover neglect by a tenant. As a landlord, you cannot assume that the tenant will take care of the property. Hopefully, the security deposit will cover any damage due to neglect. Consequently, it is essential to carry out routine maintenance checks and keep on top of repairs.

If the tenant damages the property, your insurer may file a subrogation claim with the tenant's renters insurance policy for reimbursement of monies they pay you on a claim.

Does Landlord Insurance Cover Vacancy? It does not cover property that has been vacant for some time. That time can either be 30, 60, or 90 days depending on the carrier. You can buy add-on insurance to cover periods of vacancy.

Landlord Maintenance Coverage. You can buy an endorsement called emergency coverage. This policy covers more minor property emergencies. e.g., an air-conditioner breaking down or a leaking pipe.

Malicious Damage by Tenants Insurance. Standard landlord insurance covers damage by tenants, provided it is not deliberate or malicious. Your landlord insurance policy will not cover malicious damage by tenants directly, but your insurer can file a subrogation claim against the tenant's renters insurance.

Landlord Appliance Insurance Cover. Coverage for appliances falls under personal property if a covered peril causes the damage. There is an option to buy an equipment maintenance breakdown endorsement. This endorsement will cover the cost of repairs if the appliance breaks down. It does not give coverage for general wear and tear.

Landlord Plumbing and Electrical Coverage. Standard landlord insurance covers plumbing and electricity. But if the building is more than 30 years old, you must provide proof of updates to both systems.

Landlords Fixtures and Fittings Insurance. Fixtures and fittings, like chandeliers, would come under personal possessions. You have coverage if they suffer damage in the event of a named peril.
Structural Damage to Rental Property
If a tenant causes structural damage, landlord insurance covers the cost of repairs. However, the damage must be due to an accident and not intentional.

The policy pays for damage caused by any peril under your standard landlord insurance, except excluded perils you find on your declarations page. You will receive a replacement cash valuation when you file a claim, minus your deductible. Check your policy for your chosen coverage limit and deductibles.

Damage to Other Structures on The Rental Property
Standard landlord insurance covers other structures not attached to the rental house. So, for example, if your detached garage gets hit by lightning, your policy will cover the cost of repairs.

Because the policy is an open peril one, your insurer will cover any cause of damages not excluded on your declaration's page.

Standard landlord insurance is a replacement cost value policy that covers the total cost of repairs to other structures up to your coverage limit, minus your deductible. The coverage limit is 10% of your rental dwelling coverage amount.

Does Landlord Insurance Cover Boilers?
Boiler coverage comes under dwelling insurance. A standard landlord insurance policy covers the boiler if it suffers damage from a covered peril. Standard landlord insurance is replacement cost insurance, so you will receive the total amount to replace your boiler without a depreciation deduction, up to your coverage limit and minus your dwelling deductible.

But, you do not have coverage if the boiler breaks down due to general wear and tear or mechanical failure.

What Does Landlord Contents Insurance Cover?
The contents, personal property, section of a standard landlord insurance policy includes coverage from the 16 named perils. In addition, standard landlord insurance covers personal belongings losses at actual cost value (ACV), meaning you will not get the total cost of anything that needs replacing. ACV deducts depreciation.
The policy has a separate coverage limit for personal items and a separate personal property deductible.

High-value items will have a sub-limit of up to a specified amount.

In a fully furnished property, it covers damage to the contents on the rental home and on the property, including yet not limited to:
Appliances
Fixtures and Fittings
Furniture
Items used to Maintain the Property
Other Items Included in the Rental Agreement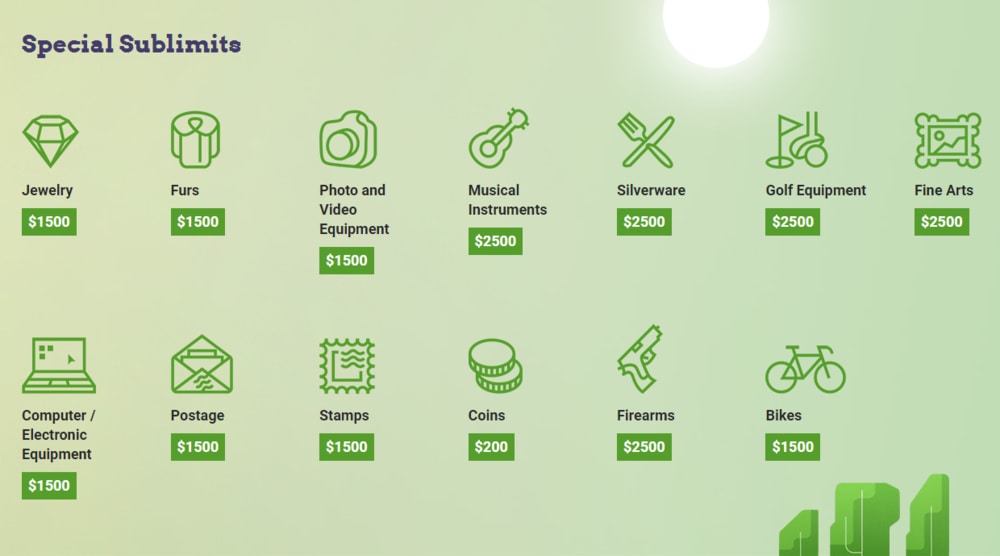 Landlord Personal Property Sub-limits
Sub-limits apply to certain high-value items and mean that higher-value articles only have coverage up to a certain amount in aggregate.
For example, bikes and laptops have a sub-limit of up to $1,500 (although this figure can vary). So, if you have an office on-site with three computers worth $10,000, your policy only pays you $1,500 minus ACV and the personal property deductible.

If you leave high-value items for your tenant's use, you can choose to extend coverage on those items with an endorsement or floater. More on those later.

Landlords Contents Insurance — Unfurnished
Renting out an unfurnished property could determine your insurance payments. An unfurnished property contains fewer contents, and so you may benefit from a lower landlord insurance rate.
Is your property unfurnished and vacant? If vacant, you may want to consider DP1 fire-dwelling insurance.

Does Landlord Insurance Cover Tenant's Belongings?
No. Tenants often assume that their landlord's insurance covers their belongings. This, unfortunately, is not the case. Landlord insurance only covers contents owned by the landlord. Those covered contents will be the ones that the tenant uses or that the landlord stores on the property.

As a landlord, you must talk to your tenant about them buying their own renters insurance. Renters insurance covers the tenant's personal belongings after taking deductibles into account.

Landlord's Liability Insurance
Standard landlord insurance includes landlord liability coverage. Tenant injuries do happen, and if the accident is your fault, you can be held responsible. E.g., if a floorboard lifts and your tenant trips and breaks their ankle, you are responsible as you failed to maintain the floor. Even more so if the tenant previously reported the faulty floorboard, but you failed to repair it.

If your tenant decides to sue you, liability insurance covers the total cost of your legal fees up to your coverage limit. Policies often come with $100,000 to $300,000 of coverage, but we recommend a higher amount depending on the condition of your property and how litigious your tenants seem. There is usually no deductible when making a liability claim.

Landlord Medical Payments Coverage
Sometimes you get lucky, and your tenants do not sue when they get hurt by something faulty in your rental home. But, if your property caused the injury, you still must pay your tenant's medical bills. That is when landlord medical payments coverage comes in handy. It pays those bills up to your medical payments coverage limit, which might default to $5,000 with no deductible.
We recommend increasing the default limit to an amount mirroring typical injury medical costs in your area.

Landlord Insurance Loss of Use
What would you do if a covered peril caused so much damage that your property became uninhabitable? If your tenant cannot live in the property while repairs occur, you will lose your rental income.

Standard landlord insurance policies include loss of use which means you can claim loss of rental income. Use this to cover your rental payments until your tenant returns to the property.

Landlord Endorsement Insurance
Standard landlord insurance is a very comprehensive policy, but it even has some shortfalls. This type of policy does not cover several perils and limits coverage for some property types. As a landlord, you can choose to add landlord endorsements and personal article floaters to cover other events, including:
Flood Coverage. Areas prone to flooding can get insurance through The National Flood Insurance Program or a private carrier.

Mold and Fungi. Get this add-on, especially if you live in a wetter climate or one prone to flooding and hurricanes.

Water Damage. Landlord policies exclude water damage unless it happens suddenly and accidentally. This endorsement pays for damages from leaks that occur and remain unnoticed over time.

Earth Movement. It covers earthquakes, mudslides, rockslides, landslides, beach erosion, and sinkholes.

Non-Occupied Dwelling. Standard landlord insurance usually excludes coverage of a property that is vacant for around 30 days. Although the timeframe varies, an endorsement will extend the coverage until you rent it out again.

This endorsement is beneficial for university areas and vacation properties. Winter homes in places like Florida and Hawaii also benefit from this endorsement.
You can choose from many other additional coverages from endorsement add-ons. Let us know what you need, and we will find it for you.

Does Insurance Cover Loss of Rental Income?
No. But what happens if a tenant defaults on their rent? But adding a rent guarantee endorsement to your policy will replace lost rental income when tenants do not or will not pay and default on their rental payments.
Your standard landlord insurance policy will cover you for loss of rental income if the building is uninhabitable. In this case, you will not have coverage under a standard landlord insurance policy. It is easy to confuse the two as insurance terms often sound the same, so read your policy carefully and ask questions (in writing) for clarification.

Will Landlord Insurance Cover Tenant Damage?
Your landlord insurance should cover accidental damage caused by your tenants. But, it does not cover damage from tenant neglect, directly. A subrogation claim process may apply.
If your landlord insurance company deems damages happened because the tenant acted negligently, your insurer likely may pay you, then file a subrogation claim against your tenant's renters insurance to seek reimbursement for monies they paid you. You also get your deductible and ACV money back.
Also, if the damage is due to malicious intent, your insurer may pay you and file a subrogation claim with your tenant's insurance.
If your tenant has no renters insurance, you will have to pay the repair bill yourself if your insurer deems the tenant caused the damages maliciously or negligently. But there is a silver lining. Remember that security deposit your tenant paid? You get to keep that to cover the damages. But if the security deposit is too low, you must sue the tenant for damage.

What Does Renters Insurance Cover for Landlords?
As well as having landlord insurance, encourage your tenant to get renters insurance. For example, you could state in their rental agreement that they must buy their own insurance.

Why? First, landlord insurance does not cover tenants' personal possessions. If their laptop or smartphone suffers damage, your landlord insurance does not provide coverage. Renters insurance covers a tenant's personal possessions.

Secondly, you can ask that your tenant name you as an additional insured on their renter's policy. Naming you as a third party on their policy protects you from any liability resulting from their activities. You can then file liability claims directly with their carrier, not yours.
For example, your tenant hosts a party, and a guest suffers an injury, but it is not your fault; they should pay. Any liability for the injury comes under the tenant's policy first if you are an additional insured.

Renters and landlord insurance work well together. For example, if the freezer breaks down, landlord insurance covers the freezer. The renter's insurance pays for the spoiled food. But remember, when calculating any payout take the deductible and ACV depreciation into account.

Does Renters Insurance Cover Fire Damage?
Yes. Renters insurance will cover fire damage done to the tenant's personal property. Landlord insurance covers damage to the structure of the building. If the rental property is uninhabitable because of the fire, the renter's policy will help to pay for a hotel stay.
One exception may apply again, subrogation. If the tenant maliciously or negligently caused the fire, your landlord insurance company may file a subrogation claim on the tenant's insurance policy.

Landlord Insurance Quote Online
If you want more information about landlord insurance or a quote, we have access to 40 or more insurers and can find the best insurance company for you. You can go online, or if you would rather speak to us, we are happy to help.

Hope that helps!
Free Online Landlord Insurance Quotes
At your service,
Young Alfred