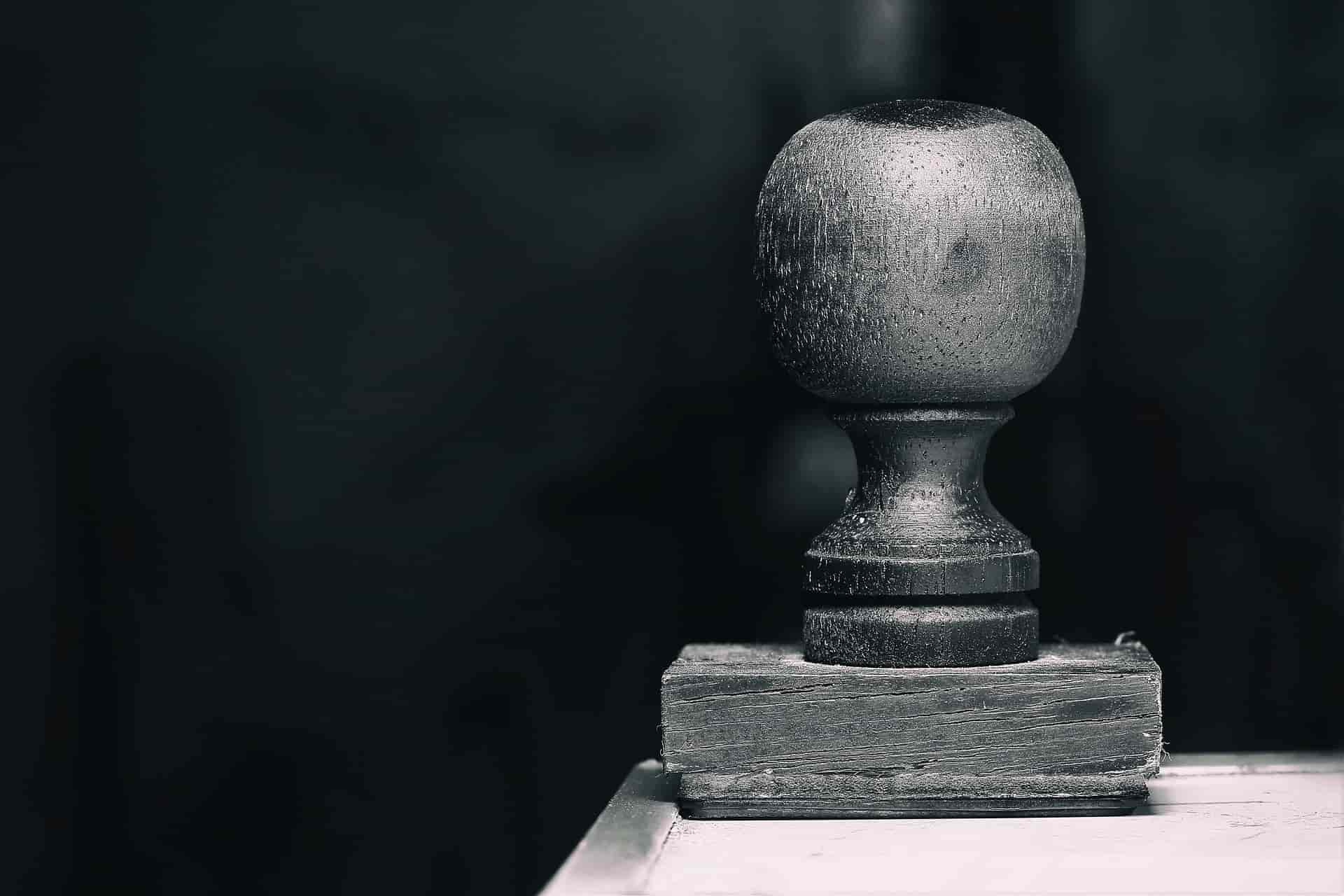 What is an Insurance Binder?
When you buy a new insurance policy, you might need a short term policy until your real policy becomes active, and an insurance binder does precisely that. It is a legal document providing temporary insurance and proof of insurance coverage while you wait for your new policy.
Insurance companies issue binders before the final policy arrives. Therefore, policyholders are not left without insurance while waiting for their new policy to become active. Insurance coverage should begin when you take ownership of your new house, car, or property. The binder provides this immediate protection and is proof that you have insurance.
For example, when you buy a new car, you need an active insurance binder before driving the car off the lot. The binder protects you and proves to the car dealer that you have insurance. It is illegal to drive without insurance. So, the binder protects your wallet if something terrible happens during that first cruise in your new car.
In some cases, it takes four weeks or more before a company issues a final insurance policy. Insurance binders are typically valid for 30 days to 60 days and even up to 90 days. Even if your policy eventually gets rejected, binder coverage legally protects you until its expiration date. It's essential to contact your insurance agent if the binder is expiring and the formal policy hasn't arrived.
Insurance Binder Example
Lenders will often ask for evidence of insurance when policyholders apply for a mortgage or finance a car. Even if you don't finance the car, state laws require you to have car insurance before you drive a car. If you use a financing company, they will want to ensure your property is protected by homeowners or auto insurance with their minimum liability standards.
An insurance binder will generally look a lot like this one.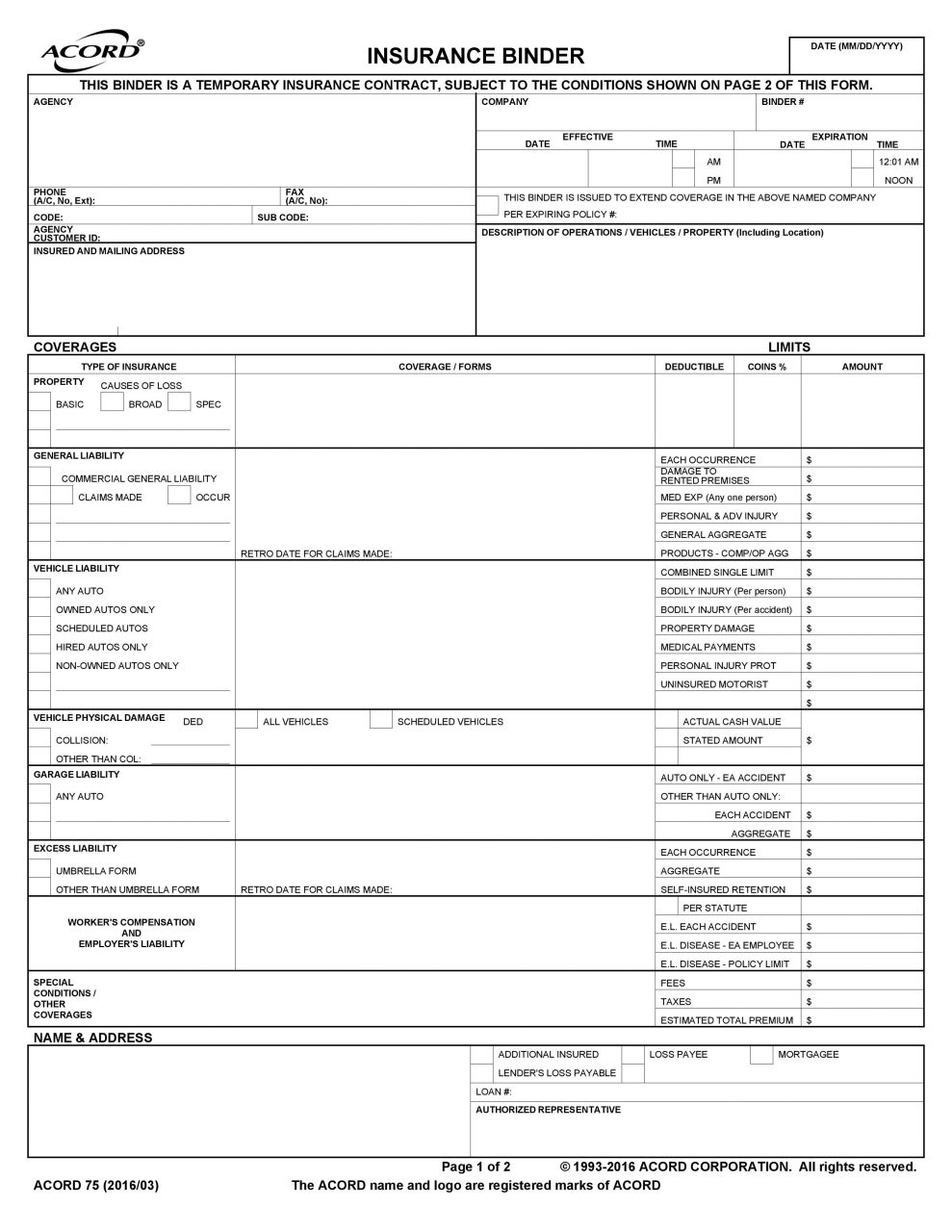 The Association for Cooperative Operations Research and Development, or ACORD, is a nonprofit that issues templates for forms like insurance binders. That is why an insurance agent might call this form an ACORN binder.
The binder includes terms and conditions like the length of insurance coverage, the amount of insurance, and the insurance coverage limits. The policyholder can check their policy's terms to ensure the coverage and coverage amount is they wanted to purchase.
A home insurance binder and a car insurance binder generally follow the same format. While the binder does not spell out every detail of the insurance policy, it is still an enforceable legal contract.
What is an Insurance Binder for a Mortgage?
When you buy a home, the lender behind your mortgage will want to prove that you have purchased homeowners insurance. Your insurance carrier or agent will complete the temporary document. Typical coverage includes protection for your house, its contents, liability protection, and medical liability coverage.
A home insurance binder gets its name because it "binds" coverage.
Insurance Policy vs. Insurance Certificate
Insurance certificates verify that a valid insurance policy is in place. A certificate of insurance, COI, is a summary of your insurance policy. In contrast, an insurance policy is an actual contract between an insurance company and a policyholder. An insurance certificate is simply a document showing proof of that policy.
The COI is typically a one-page document that lists:
Who owns the policy?
What type of coverage is it for?
The insurance company's name
The policy's effective date
An insurance agent usually provides the certificate directly to a client after that policy is active. The binder is used for the gap in coverage from the policy purchase date until the actual policy is active.
For example, when homeowners want to know if contractors have liability protection for workplace accidents and injuries, they ask for COIs. A crucial thing to check on a COI is whether the insurance coverage is valid.
If anyone asks you for proof of insurance, provide them your COI, not the binder, policy, or declarations page.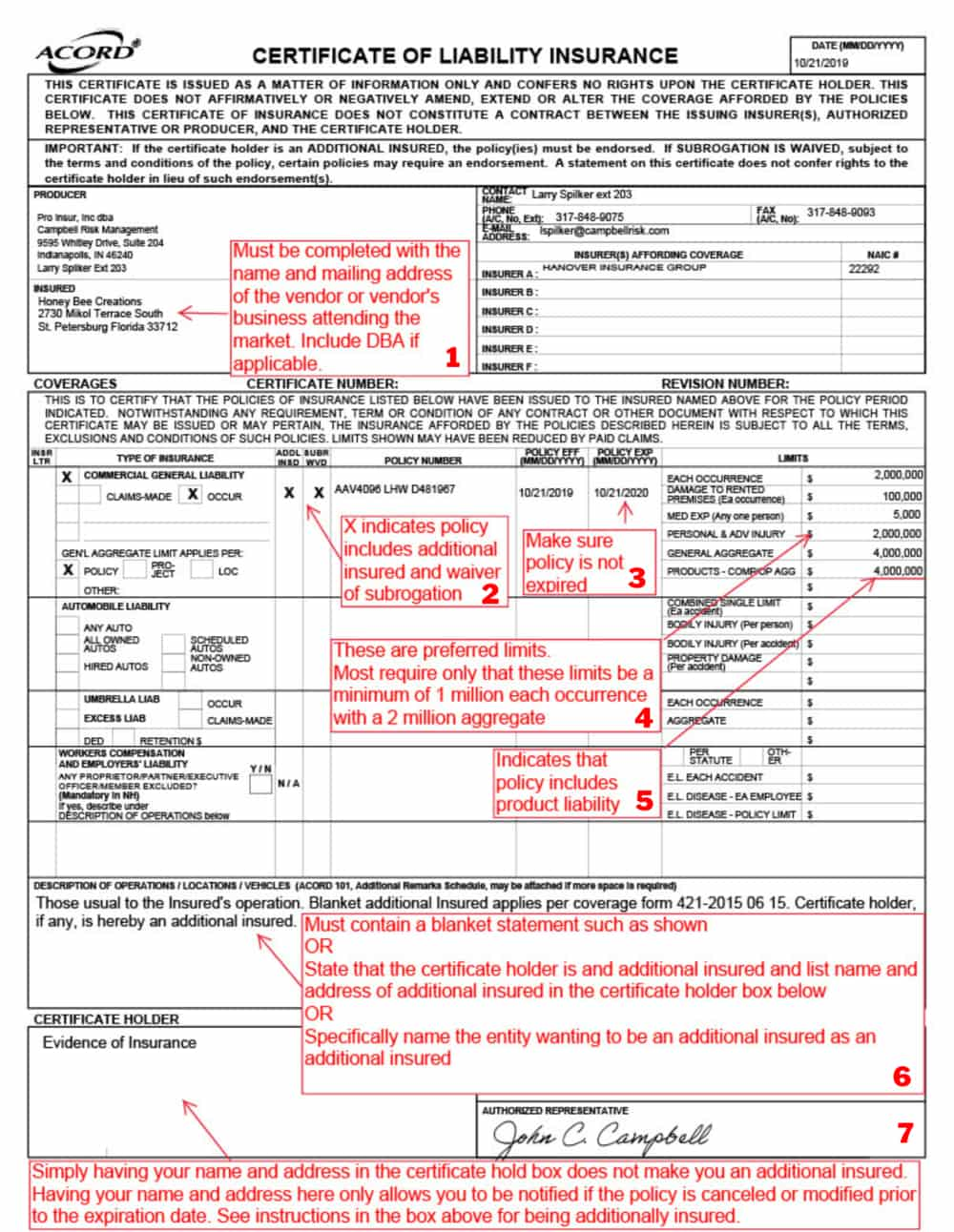 Insurance Certificate vs. Insurance Binder
Insurance certificates or COIs are only proof that you have insurance for some time. In comparison, an insurance binder is proof of insurance and an actual temporary legal document.
A binder is a short-term contract with your insurer. It binds them to provide you insurance through the binder's expiration date. The duration is usually 30 to 90 days, or until your actual insurance policy becomes active.
The binder becomes invalid when your real policy starts, whereas the certificate lives on as proof of insurance.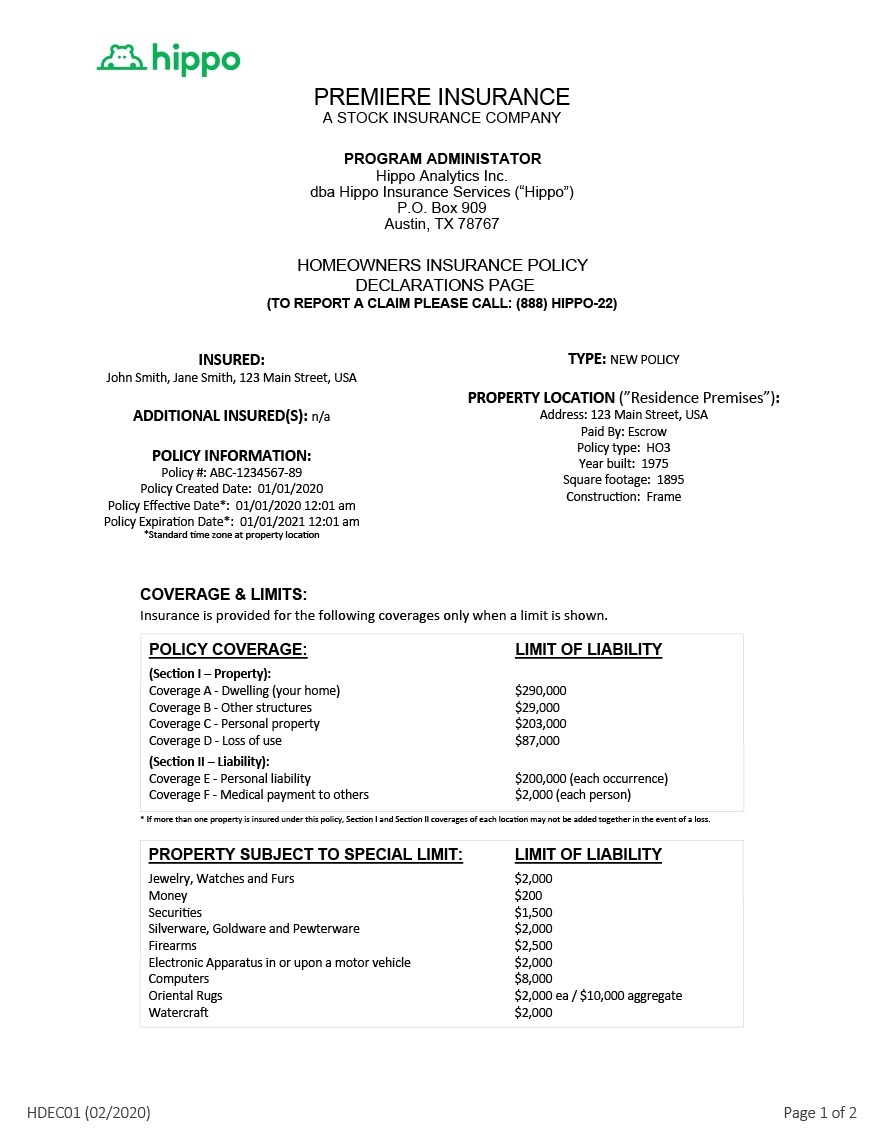 Image Credit: HIPPO
Insurance Binder vs. Declarations Page
A declarations page, also known as the DEC, is a summary of insurance coverage created by the insurance company for your eyes only. The declaration page contains this type of information:
Name and address of the policyholder
Type of insurance
What is insured
Any purchasing discounts
Each specific insurance policy will have its own declarations page. Your car insurance DEC will be a separate document from your homeowners insurance DEC or renters declarations page.
The declarations page is a concise and helpful document you can use when shopping for new insurance. You can compare your existing coverage to a new policy's details. The declarations page makes it easy to see differences in coverage limits, deductibles, premium amounts, etc.
It is also useful when you file a claim. If you are unsure if you have coverage for a claim, the declarations page confirms that you do or do not.
Binding Authority vs. Insurance Binder
An insurance binder is not the same thing as a binding authority. Binding authority means the insurance company grants insurance agents and brokers the power to do business with clients on their behalf. If they have binding authority, they have the authorization to issue an insurance binder to a client.
Not all agents or brokers have binding authority, so it is crucial to get everything in writing. Your document should state that the agent has the power to issue insurance binders and policies on behalf of the insurer.
Summary
Insurance binders make it easy to prove you have purchased insurance coverage before your final policy paperwork arrives.
Your insurance company can send a binder through USPS, but it is more common for a binder to arrive digitally. If you are buying a car, your insurance agent will usually send a binder electronically so you can drive away immediately.
If you need an insurance binder, all you have to do is ask your agent. Your insurance professional will know exactly what to do.
Hope that helps!
Get an Online Home Insurance Quote
At your service,
Young Alfred