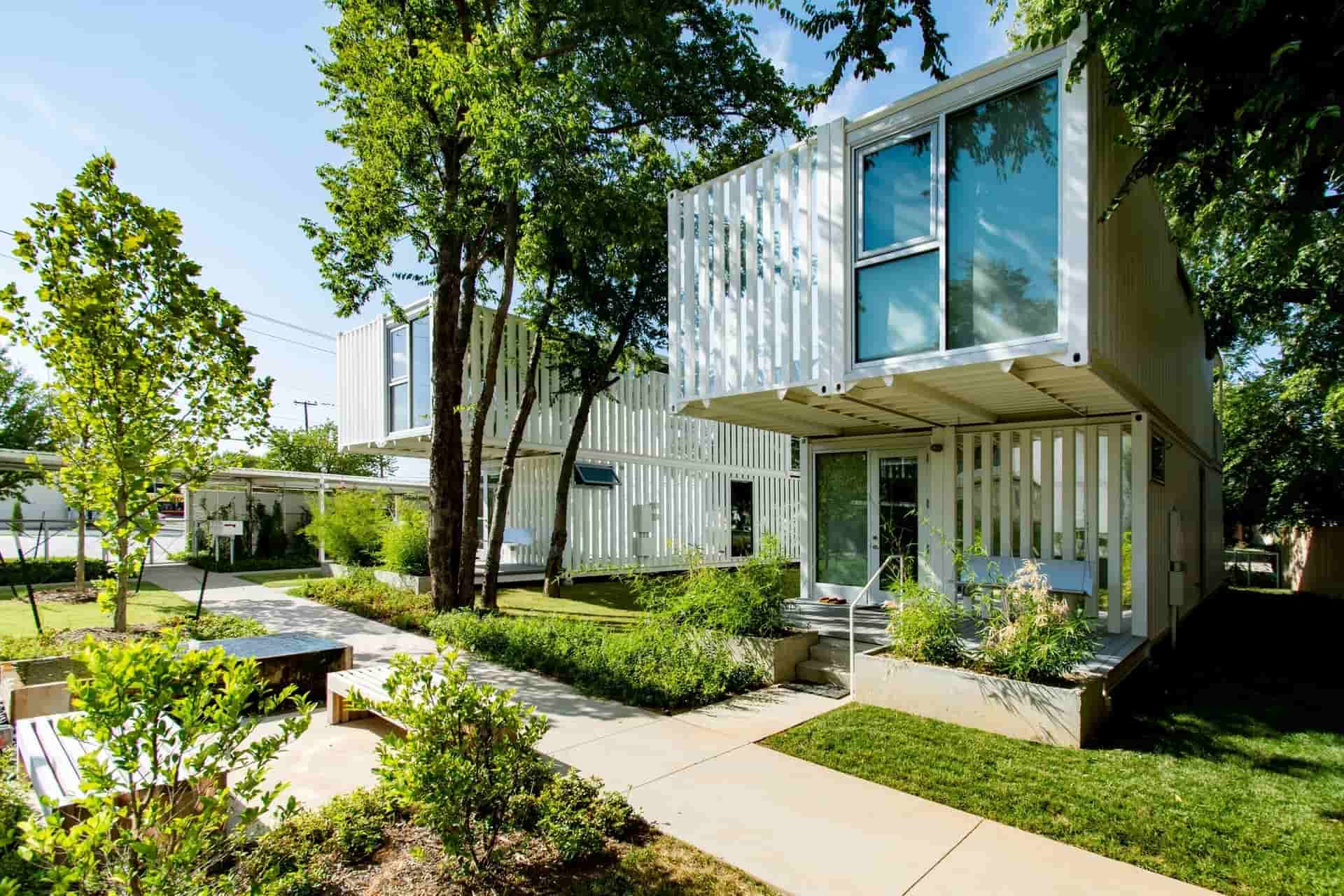 Image Credit: Eric Schmid, ALLFORD HALL MONAGHAN MORRIS
Which States Allow Shipping Container Homes?
Have you ever considered living in a converted shipping container? Technically all states allow shipping container homes. But in some states, it is harder to get permission.
The following states have more lenient zoning laws or non-restrictive building codes. Therefore, converting a shipping container into a home is more straightforward in these states.
Arizona
California
Colorado
Georgia
Idaho
Indiana
Maine
Massachusetts
Michigan
Minnesota
Nebraska
Nevada
New Hampshire
New Mexico
Oregon
South Carolina
South Dakota
Tennessee
Vermont
There are still container home building regulations and codes related to the above states. So be sure to research building codes before you buy a container home.
The trend for Tiny Homes shows no signs of stopping. Shipping containers are perfect for an upcycled, eco-friendly tiny house. They make great single-family homes and can form part of a larger community.
Let's look at shipping container home living.
Container Home Communities
Container homes, communities, and villages are appearing all over the United States. Blocks of shipping containers act as meeting rooms, cafés, shops, and homes.
The following innovative uses of shipping containers create inclusive communities for start-ups, homeless villages, and neighborhood revitalization.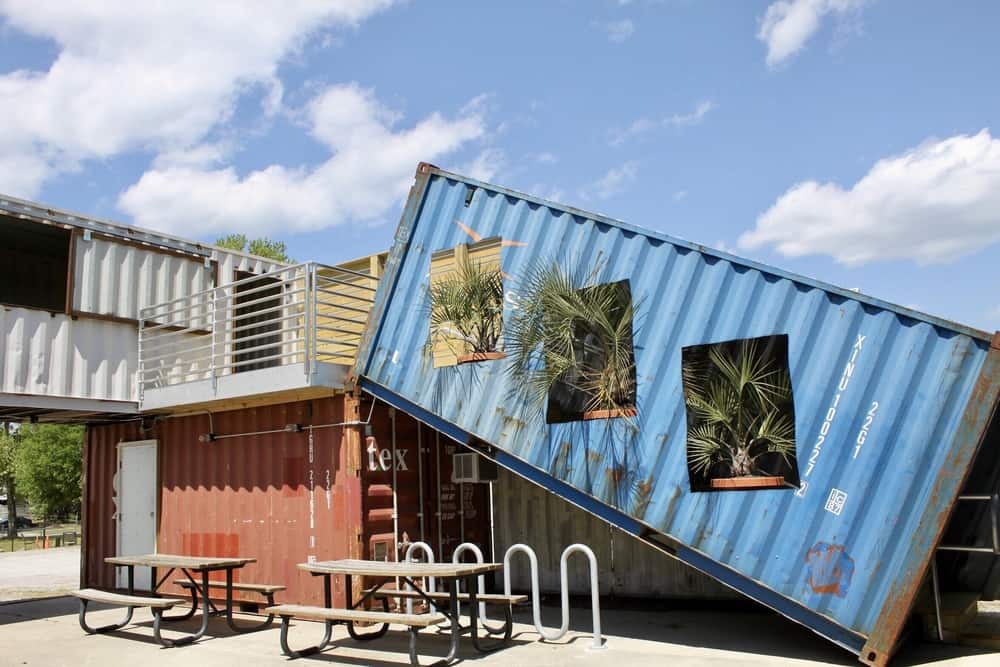 Image Credit: The Cargo District Team
Cargo District, Wilmington, North Carolina
The Cargo District in Wilmington is a community of creatives. They all live and work in recycled shipping containers. All the businesses are start-ups, making the community even more unique.
Every month The Cargo District invites the public on tours of the community. Visitors get to see for themselves how the project is progressing. In addition, they get the opportunity to ask questions about shipping container living and working.

Sands Cares Container House Village, Las Vegas, Nevada
When it comes to providing emergency housing, shipping containers come into their own. They are easy to transport and can adapt to accommodate people almost immediately. For example, the Veteran's Village at Sands Cares offers affordable housing for homeless veterans. It has been a lifesaver for some, enabling them to enjoy a more stable life.
The Home Depot Foundation provided funding for the prototype. The village has been an enormous success, and similar villages for veterans are springing up around the USA.
Squirrel Park, Oklahoma City, Oklahoma
Squirrel Park is a container village that brought new hope to a derelict site. The site had been left to ruin for many years and was a magnet for crime. Developers put families first to create a space and houses with community living in mind.
The development is now a pleasant place to live. Its main features are green spaces, covered porches, and mature trees. Each unit rents for around $2,000 per month.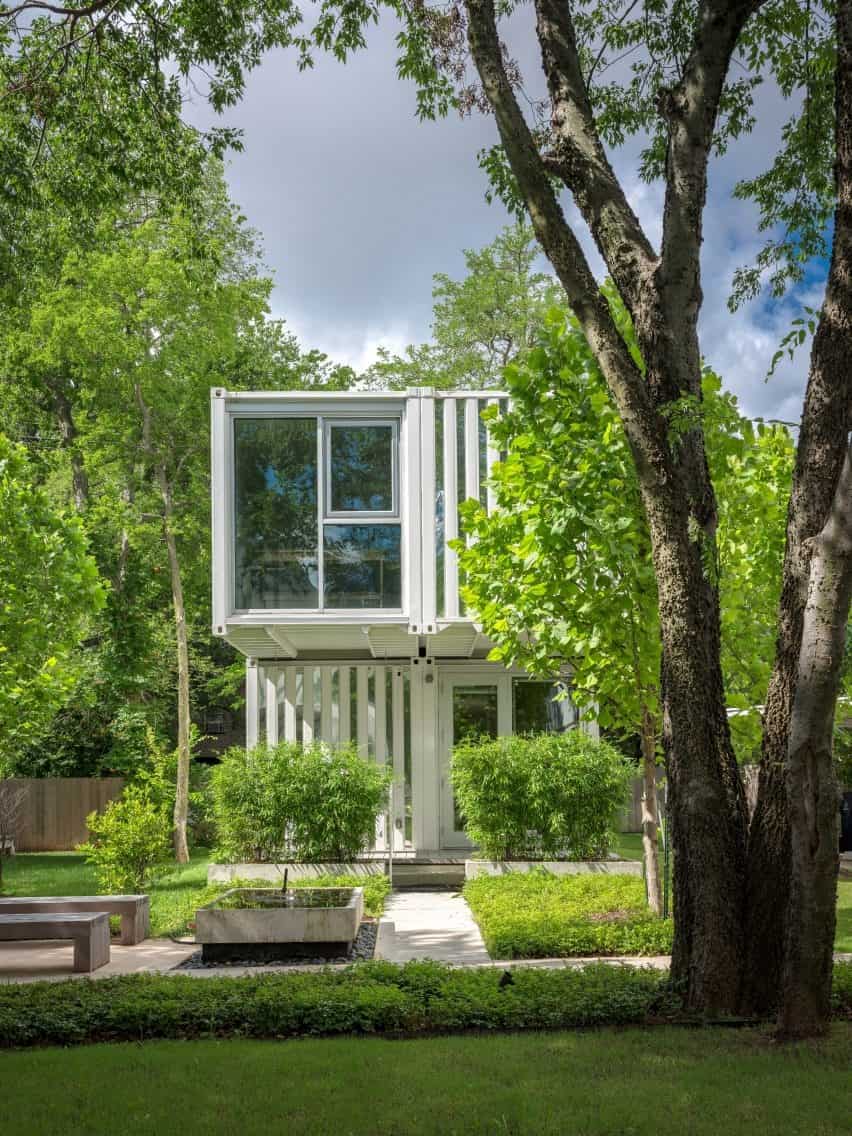 Image Credit: Eric Schmid, ALLFORD HALL MONAGHAN MORRIS
Shipping Container Zoning Laws
Shipping container zoning laws for storage containers are different from containers used for storage. Zoning laws can be vastly different between states. Sometimes even regions within a state have different rules.
For example, in Riverside County, California, local laws do not allow container homes. Yet, the state of California allows the conversion of shipping containers into homes.
Zoning codes break urban land into portions. These provide the basis for the position of structures in each zone. Zoning regulations are there to control and focus on development, growth, and density. Local authorities have their own zoning laws, so be sure to check the codes in your area.
Zones categorize areas into residential and commercial, which explains why bars are far away from neighborhoods.
If shipping container laws do not fall in your favor, remember that some states may be more flexible with their container home zoning laws.
Here are some examples of zoning laws and how they may affect your shipping container home.
Set-back from the Property Line. Set-back is a zoning law that defines how close a building can get to the front, side, and back of property lines. But as a building gets taller, the set-back dimensions change, creating a tiered effect.



There is a good reason for this law.

Moving a building away from the property line as it grows allows for sunlight to reach the street.



You can stack shipping containers to create multi-level homes.

But in certain cities, you might have to set each container back as the unit grows.

Dimensions of a Property. Most zoning laws define the footprint size of the home. The size of the house must fall within those size boundaries.

Some counties have a minimum required footprint.

For example, Dixie, Levy, and Pasco counties in Florida stipulate that a building must be no smaller than 600 square feet. Container sizes are between 160 and 320 square feet, so you could not have a single container as a home. You could, of course, double up on your container to reach the desired minimum size.

Check your shipping container local zoning laws. We have now established that every county has different zoning laws. You must do your research for your area. Check the container home zoning rules for your area here. If you cannot build your container home where you want it, try the next county over, and you may be ok.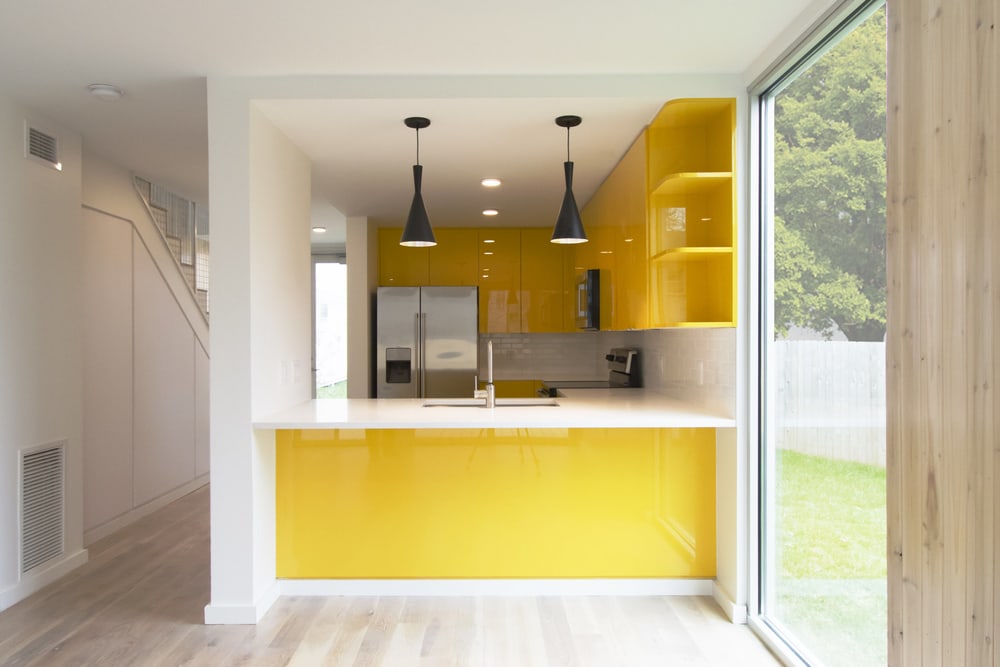 Image Credit: Eric Schmid, ALLFORD HALL MONAGHAN MORRIS
Shipping Container Building Codes
Shipping container building codes are sets of rules that dictate the design and build of structures. After all, structures must be legal and safe for the residents and the community.
Most states adopt their building codes from the International Code Council (ICC), and local governments enforce the regulations. Local officials do this when checking the quality of the building work. They also review the design plans of the building to ensure the structure is safe.
Some problems arise when converting shipping containers into homes. They are durable, sturdy, and have the benefit of solid steel corner struts. But they do not look great, have no insulation or windows, and their roof is not as sturdy as the corners.
Many building surveyors know little about containers. After all, they are quite different from standard housing.
If you want to make sure that your container home passes inspection, stick to your local codes.
Before you begin any work on your new home, you will need a building permit. A building inspector will check your site for the following and more:
Surface Stability
Risk of Overturning
Structural Safety
Wind Resistance
Wait until your site has passed inspection checks before purchasing building materials. You can then start construction on your new shipping container home. Be aware that you may have to apply for separate shipping container permits for electric, plumbing, and heating. Make sure that you have access to water and other amenities.

Home Insurance for Shipping Container Homes
When you use a shipping container for your home, you will want to insure both the house and its contents. You do this the same way that you would insure a traditional home.
Due to their strength and stability, shipping containers can withstand extreme weather. Areas like Florida and South Carolina experience hurricanes. Build your container home there, and you are less likely to make a claim than with a traditional home if you also comply with all current building codes. That means lower insurance premiums.
As with traditional homes, containers need a replacement cost valuation for insurance purposes. It can be challenging as they are so different, making valuation tricky.
To begin with, list all your home contents. Then, write down all the construction and labor costs associated with the renovation or a complete rebuild of just the container home - do not include the land value or selling value. Your replacement cost only includes rebuilding the structure and permanent interior elements.
You will need to purchase eighty percent of your replacement cost to cover your container home through home insurance.
What Does Shipping-Container Home Insurance Cover?
Home insurance for a shipping container is like standard home insurance. You will want to ensure that your coverage is enough to protect your home and contents.
Perils
A covered peril is a disaster that damages or destroys your shipping container; they are included in your policy. Your insurance company will reimburse you if your home suffers a loss or damages due to a covered peril.
Perils include damage caused by the hazards listed in the image below.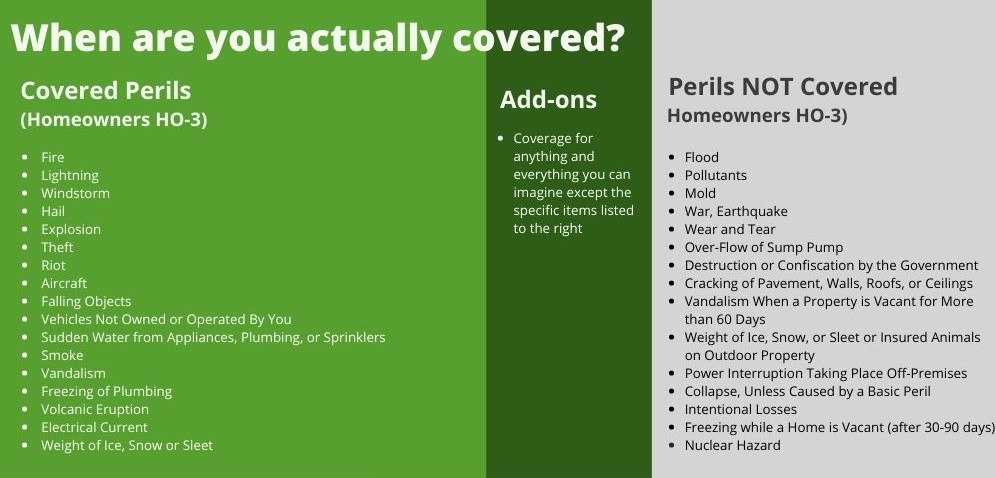 Coverage
The Shipping Container.

You can insure it on a homeowner's policy, provided the container is in a residential zone. It must pass all codes and regulations and have permits in place.

It must also be permanently attached to the ground with a foundation; otherwise, it might be considered a mobile home.

Personal Property. This coverage applies to items that are not part of the structure of the container. You cover personal items with personal property insurance. E.g., sofas, beds, clothes, etc.


Liability.

Liability coverage is part of your homeowner insurance policy. It provides coverage for injuries and damage that you cause, including injury or property damage. It pays for lawsuits, medical expenses, and property damage of other's property and bodily injuries.

Additional Living Expenses. Also referred to as ALE Insurance. If you become displaced, it covers costs incurred. For example, expenses including food and hotel stay while your home is uninhabitable. Details of your ALE coverage are in your homeowner's or renter's insurance policy.
Coverage Exclusions
There are types of damage that homeowners insurance policies will not cover. What is not covered depends on your policy, so always check the small print before making a claim.
Typical coverage exclusions are below (see others in the image above):
Policy Limits
Home insurance policies come with limits to their coverage. Some limits are well-known, for example, limits to jewelry coverage. Other limitations are not as obvious and may be hiding in your insurance policy wording.
Each coverage listed above has a unique coverage limit amount; the shipping container, personal property, liability, and ALE. Personal property also includes personal property sub-limits, discussed next.
Learn about any limits within your policy before making a claim. If you do not, you may risk losing thousands of dollars.
Find personal property limits to your policy under the heading "Coverage C: Personal Property." Here is a sample home insurance policy provided by The Insurance Information Institute. It gives you great examples of what to look for in your policy.
Sub-Limits
Sub-limits impact certain items of personal property generally related to unique categories. These items (for example, one-of-a-kind artwork) will have a maximum payout amount. As an example, if your policy states that you have $2,500 in art coverage, but your art collection equals $15,000, you can only claim $2,500.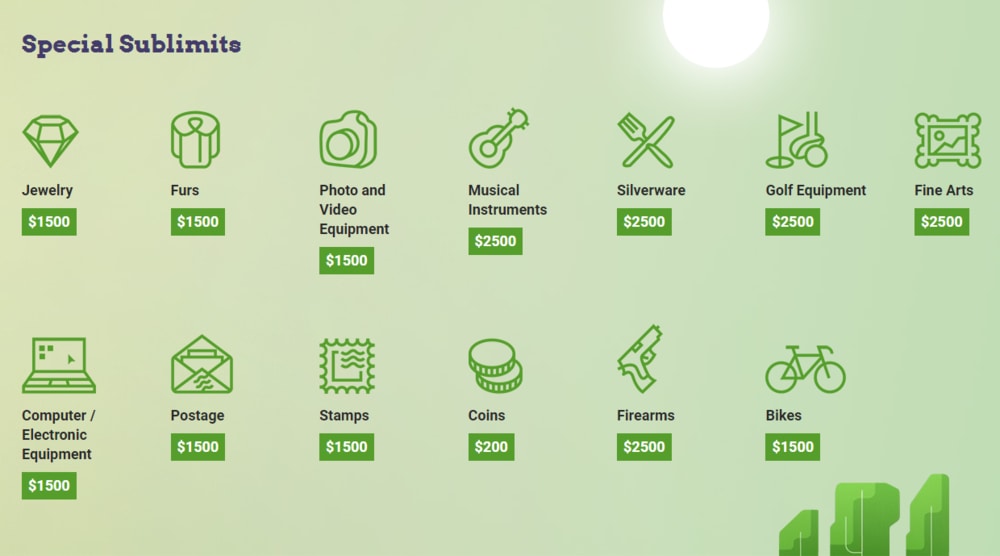 So, if you do own something of high value, consider insuring it separately with a personal articles floater or scheduled personal property endorsement.
The above image lists several common sub-limits.
Deductibles
A home insurance deductible is an amount that you pay out of your pocket when making a claim. The insurance company then pays out the rest. You can decide on the deductible when you take out the coverage — the higher your homeowner's deductible, the lower the premium.
Get Shipping Container Home Insurance
As you are insuring a non-traditional home, you should speak to an insurance agent. You may need a more bespoke quote than traditional home insurance coverage. Contact us now for a free, no-obligation quote - or start one below.
Hope that helps!
Free Online Home Insurance Quotes
At your service,
Young Alfred