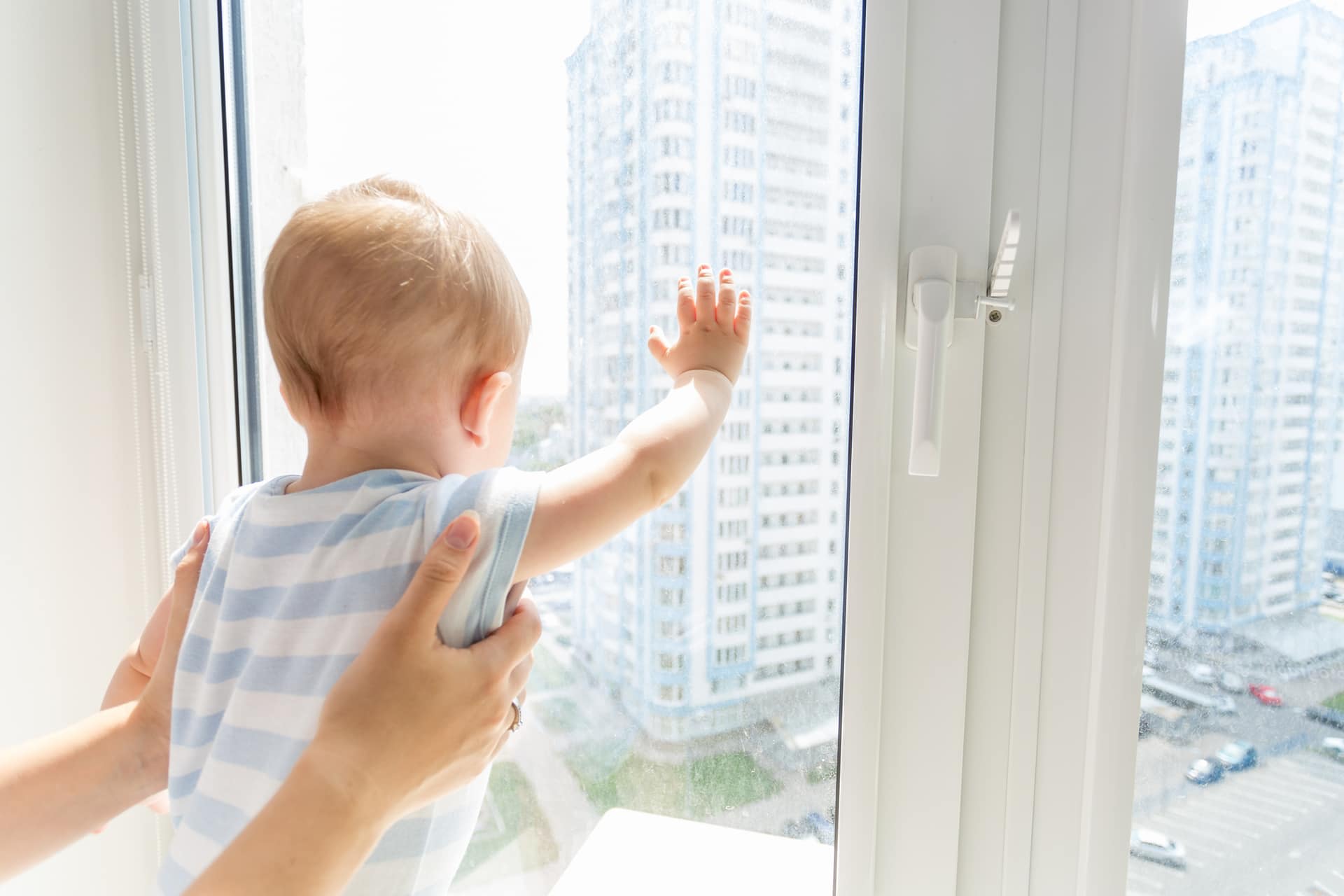 Window Guards in NYC – A Guide
You may have heard of the song "Tears in Heaven" written and sung by Eric Clapton. But, do you know it was inspired by the tragic death of his 4-year-old son? His son Conor accidentally fell from a 53rd-floor window in March of 1991. As of 2019, there were roughly 1.7 million children in New York City. Unfortunately for parents, NYC is not exactly the safest place to raise a child. A case in point is the existence of window guards.
Since the city can get quite hot during the summer, it is only natural for residents to open their windows. However, young children can easily climb or fall out of a window, necessitating widow guard usage. In 2019, 11 kids fell from windows, and four of them died.
This article will discuss the window guards' ins and outs - what they are, how they are used, and when the law requires them.
What is a Window Guard?
A window guard is a metal device that fits along the bottom half of a window. Typically, this piece goes on the inside of the window, and its purpose is to prevent children from falling out. You must have a metal window guard or limiting device, as screens are not an adequate replacement since children could fall through them.
Although the bars can look intimidating to some, they are not designed to avoid burglary or break-ins.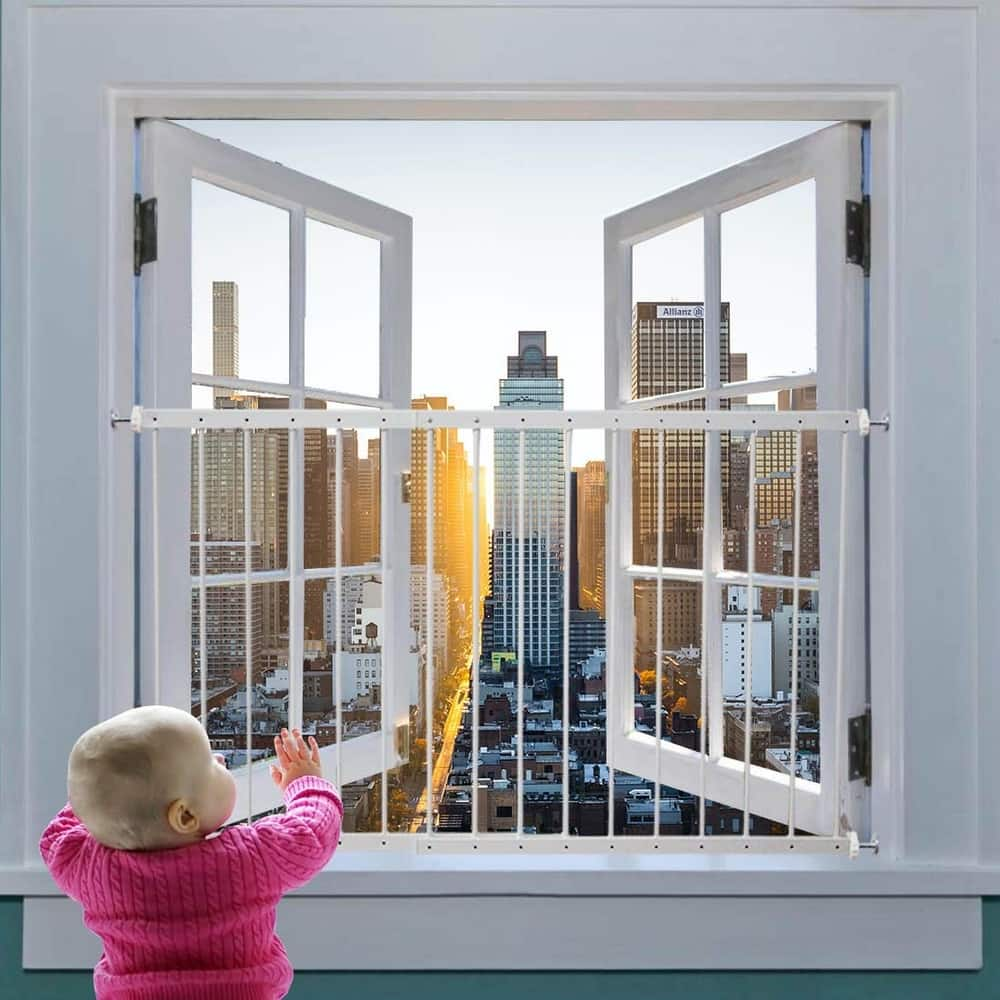 Are Window Guards Required in NYC?
Yes, New York law requires window guards under the Window Falls Prevention Program. However, not all buildings or owners need to install them. Let us look closer at the law and how it works.
NYC Window Guard Law
NYC window guard law states that all NYC windows in buildings or apartments where a child aged 10 or younger lives must have guards, except:
Windows that lead to fire escapes or guards designated for all other emergency escapes
Secondary exit windows in ground floor apartments
Windows with permanently installed air conditioners (AC)
This law applies to rental apartments, condos, and co-op buildings where children live. If a building with a child living there must have guards in their hallway windows, etc.
All buildings with three or more apartments must have window guards whenever a child age ten or younger lives inside. Technically speaking, the guards are only necessary for any apartment with children, but since people move in and out of residences all the time, it is impossible to know when or where a child will live.
The law also states that window guards are necessary for apartments where children regularly stay, even if they do not live there permanently. For example, let us say that a divorced parent lives inside the unit and has custody of their child every weekend. The landlord still must install window guards.
Tenants without children may also request guards, and the landlord must install and maintain them. The only exceptions from this window guard law include:
Single or Dual Residence Buildings (i.e., houses or duplexes)
Windows Leading to a Fire Escape
Windows that Cannot Open
Windows That Have a Permanent Air Conditioner Installed
Annual Window Guard Notice NYC
Every January, landlords must notify all residents if any children aged ten or younger live in the unit or visit regularly. The notification explains the window guard law. This notice is also necessary for all new leases and renewals within the building. However, tenants can request window guards at any time, not just when they move in or when they receive the notice.
NYC Window Guard Form 2021
The New York Department of Health (DOH) manages the installation and maintenance rules of window guards, and it oversees updating the annual notice form, NYC window guard notice appendix b. For the most recent edition of the NYC window guard form, click here.
Who Pays for Window Guards in NYC?
Although the law requires building owners to purchase and install DOH-approved window guards, they may not be the ones paying for them. If you have children under ten and move into an apartment without window guards, the landlord may pass the installation costs onto you.
If your apartment already has guards, you do not have to pay for them. Even if the landlord upgrades or replaces existing guards to ensure that they are DOH compliant, tenants are not on the hook for those costs.
Tenants on public assistance such as Section 8, Social Security, or other programs (i.e., welfare) also do not have to pay for new window guards. These tenants must provide proof of their assistance before qualifying for aid.
In condominium buildings, the rules are a bit different. Since you own your unit, you are likely responsible for paying for the guards and installation. However, you need to check with your condo board to discover their rules or limitations.
Finally, if you live in a co-op building, you are not responsible for window guards. Instead, building management oversees installation and repair, although they will likely charge tenants accordingly.
How Much are Window Guards?
The cost of a window guard depends on the type you get (more on that in the next section). In New York, installing guards can cost as little as $275 and as much as $1,400, including parts and labor. Individual child window guard products cost between $30 to $80, depending on their size and materials.
Some models are easy to install yourself (DIY), while others may require professional installation.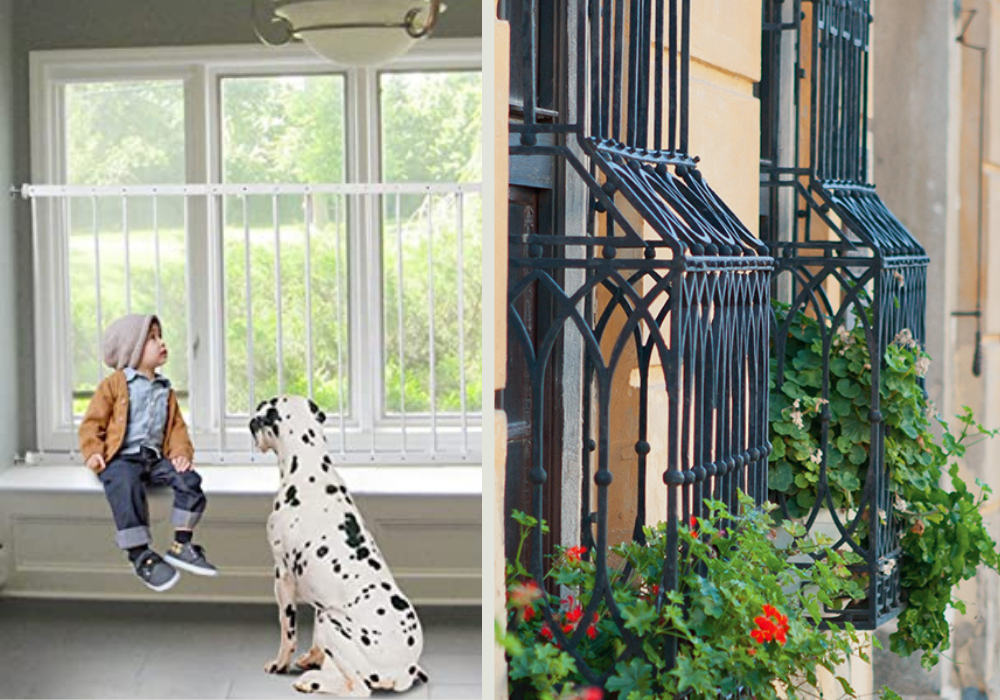 Types of Window Guards
In New York, window safety guard regulations state these devices are metal or aluminum, measuring at least 15 inches tall with three or more bars. The space between the bars cannot exceed 4.5 inches. You can find a list of approved NYC window guard products here.
Here is a breakdown of the various types of window guards you can install:
Temporary Window Guards. Although these guards screw into the frame, they purposely come off easily. These models are ideal if your child is close to 10 or you plan on moving within a couple of years.

Iron Window Bars. Manufacturers do not build baby window guard options to prevent break-ins. However, you can upgrade to iron bars to deter burglars.

Wrought-Iron Window Guards. Typically, these guards go outside the window, as they are too heavy to install on the inside.

Window Guards for Sliding Windows. These guards allow you to slide the window open without removing the guard.

Window Guards for Casement Windows. Since casement windows open on a hinge, you need a guard that will not block the opening device.

Double-Hung Window Guard. Double-hung window guards allow you to have open windows while keeping children inside. You may need a guard on the top section as well.
How to Install Window Guards in NYC
Because your landlord is responsible for installing window guards, you do not have to worry about it. However, unit owners in a condo may have to pay and install the guards themselves. If you live in a condo, be sure to buy guards that screw into the frame. While there are models that do not use brackets, they can loosen and fall off.
We highly recommend getting a professional installer for your window guards. A pro can guarantee their work, and you know that everything will be health code compliant.
How to Remove Window Guards in NYC
If you move into an apartment that already has baby-proof windows with guards, you will need to notify your landlord to remove them. However, if you can take them off yourself, it should be a matter of unscrewing the brackets and pulling the piece off the window.
NYC Window Guards and Air Conditioners
As we mentioned, window guards are not necessary when a permanent air conditioner is already in place. However, if you plan to install an air conditioner in a window with a guard, you will need to ask your landlord to remove the window guard first.
For rooms with temporary window air conditioners, building owners still must install guards.
How Do Window Guards Work with Fire Escapes in NYC?
Many residential buildings in the city of New York have fire escapes. Typically, multiple windows lead to the escape, making it easy for tenants to evacuate during an emergency. Since it is illegal and hazardous to block an emergency exit, a window guard must be left off one window to allow evacuations. So, if you have four openable windows that lead to the fire escape, three of them will have guards.
Is it Legal to Screw Windows Shut?
No matter where you live, it is always illegal to screw windows shut to escape a fire, if necessary. However, if the window is not needed for egress, it is okay. So, if you move into an apartment with screwed windows, if one of them stays open and leads to the fire escape, everything's kosher.
Are Window Guards Covered by Home Insurance?
Yes. If you own your window guards and they get damaged by a covered peril, such as a fire, your policy will pay to repair or replace them. As a rule, however, homeowners insurance does not cover routine care and maintenance of window guards.
Even though the law requires window guards for a multiple dwelling unit (i.e., apartment building), they are not necessary for private homes -- only apartment, condo, and co-op buildings. But, if you buy and install window guards on a private residence, they are covered by your policy because they are your property.
You can also install security bars for home security. In that case, your insurance company does cover them and may lower your premiums by as much as 15 percent. The discount is part of a home insurance security discount. Be sure to talk to your insurance agent about potential discounts before starting the installation, as there may be specific requirements. Additionally, your insurer may see the bars as a fire hazard. That could raise your rates in some instances.
Get a Quote!
Protecting your children and your home is vital. Compare home insurance rates and plans by getting a quote below. We can help you compare and select the best home insurance coverage from 40+ top insurance companies.
Hope that helps!
At your service,
Young Alfred