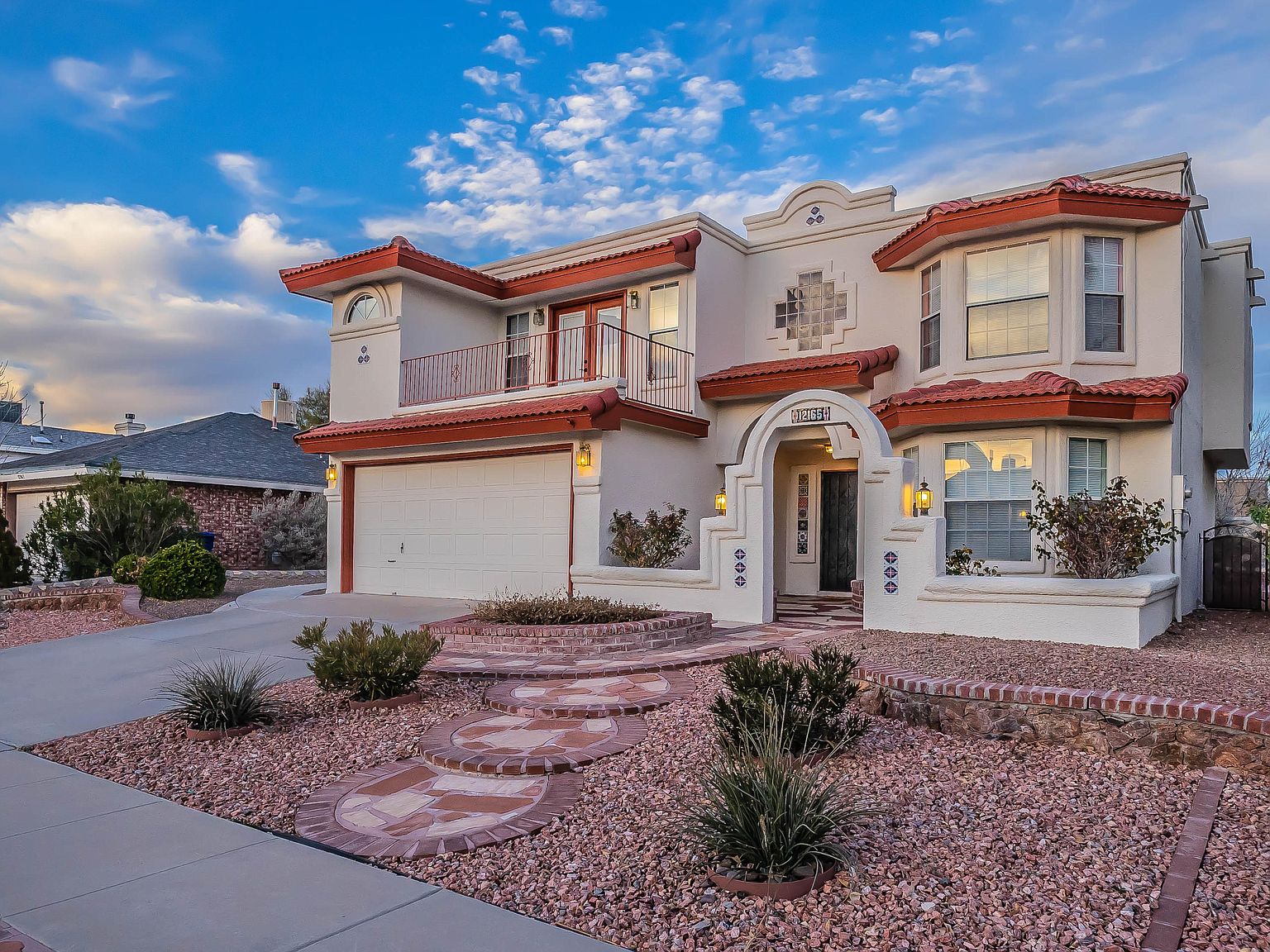 Home Insurance in El Paso TX
Nicknamed 'The Sun City,' El Paso has, on average, 297 sunny days per year. It is home to more than 70 Fortune 500 companies, which helped maintain a low unemployment rate of 3.7% before the COVID-19 pandemic. El Paso is rated the city with the lowest cost-of-living in the US; purchasing a home in El Paso costs about 30% less than the national average. The average home costs only $119,300, and the average cost of monthly rent is $770.
El Paso residents enjoy a city rich in history, art, and music. There is something for everyone - kid-friendly venues such as TecH20, an interactive water conservation center, Western Playland Amusement Park, and popular neighborhoods such as Park Foothills, Redd-Mulberry, and Silver Springs Village.
Owning a home in El Paso is a significant investment, so it is wise to make sure you have proper homeowners coverage. Young Alfred wants to help you understand home insurance's ins-and-outs, so we put together this useful guide for those looking to review or buy home insurance.

1. The Average Price of Home Insurance in El Paso, TX
Everyone likes home insurance discounts. At Young Alfred, we want to help our customers find every savings available. We search for every El Paso insurance discount that you may be eligible to earn.
Most Young Alfred customers in El Paso pay around $631 - $1,196 per year for their home insurance premiums. The average home insurance cost in El Paso, TX, is $901.84. Finding cheap insurance in El Paso, TX, is difficult.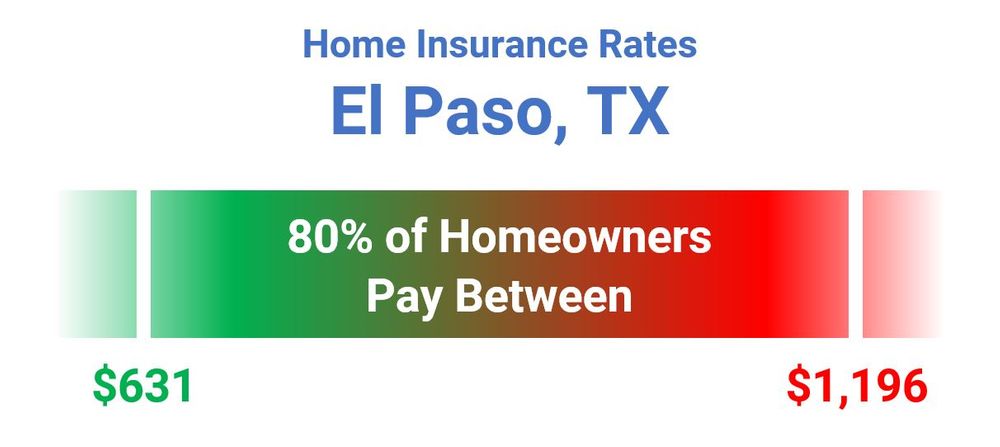 One thing to note is that your home's value goes up as home pricing increases, which means you need to add more coverage. Adding additional coverage limits is a smart financial move to cover the full cost of a rebuild. You can expect to pay an extra $198/year in home insurance for every $100,000 home value increase.
Home Insurance Rates vs. Home Rebuild Cost for homes located in El Paso, TX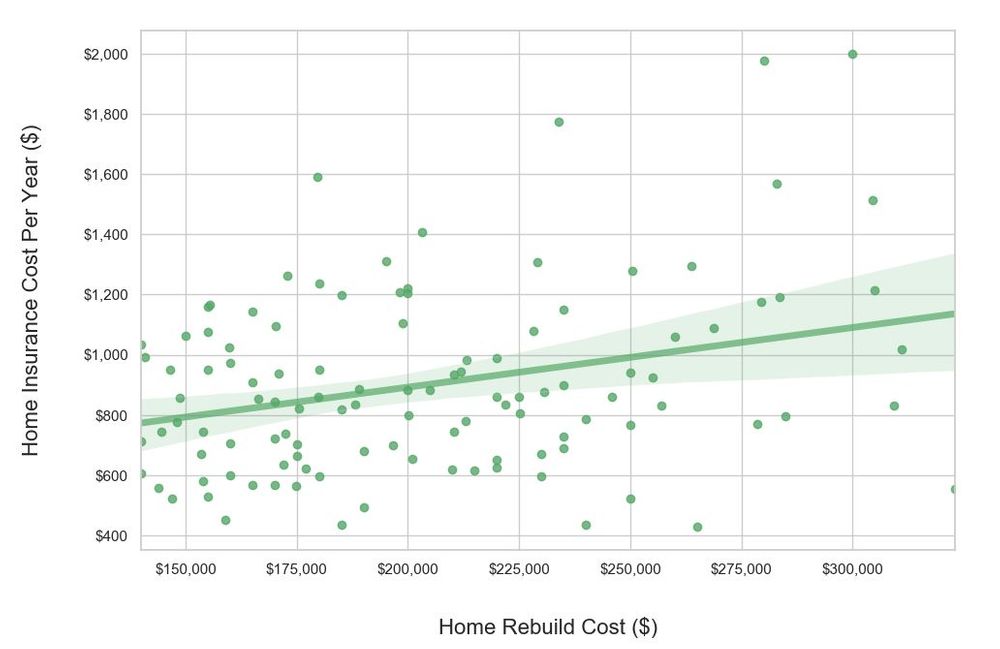 Home insurance rates data generated from the following zip codes: 79901 79902 79903 79904 79905 79906 79907 79913 79914 79915 79920 79922 79923 79924 79928 79934 79935 79936 79937 79938 79945 79946 79947 79948 79949 79908 79910 79911 79912 79917 79925 79926 79927 79929 79930 79931 79932 79940 79941 79942 79943 79944 79950 79951 79952 79953 79954 79961 79968 79976 79990 79995 79996 79997 79998 79955 79958 79960 79978 79980 79999 88510 88516 88517 88518 88519 88520 88521 88523 88524 88525 88526 88511 88512 88513 88514 88515 88527 88528 88529 88530 88531 88538 88539 88540 88541 88542 88548 88549 88550 88553 88554 88560 88561 88562 88563 88565 88571 88572 88573 88574 88575 88576 88577 88578 88579 88580 88532 88533 88534 88535 88536 88543 88544 88545 88546 88547 88555 88556 88557 88558 88559 88566 88567 88568 88569 88570 88581 88582 88583 88584 88585 88595 88586 88587 88588 88589 88590
2. Common Home Insurance Claims in El Paso, TX
El Paso is known for its extreme weather. In 2018, the city recorded 46 triple-digit summer days, and in 2019-2020 had 32 reports of hail on the ground.
Here is a risk report example from an El Paso home address.

El Paso, TX Home Risk Report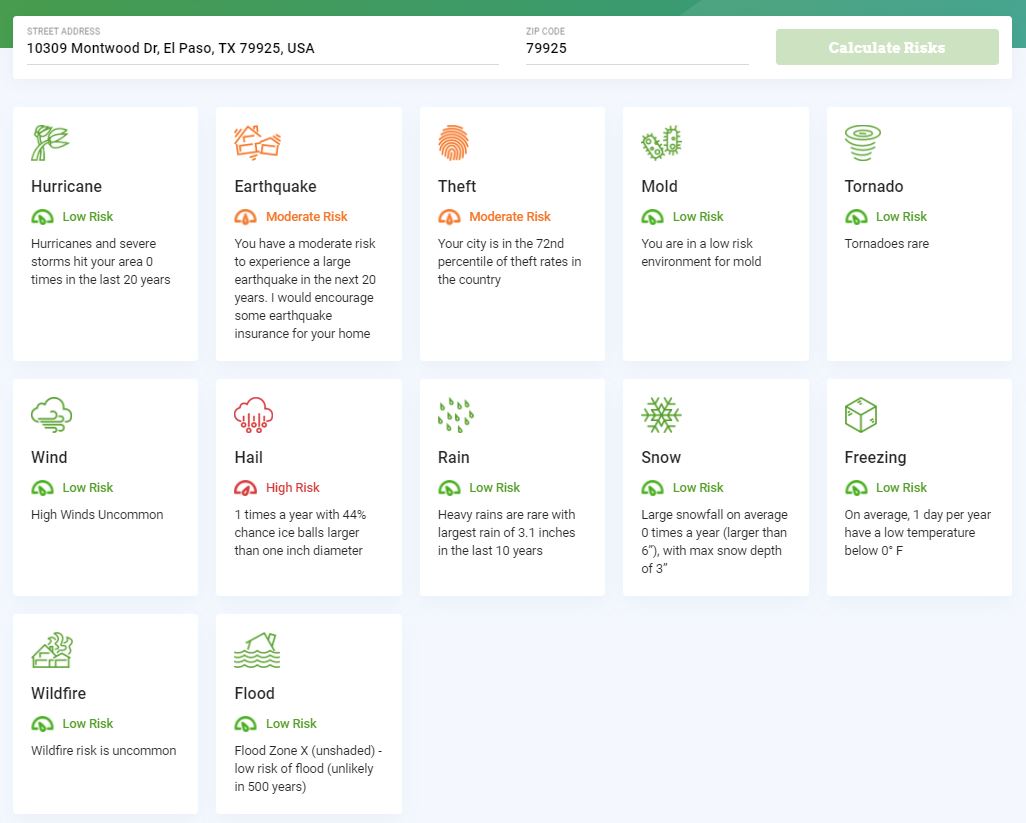 Insurance companies often offer higher deductibles in areas that frequently experience specific disasters such as wind and hail that commonly happen in El Paso. Because these disasters drive up home insurance premiums, home insurance shoppers might opt for higher deductibles and a lower premium. If you have an excessively high deductible that you cannot meet and consequently you cannot repair your home, you will lose your investment. To avoid this, we recommend choosing a lower affordable deductible with its accompanying premium.

3. Coverage Details of Your Home Insurance Policy
Your homeowners insurance in El Paso covers six distinct areas. Understanding how these coverage requirements work is vital to protect your investment.
Coverage A: Dwelling is the part of your policy that covers your actual home.
Coverage B: Other Structures covers any building that is not attached to your home.
Coverage C: Personal Property entails coverage for your personal belongings such as furniture, clothing, household items, etc. Many things have special sub-limits, which means the insurance will only cover the item up to a certain amount.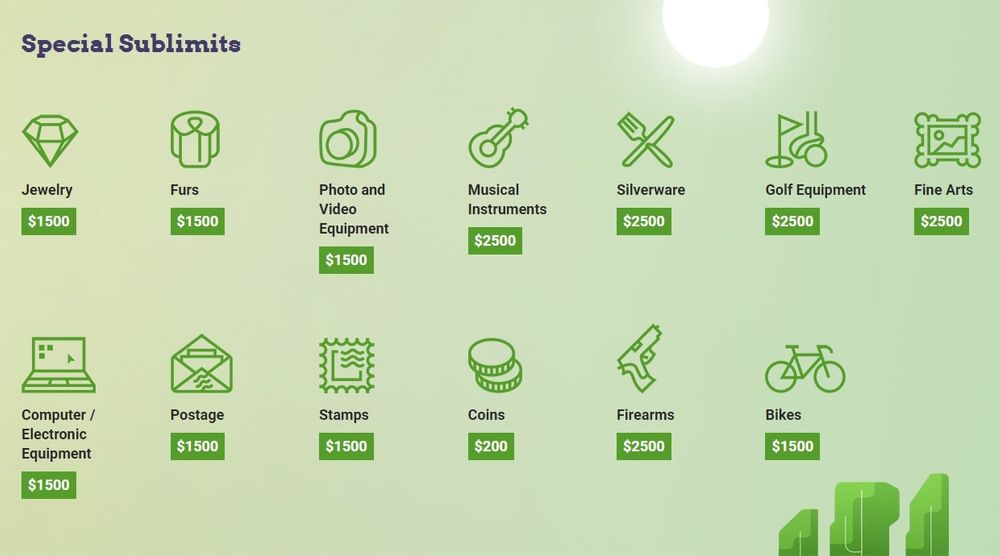 Coverage D: Loss of Use is insurance coverage that provides reimbursement for living expenses incurred when you cannot live in your home.
Coverage E: Personal Liability is protection that pays for medical and legal expenses if someone gets hurt and sues you.
Coverage F: Medical Liability coverage handles medical bills for an injured person who does not choose to sue you.
Additional Recommended Coverages
Although there are no state minimums in Texas, it is always wise to consider a full range of coverages:
Water Damage
Water damage is a large percentage of all homeowners claims. Below are the different areas of water damage. Some are covered, some are not.
Flooding. Insurance policies exclude flooding from coverage on a standard policy. Consumers can purchase coverage from the National Flood Insurance Program, NFIP, or Private Flood Insurance Companies.

Burst Pipe. Water damage is a covered loss on your standard homeowners policy. A slow leak that causes water damage is not covered as this is a preventable instance.

Water Backup Coverage. Your homeowners insurance excludes water backup, but consumers can purchase this as an add-on.

Storm-Related Water Damage. If water enters from above ground level, your insurance policy covers storm-related water damage.

Water Seepage or Groundwater. This water damage is an exclusion on your policy. Some homeowners purchase it as an add-on.
Foundation Coverage
Texas soil consists mostly of clay that is prone to shifting. Because of the foundation's uncertainty, most homeowners insurance policies exclude foundation coverage. If you purchase a water and foundation endorsement, it covers you for 15% of your Coverage A or has a $25,000 limit. It is smart to buy this coverage to avoid expensive slab leak repairs.
Wind and Hail Deductible
Home insurance policies typically have percentage-based or set amount deductibles. Wind and hail insurance usually come as a percentage deductible.
Percent-Based Deductible (2%, 3%, 5%, 10%)
The deductible, in this case, is a percentage of Coverage A on your policy.
Example:
$150,000 of dwelling coverage
3% deductible

The homeowner pays for the first $4,500 ($150,000 * 3%) of loss to your home, and then the insurance company pays. In Texas, percentage deductibles get applied to special losses such as a Hurricane Deductibles or Wind and Hail Deductibles.
Dollar-Based Deductibles ($500, $1,000, $2,500, $5,000, $10,000)
The dollar-based deductible is the same amount, whatever the covered peril. The most common deductible is $1,000.
Example:
$500,000 of dwelling coverage
$2,500 deductible

You pay for the first $2,500 in a covered peril, and then the insurance company pays the rest.
Roof Coverage: Replacement Cost vs. Actual Cash Value
Roofs that are 20+ years old are surviving beyond the customarily expected life span.
Example: Your asphalt roof is 19 years old, and a hail storm damages your roof beyond repair - now you need a new roof. The insurance company will not cut you a check for a brand-new roof if covered at ACV because you would need to replace the roof in the next five (5) years, with or without the hail storm.

Instead, your insurer will cover your roof for its remaining useful life. If the roof is 19 years old, with a 25-year remaining useful life, replacement costs $15,000, and your policy has a $1,000 dollar deductible, your check will be (25-19)/25*15,000 - $1,000 = $2,600.

However, if your roof has Replacement Cost, your check will be $15,000 - $1,000 = $14,000. In this example, Replacement Cost Coverage for your roof was worth an extra $11,400.
Animal Liability
The average amount of a dog-bite legal claim spans as high as $35,000 — insurance companies set rates based on dog breed when pricing animal liability insurance. Homeowners should look carefully at their policy to see if animal liability is an exclusion. Do not wait until you are filing a claim to find out you are not covered.
Each homeowner should understand the six major coverage categories.
Coverage A: Dwelling - covers your primary building structure.
Coverage B: Other Structures - covers any structures on your property not attached to your primary home's structure.
Coverage C: Personal Property - covers your personal belongings with special sub-limits for specific categories:


Coverage D: Loss of Use - if you can't live in your home after a covered loss, this helps cover your cost of living somewhere else until repairs are completed
Coverage E: Personal Liability - if someone sues you for something that happened on your property, this will kick in to defend the lawsuit and payout on damages charged in the case.
Coverage F: Medical Liability - if a guest injures themselves on your property, this can cover the guest's medical expenses from that injury.
More importantly, homeowners in El Paso, TX, should know the five specific coverage details of their home insurance policy:
4. Insurance Companies in El Paso, TX
There is a myriad of home insurance agencies in El Paso, TX competing for your business. Investigating the companies you are considering is a great way to narrow down your list. Here are some things to research:
Financial Stability Rating. An insurance company's financial stability directly determines their ability to pay your claim should the need arise. Look at AM Best or Demotech to learn more about each insurance company's financial status.
How long has each company been insuring El Paso homes?
Look at online reviews, especially for claim handling and quality of customer service.
We recommend the following insurance carriers for El Paso homeowners.
| | | | |
| --- | --- | --- | --- |
| Insurance Company | Financial Stability | Experience | Online Reviews |
| Progressive | AM Best A+ | Experienced | 4 stars |
| Hippo | AM Best A- | New | 5 stars |
| State Auto | AM Best A- | Experienced | 4 stars |
| Travelers | AM Best A+ | Experienced | 5 stars |
| USAA | AM Best A++ | Experienced | 5 stars |
| Encompass (Allstate) | AM Best A+ | Experienced | 5 stars |
| State Farm | AM Best A++ | Experienced | 4 stars |
| Foremost (Farmers) | AM Best A | Experienced | 3 stars |
| Safeco (Liberty Mutual) | AM Best A | Experienced | 4 stars |
| Stillwater | AM Best A- | Experienced | 5 stars |
| Mercury | AM Best A | Experienced | 4 stars |
| Velocity | AM Best A | New | 4 stars |
| Towerhill | AM Best A- | Experienced | 5 stars |
| Lighthouse | AM Best A- | New | 3 stars |
5. El Paso Home Insurance Quotes
Insurance companies use three main categories to calculate rates:
Property ratings. Based on the age, location, and heating system in the home.

You. Your credit score, claims history, pets, and more are all ways insurance companies determine rates.

Coverages you choose. Coverage options, limits, and endorsements.
We make it easy to obtain a home insurance quote. Young Alfred features a customized quoting engine to provide you with the best home insurance prices and comparison in your area. We never sell information or call you after you request your personalized quote. If you need home and auto insurance, or even renters insurance, Young Alfred is the go-to place!
Get Home Insurance Quotes in El Paso TX
I hope that helps!
At your service,
Young Alfred