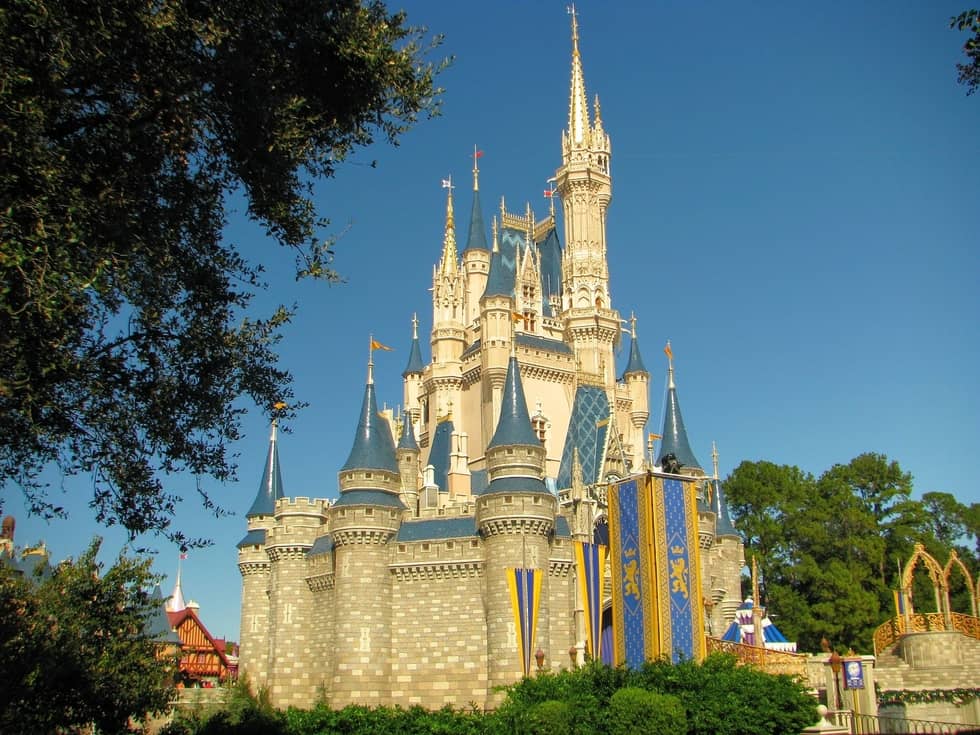 Home Insurance in Orlando
There is no place like home when you are living in Orlando, THE hotspot of the sunshine state. It is the most significant entertainment capital of the world! It has over a dozen amusement parks, 8,000 restaurants, 450+ hotels and resorts, a myriad of dinner theatres, and so much more.
It is not only a great vacation destination; it is a great place to live. Homeowners insurance in Orlando, FL, is expensive, so this guide aims to help you find quality home insurance at a reasonable price.
Weather in Orlando
Located in the center of Florida, the subtropical climate features high temps most months and frequent rain showers. Torrential rains are uncommon, and the sunny sky returns to dry everything up quickly.
Orlando is not as concerning an area for hurricanes since it is 60 miles inland in Central Florida. Armed with this knowledge, Mr. Walt Disney embraced Orlando for Mickey Mouse land. Disney World has only closed six times over the years due to the threat of hurricane-force winds and rain.
1. Orlando FL Cost of Homeowners Insurance
Homeowners in Orlando have the best weather (unless you hate the hot!) and entertainment.
It is the perfect location for just about anything. It has lush landscapes, resort living, and some of the highest-rated retirement homes in the country. The perks are endless. Homeowners can rest assured that property values are high, and investing in Orlando will likely grow in value.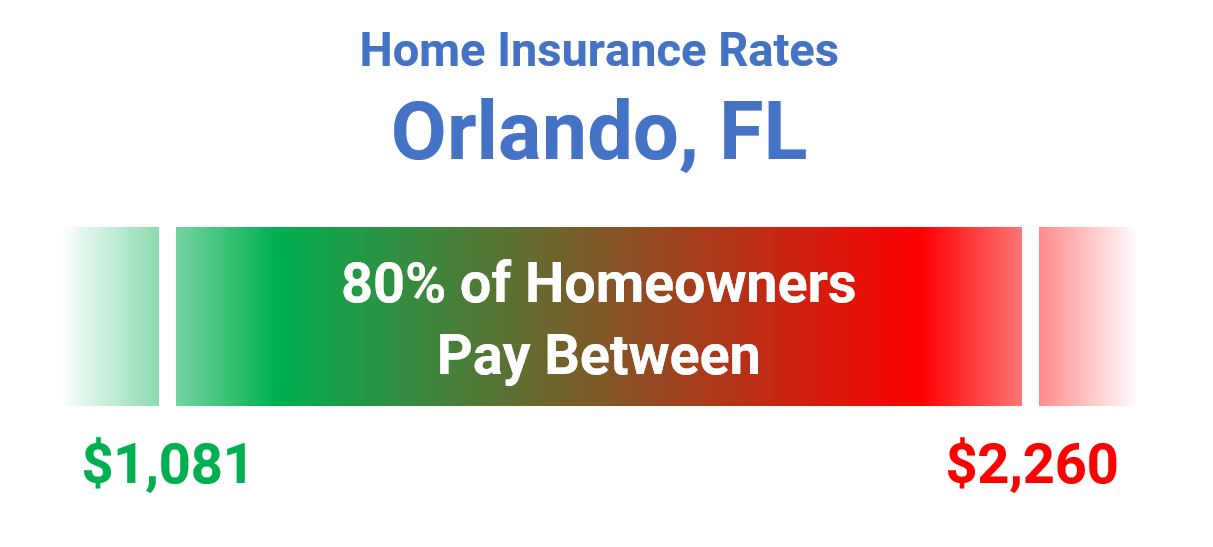 Purchasing Florida home insurance coverage will protect your home from a natural disaster. Homeowners insurance rates in Florida are high compared to the national average. Home insurance in Orlando is between $1,081 and $2,260 per year. Check out our 30 Ways To Save Money On Homeowners Insurance article for ways to lower your premium costs.
The average Orlando homeowners insurance costs $1,720.34, and an excellent home insurance premium is $1,081/year. Home value increases charge you $399/year for every $100,000 gain.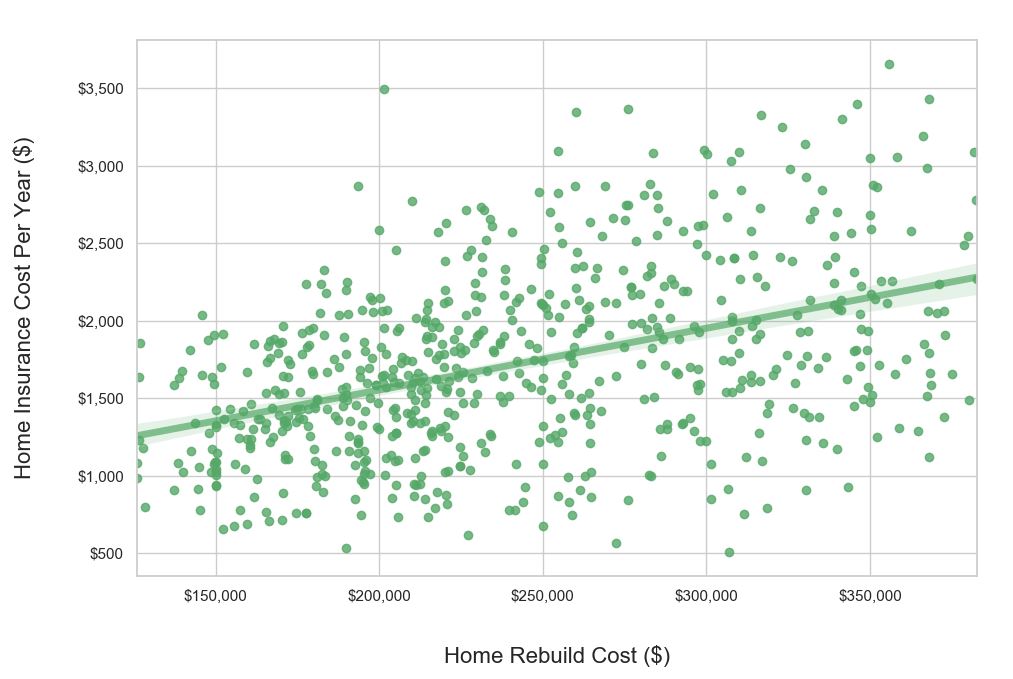 Home insurance rates data generated from the following zip codes: 32801 32802 32803 32808 32809 32812 32814 32815 32817 32818 32804 32805 32806 32807 32810 32811 32816 32819 32820 32821 32822 32824 32825 32829 32830 32831 32835 32836 32837 32855 32856 32857 32858 32859 32826 32827 32828 32832 32833 32834 32839 32853 32854 32860 32861 32862 32867 32868 32885 32886 32897 32899 32869 32872 32877 32878 32887 32891 32896
Homeowners should submit a wind mitigation report on the application. It will save you money, over 50% annual on home insurance rates. For older homes, your insurance carrier may require a 4-point inspection report with your request for coverage.

2. Common Claims in Orlando FL
The purpose of insurance is to provide relief from the costs of damage or destruction of your home or property. While Orlando is somewhat safer from hurricanes, many of the claims filed are for hurricanes, wind damage, flooding, or falling trees. Here are a few top claims and home risks filed in Orlando.

Orlando, FL Home Risk Report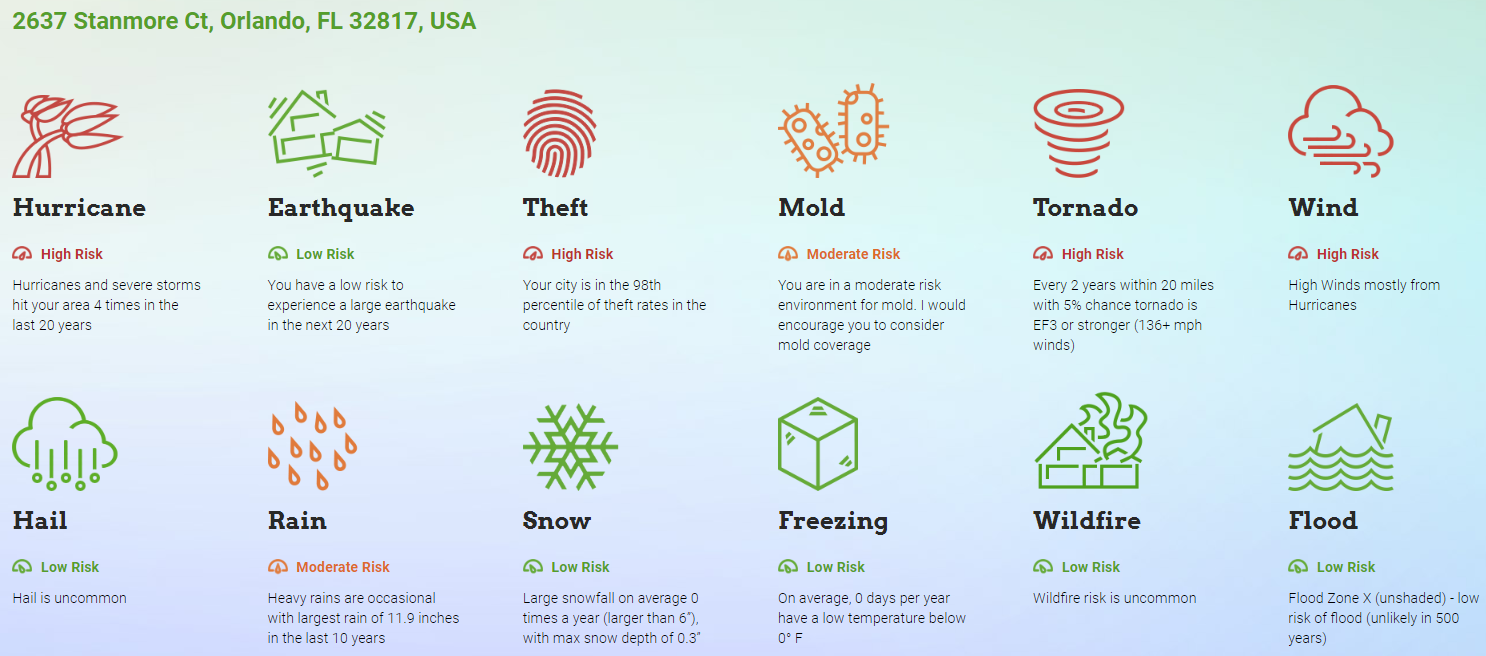 Source: Home Risk Report

3. Coverage to Get in Orlando FL
State of Florida insurance coverage includes the following line items:

Coverage A: Dwelling Coverage. Coverage for your home when a covered loss occurs.
Coverage B: Other Structures. Other structures refer to sheds, garages, barns, etc.
Coverage C: Personal Property Coverage. Items within your home that are damaged or destroyed by a covered occurrence receive compensation from your property damage insurance.
Coverage D: Loss of Use Coverage. Occasionally referred to as additional living expenses, Coverage D helps if your home is damaged or destroyed and uninhabitable. Loss of use covers the cost for you and your family to stay in a hotel.
Coverage E: Personal Liability. When someone is injured on your property and sues you, personal liability will cover medical costs up to your coverage limits.
Coverage F: Medical Liability. Medical payments coverage exists for costs associated with an injury that occurred on your property, and if an individual sues you.

Five Important Orlando FL Specific Coverages

1. Water Damage
While you may not have a Disney-like castle surrounded by a moat, water damage is typical in Florida and a costly headache. We recommend full water damage coverage if it is available.
Floodwater that comes into your home is not a covered peril on your standard policy. The National Flood Insurance Program markets insurance to repair or replace your home due to a flood loss, and we recommend their plan.
Burst Pipes are a covered expense unless a leak occurs slowly over time from poor maintenance.
Water Backup coverage is not available on a conventional Florida homeowners insurance policy. Consumers can purchase an add-on policy.
Storm-related water damage is a covered expense as long as it comes from above ground level.
Water Seepage/Groundwater damage is not generally covered by a homeowners policy. The policyholder can purchase it as an add-on premium.
Homeowners should understand that many Florida insurance companies will limit water damage coverage or remove it altogether. Limits may be as low as $10,000, which will not cover water remediation or mold damage (expensive).
2. Screened Enclosures
A homeowner with a screened enclosure will need to purchase an add-on coverage to cover the addition. Coverage is normally $10,000 to $50,000.
3. Hurricane Deductible
Homeowners should understand how insurance covers hurricanes. The coverage and the deductible are only relevant when a hurricane makes landfall and is declared a category one storm or higher. The National Oceanic and Atmospheric Administration (NOAA) uses the Saffir-Simpson Hurricane Scale to rate the category of the storm.
There are two types of hurricane deductibles:
Percent-Based Deductible - The deductible is a percentage (2%, 3%, 5%, 10%) of the coverage provided.
Example:
$300,000 of coverage A
5% hurricane deductible
= $15,000 hurriane deductible (300,000 * 5%)
Dollar-Based Deductible - Hurricane deductible is dollar-based ($500, $1,000, $2,500, $5,000, $10,000). The most common deductible is $1,000.
Example:
$200,000 of coverage
$5,000 deductible
Homeowner owes $5,000 on a covered claim before the Insurance Company starts paying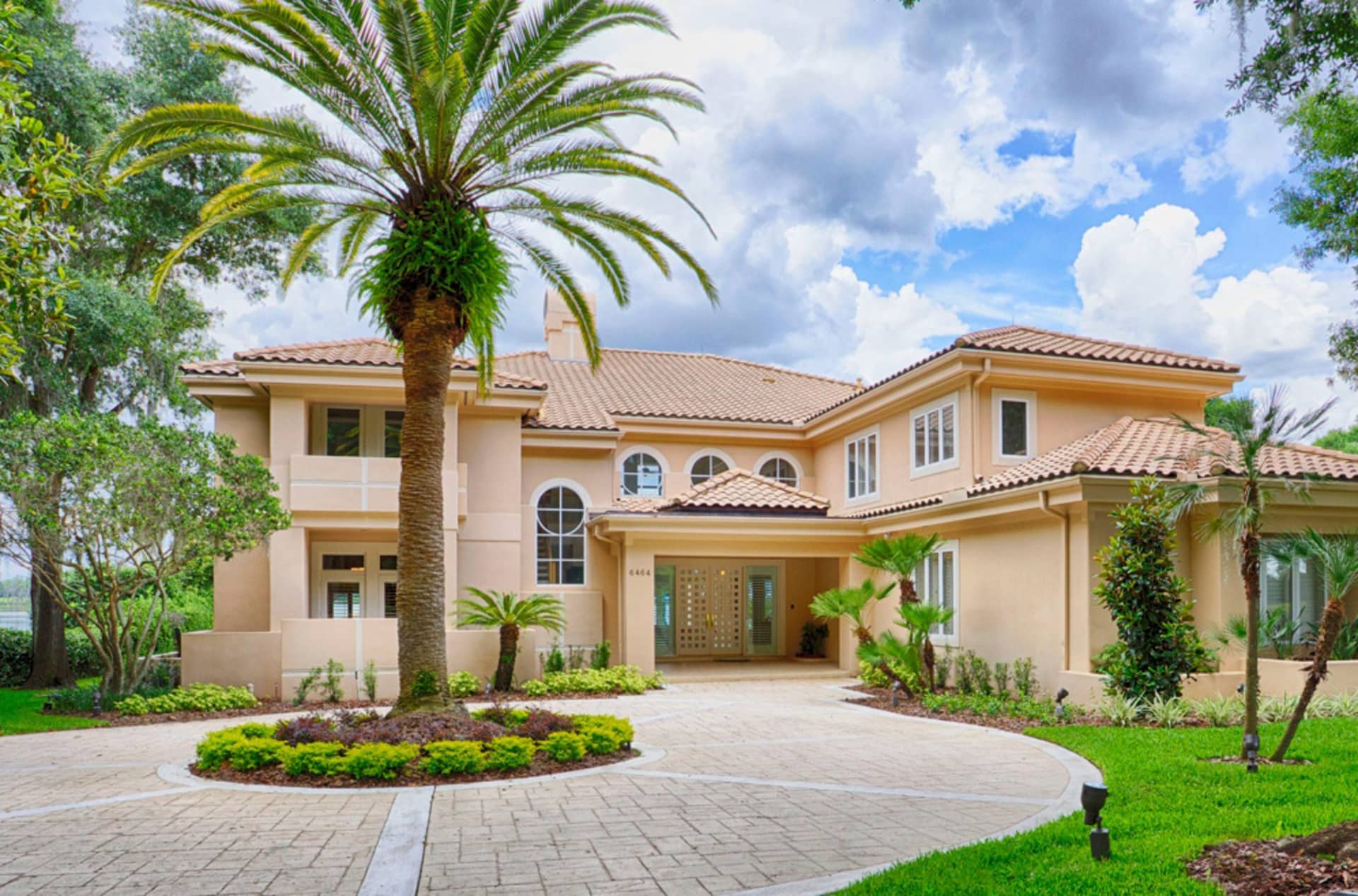 4. Roofs
The roof of a house can sustain wind and rain damage from a wind storm, tropical storm, or hurricane. Coverage for roofs is a valuable part of a homeowners insurance policy. The two types of roof covering are as follows:
Actual Cash Value (ACV)
ACV policies only provide reimbursement for how much the existing roof is worth. Homeowners with ACV who have a loss will only receive compensation for a portion of the cost of roof replacement minus depreciation.
Replacement Cost
A replacement cost policy will cover the entire cost of a new roof minus the deductible.
Example: Mr. Perez has a home with a roof that is 22 years old. On Wednesday, a storm comes through his area. Later in the day, Mr. Perez notices the roof is leaking. After inspecting it, he realizes that the storm caused many of his shingles to lift and bend.
If Mr. Perez has ACV coverage, he will not receive any reimbursement because his roof's useful life is only 20 years and he needed a new roof anyway, so the Actual Cash Value of the roof was less than the deductible.

However, if Mr. Perez bought replacement cost coverage for his roof.
The claims adjuster decides a new roof should cost $16,000, and Mr. Perez's deductible is $1,000. The insurance company cut Mr. Perez a check for $15,000 ($16,000-$1,000 deductible).
5. Animals
We all love our beloved furry family members. However, with dogs bites can become expensive if a visitor sustains one. The average rate for a dog bite is $45,000, and no one wants to be stuck with that bill. So, having dog liability insurance is a good idea if you have a dog.
How Rates are Determined
Rates can be based on several factors when you purchase homeowners insurance rates in Florida. The condition of your home, marital status, credit score, and coverage options you pick influence the cost of your insurance premiums. If a homeowner has filed multiple claims, compensation may impact the insurance rate.
4. Insurance carriers in Orlando, FL
Choosing a homeowners insurance company can be overwhelming. Armed with the right knowledge and a little research, you will make the right decision.
There are many other types of insurances, including auto insurance, liability insurance, and business insurance. Some insurance companies offer discounts for multi-policy clients with car insurance supplementing their homeowners insurance. Obtaining several insurance quotes and comparing similar coverages will help you make a wise choice.
When researching the insurance industry, look for the financial stability rating through AM BEST or Demotech. You will also want to ask how long an insurance company has been insuring Orlando, FL homes. Lastly, search for online reviews concerning the quality of customer service and insurance claim experience for home insurance companies.
5. Get an Orlando FL Home Insurance Quote
If you have a home in the beautiful city of Orlando, you need to purchase insurance for your home and auto. It is easy to do! Click (only once) on the button below and get your homeowners free online insurance quote!

Get Home Insurance Quotes in Orlando FL

I hope that helps!
At your service,
Young Alfred