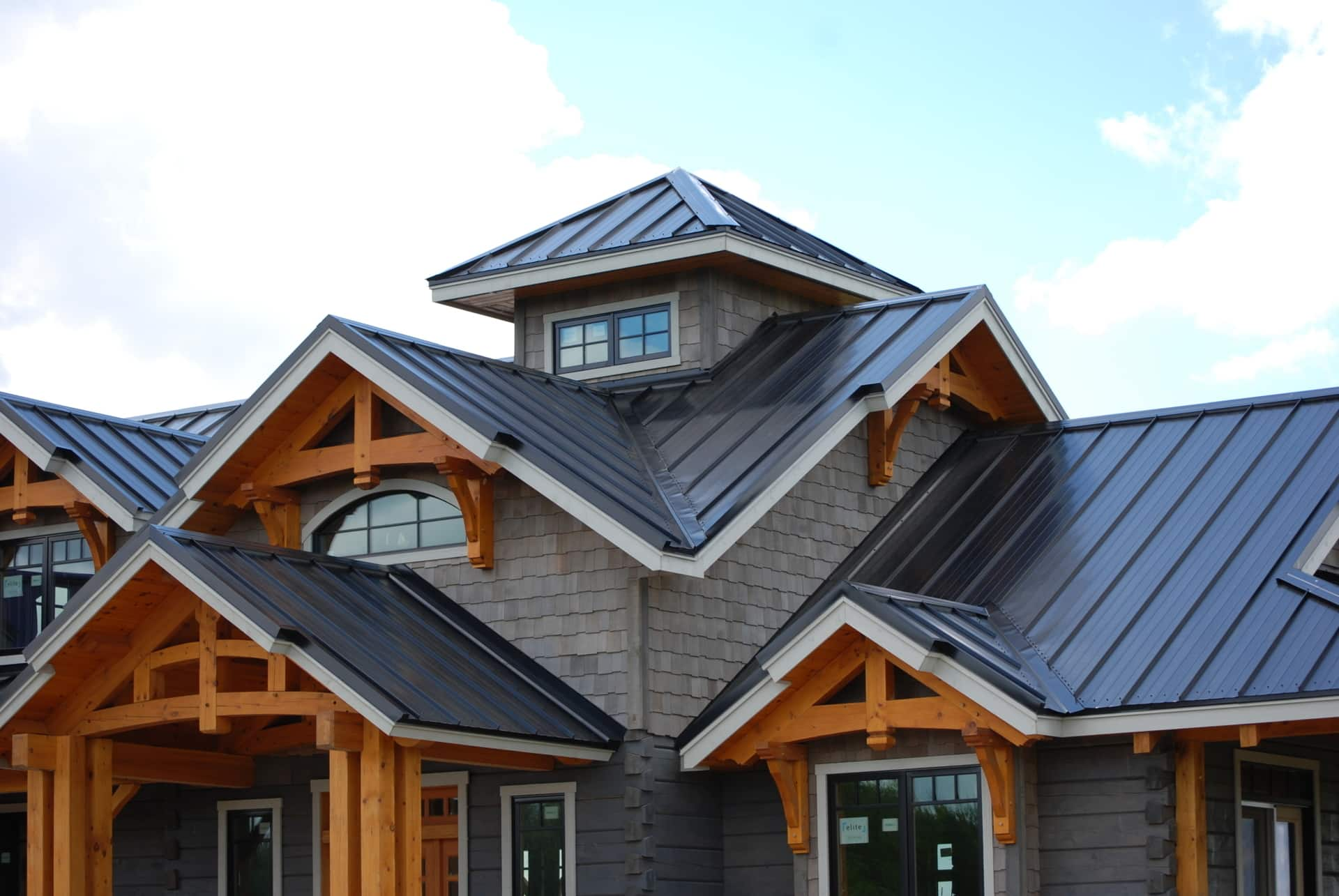 How Long Will a Metal Roof Last?
There are numerous reasons to choose a metal roof for your house, and durability and life expectancy are the biggest. A metal roof can last up to or more than 100 years, depending on the type of metal you select. According to The Spruce, approximately 15 percent of roofs today are metal.
Metal Roofing Pros and Cons
Installing a metal roof has many pros and cons. Some may surprise you.
Pros:
A metal roof lasts anywhere from 40 to 125+ years compared to the 12 to 20 years for traditional asphalt roofing.

They are friendly to the environment because you can recycle 100 percent of the roof when you need a roof replacement.

You can install a metal roof on top of an existing roof.

They do not put you at a greater risk of lightning striking your house.

Most metal roofs include the highest impact resistance and hail rating (Class 4) awarded by Underwriters Laboratory (UL).

Class 4 impact-resistant metal roofs typically qualify for roof discounts with most home insurance companies.

Bugs, such as termites, are not attracted to metal roofs.

Fire does not typically destroy metal roofs.

They are more energy-efficient.

These roofs are recyclable. The roofing material used is 25 to 95 percent recycled material.
Cons:
A metal roof must be installed or repaired by professional roofing installers.

Heavy, large items, such as hail, can dent a metal roof.
Metal Roof Life Expectancy
Depending on the types of metal roof material you select and how well you maintain it, a metal roof can last 100 years or more. Different types of metal have a longer life expectancy than others.
How Long Will a Galvanized Metal Roof Last?
While galvanized steel roofing is not even 60 years old yet, we know it can last up to 50 years or more. To preserve its lifespan, spot-treat corrosion to stop its spread, and paint when needed.
How Long Will a Copper Roof Last?
A copper metal roof can last as much as 100 years.
How Long Does a Tin Roof Last?
A tin roof can last anywhere from 50 to 75 years.
How Long Does a Steel Roof Last?
Steel roofing lasts about 40 years to 70 years.
How Long do Standing Seam Metal Roofs Last?
Your standing seam metal roof should last up to 50 years.
How Long Does a Corrugated Iron Roof Last?
A corrugated iron roof can last up to 60 years.
Metal Tile Roof Life Expectancy
Metal tile roofs can last 40 - 70 years, depending on the type of metal you choose.
How Long Does a Slate Roof Last?
A hard slate roof lasts anywhere from 75 to 200 years. A soft slate roof will last 50 to 125 years.
Aluminum Roof Life Expectancy
You can expect aluminum metal roofing to last 50 years, but possibly even longer.
How Long Do Zinc Metal Roofs Last?
A zinc metal roof lasts longer than 100 years.
Are Metal Roofs Reliable?
Yes, a metal roof is incredibly durable. It can hold up in high winds and does not crack or corrode. Most metal roofs are resistant to impact, like hail. A metal roof does not require a large amount of maintenance by a roofing contractor.
Can You Walk on a Metal Roof?
Yes, it is possible to walk on a metal roof if it was correctly installed. It is safer to walk on than a ceramic or asphalt shingle roof. However, as with any roof, be careful. Always consider wearing a safety harness.
Are Metal Roofs Loud?
Metal roofs are not any louder than asphalt shingles. Metal roofs installed directly over the surface of a roof are especially quiet. The sheathing that goes between the roof and the surface helps to reduce noise.
Metal Roof Maintenance
A metal roof is a relatively low maintenance option. Things to pay attention to include:
Stains, scratches, and grease
Seam separation, especially after storms
Keep all branches away
Keep it free of debris, including leaves
Do Metal Roofs Rust?
Yes, a metal roof can rust. There are ways to help reduce rusting.
Painting a roof creates a barrier between the roof and environmental elements.

Use roofing paint and a galvanized metal primer that contains zinc to insulate the roof and help prevent rusting.

If the roof installer cuts the metal improperly, it can expose the roof to possible rusting.
Will a Metal Roof Save Money?
While a metal roof's upfront cost is higher, it pays for itself in the long run.
Metal is energy efficient, and a metal roof can save close to 40 percent in heating costs.

A metal roof can provide insulation in the winter and cooling during a hot summer to help save money on your energy bill.
The material and finish of the roof make a difference in how efficient it is.
How Well Do Metal Roofs Withstand Hail?
Metal roofs are tough and durable and resist hail damage. They may dent if hail is large and pelting down. However, the damage is cosmetic, and there will not be structural damage resulting from hail storms or extreme weather.
How Well Do Metal Roofs Withstand High Windstorms?
Depending on the specific material, a metal roof can withstand wind up to 140 miles per hour. It will not lift, crack, or corrode because of strong winds.
Does Home Insurance Cover Metal Roof Damages?
Insurance companies like metal roofs as they are strong, durable, and last a long time. They do not require much maintenance.
While most insurance companies will cover metal roofs, they most likely will not cover cosmetic damage to a roof. Some insurance companies will not cover structural damage if it is beyond 20 years old. If you have a metal roof, ask your insurance agent if your policy covers your roof's structural and cosmetic damage.
Can I Get a Discount on My Home Insurance Premiums with a Metal Roof?
Yes. Most insurance carriers offer impact-resistant roof discounts from 5-35% off premiums, including metal roofs. If you have extended replacement cost coverage, you may qualify for up to a 46% discount.
Your roof must have a class 4 impact resistant rating determined by UL test standard 2218 to quality. Some insurers only provide discounts in specific states and manufacturers.
Ask your insurance agent if your metal roof qualifies for any home insurance discounts. We can also find you the carrier that offers the highest discount for your impact-resistant roof. Get your free home insurance quote below and let us know you are searching for an impact-resistant roof discount.
Hope that helps!
Get an Online Home Insurance Quote
At your service,
Young Alfred